Some places are cursed with bad names, through no fault of their own and with little relevance to their setting. Take Hell, in Michigan, for example. Everyone has their own idea of hell, but this one is a quiet Midwestern backwater surrounded by miles of pristine coniferous forests and beautiful crystal clear lakes. That's certainly not my idea of hell.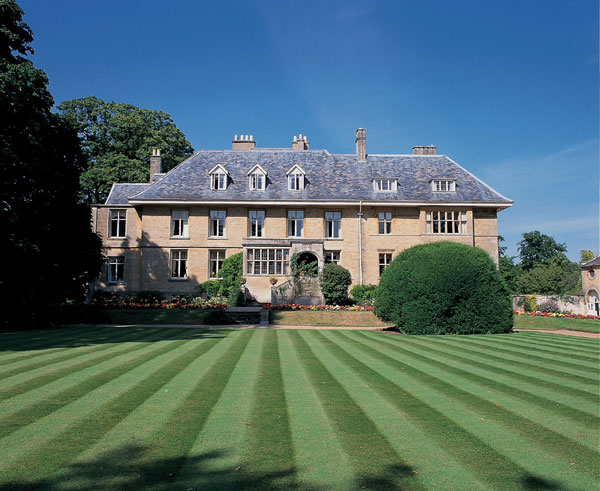 So it was with an open mind and visions of the Texas Chainsaw Massacre that I approached the rather dubiously named Lower Slaughter Manor. As we passed through the wrought iron gates and crunched along the gravel driveway, I wondered if a man wearing a mask of decaying human skin would be waiting to offer assistance with our luggage. Fortunately, we were greeted by a very hospitable receptionist whose face, I am pleased to report, was entirely her own; all visions of a slaughterhouse were slowly being dispelled from my vivid imagination.
Lower Slaughter in fact takes its curious title from the Norman Knight, Philip de Sloitre, who was granted the land by William the Conqueror. Some say it may also derive from an Anglo Saxon word meaning muddy or watery place. It is believed that a manor house stood on the site as early as 1004 AD, and in 1611 the land was granted by King James I to Sir George Whitmore, High Sherriff of Gloucestershire, where it remained in the family for over 300 years. In 1655, acclaimed stone mason Valentine Strong – whose son Thomas was the principal contractor behind St Paul's Cathedral – was tasked to build a house on the site, and many early fittings still remain, such as the attractive stone fireplace in the lounge.
Just 30 minutes from Oxford and 20 minutes from Stratford-upon-Avon, it's an ideal Cotswold base for exploring the surrounding countryside. Now owned by Brownsword Hotels, who also boast the acclaimed Gidleigh Park and The Bath Priory among their impressive portfolio, the new management is more determined than ever to put this hotel firmly on the luxury map for tourists and locals alike.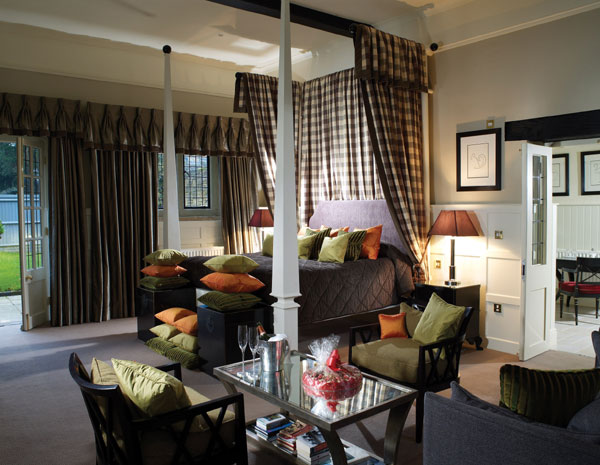 Our suite, the Valentine Room, was situated in the stable block, and was stylishly decorated with a series of Picasso sketches on the walls and a giant bed so high that it had steps up to it, with four obelisk-like posts and more cushions than I thought possible to pile onto a mattress without covering it entirely. It had the appearance of an Egyptian pharaoh's ceremonial bedstead.
Further investigation revealed a private courtyard with a hot tub (sadly the weather prevented us from using this) and a delightful bathroom with twin tubs and an attractive parlour palm between them. It had a very 1930s feel to it, so we wasted no time filling the baths and having a tandem soak, along with a glass of complimentary sherry. It was all very Bertie Wooster. Having just come from a weekend of 'glamping' at Hidcote Manor Farm where we'd spent two nights on a blustery hillside in a canvas tent, soaking in a steaming hot tub in this spotless bathroom was a pleasure beyond pleasure.
Later that evening, while enjoying a preprandial glass of fizz in the sophisticated drawing room, we discovered that the newly appointed Head Chef Jamie Rafferty had come from Gidleigh Park and had also spent time at the world renowned French Laundry. This being the case, we decided to sample the tasting menu, an impressive eight course culinary extravaganza, accompanied by a selection of wines by the glass expertly chosen by Head Sommelier Frederic Marti.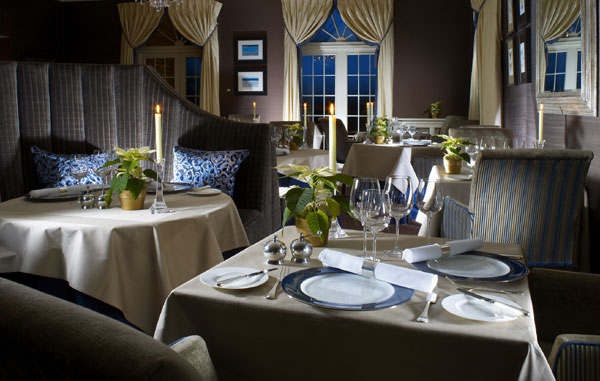 The restaurant is housed in a smart dining room (formerly the swimming pool) sporting muted tones and plush banquettes; this is everything you'd expect from a Relais & Chateaux gourmet hotel; the piped music featuring Elgar's Pomp and Circumstance March No.1, among other classic hits, was especially entertaining, and was an apt accompaniment to the military precision of the kitchen brigade and the front-of-house team.
A first course of goat's cheese mousse with beetroot, apple, candied walnuts and celery salad, accompanied by a zesty glass of 2009 Riesling from Framingham, New Zealand, left us in no doubt that this restaurant is on its way to Michelin stardom. My lady isn't a fan of goat's cheese, but this dish was so delicate and beautifully presented that she cleared her plate entirely. No extra forkfuls for me.
Other highlights included hand dived scallops with celeriac and truffle purée; a roast squab pigeon with prunes, endive and almonds; and a confit cod loin with lemon purée, Dorset crab, samphire and chorizo velouté.
The main course was a delectable Cotswolds lamb with fondant potato, fennel, tomatoes, roast garlic and a tapenade jus, accompanied by an excellent Amarone della Valpolicella Classico, Allegrini 2007, which was so ripe with fruits that it tasted like a packet of raisins. The test of a great sommelier in my books is to be served wine that you want to buy for your cellar, and I shall be ordering some of this Amarone by the caseload.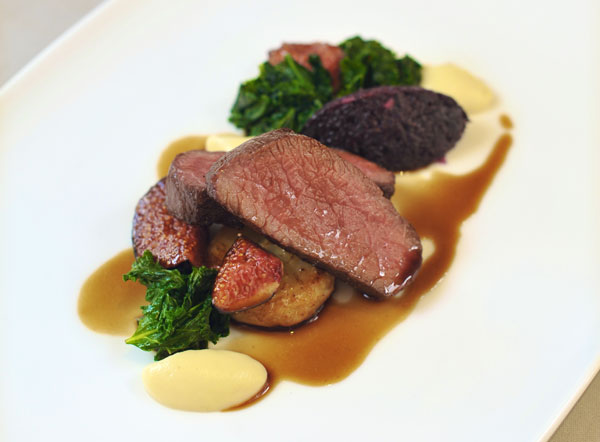 The two desserts we enjoyed were a sublime buttermilk panna cotta with spiced fig compote, and an indulgent Valrhona dark chocolate parfait with a white chocolate and mint mousse. This came with a glass of the exemplary 2005 Seresin Noble Riesling from New Zealand, only to be trumped by the 2009 Moscato d'Asti, Fontanafredda Moncucco from Italy, which escorted the delicious and interesting cheese board selection. After coffee and petit fours taken in the cosy lounge, we were replete and utterly stuffed like a pair of ancient Egyptian mummies; in our case stuffed with haute cuisine and fine wines as opposed to linen and sawdust.
The next morning we dialled in for breakfast in our room, which for once arrived complete and with not a thing missing. For some reason, wherever we go, there's always something omitted from the breakfast trolley – be it tomato ketchup, jam, teaspoons, you name it – but not here. My Cotswold English breakfast arrived plump and hearty and ready to douse in sauces, while Her Ladyship's fruit platter was something to be admired, as was the delicious fresh roast coffee and pastries.
From the moment we arrived to the minute we reluctantly checked out, our stay at Lower Slaughter Manor had been completely flawless. The staff were friendly, efficient and enthusiastic, the manor is a welcoming abode and not at all like a slaughterhouse, and the food is to die for; if I'd been a pharaoh, I would've had the kitchen brigade mummified so I could take them with me to the afterlife. Like every Relais & Chateaux hotel, this level of service and luxury comes with a high price tag, but in this case it's worth every penny. If they renamed the hotel Lower Hell Manor, it would still be my idea of heaven.