Floating starfish-like in the steaming water on a chilly yet cloudless Easter Sunday, I knew I'd made the right decision. Usually a trip back to Devon to visit the family involves a cramped night in my old bedroom-turned-store cupboard; single bed wedged between piles of dusty boxes, outgrown clothes and redundant university textbooks. This time, however, I'd decided to break from tradition and check out Exeter's newest and quirkiest boutique hotel.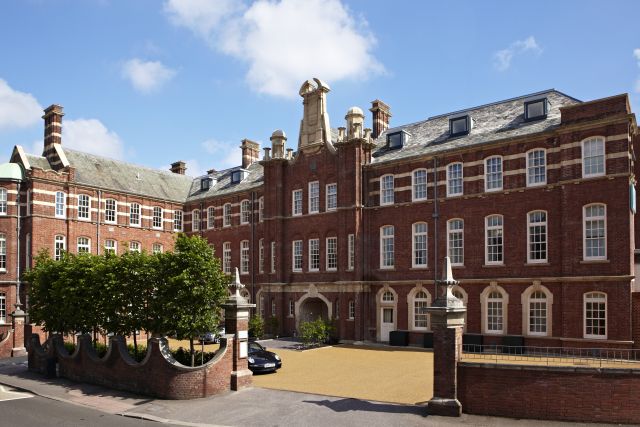 The Magdalen Chapter has generated quite a buzz since its opening last June, not least because it's housed in what used to be the West England Eye Infirmary. The towering red brick building was transformed into a 59-room hotel by architects Feilden Clegg Bradley – and what a transformation. Somehow I expected the institutional character would linger, picturing long, soulless corridors and a faint yet inescapable aroma of bleach and surgical spirit. In fact, the only indications of the property's former function seem to be a plaque in the foyer and inscription above the doorway. Instead there's an abundance of crisp mid-century style furniture, most of which are bespoke designs by Russell Pinch, and roaring log fires.
Contemporary works by local artists line the walls, my favourites being the newspaper cut-out butterflies by Francisca Prieto, and Jo Barrett's photo-realist still lives in reception. The only hint of the sinister came when I discovered an outbuilding that was formerly the hospital morgue, but is now quaintly named the 'Potting Shed' and was decked out for a baby shower; they probably keep that nugget of history quiet from the mums-to-be and the children's tea parties.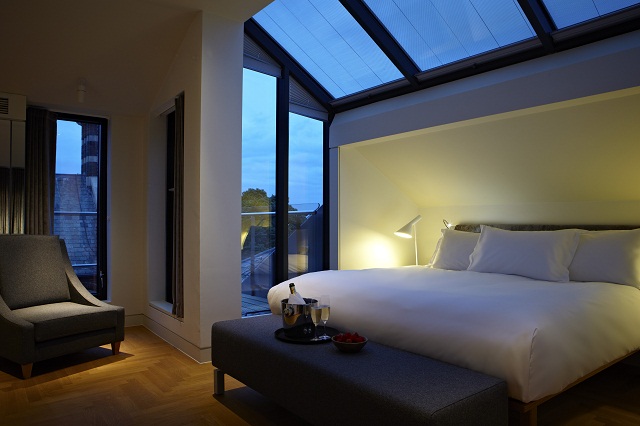 The room I was staying in, number 308, had been converted from the attic into an airy, light-flooded space with skylights above the bed and two private balconies. Major brownie points are awarded for the complimentary mini-bar, iPad 2 and Nespresso machines in each room. The generous tub and separate waterfall shower are stocked with full-size organic REN toiletries, which, like so much of the hotel's features are locally made.
Even the Magdalen Chapter's Head Chef Ben Bulger is Devon born and bred, although he does include Michelin-starred Le Manoir aux Quat'Saisons in Oxfordshire on his CV. My conclusion is that Michael Caines down the road at Royal Clarence ought to watch out: Bulger looks set to steal his crown as Exeter's culinary king. The lunch was outstanding; a starter of fresh Devon crab prettily served as a cloud of fluffy, sweet white meat separately to the pool of the richer, buttery brown meat, along with a dollop of fragrant aioli and slivers of crostini. For the main course, firm and delicately spiced monkfish was perfectly matched with a punchy, nutty red pepper Romesco sauce and fronds of herby, grassy Agretti. A kick of cumin and fresh coriander made for an inspired adornment to the side dish of mashed carrots. Bulger even managed to make cabbage something to write home about, sautéed al dente with flaked almonds and wild garlic, it was packed with flavour and had just the right of amount of crunch. A dessert of sugary, doughnut-like custard fritters was a little underwhelming in comparison, but they were paired with some delicious vanilla-speckled poached rhubarb. The wine list comes on an iPad – part of the hotel's 'paperless' policy – from which I sampled a glass of delicious, chalky Domaine de l'Abbaye Tradition.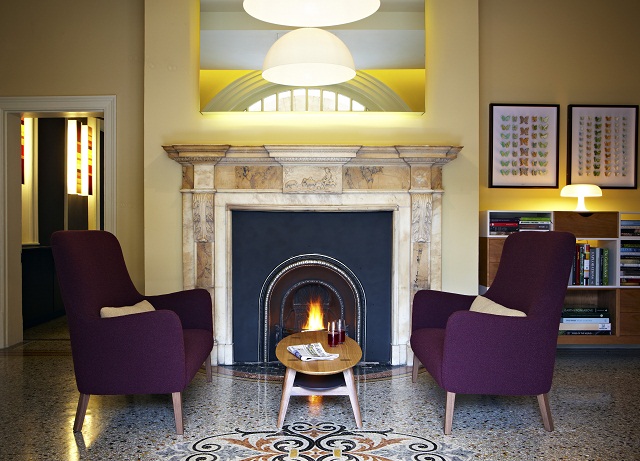 Although the building sits on a fairly unattractive, busy A-road, it's just seconds away from the city's historic heart, a lacework of cobbled streets, Roman ruins and half-timbered Tudor shop fronts with the majestic gothic Cathedral beating at its centre, not to mention the smart new Princesshay shopping precinct. But it's such an oasis you may not have much inclination to go anywhere else. Indeed, one of the most distinctive traits of the Magdalen Chapter is its informality: this is a luxurious boutique hotel but without a hint of stuffiness or pretension. Guests wander in for lunch straight from the pool in fluffy white robes, and in place of the usual barrier-like reception there's simply a laptop perched on 'The Font' – a spherical, wooden Alison Crowther sculpture-cum-table that looks rather like a giant acorn. The Lounge, housed in a large glass roofed extension, the well-stocked Library and snug bar complete with roaring log fire, appeared to be frequented by local people as much as hotel guests.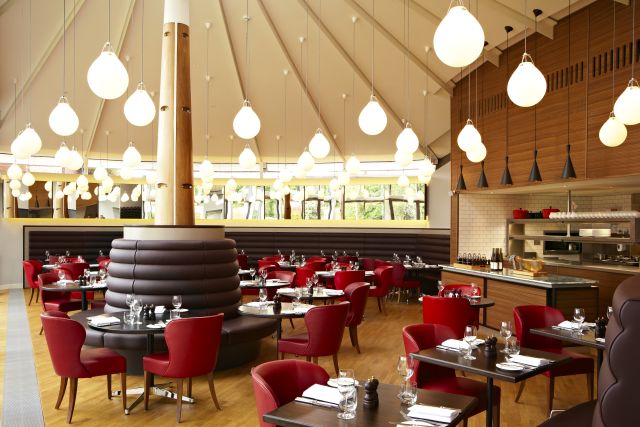 The highlight of my stay had to be that pool. I can't recall ever having been tempted to swim in an outdoor pool at a British hotel before. Yet this one is both properly hot and brilliantly designed. You lower yourself into the Jacuzzi section beside an open fire to acclimatise, then swim though the partition into the open air. Genius.
No offence Mum and Dad, but I think that going 'home' now has a new definition for me.