Castle Combe is so picture-perfect that it looks like a film set; indeed, quite a few films have used the tiny Cotswold village for location shoots, from War Horse to The Wolfman. But annexed to the village is perhaps Castle Combe's most impressive asset, the 14th century Manor House Hotel & Golf Club, complete with manicured gardens, a giant lawn chess set, a croquet field and an 18-hole championship golf course, all set amidst 365 acres of terraces, woodlands and grounds. And if none of that floats the proverbial warship, they also have a Michelin-starred restaurant to satiate the most demanding of palates. Even a wolfman's.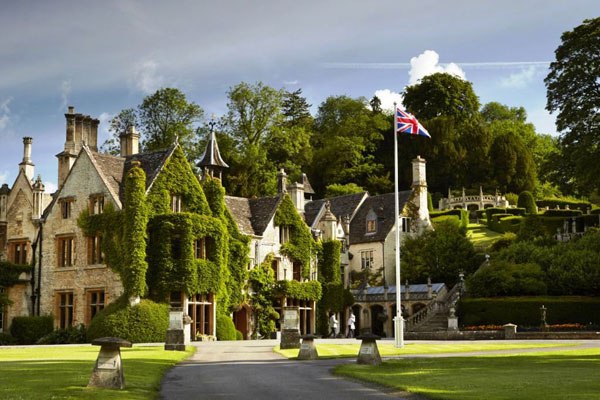 Having endured a gruelling 4-hour drive from Cornwall, we arrived in the burbling sports car with sunburn and wind-ruffled hair, looking somewhat worse for wear. The car, formerly polished and gleaming, was now mud spattered, insect-flecked, and looked like it had been abandoned for five years in a disused field, while my shirt was crumpled from the long journey and quite closely resembled an old dishcloth. So much for elegant cruising with the top down…
Our weary bones were soon revived when we discovered what a delightful place it was. Each of the 48 rooms in the Manor House are unique and packed with historical features; our suite had a high A-framed ceiling with chunky medieval beams, stone walls and lead-lined windows, a giant bathtub complete with rubber duck, and the biggest walk-in shower I've ever seen, featuring jets poking out of every wall – perhaps designed by a car wash enthusiast. All the usual modern amenities such as a Nespresso machine, an iPod dock and the mandatory flatscreen TV were at hand, and in a little box on the chest of drawers were two very delicious cupcakes which we tucked into as an afternoon snack.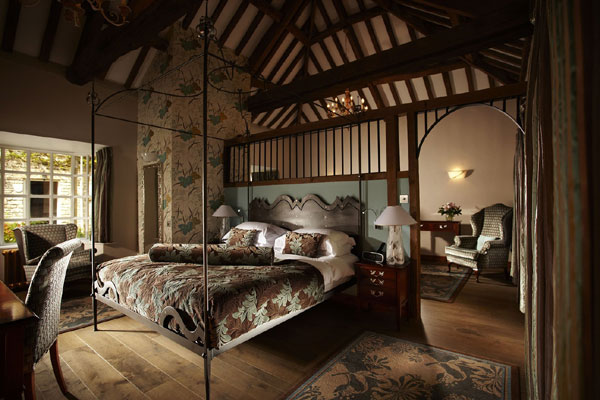 The communal rooms in the hotel are creaky, characterful and elegant; it would be a wonderfully cosy location for a winter break. But as the weather was balmy, we made the most of it by topping up our sunburn with a stroll around the grounds, contemplating the giant lawn chess set for a moment, but then deciding that we'd be there forever if Her Ladyship tried to teach me the rules of chess that afternoon. I am far more suited to Snakes & Ladders, or any other game rated as "For ages 3+".
Later that evening, after a glass of fizz in the bar, we sat down for dinner in the acclaimed Bybrook restaurant, a charming dining room with stone walls and paintings of various Lords and Ladies looking enviously at all the happy eaters in their midst; a curious assortment of landed gentry types, ladies-who-sup, and well dressed couples enjoying a romantic repast. If we lived in Bath, this would undoubtedly be a regular haunt of ours for special occasion meals.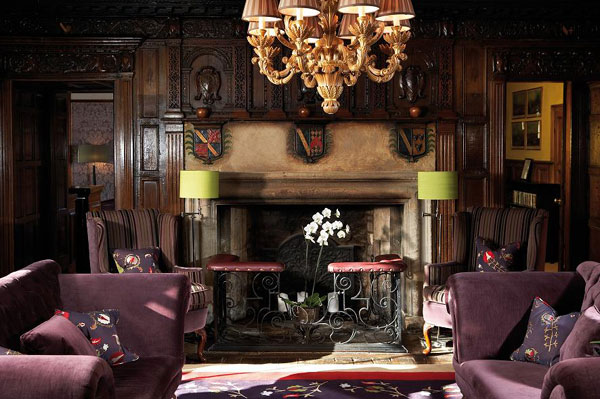 Our starters were presented by the jovial waiter; a tender flame grilled mackerel with celeriac remoulade, pink grapefruit and a smoked eel beignet for me, and a tian of Salcombe Bay crab and guacamole with tomato and pepper gazpacho for Her Ladyship. Both dishes were delicate on the tongue and attractive to the eye, in my opinion punching well above their weight of the one-Michelin star rating compared to many other one-star restaurants we've dined at.
Main courses took the form of a slow cooked shoulder of Wiltshire downlands lamb with confit shallot, minted peas, potato compression and rosemary jus, and a pan fried fillet of Cornish turbot with cèpe, celeriac and pancetta fricassee. My lamb was the sort of taste-bud tingling dish that a wolfman might enjoy before a romp around the countryside; the dainty presentation belying the powerful aromas, playful textures and rustic flavours of this concoction, as if the chef had somehow taken a hearty peasant's lamb stew and reconfigured it to look like an artwork. Her Ladyship's turbot was flawlessly cooked and presented with the same relaxed sophistication that the hotel seeps from every crack of its wood-panelled façade.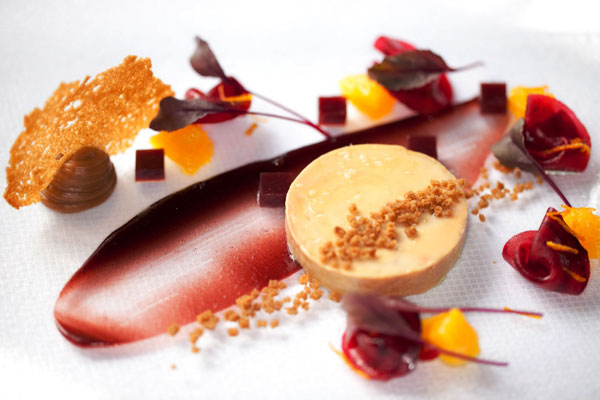 We soldiered on to desserts and relished in a warm Valrhona chocolate fondant with salted caramel and crème fraiche ice cream, so heady were its rich flavours that I felt as if I'd just rolled off my sponge cake lilo into a heavenly pool of dark chocolate. Next came the tea caddy, with a wide selection of leaves to sniff and sample, which we sipped in one of the cosy rooms at the front of the house, nestled up on a comfy sofa surrounded by an interesting selection of old books. A serene end to a sublime evening.
The next morning we awoke to a breakfast in our room, its arrival signalled by the jangling of an old fashioned brass doorbell: a full English of the finest local ingredients for me, and some poached pears for my lady – a nice option for a breakfast menu and not one that we've encountered anywhere else.
The Manor House is the sort of place you never really want to leave and no matter how long you stay, it probably never feels long enough. The staff are friendly and attentive, never short of a smile, and the building itself is a warm and welcoming warren of ancient hallways and heavy oak doors; it's no surprise that it has become a quiet getaway destination for a number of notable individuals, from Gwyneth Paltrow to Margaret Thatcher.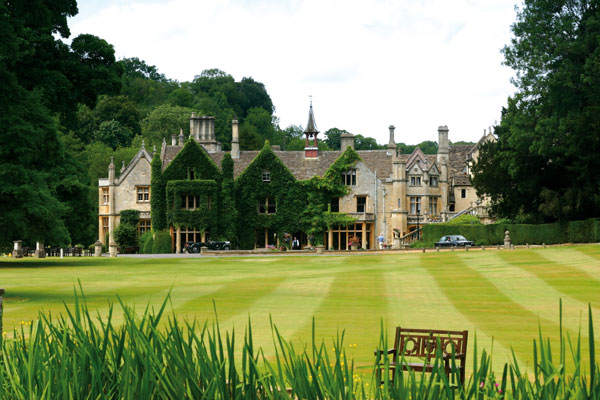 Slipping back into the mud spattered sports car, we reluctantly left the hotel and made our way to Bath for a round of crazy golf, far more suited to our golfing handicap than an 18-hole championship course. As we putted away in the afternoon sunshine, I wondered if I might get my golfing skills to a level that would give me an excuse to visit the Manor House again. But after a rummy score of 14 over par on a particularly irritating hole…I decided that I'll learn how to play chess instead.