Despite my father's deep rooted Scottish heritage, the country of castles, kings and landscapes like no other had managed to elude me, or rather I had, by some strange twist of fate, managed to elude it – something I determined to put right with a family adventure to the noble city of Edinburgh. From the medieval Old Town to the Georgian New Town, the evocative descriptions of Walter Scott and Robert Louis Stevenson, along with more recent incantations by Alexander McCall Smith and J.K. Rowling, herald Edinburgh's status as the first UNESCO City of Literature and come alive the moment you exit Waverley Station.
But first we needed a suitably characterful base. It's long been my motto that one should only ever stay in a place that is at least as good as, if not better, than one's own home, and Nine Nelson, located on one of Edinburgh's most prestigious residential streets, will do nicely. Offering the luxury traveller far more than a hotel ever could, not least freedom and privacy, this three bedroom townhouse allows you to appreciate the city's magnificent Georgian architecture from the inside out, with its sweeping staircase, high ceilings, sash windows and chandeliers, along with every modern comfort and convenience including state of the art bathrooms with rain showers, roll top and Aesop toiletries, a large, elegant drawing room with TV and work space, a children's playroom filled with toys (Nine Nelson can also arrange babysitting with prior notice), and a well equipped kitchen/diner perfect for the keen cook to whip up a storm.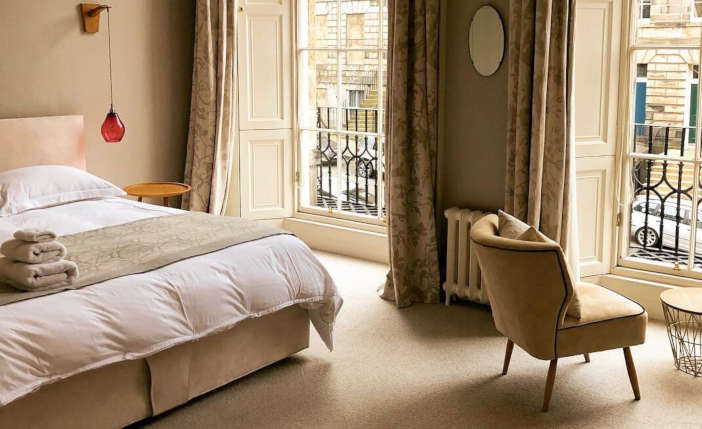 With your own front door you'll feel like a local in no time and the wealth of great delis, bakeries, wine and whisky shops in the vicinity are sure to make any dinner party or quiet evening in at Nine Nelson go with a bang. Villeneuve wines, just a short stroll away, have a great selection of spirits, wine and locally produced craft beers. Having access to two private garden squares during your stay is an added bonus, perfect for families, romantic afternoon picnics or al fresco suppers during the warmer months.
When you do venture from your new domain, the owner's comprehensive guide will steer you in the direction of the best Edinburgh has to offer, from attractions to eateries. Nine Nelson is well situated for all the major sights including the Castle with its crown jewels, theatres and both the Scottish National Gallery and Scottish National Portrait, with collections marking Scotland's place in history – a great way to while away a morning after sampling one of the independent cafes around the corner. Urban Angel gets our vote for a breakfast of French toast with bacon and exceptional pastries, or a Scandinavian-style lunch of smørrebrød, a dark rye open sandwich with a variety of toppings such as spiced duck with pickled cucumber, beetroot, sauerkraut & poached apple.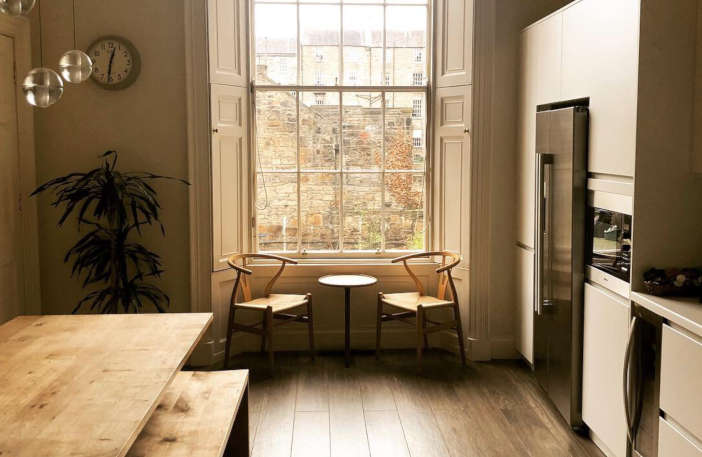 After enjoying a cocktail at The Printing Press it became our habit to head to the culinary hot spot of Thistle Street where the utterly adorable Cafe St Honoré offers Edinburgh a little corner of Paris. Chef Neil Forbes is passionate about supporting organic Scottish farming, with a daily menu highlighting the finest seasonal ingredients. Yes, you can expect far more than cullen skink, haggis and shortbread in this unquestionably cosmopolitan foodie city, though that's not to say you won't go in search of the traditional and you'll be well rewarded if you venture to Tom Kitchin's gastropub, The Scran and Scallie, deservedly ranked as one of the finest eateries celebrating Scottish produce, elevating comforting pub classics such as steak and bone marrow pie or ham, egg and chips. Enjoy a wee dram in the bar before heading 'home'.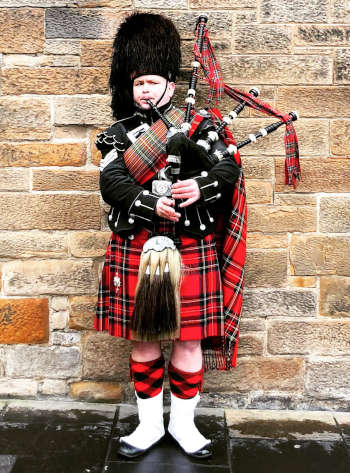 Just as in the case of the renowned annual Edinburgh Festival Fringe (the world's largest arts festival), in the week of Burns Night the city, presided over by the hilltop fortress Edinburgh Castle, possesses an intoxicating atmosphere, and that's before the whisky tastings – an essential pastime when visiting during a freezing January. Taking in a distillery or two will put a rosy glow on your cheeks in no time, nor will you be short of tartan, tweed and woollens to fend off the cold, with stores the length and breadth of the Royal Mile celebrating Scottish manufacturing heritage and the age-old clans that made Scotland great. St Andrew Square is meanwhile home to the likes of Harvey Nichols and Louis Vuitton, a luxury shopping quarter of the city that continues to burgeon.
Like all the great cities, the past is embraced to the full in Edinburgh, from the cobbled roads still going strong, the trams passing the iconic Sir Walter Scott Monument, to the Scottish pipers around every street corner and the cherished Royal Yacht Britannia, a beacon of the harbour. Grand rather than quaint, fashionable rather than frumpy, it's bonny Scotland at its best and once visited never forgotten. "A city of shifting light, of changing skies, of sudden vistas. A city so beautiful it breaks the heart again and again," sums up McCall Smith. Relinquishing the keys to Nine Nelson Street will be harder than you expect.
Nine Nelson Street, Edinburgh EH3 6LF. The apartment boasts two double bedrooms and one twin room. Rates start at £595 per night and vary according to season and demand. Minimum 2 nights. For more information and reservations please visit the website. Feature image copyright Marketing Edinburgh, all other images author's own.