You don't have to be painfully cool to check into 1 Hotel Brooklyn Bridge, but it could help. From its sustainable ethos to its rooftop bar and pool, the luxury hotel – within the shadows of Brooklyn Bridge itself and next to the Dumbo ferry terminal – is one of New York's most hip places to rest your head.
Made up of sociable spaces with an outside-in ethos – the lobby sets the scene. There's a living wall and a profusion of plants and greenery by landscape designers at Harrison Green – conceived to boost your mood. It may boast the cool-factor, but the plants are not the only welcoming factor, with staff offering a genial and helpful approach to hospitality.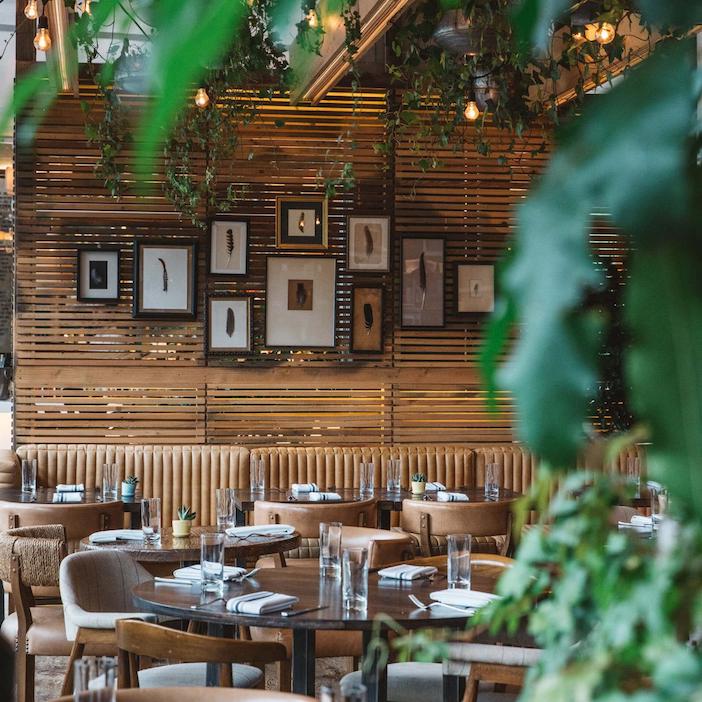 There's also an abundance of light-filled, communal spaces, with sofas, stools and groups of tables. In fact, the hotel makes much of its social spaces with a range of lounges, event rooms and areas designed to promote both creative working and relaxing (a nice touch is that each area is also named after native plants, grasses, trees and shrubbery found in neighboring Brooklyn Bridge Park).
The sociable aspect also extends to its dining offering. On the ground floor is The Osprey, which is based around 'market-fresh American comfort food'. In other words, it's an inventive and somewhat healthy take on the classics – from the Osprey Burger, made with Brandt Natural Beef, to the Organic Lemon Herb Chicken, which comes with ancient grains and spaghetti squash.
Open for breakfast, lunch and dinner – it also offers a popular weekend brunch, which changes according to the season, and is a buzzy, convivial setting with its open kitchen and views over Brooklyn Bridge Park and the East River waterfront. Go for the Almond Crusted French Toast or the Bagel Plate, washed down with a Solar Energy juice – made with pineapple, coconut water, ginger, turmeric and cayenne – perfect to put a pep in your step.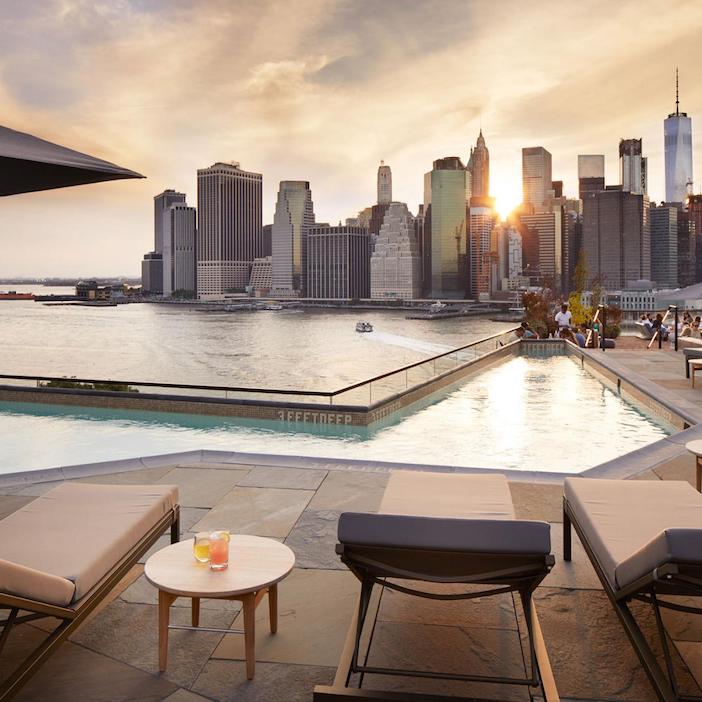 For after hours, head to Harriet's Rooftop Bar and Lounge – expect the wow-factor and more. It has the most incredible views over the East River, the skyscrapers of Manhattan and east to the Statue of Liberty. It also serves a decent cocktail – with All Hans on Deck, made with Hendricks, lime, mint, cucumber and egg whites, being particularly moorish. For summer nights, the swimming pool, with its steaming water, neon clock and temperature gauge, offers the perfect Insta moment, while downstairs on the 10thfloor, the Lounge offers more of an intimate drinking den.
Throughout the hotel, the design concept, conceived by INC Studio, embraces an industrial-chic aesthetic. Natural, recycled and reclaimed materials have been used throughout, so expect a slick meets rough-hewn look in the bedrooms. Walls are in part unfinished breeze-block, headboards have been fashioned out of tan leather to look like corrugated metal and black ironwork is contrasted with marble basins in the bathrooms. Softening this are the organic cotton textiles, cosy rugs and velvety towels. Best of all are the floor to ceiling windows with most rooms drenched in light and framing the stunning views outside.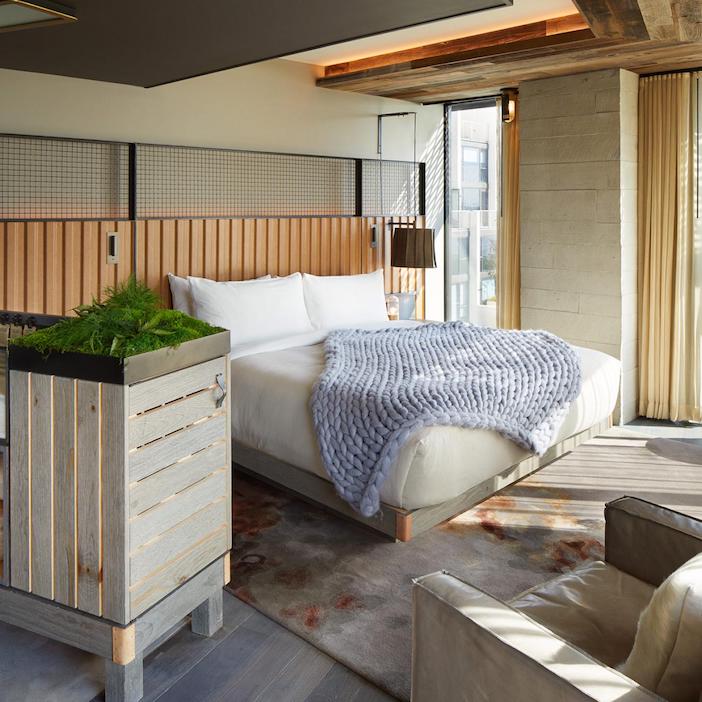 The hotel's green credentials also go deeper than the surface look, with the use of wind-power, filtered water in all taps, sinks, and showers; state-of-the-art, energy efficient heating and cooling systems; rainwater reclamation system and low-energy lightbulbs used throughout the hotel as well as green cleaning solvents used to clean all rooms and linens.
Attention to detail is seen with the smallest things – such as the hangers made from 100% post-consumer recycled materials, shower timers to remind you about water waste and, instead of hotel notepaper, there's a reclaimed chalkboard for notes, while key 'cards' are made from five different types of recycled wood.
In the basement, there is the city's first Bamford spa – a fitting collaboration due to the British brand's holistic and natural approach to therapies. It's a hotel with heart.
Rates start at $349 for a Dumbo King. For more information, visit www.1hotels.com.