Nestled on the banks of the River Fowey in Bodinnick, with views of the harbour and out to the English Channel, is the Old Ferry Inn, which has been an inn – a pub with rooms – since the late 1500s. Its neighbours along the riverbank are Daphne du Maurier's former home and the Bodinnick to Fowey ferry, running since the 1440s. The inn is typical of Cornish buildings: tall and thin with rooms springing up every which way, and its recent refurbishment is sensitive to local traditions and materials.
This incarnation is the brainchild of co-owner Paul Worswick and executive chef and operations manager Kai Taylor. Paul describes himself as "hands on" and made the shelves in the shop and gin distillery (more on this later) as well as several pieces around the inn from reclaimed wood. Archie, Paul's friendly Newfoundland, can usually be seen by his side and loves other dogs – biscuits and water are always available for four-legged friends. Award-winning chef Kai aims to offer guests the sort of food you'd want to eat at home and all the ingredients are sourced within a 20-mile radius.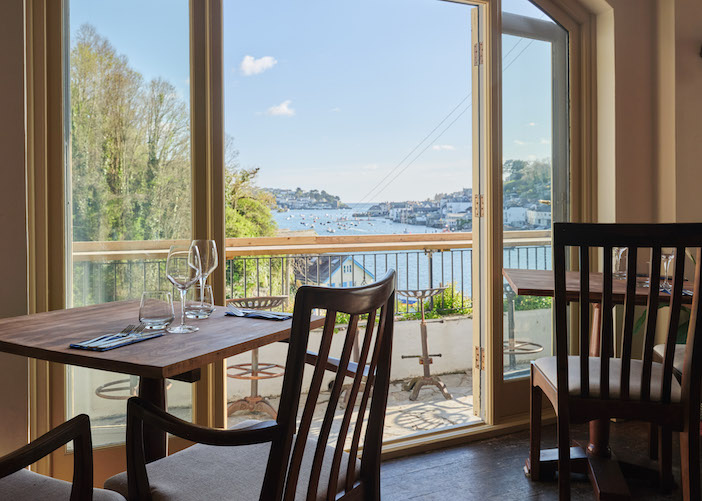 As soon as we arrive we sit down to a Sunday roast in the dining room with its panoramic views of the harbour. Kai explains that he wants our late lunch to have the feel of a family roast. It really is homely and comforting – and enormous. After a starter of cherry-wood-smoked salmon from the inn's own cold smoker, we share a board of 12-hour slow-roasted pork, lamb and beef (to be shared between two people) served with organic Polruan vegetables and Colwith roast potatoes, Yorkshire puddings and gravy. It's a serious amount of food, and we knew we'd over-ordered the moment it arrived. Still, some of us found room to choose from the pudding selection of Jersey ice cream, summer pudding, sticky toffee pudding, salted caramel brownie and a local cheese board.
After all this, we took a stroll around Bodinnick, dreaming of writing novels in Daphne's house as little boats float past the window. Back at the inn and up to the roof terrace to admire the views – we were too full to try the new natural wood hot tub (no extra cost for adult guests), but the spectacular views and the sound of birdsong seemed to me the perfect setting for a soak and, should you fancy it, a glass of something fizzy.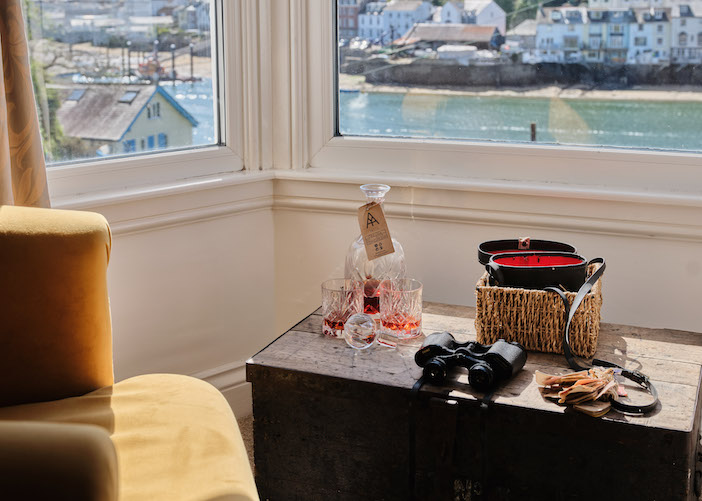 The Old Ferry Inn has 11 rooms and suites, eight with river views. Mine was a twin room with comfy beds, a wooden headboard made by Paul and a bathroom with a sunflower showerhead and natural Bramley goodies. Each room also has a Smeg kettle, Cornish Tea, Cornish Coffee, the inn's own hot chocolate, buttery fudge and a bottle of apple, blackberry and cassis cordial.
The following morning, I tucked into a breakfast of the cold-smoked salmon (yes, I liked it so much I ordered it again) with smashed avocados, poached St Ewe eggs and toast with an excellent cappuccino. Other choices include a man-sized bacon sandwich, freshly made waffles with fresh fruit and honeycomb, and butter-poached smoked kipper fillets with bread and fried egg. The inn has also just introduced breakfast in bed: a basket of fresh orange juice, pain au raison and a croissant made in the kitchen, local yoghurt, Cornflakes, muesli and cold milk, plus fresh fruit.
There's only one thing for it after all that food: the four-mile circular Hall Walk (ask at the inn for a map) through woods and along clifftops, all the while surrounded by nature and with soul-cleansing views of the Fowey Estuary, Fowey, Polruan and the glorious Cornish countryside. It's a moderately difficult walk and is steep in places so you'll need decent footwear, but there are plenty of benches where you can stop to admire uninterrupted sea views.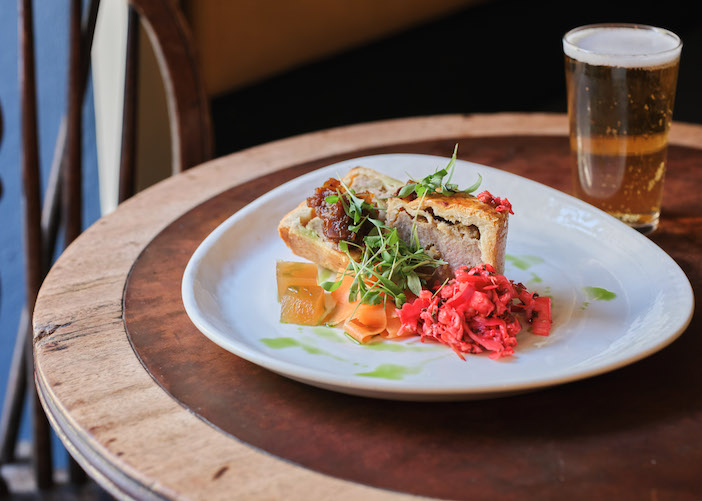 The inn can prepare a packed lunch for you, and we chose a spot facing out to sea to enjoy the inn's pork and vegetarian pies and Scotch eggs with homemade pickles. After that, a walk into Polruan, where you can catch the passenger ferry into Fowey. It's worth spending time here looking in the local delis and many gift and art shops before catching the car ferry back to Bodinnick further along Fowey's main coastal street.
Back at the inn, we were rewarded with a freshly baked cream tea with Tregothnan tea, grown in Cornwall, with freshly bakes scones, jam (first, here) and the most indulgent clotted cream from the Trewithen Dairy in Lostwithiel. All served with fresh berries – expect Archie to gaze up longingly for scraps.
It's worth visiting the little shop, located through the cosy bar. Like the food, items sold here are local with eco credentials: soap, organic face creams, blankets made from 100 per cent recycled plastic bottles, jewellery created from recycled discarded fishing line, and recycled water bottles. Plus little bottles of absinthe, made locally, of course.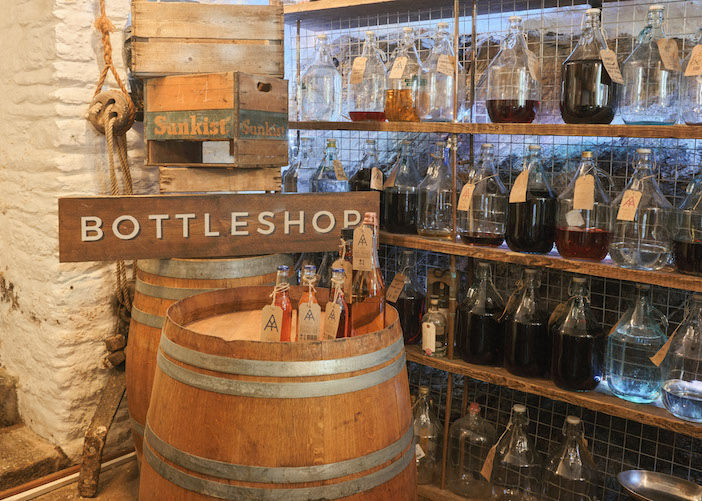 You'll also see lots of alcohol in reused glass bottles, under the inn's Yards brand. This is made by Paul (you can book a two-hour gin-tasting experience with him) in his handsome copper bain-marie Portuguese still in the micro distillery tucked away at the back of the shop. It has to be said that everything we tasted – the result of Paul's experimenting with spices such as coriander, juniper, angelica root, cassia, all spice, bay leaves, grapefruit peel and almonds in the London Dry Gin – was excellent. The pink-peppercorn-infused gin served with a splash of tonic and a slice of orange was a particular hit, as was the (refreshingly unsweet) spiced rum. He also makes vodkas and there's a chilli tequila if you're feeling brave.
A final blowout. We kicked off with a starter of pan-fried scallops, the freshest I'd ever tasted, from Mevagissey, followed by a generous bowlful of buttery crab legs for cracking, from Looe market, just a few miles along the coast, with local garlic butter, a little salad and some chips. The day-boat battered cod also looked huge and I'm assured was delicious. What an ending to a memorable stay in a characterful inn. At this rate, it'll still be an inn in another 500 years. Here's hoping.
The Old Ferry Inn, Bodinnick, Cornwall PL13 1LX. For further information, room rates and to book a room, please visit  www.theoldferryinn.co.uk.