It's hard to believe that the Downton Abbey-esque Palé Hall, situated in the breathtakingly beautiful Snowdonia National Park, was only opened as a luxury hotel six years ago, hospitality virgins Alan and Angela Harper having snapped up the Victorian property (where Queen Victoria herself once stayed) in 2015 on astutely recognising its potential to become a destination country house hotel. Originally the home of 19th century railway engineer, industrialist and Liberal MP Henry Robertson (who now lends his name to the dining room) the Harpers carried out a speedy yet extensive refurbishment on taking it over, individually designing the 22-room hotel to become one of only three in Wales to boast five star status.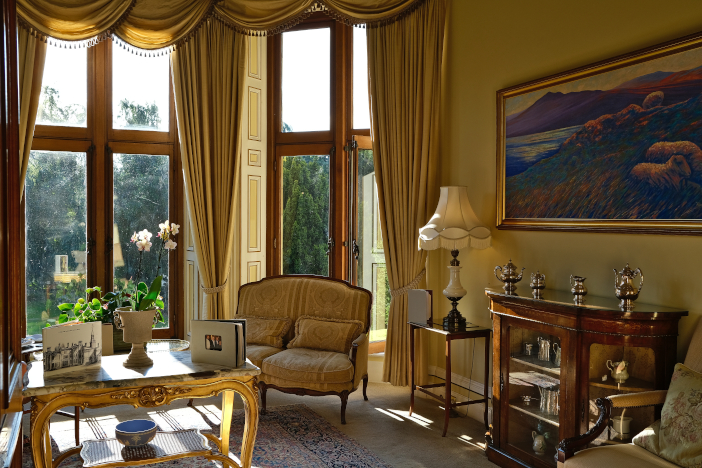 The 50-acre Palé Hall estate is enveloped within the glorious scenery of rural North Wales, not to mention the world-renowned 823 square mile Snowdonia National Park, making it an utterly unique venue with an abundance of activities to enjoy from fishing and 4×4 driving to exploring the unspoilt coastlines, lakes and waterfalls. Palé Hall guests will naturally wish to see Mount Snowdon where established walking routes enable you to climb the 4.7 miles to the summit, the highest point in Wales, while the less actively inclined can hop on the Snowdon Mountain Railway. Another unmissable location under an hour's drive from the hotel is the Italianate, rainbow-coloured marvel of architectural fantasy that is Portmeirion Village, regarded as the most picturesque in Britain and which featured in the hit 1970s TV show The Prisoner.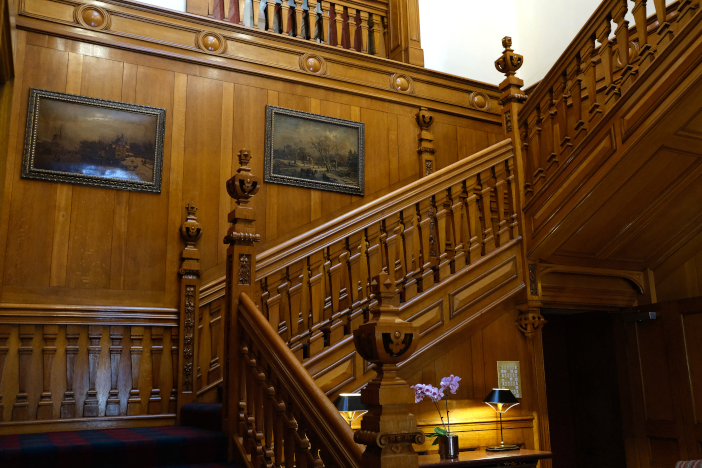 There is no reception area at Palé Hall so we felt like we were arriving at a stately home rather than a hotel, with adorable one-man-band porter, Peter, asking if we had a good journey, handling our luggage and cheerfully checking us in with a potted history of the hotel. Palé Hall, with its spectacular entrance hall is grand without being pretentious, with staff who offer an idiosyncratic and unapologetically bumbling charm. The clientele includes everyone from dedicated climbers to fine dining buffs and is never limited to guests driving supercars – something apparent when we arrived at the hotel to find a 'Darren's Excursions' coach parked outside, the reliable chariot of a party of WI members who had arranged a special outing to the hotel with a sumptuous afternoon tea in the Henry Robertson and Venetian dining rooms following an extensive tour including the historic Churchill Suite which we were looking forward to checking into after our own afternoon tea experience on the terrace.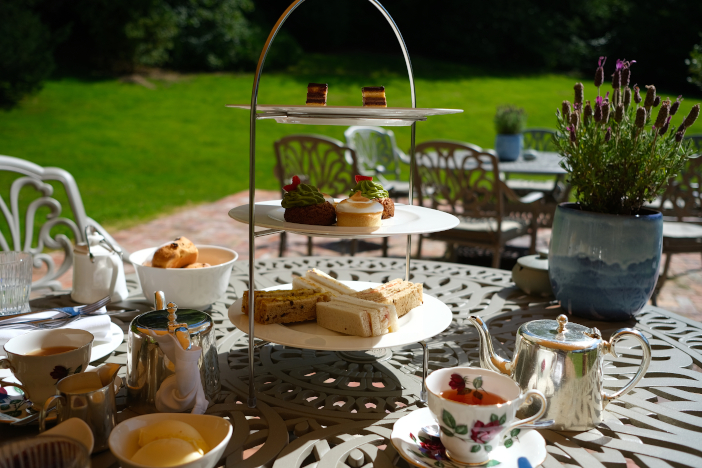 Named in honour of Winston Churchill who was a guest of Palé Hall when it was a private residence, the dizzyingly high vaulted and stained glass ceiling of the suite makes it unlike any other room I've stayed in, and one for the bucket list if you're as much of an admirer of dear Winston as I am. Many country house hotel bedrooms tend to be ultra-feminine and chintzy, yet this ministerial looking chamber with its four poster bed placed in the centre of the room seemed to capture not only the great man's aristocratic lineage but his masculinity and fortitude. Wood panelling, pseudo-gas wall lights with frosted glass, functional Anglepoise bedside lamps, William Morris fabric and wallpaper (Churchill was a child of the 19th century after all), wing armchairs, mahogany furniture and two imposing black marble fireplaces at either end of the room completed the picture, while the well appointed ensuite, stocked with Noble Isle toiletries and featuring a stand-alone shower and luxurious copper tub would doubtless have delighted Churchill who routinely took two baths a day whilst smoking a cigar.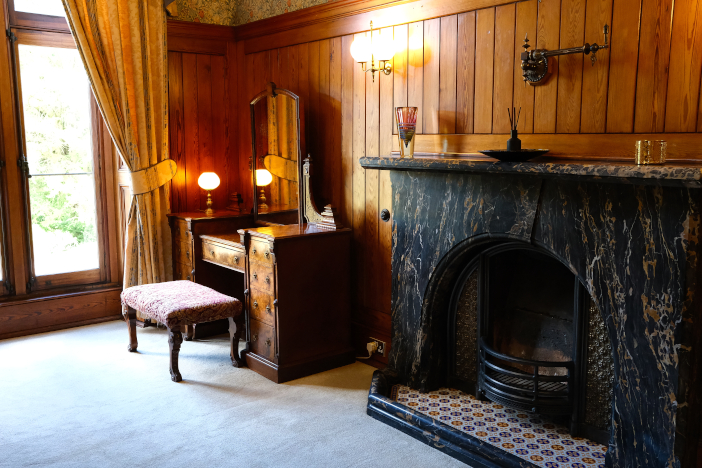 The lavish Churchill Suite with its antiques and living, dining and dressing areas, is surprisingly dog friendly (a small additional charge applies), with lucky pooches welcomed with bed and bowls, along with easy access to the designated side entrance where owners can take advantage of essentials and clean towels on returning from cross-country expeditions. Your dog can accompany you into selected areas of the hotel including The Library, but must be kept in a crate if left alone in bedrooms. Four legged friends are welcome in The Huntsman Bar and Bistro for breakfast and afternoon tea through to dinner when a more informal menu, offering pub classics such as battered cod and chips, runs in addition to the leisurely Tasting Menu experience served in the main restaurant – an occasion to perhaps take advantage of the hotel's dog-sitting service.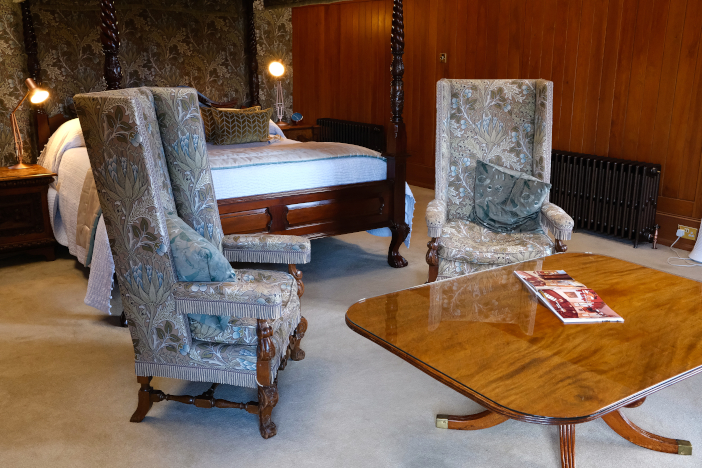 Head Chef Gareth Stevenson, who joined Palé Hall in 2021 and has recently been awarded a green Michelin star (the first in Wales), is one of the hotel's greatest assets. It would be unthinkable not to sample either the 5 or 8-course seasonal tasting menu, served in the elegant duck egg blue and gilt Henry Robertson Dining Room when staying here, and indeed many foodies travel here especially. A culinary experience to surpass any in North Wales and rival the finest in the country, when the Harpers employed the renowned Michelin-starred chef Michael Caines MBE (whose own five star property Lympstone Manor in Devon is also a member of Relais and Chateaux) as a consultant, their vision of a gourmet paradise in Snowdonia seemed far less of a mountain to climb. In fact, Stevenson had worked with Caines indirectly for many years beforehand and it's clear to see his mentor's influence from the outset.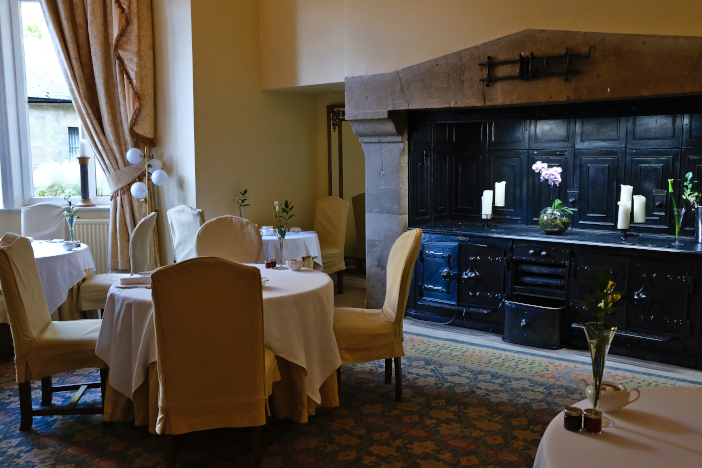 Seafood is always a fanfare opening course if well prepared and the roasted Scottish scallop, appealingly plump and caramelised, with shimeji mushroom, spring onion and tom yum (our alcohol free alternative to the usual bacon dashi) was positively singing with Asian flavours. Having been seated at a prime window table overlooking the gardens, we had to turn a blind eye to the dozen rabbits gracing the lawn when our second course arrived – a rabbit and leek terrine with pickled shiitake mushrooms and for once (although usually a fan of menus that trumpet the origins of their produce) I wasn't keen to know where the meat came from. I assumed that it was very local indeed. The service was patchy and the main course was slow to arrive but it was undoubtedly worth the wait, and considering the techniques showcased perhaps a timing issue wasn't surprising. I savoured Stevenson's trio of suckling pig, featuring belly, loin and rillette accompanied by confit Jersey Royal potato, whipped cream and an intensely lemony peas à la Française that was a clever way of lifting the flavour profile.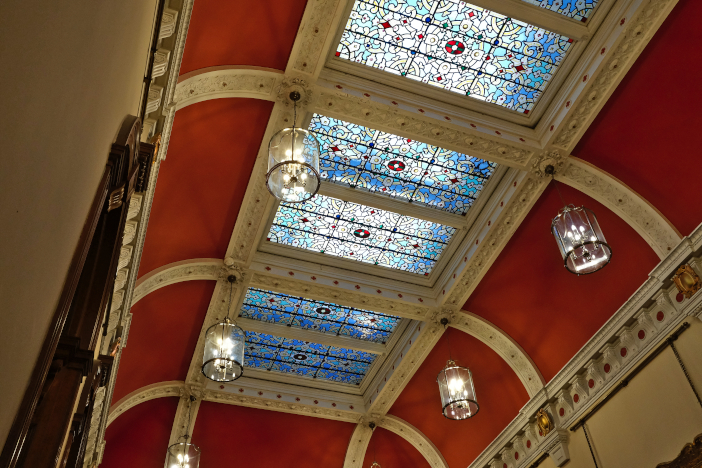 A pre-dessert of lemon posset with gooseberry compote and salted almond brittle proved the ideal bridge between the rich dishes bookending it, especially the decadent dessert glorifying the sensational marriage of chocolate and cherry. Stevenson's bold take on the classic black forest gateau is a triumph – serving the chocolate as a ganache rather than a cake and ignoring the unnecessary clouds of whipped cream and cherry jam we remember in favour of an elegant chocolate tuile and silky Morello cherry sorbet. The fact that this dessert is also booze-free is guaranteed to raise a few eyebrows around the dining room (particularly when it comes to the older guests) but for me this exquisite variation elevated the dessert to new heights, frankly the only kind I embarked on during this culinary Snowdonia adventure, but every bit as satisfying as reaching the summit.
Palé Hall Hotel & Restaurant, Palé Estate, Llandderfel, Bala, Gwynedd, LL23 7PS. For more info and bookings, visit the website.
Photography (c) Soho Photographic