"Alice was beginning to get very tired of sitting by her sister on the bank, and of having nothing to do: once or twice she had peeped into the book her sister was reading, but it had no pictures or conversations in it, "and what is the use of a book," thought Alice 'without pictures or conversation?'"
In the grounds of Rockliffe Hall, a five star country hotel, set just outside of the market town of Darlington, a giant wooden statue of a rabbit inhabits a tiny part of its 365 acre estate.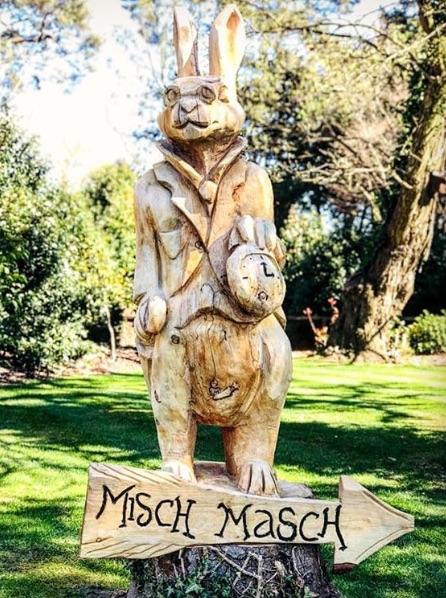 This slightly unexpected creature of the hotel's bucolic gardens symbolises connections that the original house, and nearby village of Croft have to Lewis Carroll – the area in which the author grew up as a young boy. Legend has it that this area of County Durham informed many of the varied backdrops described in Alice's adventures in Wonderland, and upon visiting, it isn't too hard to see why.
Darlington, whose promotional posters dub it 'a most ingenious town', is a reasonably quick two and a half hours on the train from London Kings Cross. The town is perhaps best known for its Market Hall, designed by the well-known Victorian architect Alfred Waterhouse, whose other projects include London's Natural History Museum and Manchester's Town Hall. The covered market once home to selling weaving wool, now hosts street food vendors and bars, as well as other family-run fruit and veg stalls, a fishmonger selling samphire and scallops from the nearby coast, two butchers offering homemade sausage rolls and more curiosities besides. Other attractions in the town include the Anglo-Saxon named and independent shop-lined lane of 'Post House Wynd', as well as the charming 'Mrs Palmers Wife' café (run by lovely Laurie – granddaughter of the eponymous 'Mrs') specialising in quality northern afternoon teas.
This ingenious spirit, and Rockliffe Hall's historical associations are not only of a literary kind. Being so close to the Great North Eastern railway, the main property, originally known as Pilmore House, also counts 'notable gentlemen' and families of engineering prowess amongst its hall of fame. Once inhabited by Thomas Storey, who worked alongside George Stephenson (of original locomotive fame), it was the profits from this new train line that eventually allowed the Blackhouse family to then purchase the entire estate.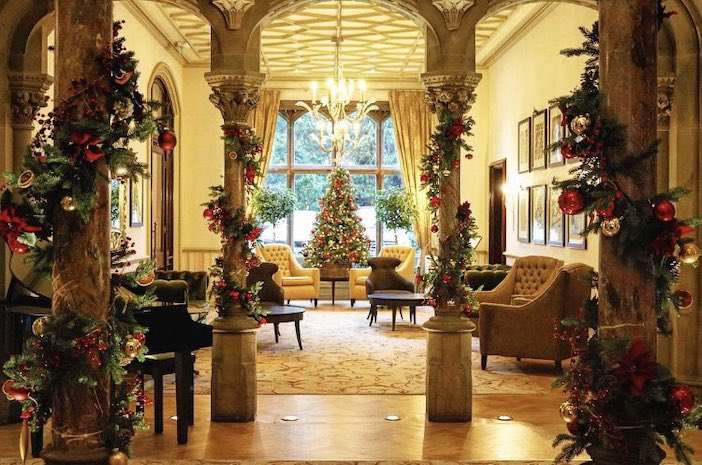 The many characters who have been a part of these grandiose wall's history can be seen hanging in gold frames as resident guests traverse the main stained-glass-windowed, wooden-panelled, stairwell – some with identifying captions, some leaving their mark only in how they present themselves painted – a lady in a feather hemmed long white gown, luxuriating on a chaise longue, her lurcher, loyally resting at her slippered feet, is a personal favourite.
Suites in the old part of the hotel are given in memory of the various people who passed in and out of this northern red-brick mansion. Our designated weekend abode is the 'Clayton-Swan', owner between 1905 and 1918 – related, by marriage, to Sir George Elliot, a prominent British Empire coal-owner, and the first company to lay a telegraph across the Atlantic.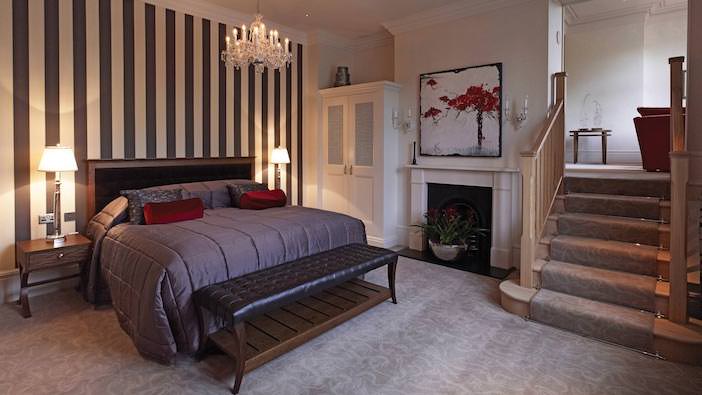 Today the hotel is owned by Middlesborough Football club, and under this new ownership, a new wing has been afforded, now offering 60 rooms in total. Most of these rooms are of more modern appeal but no less sympathetic to its previous historical context (the house was also once a hospital and a community centre). There are also stand-alone self-catering properties, hosting visitors of a more frequent nature.
One of the main draws of Rockliffe Hall's well renovated footprint today is the Spa. Indeed, the village of Croft was prosperous because people came from London to drink the foul-smelling spa water in the belief it would improve their health – in the same way that Carroll's Alice drinks a potion from a bottle which causes her to change shape. Day-trippers and residents alike now visit in not dissimilar fashion to soak away aches, pains and other neurosis in the 50,000 square feet of two pools – one hydrotherapy, the other framed with stained glass windows to bookened each side of the whole building. Each pool comes complete with the expected stations in which to elevate and plunge your body temperature to physical and mental wellness.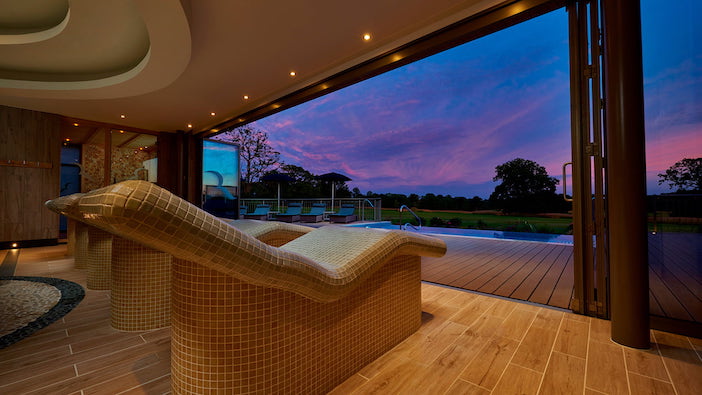 Upstairs, 13 treatment rooms facilitate further relaxation where Neom products are woven into tired body parts in a variety of ways dependent upon which menu item you choose. Outdoors, the hot tub and Spa Garden offer views onto the hotel's other trump card – the reassuringly challenging, 18 hole golf course. Lessons are offered from 3 PGA professionals kitted out from the well-stocked golf shop, and the club also boasts its own bar and restaurant, a great spot for a sundowner cocktail, or pre-departure Sunday lunch.
Walkers, on one of four recommended routes away from the hotel, might find hungry salvation at The Bay Horse pub, located in the village of Hurworth-on-Tees, beyond the cricket pitch, offering excellent local cuisine, cooked to exceptional standards in very cosy surrounds. Those keen for a more elevated culinary experience can choose to dine at Rockliffe Hall's The Orangery, one of the local area's most highly rated kitchens, currently under the expert direction of Steven Lamb.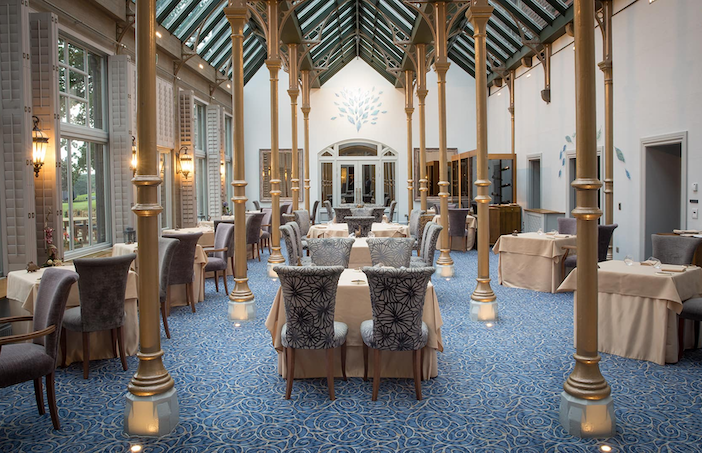 Diners can choose from a wealthy offering of a la carte dishes, or opt for the popular tasting menu – served with both a nod to more traditional fare, and a 'root and branch' nature. Each course comes expertly paired with wines from Head Sommelier Derek, whose own interests lie in countries such as Lebanon where Chateau Ksara's altitude, age and French heritage speak through the glass with international variety.
You can also expect classy Cru Beaujolais, and aptly named Little Beauty Riesling from New Zealand poured next to dishes such as salt-aged Ripon lamb that arrives in two servings (the latter, in traditional northern Hot Pot style), Orkney Scallops with braised pork-cheek, coconut, cauliflower and kimchi, and more inventive plates yet, like cheese and onion ice cream.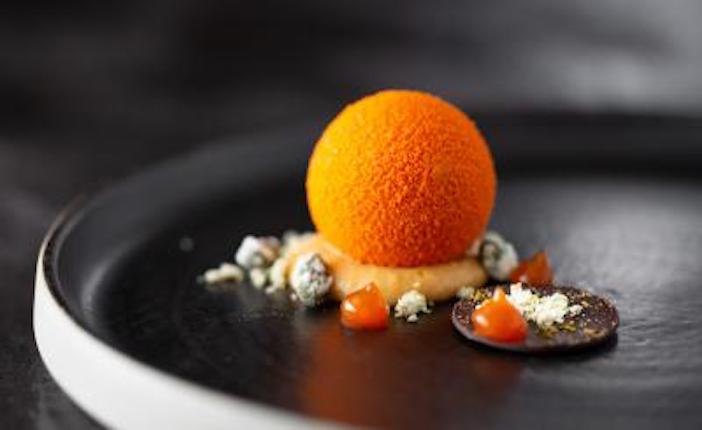 Some say that the service at Rockliffe Hall is akin to that of a private member's club – and this doesn't go unnoticed during our stay. The staff have a clear manner of dealing with their customers – from the liveried gents who welcome us through the hotel's main doors, to the restaurant GM who wishes us a happy day, or the deputy manager who guides us to our room through a caravan of wedding guests celebrating their special day.
It is in the bar late at night though that perhaps is where this personal service is best witnessed, and the dedicated team who ensure an ongoing flow of drams to sate even the most steel-like of thirsts. Sinking into velvet sofas, against a midnight sky, stories will be told, pictures will be captured, and the mirrors hanging on the walls may just encourage conversation that goes one step further into Alice's looking glass.
Rockliffe Hall is a member of Small Luxury Hotels of the World and Pride of Britain hotels. For more information, including details of offers and Christmas packages (such as Sunday Lunch with Santa and the New Year's Eve Ball), please visit www.rockliffehall.com.