Air, water and road traffic flies, floats and rolls beside the strategically located Runnymede-on-Thames hotel. Although its face is arguably blighted – the blank facade from 1974 oddly leaves the impression of a slap head forehead – a recent refurbishment of the four-star saw it given a good cosseting of character (and soundproofing) within.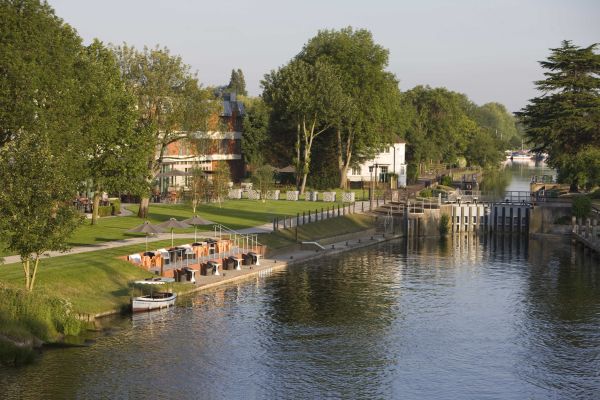 In view of a working lock taming what in winter is a threatening surge, but by summer, a barely rippling silver stream making picnics on the hotel's launch a pleasure, the horizontal skyscraper occupies a site once haven to an inn. Ironically, given water's proximity, it caught fire six decades before, enabling the modern version…
Ducks are the ubiquitous motif. A 'badelynge' of the bathtime versions ('skin' tones available in 'politically correct') graces a flight of stairs, while mugs in bedrooms feature beaks. Meanwhile moulded versions are static in Wellington boots on the approach to the 13-suite conference centre at the hotel's heart.
After introducing me to the hotel's robot (a childhood whim remembered in adulthood by one of the owners from a family who also owns The Grove, Hertfordshire and London's Athenaeum') my guide from Gateshead, Jessica Cockburn, already talks about leaving; Heathrow's Terminal 5 being but a five-minute cab ride away. "Some guests fly in just for meetings," she says. Leisure travellers are more likely to journey to Windsor and Legoland – this is a very family friendly hotel, incidentally. Boasting over 1,000 subscribers, the hotel's gym, for those more athletically inclined than I, is also a major attraction which saw use as reception for Team Great Britain on their return from the 2008 Summer Olympics. Historians can also make their way to the water-meadow where King John was thought to seal the Magna Carta.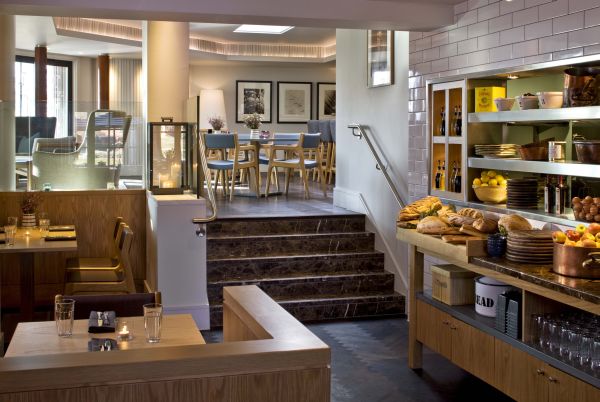 But, for the gastronomically inclined, Runnymede-on-Thame's The Lock perhaps refreshingly adheres to the mantra, 'nothing fussy or complicated'. Its previous incarnation was as a sports-themed pub which took the name of the first lock keeper, Charlie Bell. However, Camden-based Conran Design Group upgraded stained glass for clear, adding zinc tables and Anglepoise-style lamps. Sparky staff sport hotel-issue jeans and bring bread in rustic tins. Here, Head Chef David Coutts (previously at The Grove and Bluebird, London) cooks quite retro seeming dishes, including a 'seasonal fondue' menu. Ordered from a portable blackboard, smoked duck salad starter provides a few good meaty morsels among an abundance of fresh leaves, pomegranate seeds and fresh orange segments, while coq au vin basked in a lustrous reduction.
Whether you fly, flow or roll to it, the runnymede-on-thames strives to be all things to all people and is well worth a transitory escape from the rigours of modern life…