Noah visits Shangri-La Barr Al Jissah Resort & Spa in Oman and gets lost in a shimmering sea of calm…
With the laid back, islander haze of Villingili still fresh in our minds, we make our descent into Oman. The flight has been luxuriant and restful; a time spent in Air Oman's business seats is a time to be savoured. Muscat is alive and throbbing with activity as we rush through the airport. The terminal building is packed and big men in beautiful, hand-stitched head scarves and pristine white dish dasha mill around, busily collecting clients, loved-ones, strangers.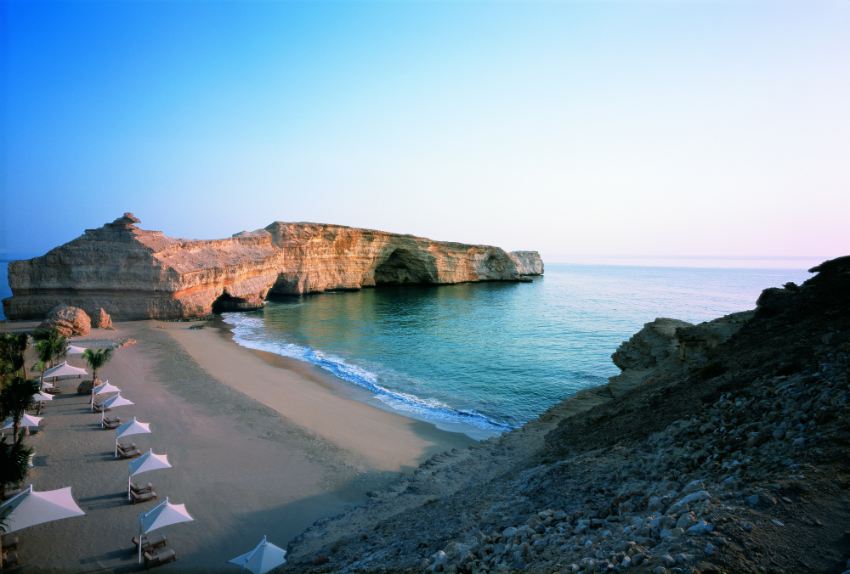 Our ward finds us and welcomes us with an expansive sense of hospitality. He leads us out into the hot night air which is starlit and fragrant with shisha smoke. The car park ahead of us is huge, and is filled with gleaming, new people carriers – we are in a land of oily opportunity. Next we're bundled into waiting, night blue Audi A8s. Air conditioning like you've never felt melts away the midnight heat and calms us, as we wind our way through the streets of outer Muscat and head into the barren, craggy hills. Oman is a beautiful, almost unspoilt by the uninhibited development that seems to typify some of the other Arab nations. I spoke to an acquaintance, a French archaeologist, before leaving for the trip and she told me it was like the red planet, like visiting Mars. At this hour, the red stone is hidden under a blanket of darkness, as we snake our way out of the city and into an uncertain, alien darkness.
Shangri-La's Bar Al Jissah resort is situated thirty minutes outside of the bustle of the city, on the coast. The resort is built to look out into the Gulf of Oman, its rooms staring into the deep, blue waters which separate Oman from Iran to the north and Pakistan to the south. The resort is huge, its great mass separated into three distinct zones : Al Bandar, Al Waha and Al Husn. It is to Al Husn (the Fort), where our cars deliver us. Al Husn is the most elegant of the three, Al Bandar and Al Waha are a business hotel and family hotel respectively, Al Husn is the luxury wing of Bar al Jissah, it is a place for gentle, elaborate leisure.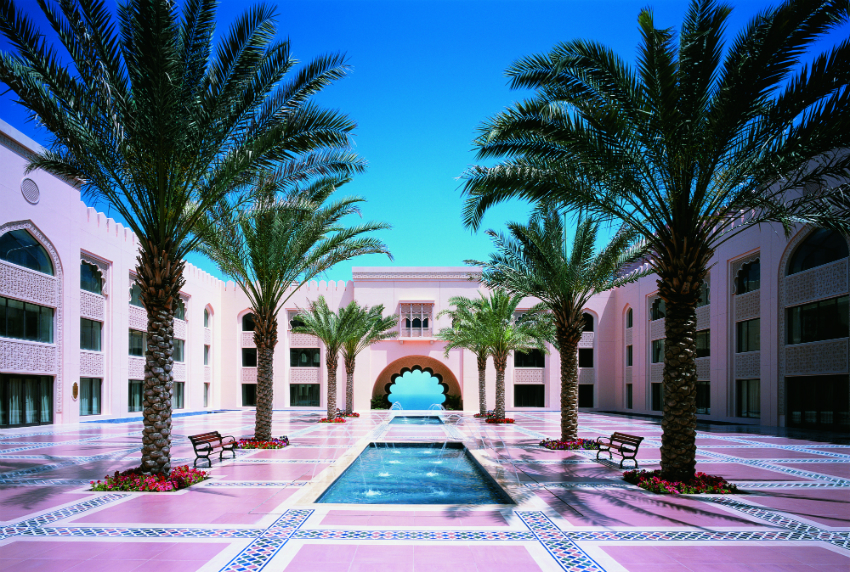 The sun rises early filling my room with a fresh sense of purpose. I am up and on the balcony which reaches out toward the gulf. In the morning light, all is clear and my French friend's comments now make sense to me. The resort curves around the bay, and is impressive by any travellers standards, but it is the rock, the red-stained and prehistoric backdrop to our hotel that takes your breath away. It is jagged and wild and otherworldly, it feels raw.
Breakfast is a joyful affair, taken on an outdoor terrace with the water directly behind us. We're offered a kaleidoscopic range of treats from croissants to Eggs Benedict. I yearn for the local breakfast of nuts, honey and flat breads, bolstered up by a little wave of garlic-scented humus and tabbouleh. The clientele are moneyed Europeans of a certain age, many distinguished-looking Brits, retired captains of industry and their molls. I like it, it feels a little like a latter-day Agatha Christie outing, a who-dunnit in the making.
The hotel opened in 2006, and is Shangri-La's only property in the Sultanate of Oman. The Sultan is a much loved and benevolent leader, who created the Oman that exists today almost from nothing. Forty years ago, in his father's time, the Sultanate was an isolted, totalitarian state, with two schools and very limited relations with other nations. Quaboos bin Said al Said changed everything and it is clear that he is adored by his people. As the afternoon comes around we have the opportunity to take a boat trip out into the gulf, which will pass the Sultan's palaces and continue around the coast toward Muscat, with a little snorkelling for good measure. The sun is high in the sky as we set out, armed rather ambitiously with snorkles and a chiller box of champagne. As we make our way past the huge white marble and alabaster structure that the Sultan calls home, past the craggy headland and small, dark coves, it's huge, burning mass begins to droop and fall, sending pink light across the gulf. We drop anchor, so to speak, and open the bubbles. From here, Oman's rugged beauty, it's outlook and unspoilt grandeur can be seen from a fresh angle. Our hotel can be seen in the distance, filled with light and loveliness; the energy of evening coming on. Champagne dispatched, we prepare for our return, the skipper offers speed and we accept. The engines fire and we are off, zero to eighty miles an hour in a matter of seconds. The speed is sickening, thrilling and transformative, the coastline flies past, a blur of magnificent proportion. The palace is nothing but a flash of white light. We arrive back, drained.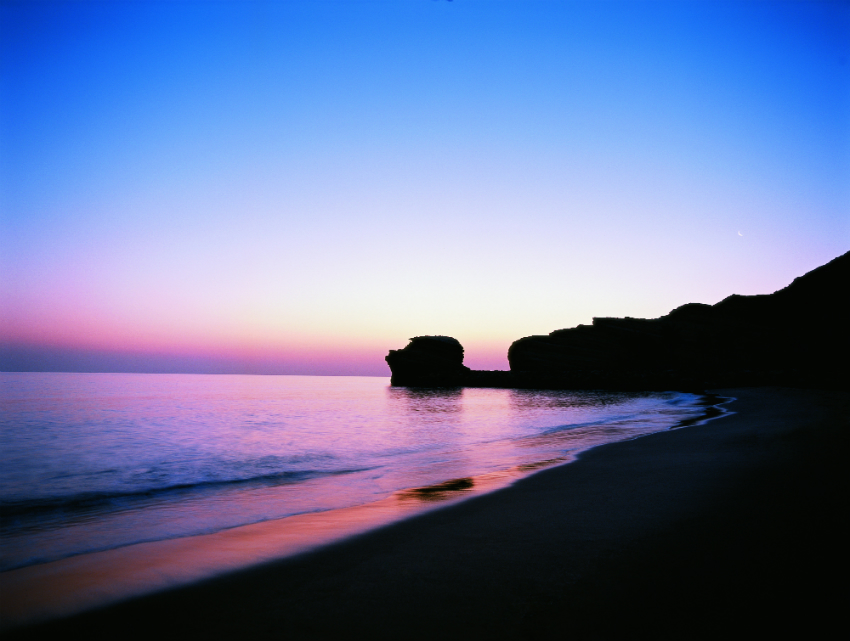 Dinner is served in a light-filled garden, looking up toward the grandeur of Al Husn on one side, and the coastline behind. The lobsters that are found in the gulf are known to be monstrous in size and generous of flavour, and our chef has devised a menu that celebrates this luxuriant crustacean. Lobster tempura is gossamer thin, crisp and without grease, a delicious, crunching treat. The main event is a huge, behemoth of a lobster, a kraken from the deep. Butter and lemongrass work together to add clarity and lubrication, wine and conversation flows late into the night.
Morning comes, with sadness. It is time to for our return. The end of this glorious journey. With a sombre gait, we climb back into our Audi and drive back through the arid desert landscape, arriving at the airport with gentle sighs. We have been moved by our experience. Shangri-La Resorts help to offer welcome respite from a complex and challenging world. Whether you are a seasoned traveller, or someone who's planned the trip of a lifetime, the dedication to excellence and commendable eye for detail allows their clients to get lost in a shimmering sea of calm.