The sky is black and the air is warm. A flute of fizz in hand, I recline on a sun lounger and drink in the view – it's midnight in Paris and mere metres from me, Gustave Eiffel's latticed legacy is twinkling manically like a madman on acid, blue and white lights flashing frantically up and down its strip as if it were about to explode. It seems sweet and fitting, this light show in the City of Light, which takes place after dark every hour on the hour until 1am. Affording me this postcard perfect view is my roof terrace at the Shangri-La hotel, where I can see everything from the glinting golden dome of Les Invalides to the bell-shaped spires of Sacre Coeur in the distance. It's early September and Paris has been kind – by day her skies are cloudless and piercing blue. The city has never looked so beautiful, and probably never will.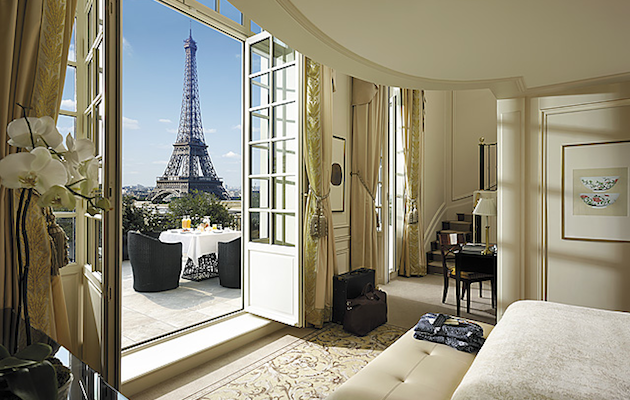 My suite, which has its own staircase, is classical French in style. Using a palate of pale blue, gold and cream, I have my own writing desk, and chef has kindly left me a quartet of apricots arranged in a black bowl like a Cezanne still life. Fabrics are sumptuous, from powder blue silk cushions, velvet-lined chairs and vast Venetian rugs, to indecently comfy Egyptian cotton sheets. The Shangri-La goes big on the small details: rooms are brightened by fresh red roses, cotton buds are individually wrapped and sunken baths boast waterproof pillows lest your neck starts to creek mid soak. There's even a notebook and sharpened pencil in the loo in case inspiration strikes at an inopportune moment.
For those lucky enough to be able to afford it, a sojourn at the Shangri-La will spoil Paris for you for good. It's ideal for those keen to take in the city at a relaxed pace, rather than ticking off a to do list of must-see landmarks. Housed in what used to be Napoleon's grand nephew and noted botanist, Prince Roland Bonaparte's private residence (built in 1896 in the BCBG 16th arrondissement), the five-star hotel, which opened in 2009 as the Asia-based luxury hotel group's first European venture, boasts 81 rooms, 21 suits and three Michelin stars. Interiors are suitably spectacular for its grand setting – chandeliers, gold panelling and stained glass abound. It's a place I can imagine Marie Antoinette feeling very at home in, though the luxury never spills over into excess.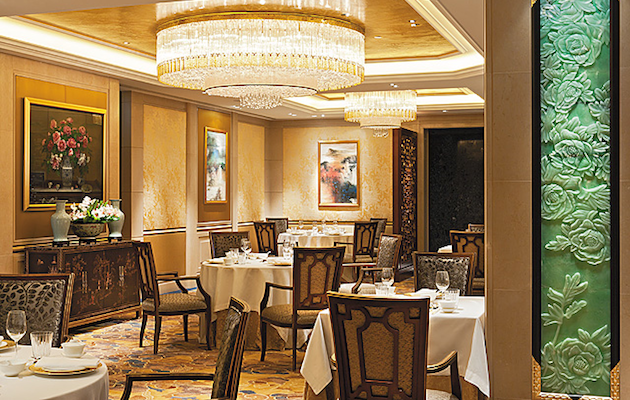 Owners of the aforementioned Michelin stars are high-end Chinese restaurant Shang Palace and L'Abeillle (the bee) run by revered French chef Philippe Labbé. The pair couldn't be more different, but reflect the hotel's Asian roots and French setting. Shang Palace, which won its Michelin star last year, is prettified with ornate jade panels shipped in from China, with tables given a sense of privacy through wooden screens dotted around the restaurant. Headed up by Frank Xu, Shang Palace specialises in Cantonese cuisine. Dishes are designed to be shared and are served on a marble Lazy Susan – a dangerous method for gluttons like your scribe. Among the many delights offered on my visit were piping hot shrimp and pork dumplings with crab row; crispy deep fried prawns with garlic and chili; silky barbequed pork with honey; and fried rice with shrimps, chicken and duck served in a steamed lotus leaf. I left stuffed as an emperor and craving sleep in the unseasonal September heat.
Named in honour of Napoleon's favourite emblem, the 40-cover, two Michelin-starred L'Abeille is small in size but lofty in ambition. Decorated in hushed grey tones, with splashes of yellow adding flashes of life, the space is so small and welcoming, it feels like you're dining in a rich relative's front room overlooking a flower-filled landscaped garden in full bloom. Taking up residence in the Shangri-La in 2009, Philippe Labbé's signature attention to detail is evident in every dish that comes out of the kitchen, from amuse-bouche to petits fours. His cooking is playful, marrying flavours as if plucking names from a hat, like langoustine and raspberry, that shouldn't work but do, creating a vivid edible experience.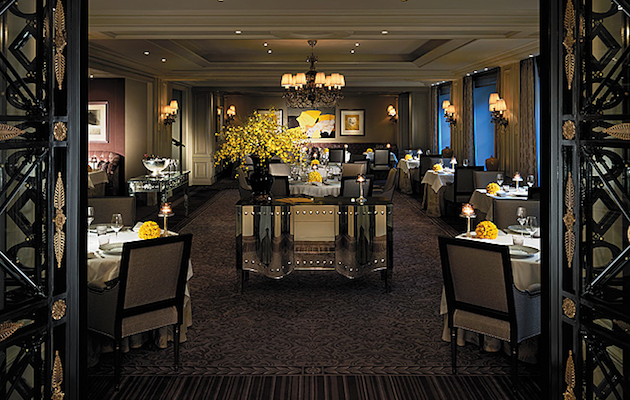 A black slate of amuse-bouches looked like a board game filled with yuzu meringues, kumquat dots and a square of savoury shortbread topped with freeze-dried raspberry. The simple beauty of homemade black olive bread and salted butter is so satisfying, I find myself compelled to call the waiter over for a third loaf. Proving his finger is fizzingly on the pulse, a palate cleanser of kohlrabi and pickled radish opened the airways for the punchier flavours that followed. Langoustine tartare with verbena oil, fresh raspberries and raspberry vinegar proved the highlight of a magnificent meal and lives on vividly in my mind months after eating it. The sweetness of the plump, juicy scampi was offset wonderfully by the sharpness of the raspberries and the citrus tang of the lemon verbena. Light-footed, the flavours pirouetted across the palate like one of Degas' ballerinas.
The main event, Limousin lamb, was ceremoniously served in a bell jar billowing with smoke that we were encouraged to shove our heads into and inhale. Perfectly pink, the tender flesh was enlivened by a swoosh of spicy aubergine and given a Middle Eastern twist with the addition of cooling yoghurt.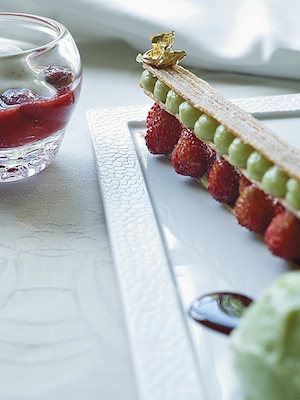 A generous glass of Blason de L'Evangile 2009 from Pomerol proved a masterclass in the heights Merlot can reach in the right hands. With a perfumed nose of black cherry and ripe plum, and a velvety texture, the sommelier was called over on more than one occasion to do the decent thing.
No visit to L'Abeille is complete without sampling its legendary mille-feuille. Shaped like a stretched out accordion and topped with edible gold, the pastry tasted like a freshly toasted waffle, while the vanilla interior was the stuff of childhood dreams. Labbé hit a home run on his final flourish; yuzu-flavoured, teddy bear-shaped lollipops served by a blond, baby-faced waiter.
Just 45 minutes from Paris is a hidden gem to rival Versailles in beauty and splendor; the 17th century Château de Vaux le Vicomte. Owned by twin brothers of contrasting character – the tall, fair, Prince Charming figure of Jean Charles de Vogüé juxtaposed by the dark, rebellious and irreverent Alexandre, like light and shade in a painting, they balance each other out brilliantly. Set within 500 hectares of immaculate gardens designed by landscaping god, André Le Notre (who also put his hand to the Tuilerie Gardens in Paris), the château was built by the ambitious young Nicolas Fourquet, King Louis XIV's finance minister.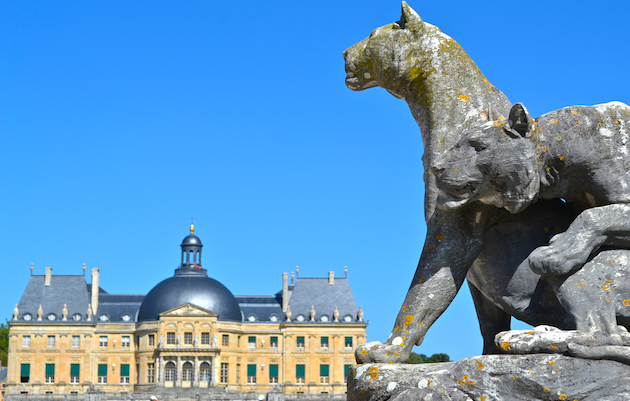 Used in several scenes of Sofia Coppola's 2006 film, Marie Antoinette, the château's own story is deserving of the silver screen. Having learnt of Fourquet's beautiful country pile designed by architect Louis Le Vau and prettified inside by painter Charles Le Brun, Louis XIV became so envious of the château, he had Fourquet imprisoned for life on false grounds just three weeks after moving in. Adding salt to the wound, the Sun King had all of the trees at the château uprooted and even stole the furniture for his copycat château, Versailles, enlisting Le Vau, Le Brun and Le Nortre to create the famous space.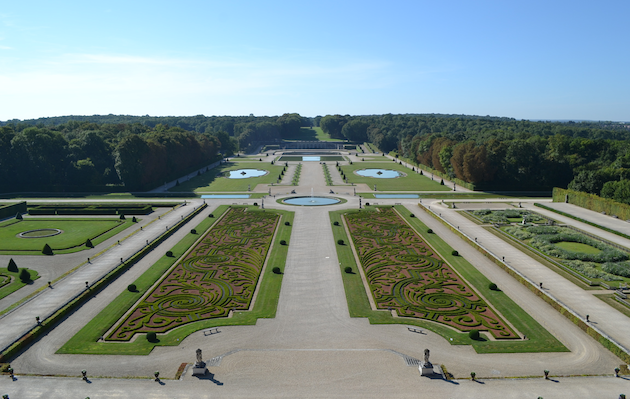 On our visit, we were treated to lunch in one of the château's private dining rooms overlooking Le Notre's manicured masterpiece. In the turquoise and gold space we dined like kings on foie gras and hazelnut lollipops, lobster ravioli and giant strawberry macaroons. Back at the hotel, I indulged in a postprandial nap during an hour-long massage at the spa, where you can choose to be rubbed with either vanilla, apricot or green tea oil. Speaking of tea, one of the sweetest memories of the Shangri-La is its signature scent – Bvlgari White Tea. It's the first thing that hits you when you enter the lobby, and, with all of the bath products bearing its scent, it slowly seeps into your subconscious and will now forever remind me of those halcyon days.