If you've never been to London it's always advisable to begin in Mayfair, and Piccadilly is its beating heart. It had been a while since I last checked into Sheraton Grand Park Lane or enjoyed afternoon tea in its glamorous Palm Court (back when it was simply called the Park Lane Hotel), so I was extremely keen to see the changes that have put this Art Deco gem, built by Sir Bracewell Smith in 1927, in line with better known five-star counterparts since its multi-million refurbishment in 2016.
There is little point in staying in an historic London hotel when all the history has been stripped away by an international hotel company set on making the building identical to all their other properties, and fortunately Sheraton Hotels, part of Marriott, have successfully breathed new life into the building whilst being extremely mindful of the love many long-standing guests (including myself) have always had for the unique original period detail, from the Portland Stone façade of the building to the marble floors awaiting you within.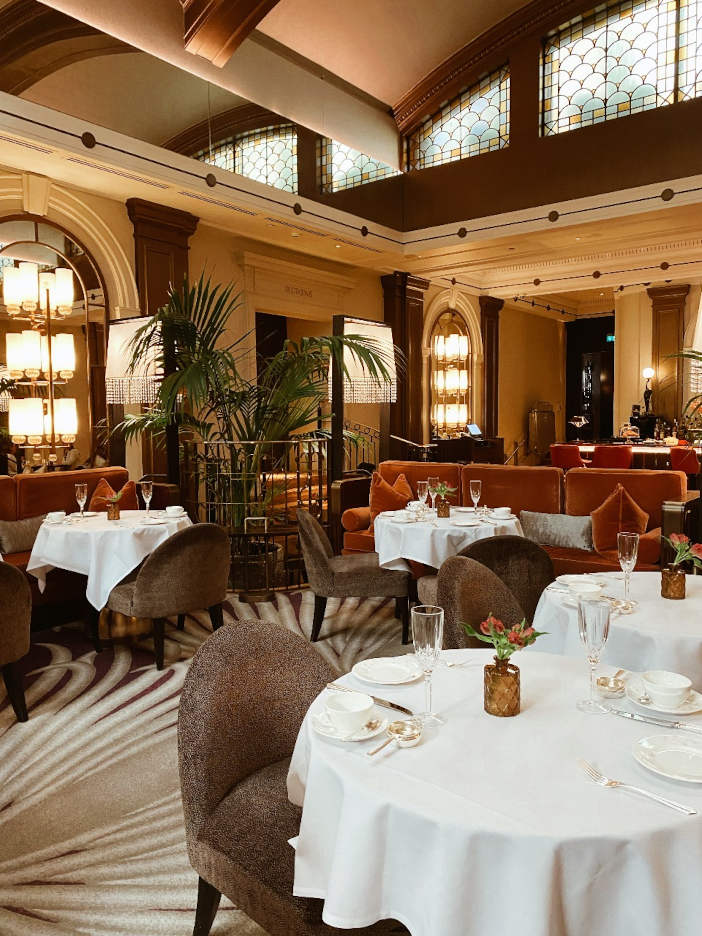 Even if you haven't visited the hotel, you're likely to have seen it in one of the many films that have used the hotel as a location, thus capturing its architectural glory. When you set eyes on the masterpiece that is the Grade II listed Silver Ballroom, the only intact full-size Art Deco example in London, or the centrepiece of the hotel, The Palm Court, you'll understand why films like The End of the Affair with Ralph Fiennes and Julianne Moore (one of my personal favourites) to the children's fantasy, The Golden Compass with Nicole Kidman, chose this venue to portray the magic of a bygone era or the razzmatazz of the 'Roaring 20s'. Hotel guests can enjoy a cocktail at the bar, take afternoon tea in the elevated dining area, or simply relax in the lounge which offers the best viewpoint of the glass vaulted ceiling with its appealing Art Deco curves designed to lead the eye.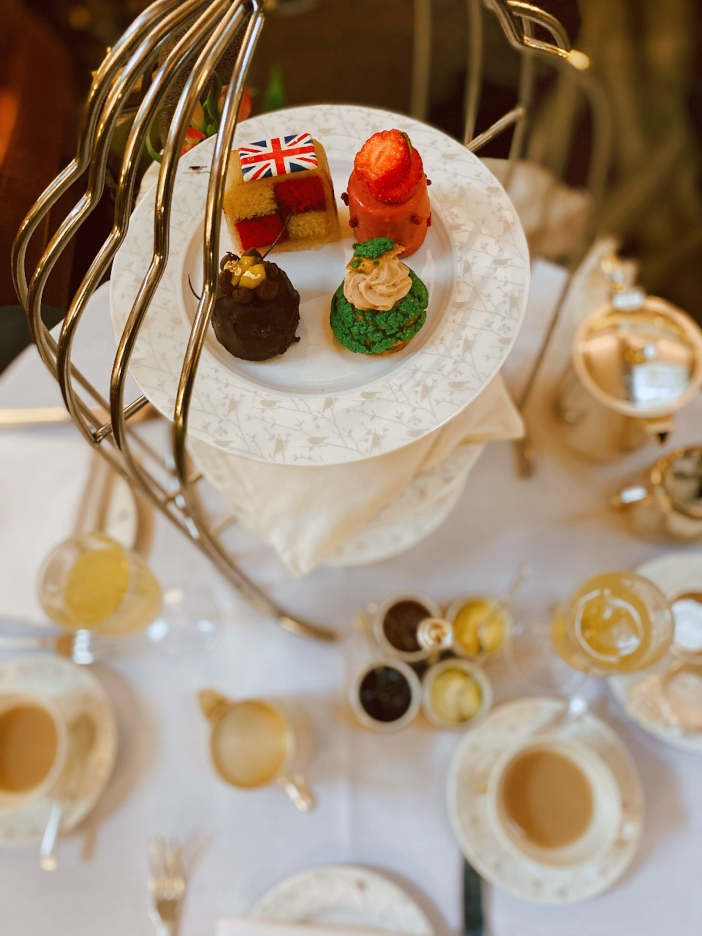 Naturally, we opted for the "Nineteen Twen-Tea Afternoon Tea" (£49 pp), ever my preferred way to settle into a hotel, but never more so than here, where their reputation for celebrating this charming English pastime in serious style stretches back to when they opened almost a hundred years ago, winning countless awards ever since. Wooed with the daintiest finger sandwiches on various breads, warm scones accompanied by homemade jams and Cornish clotted cream, along with the hotel's famous lemon curd, the true art of taking tea is all about exercising restraint whilst sipping many cups of tea (in this case their own 1927 blend by Newby) before reaching for the handcrafted patisserie gracing the top tier – and the '1927 Sheraton glamour reborn chocolate ganache', craquelin choux bun, and that old favourite, Battenburg, are worth waiting for.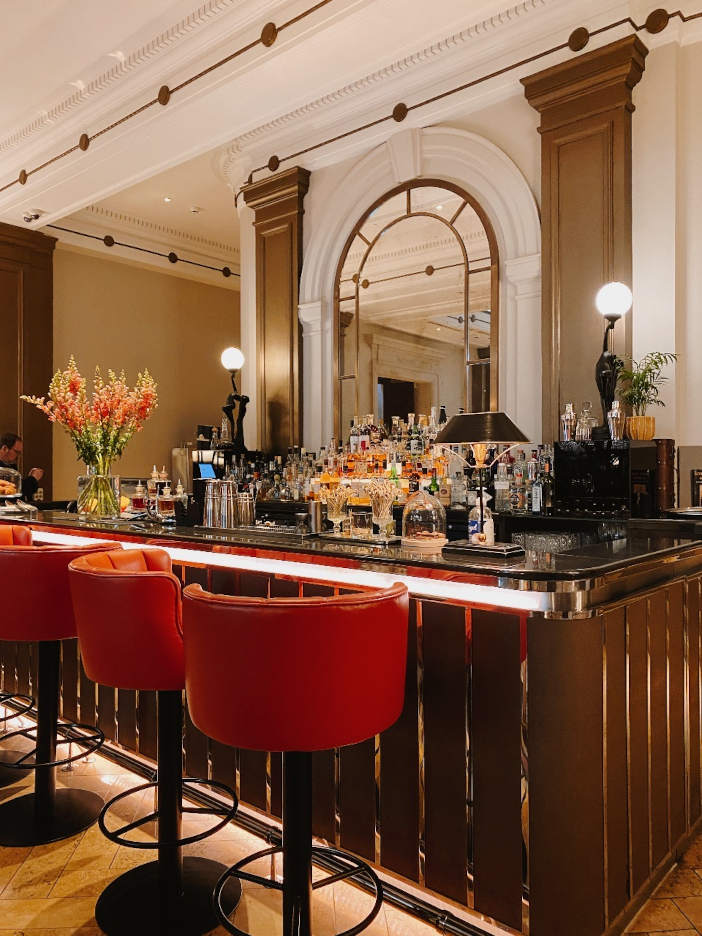 Having always tended to associate the 1920s and 30s with the glamour of Old Hollywood, I was delighted to make myself at home at one of the hotel's 43 new, filmstarry suites, spacious enough to practice a Fred and Ginger routine. Let's be honest, we could hardly move after that afternoon tea, let along waltz! Passing up the macacrons awaiting us, we were all too happy to find a chilled bottle of alcohol free Saicho sparkling tea (a thoughtful touch given that we don't drink), which we duly sipped whilst drawing back the voiles to take in the views over Piccadilly and Green Park.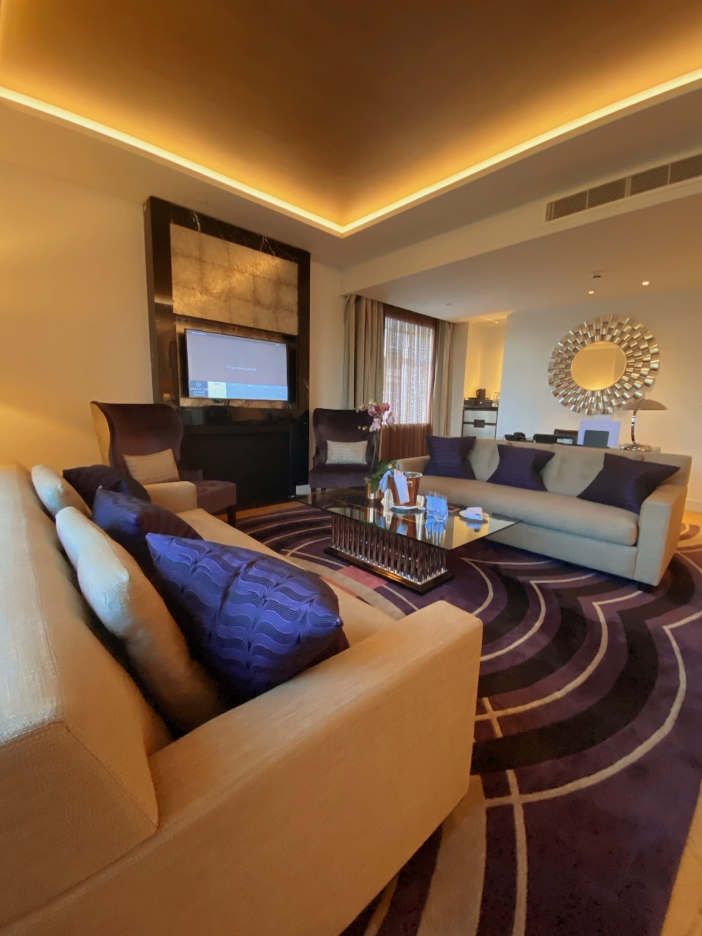 The spacious living and dining areas are designed in a sleek modern style with a welcome nod to Art Deco flair, so too the bedroom with its blissfully comfortable superking bed dressed with premium linens. This led to a monochrome bathroom harking back to the 1920s, well stocked with Molton Brown toiletries, while even the corridor to our room, all too often an overlooked element of hotel design, featured curvaceous Deco fonts on all the doors, a swirl patterned carpet and nostalgic, yet classy black and white photographs of London taken during the heyday of the hotel.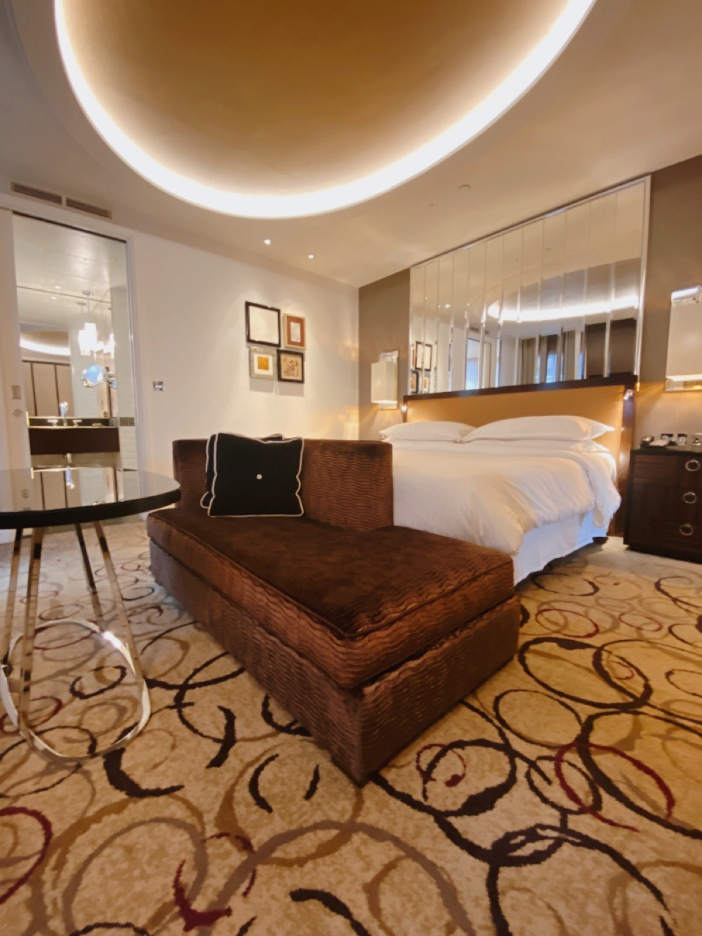 Our suite granted access to the Fitness Centre and the corporate-inspired Club Lounge which, similar to a first-class travel lounge, offers high speed Wi-Fi, help yourself complimentary soft and hot drinks, snacks, canapés etc., with areas for working in privacy or meeting business associates. Although breakfast at the Club Lounge is included in our room rate, for a supplement guests might prefer the hotel's main restaurant 'Mercante', which offers table service, more of a spacious dining room experience and a wider buffet selection, along with a la carte dishes. Also open for lunch and dinner, Mercante is based around the concept of informal Italian dining, with a menu featuring cicchetti and antipasti, alongside pizza, pasta and dishes from the grill.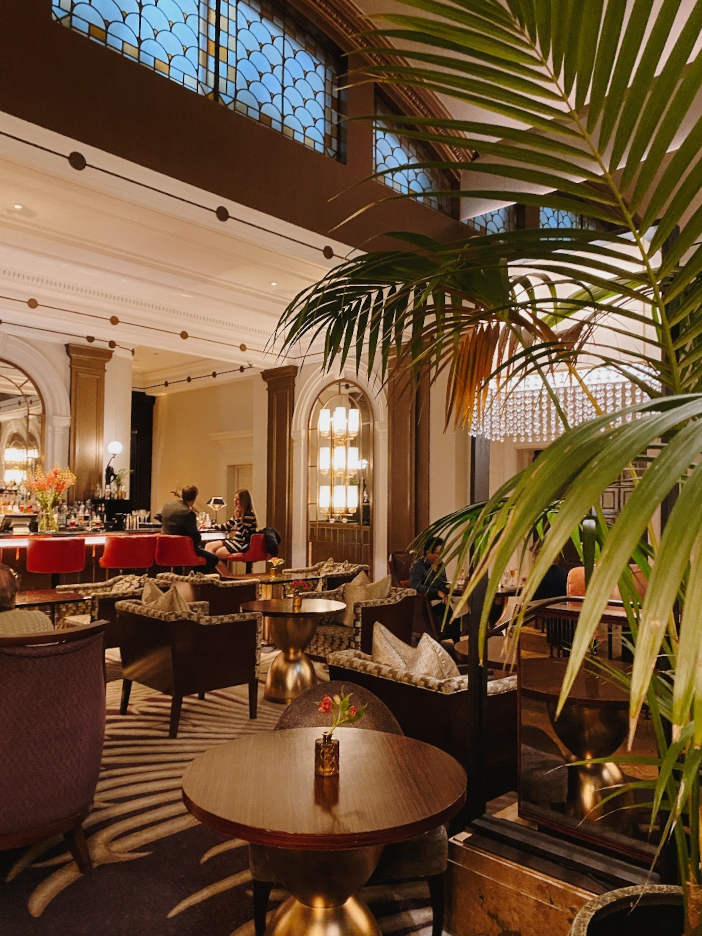 Within a 10-minute walk to Hyde Park or Buckingham Palace, the unsurpassed location of Sheraton Grand Park Lane is ideal if you want to sightsee or appreciate the finer things in life, being so well placed as to make asking the concierge for a map almost unnecessary. Just exit the main door and head left and by walking down Piccadilly you'll take in some of the city's most iconic establishments, from The Wolseley for a spot of supper before heading to the theatre, Burlington and Piccadilly Arcades and Fortnum and Masons for luxury shopping, while head to The Royal Academy or Hatchards and Maison Assouline bookshops for a spot of intellectual nurturing and an entirely different pace.
The hotel is also well placed for Curzon Street where the arthouse Curzon Mayfair cinema is a regular film premiere venue, not to mention a good choice on rainy days, while gentlemen can enjoy a shave at the original premises of legendary Mayfair barber, Geo. F. Trumper (mentioned in Evelyn Waugh's 'Brideshead Revisited'), with its traditional mahogany display cases and fittings, before taking in Shepherd's Market, the once renowned red light district that is now a maze beautiful shops and restaurants including Kitty Fisher's (named after the famous 18th century courtesan who lived nearby), whose aromas from the wood-fired grill will lead you in the right direction. But despite the many wonders on our doorstep, it was all we could do to haul ourselves away from our elegant suite, and when you're grieved to leave the room, you've found a good hotel. If you happen to have a superb view, as we did, you really can have your macaron and eat it.
Sheraton Grand Park Lane. Piccadilly, London, W1J 7BX. For more information and reservations please visit the website.
Photography (c) Rebecca Lipkin