If you ask me, the Grade II listed Sofitel London St James on historic Waterloo Place is put to far better use as a hotel than its original purpose of a bank; perfectly located for Piccadilly and Regent Street shopping come the January sales, yet just enough out of the hubbub to appreciate the more exclusive, gentrified area of the city, where gentlemen's clubs, barber shops and tailors stand shoulder to shoulder and fly the flag of a bygone, more refined era.
A strong along St James's Street is a traditionalist's paradise, a who's who of Royal Appointment speciality companies with their alluringly mysterious shop fronts where names speak for themselves; from John Lobb, producing the finest handmade shoes since 1866, Lock & Co crowning customers with the finishing millinery touch to any outfit since 1781, to J.J. Fox who continue to provide the finest cigars to those who know size isn't always a prerequisite of quality. This ethos can just as easily be applied to hotel rooms. For surely it's better to have a 'cosy' room in a royally located five star hotel than a suite in a bad neighbourhood? If possible, have both. Which brings me back to my very natty abode for the night…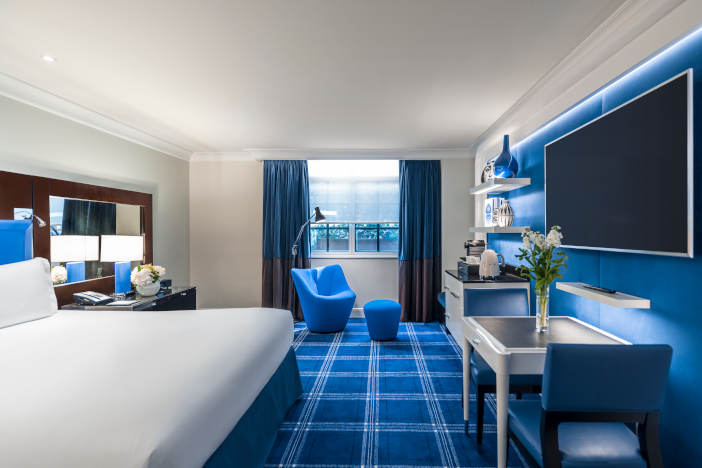 The Sofitel group, whose London St James reception team greet arrivals with 'Bonjour!', have the knack of balancing the British capital's first class heritage with its vibrant, trend-setting present, with the hotel's original designer, Pierre Yves-Rochon recently redesigning the 183 rooms and suites in a distinctive style which nods to the swinging 60s with vibrant pops of colour that are sure to cheer up a rainy day. Our magenta pink Premium Luxury Room (with all mod cons) certainly made us smile, as did the striking black and white photographic portrait of a young, doe-eyed Twiggy, complete with painted on eyelashes. The sexy monochrome ensuite wet room with walk-in shower, offered an equally sophisticated vibe, stocked with Hermès toiletries to leave you positively exuding luxury.
For more intensive pampering head to the SoSPA– or should that be 'wellness universe?'; three floors of urban oasis with high ceilings, tranquil treatment rooms with heated beds and feather duvets, along with a private hammam, steam room and hydrotherapy jet bath which guests are invited to enjoy. SoSPA offers prestigious French brands such as Carita and Cinq Mondes, with treatments as traditional or innovative as you like. Massages alone vary from the Balinese, Oriental or Ayurvedic, while my 60-minute In Deep Relaxing massage was coupled with my own music preference and not only noticeably improved my tense muscles and circulation but offered complete relaxation, not always easy to come by in this hectic metropolis.
Alas, I cannot comment on the 24-hour SoFIT gym as it was not advisable to partake of vigorous exercise following my treatment, yet I have been assured of its attributes. Surely my earlier shopping expedition to the nearby Fortnum & Mason foodhall was more than enough heavy lifting for one day? Travellers feeling jet-lagged will benefit from the AlphaSphere by Sha relaxation chair for a unique multi-sensory experience that promises to greatly alleviate travel exhaustion and leave you feeling good to go. This might be helpful considering the hotel's lively St James Bar that will almost certainly encourage a late night. Firstly it is wise to fortify yourself at the adjacent and much-in-demand Wild Honey restaurant by famed Chef Anthony Demetre, adorned with modern lighting and art and serving an all-day menu highlighting the rarest, most delectable British produce, with dishes that see-saw between classic English and French. Just don't mention Waterloo or Brexit.
The non-alcoholic 'Isabella' cocktail, consisting of Seedlip Spice 94, lime juice, raspberry & elderflower syrup, was so good I ordered another before I'd even finished reading the menu. A starter of smoked eel with a cucumber, brown shrimp, chervil and roast hazelnut salad, coupled with a brioche sandwich was a Vicar's tea party of perfectly balanced English flavours; the dainty, crustless double-decker skewered with ultra fine breadsticks I didn't initially realise were edible. Across the channel for the main course, the Bouillabaisse Marseille-style was another example of precision and harmony, celebrating the best of regional French cookery and the catch of the day. The filleted fish is presented in a copper pan with an intoxicatingly heady saffron rich sauce and turned potatoes, along with all the classic 'get stuck in' accompaniments, including made rouille and ultra fine croutons.
Throughout the meal, the service is slick, while the vibe is, dare I say "buzzy, and succeeds in making the restaurant feel like a stand-alone premises rather than one belonging to a hotel. Dinner by Heston at the Mandarin Oriental springs to mind, or the hip Plum + Spilt Milk at the Great Northern. For the finale, the signature desserts go back to England and put one in mind of A. A. Milne and heartwarming bedtime stories; the famous Wild Honey ice cream is not only made with fresh Burford honey but is finished with additional honeycomb served straight from the frame at the table. This honey is from none other than Bermondsey Street rooftop bees – widely judged to be the best honey in London. As a certain bear so rightly said: "…the only reason for being a bee that I know of is making honey…And the only reason for making honey is so as I can eat it."
The classic English custard tart we dived into next (it's good to share children) proved equally dreamy, with golden sultanas, pine nuts and salted butter that made it nigh on impossible to rest spoons and cry "enough!". You know a pastry chef is showing off when the coffee arrives with a further display of skill you just can't resist – freshly baked canelés. The same English meets French gastronomic celebration continues each morning at Wild Honey, with exceptional freshly baked pastries and the most luxurious English breakfast. It really is the perfect hotel for Anglo-Franco-philes about town. Oh, and bears!
Sofitel London St James, 6 Waterloo Pl, London SW1Y 4AN, England. Rates from £315. For more information and reservations please visit the website.