The old bookworm has begun to twitch. It is, perhaps, the gaggle of youths playing songs rich in reference to knife crime that have him so on edge; on the other hand, it might equally be the whinging child whose laments crescendo alarmingly to blood curdling screams at its parents' intermittent entreaties for it to be quiet. Either way, cramped branch line trains do not agree with the old bookworm. He clutches his copy of Betjemen poems ever closer, reciting aloud, apparently to me, but more likely as a prayer offered up to the gods in charge of the proper Great British Holiday, upon which he doesn't consider himself to be. "Sand in the sandwiches, wasps in the tea," he murmurs on repeat, incantation-like.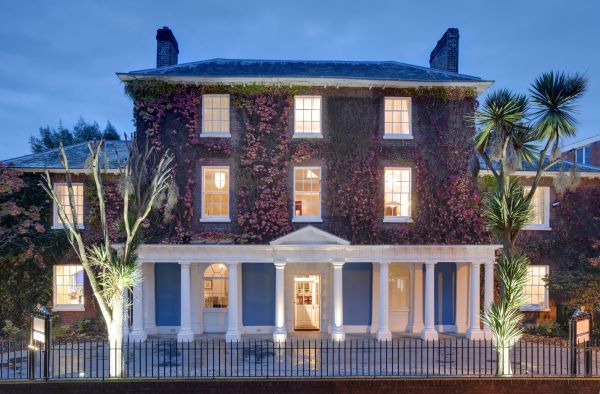 All of his perceived portents of horror, it transpires, are dispelled within an instant of approaching Southernhay House, which is surely in possession of Exeter's finest Georgian façade. "Good business," he mutters, his abject misery of not 20 minutes earlier having been swapped for barely suppressed excitement; though still he cannot resist a barbed allusion to how our trouble-making train travellers had only very narrowly escaped strangulation at his hands, a reference whose appositeness he is the first to point out. After all, Southernhay House is the creation of Deborah Clark, the woman who can claim responsibility for restoring Burgh Island's magnificent 1930s hotel to its former Art Deco glory. And it doesn't take a bookworm to connect a place famous for having been a haunt and inspiration of Agatha Christie with the impulse for neck wringing.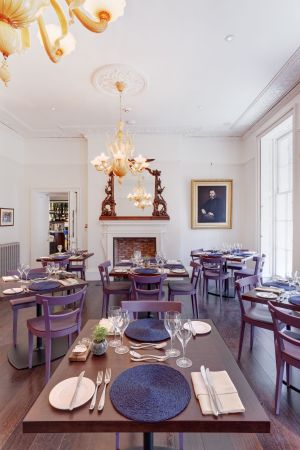 But there shall be none of that here at Southernhay, for its staff are so impeccably charming that you're more likely to want to give them a hug than harm them. Notable in particular is Noga who runs the operation like clockwork and is genuinely pleased to help – but this is an attitude that runs throughout the hotel. Everything here is a sensuous and aesthetically on-point delight, from the bedrooms, which style themselves as a mixture of Louis XV chic and velvet-draped 70s decadence, to the upmarket and deliciously desirable restaurant.
Dinner was a whirlwind tour of fine ingredients and sublime cooking, courtesy of head chef Chris; the bookworm took much delight in excellently prepared pork ("the pig," he mused between mouthfuls, "certainly died for our sins") and I, who still takes care to see mammals unhurt, instead gave myself entirely up to the sole, which tasted of the Devon sea. We were both exceptionally pleased with our repast, which, even by our sybaritic standards, was something quite special.
After an excellent night's sleep, interrupted only by the bookworm's unfortunately acquired habit of murmuring poetry in his sleep (I think he's really still awake, poor lamb, and doing it to try to appease me; it will not wash), we went downstairs for breakfast the next day. Reader, I shall not lie; it was very probably the finest petit dejeuner I've ever had in a hotel. The bookworm threw himself, greedily, upon the full English, and pronounced himself an especially big fan of the homemade baked beans and the hog's pudding, a sort of heavier sausage. I, meanwhile, was delighted to try the Canadian pancakes, which came with streaky bacon and maple butter. It was habit-forming, artery-clogging and sublime. I tried to think of a polite way of asking for the recipe, but it was all I could do, between giddy gulps of pleasure, to say "Please" and "Thank you".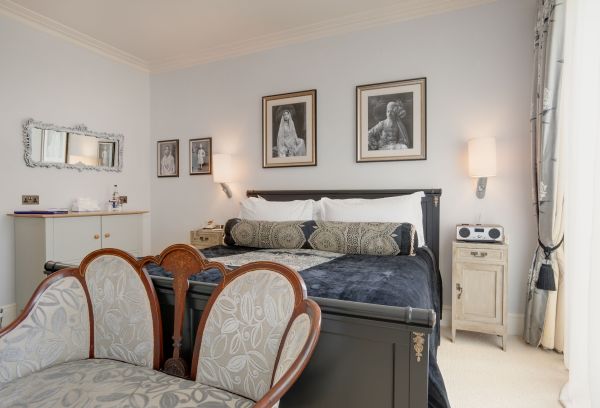 Eventually, somewhat miserably, we took our leave and headed back to London. As the bookworm wandered through the streets of Exeter, alternately beautiful and bomb-damaged, he said, in his most plaintive tones, "I would say 'Come on, friendly bombs, and don't fall on Exeter', but they already have done." Laughing at him for his pomposity and silliness – remind me why I don't trade him in for someone who doesn't live in a library – I can only murmur that the only explosives I'd drop on Southernhay House are love bombs. It's a truly sublime and special place, and even a cynic like me, bored of chintz and fripperies and tedious little drolleries, was impressed. Returning will be less a pleasure and more a necessity. Now, how do I make those delectable pancakes…
Southernhay House, 36 Southernhay East, Exeter, EX1 1NX. Tel: +44 (0) 1392 435 324. Website. First Great Western offers advance single fares from London Paddington to Exeter St Davids from £12. Visit the website for more information or call +44 (0) 8457 000 125.