I didn't think it was ever going to happen. My mum, sister and I had decided to go away on our first girly spa trip together. Trying to agree a date was hard enough… but what about the location? With one of us in Preston, one in London and one in Buckinghamshire, it was tricky trying to find somewhere sort of, roughly, in the middle.
And then we discovered Tewkesbury Park. A stone's throw from the M5, and on the edge of the Cotswolds, it seemed to tick all the boxes: well-located, numerous facilities including a pool, spa and even tennis courts, all wrapped up in beautiful countryside and stunning views.
It was a warm, balmy day as I drove through the medieval market town of Tewkesbury, past the famous abbey with its Norman tower, then up the long drive to the hotel.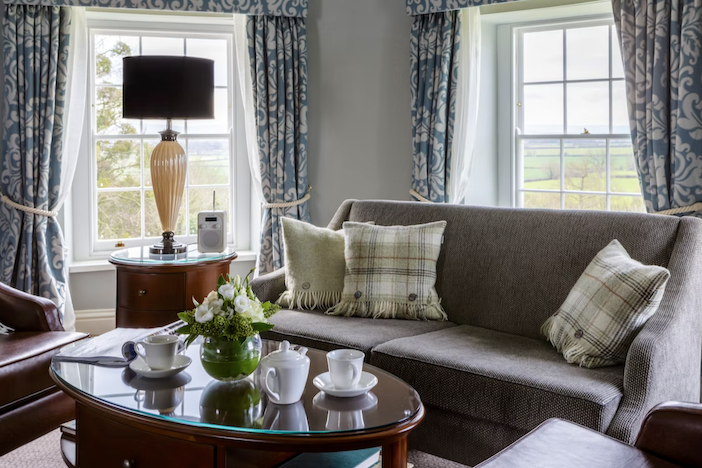 As we checked in, I knew we'd chosen well. A charming receptionist welcomed us and, after our long journey, made us feel instantly at ease.  We chatted about the gorgeous scenery ("Are those the Malvern Hills over there?" "And look, what a spectacular view of Tewkesbury Abbey"), then went off to find our rooms.
A maze of corridors later, we had located our double room and twin room.  The accommodation was smart and modern, with bespoke furniture, plump beds and all the mod-cons. Our neighbouring rooms each had a terrace, perfect for walking over to see one another, and borrow a book or nail varnish. A bag full of cosy blankets to use outside was a thoughtful touch.
We had arrived at the hotel on a Friday afternoon, and while the par 72 course was busy with golfers enjoying the sunshine, the indoor swimming pool and outdoor spa area were blissfully quiet. As the sun jumped in and out of the clouds, we accordingly hopped in and out of the jacuzzi / sauna / pool / steam room and onto our loungers to maintain a perfect temperature.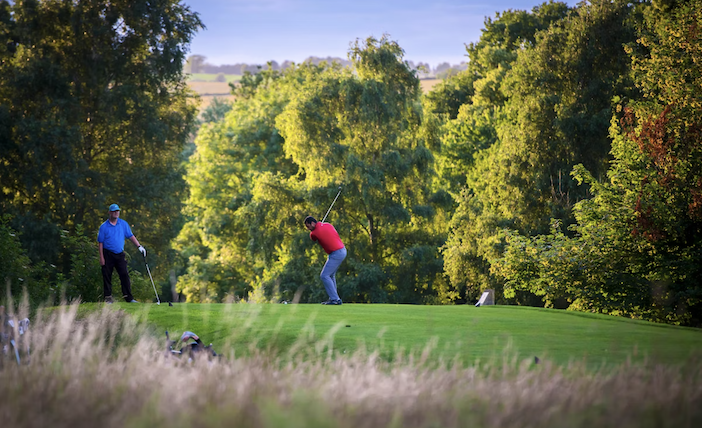 We didn't manage a round of golf – or a game of tennis – but we swam a few lengths, and caught up on current affairs (aka family gossip) in the calm and tranquil surroundings.
And of course, as befitting a spa trip, we had some treatments too. The treatment rooms were back through the maze of corridors, so with one eye on the clock, we took it in turns to be pampered (there are only two treatment rooms, so book as far ahead as possible). My 30-minute massage was heavenly, especially after a long week of juggling work and two small children. My sister came back to our room glowing after her bespoke facial, and we oohed and aahed at our mum's pedicure.
As you'd expect from a large hotel, there are several restaurants. Light lunches and afternoon tea are served in the cocktail bar and lounges; think cosy sofas, and elegant yet relaxed interior design, featuring blues, teals and gold.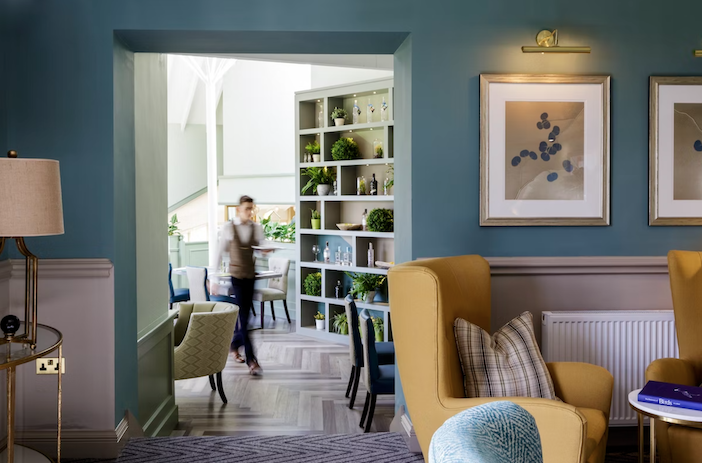 There are plenty of spots to dine al-fresco. My mum and I opted for an open-air lunch on the terrace on our first day. Roaring lawnmowers and a breeze sending our menus flying provided some entertainment, but our perseverance was rewarded: the mowers quickly finished and the winds died down leaving us to unwind in the May sunshine and replenish with a beef burger and beetroot slaw (me) and Moroccan-spiced bean, chickpea and coriander cake bento box (mum).
You can also order a picnic hamper, grab a blanket and find your own pocket of nature further into the rolling Gloucestershire countryside.
For dinner, we had a reservation in the main restaurant, Mint, full of mismatched furniture, trendy statement lighting and cookbooks on display. There's an informal vibe, with the focus very much on the fresh, seasonal dishes, and the views – just look at the views! We soak it up before the sun sets.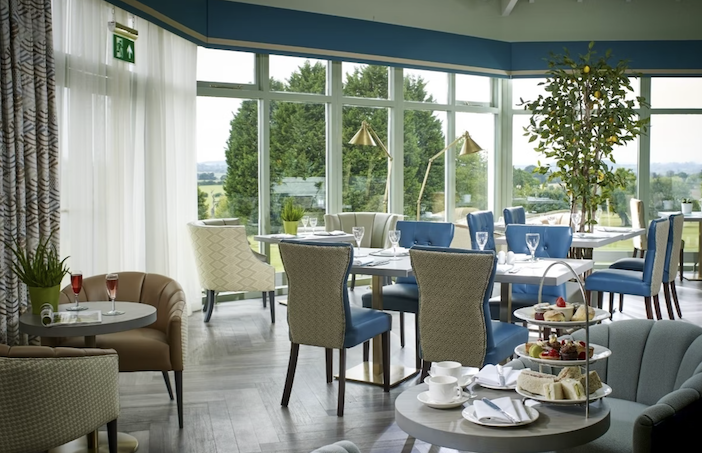 Service is a little haphazard, but the food does not disappoint. Cauliflowers wings in a delicate tempura with a sticky, ginger sauce, and perfectly-cooked Brixham scallops in a black pudding crumb are a mouth-watering taste of what's to come. My corn-fed chicken breast in a creamy white grape and sparkling wine sauce is a triumph. My mum and sister declare the Bibury trout (filled with cockles, mussels, crab and fennel) to be a "very big fish!". Between mouthfuls, they mutter about how "delicious" it is, and happily, manage to eat most of it. The restaurant is out of Viognier, but a Picpoul de Pinet is a worthy replacement, and a great accompaniment to our feast.
As well as featuring local suppliers, the menu also contains the innovative option of mini starters and mini puds. I'm more of a dessert girl, so ordering a mini starter (the cauliflower wings) is ideal for me, allowing me to indulge with a "proper pud".
The chocolate tart satisfies my sweet tooth, while my sister tucks into a rhubarb and white chocolate cheesecake. A peppermint tea and lemon meringue pie mini pud complete the meal for mum.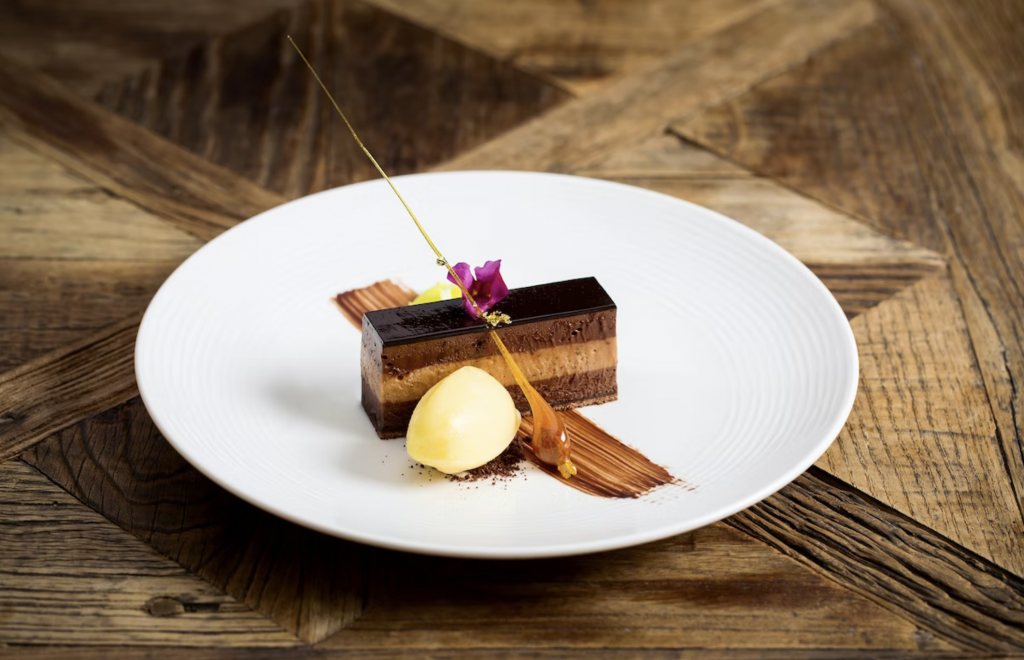 We sink into our Hypnos beds and have a wonderful night's sleep. At breakfast, mum is excited to tell us she heard a cuckoo. We fill up on smoothies, pastries and – well, go on then – a full English, and head outside to walk it off, and listen to more birdsong. A deer park trail takes us across the golf course and along the River Severn. We wander through cow fields, admire the lovely scenery, and I persuade my sister to have a go on a swing that's precariously hanging off a tree. We giggle like we're teenagers again, and I take a few cheeky photos as she shrieks that the swing might break (luckily for her, it doesn't).
Our Tewkesbury Park stay is coming to a close. We're well-rested, well-fed, and rejuvenated. Spurred on by our fabulous trip, we're already plotting our next girly adventure for 2023.
For more information, including details of golf breaks, and membership, please visit www.tewkesburypark.co.uk.