You know what they say about location, location, location and it doesn't come better than The Biltmore Mayfair on Grosvenor Square, whether you're in London for work, as in my husband's case, or play, as in mine! As you'd expect from the prestigious address, the hotel attracts a cosmopolitan clientele who know what they want and expect to get it – thereby ensuring that everyone who stays here benefits from the charm and attentiveness of the entire front of house who are always kept on their toes to deliver the best possible level of service to those who don't take no for an answer.
The red brick Biltmore Mayfair, which takes up almost an entire side of Grosvenor Square, may have a traditional façade, but the inside is as glossy and chic as a copy of British Vogue, with a lobby in white marble and pale lavender hues with chandeliers, mirrors, elegant furnishings and coordinating designer floral arrangements. Formerly the Millennium Hotel, the £60 million transformation over eighteen months by Hilton's new high end brand LXR has positioned the property ready to vie with the best hotels in the neighbourhood such as The Beaumont and Claridge's, while Rosewood are preparing to open on the opposite side of the square next year in what was the former American Embassy. The Biltmore Mayfair was just the second of the fast growing LXR Hotels and Resorts to open, and as the only property in Europe is a flagship for the brand's developing reputation.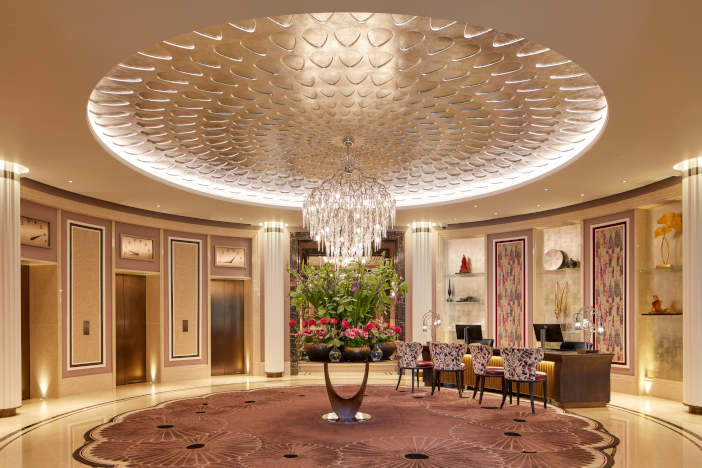 With 250 rooms categorised as 'Opulent', 49 'Curated' suites and 8 'Signature' suites which come with butler service, each level has been designed to offer comfort and luxury in a classic please-all style, with rooms either overlooking the hotel's rear courtyard or leafy Grosvenor Square as in the case of our 'King Grand Deluxe' – remarkably quiet given the location. Having admired the lovely view of the square on a bright April day, glistening in the sunshine after a brief downpour, I explored the room with its smart TV, which I connected to my Spotify account, a Nespresso machine, work station, living area and enormous bed. I was surprised the bathroom wasn't larger, with only a walk-in shower, although the Penhaligon's toiletries did compensate and most business travellers would doubtless prefer this. Even the wardrobe was designed for shirts, with no full drop for my dresses.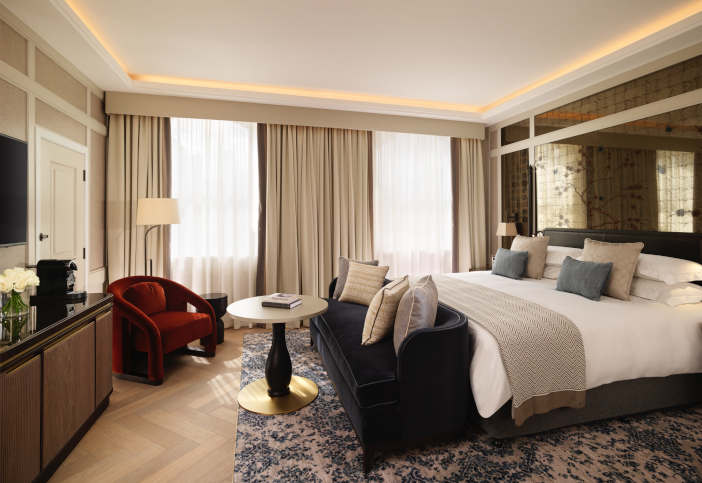 Speaking of dresses, I wish I could say that I had occasion to make use of The Biltmore Mayfair's elegant ballroom or the hotel's state of the art gym – one of the best in Mayfair by all accounts, but my idea of a workout was an intensive shopping session. When you're situated shoulder to shoulder with the capital's finest shops, why would I choose to burn calories any other way? Nothing beats purchasing a new handbag for getting your heart rate up. Nor was I the least fazed by the fact that The Biltmore doesn't have a spa – frankly there just wasn't time.
While the husband was busy doing mysterious things requiring a well tailored suit from Timothy Everest and a slick Dunhill haircut – Dunhill's Bourdon House members club and barber is just a few minutes from the hotel – I was paying calls at all my favourite shops on Bond Street and the Burlington Arcade, via Hush located in the hidden away cobbles of Lancashire Court for a mocktail in order to pace myself for the late night shopping hours.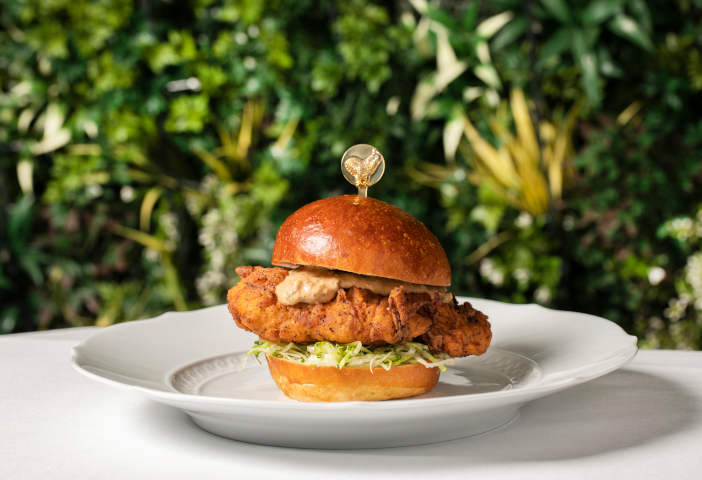 I was so grateful to be dining in the hotel's Café Biltmore come the evening, and all the more so knowing that the appealing menu was designed by the renowned chef Jason Atherton, who once headed up the former Gordon Ramsay restaurant Maze on the opposite side of Grosvenor Square (now Lucky Cat). The spacious all day café features a stylish cocktail bar (in addition to the hotel's Pine Bar) and a lush heated outdoor terrace – a secret oasis I'll be taking plenty of advantage of this summer.
They serve breakfast, weekend brunch, Sunday lunch and an express set lunch and are also running a 'Royal Jubilee Street Party' on 2nd and 3rd June with an all-day BBQ which is firmly in my diary as a result of being served the best Buttermilk Fried Chicken Sandwich this side of the Atlantic. It was just the laid back affair I longed for after a bustling day of city life, with comfort food from around the world to tempt me – I started with a divine Beef Carpaccio with Rocket, Aged Parmesan and Truffle Dressing – and put a relaxed smile on my face as I ditched the cutlery American-style.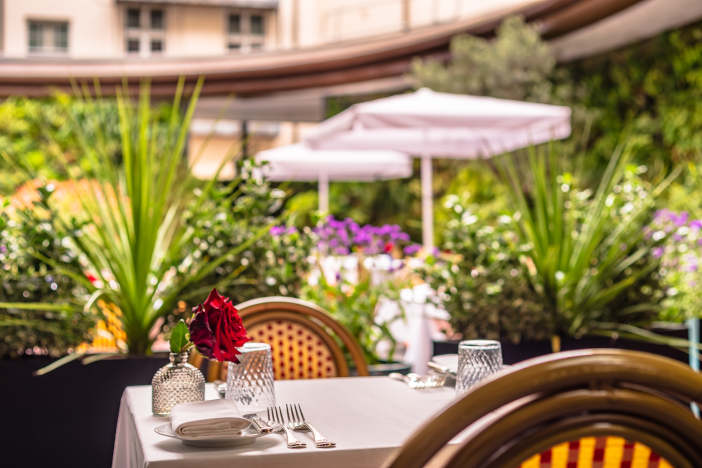 Breakfast in Café Biltmore the next morning was a smart brasserie-style affair, with a continental buffet including freshly baked pastries and muffins, although I recommend you try something from the superb cooked to order menu, with dishes presented under a traditional cloche which lent a certain drama to my generous pancakes with berries and my husband's English Breakfast. I'm usually a fan of room service breakfasts when I'm away, but Café Biltmore sets just the right tone, and when I learned that the Biltmore Bentley was ready and waiting to drop me at the shops I decided to take the morning as it came and ordered another coffee. I could get used to this.
Rebecca stayed at The Biltmore Mayfair (part of LXR Hotels & Resorts), 44 Grosvenor Square, Mayfair, London W1K 2HP. Rooms start from £519. For more information and reservations please visit the website.