So, there you are with your ticket for Longborough Opera – but where to stay? The Cotswolds aren't exactly short of options but here is one find that I can definitely recommend. The Bower House is in Shipston-on-Stour which is just on the edge of the Cotswolds, a thriving market town that is conveniently situated for Longborough (about 20 minutes in the car) and also for the RSC at Stratford (about 15 minutes) if you don't fancy staying right in the middle of a tourist hotspot.
This is quite an unusual set-up. First of all, what we have here is not a conventional hotel. It is a restaurant with rooms. In fact, it has just five rooms, all of them individually designed and gorgeous. There's the one with the bees on the walls, the one with the mezzanine floor and the one where I stayed – gloriously vast, particularly the bathroom with its two huge sash windows, a roll-top bath, a hidden walk-in shower and a dressing table.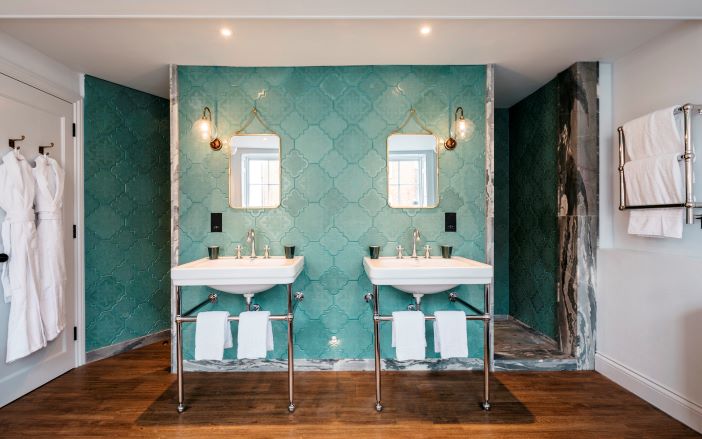 Then there are the extras. These are the things that make you feel at home. There are the Ila products in the bathroom (one of my favourites), a proper coffee machine, porcelain crockery, retro phones and all kinds of tea even for fussy tea drinkers like me. There's a bottle of fresh milk in the fridge and some very nice drinks in there, too, including Champagne. The Bower House, though, prefers local so there are also Hawkstone IPA beer and Session lager, and various Fevertree mixers that go with the drinks tray in your room (Cotswolds single malt whisky, Cotswolds dry gin, Two Birds English vodka Fentimen Curiosity Cola and Ginger Beer (Northumberland). You help yourself. It's a very relaxed vibe.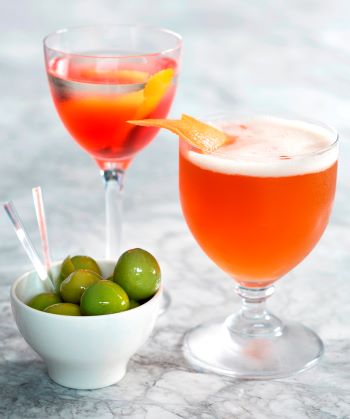 Breakfast (excellent and lots of choice) is served in the restaurant downstairs in the area around the bar. Clearly there are plenty of locals who come in for breakfast and brunch, too, so even on a mid-week morning, it's a buzzy kind of place. Being out at Longborough on the night of my visit (the opera starts at 5pm), I missed out on dinner but more than made up for this with lunch the next day.
There are two menus – a prix fixe and an a la carte. We started with the July cocktails Watermelon Margarita for me and the non-alcoholic Elderflower Presse for the Major who was driving – both delicious. While we were waiting two tiny mushroom-shaped loaves arrived with a choice of salted butter or Marmite butter (I'm a Marmite girl myself – so bliss). The Major began with sardines – spatchcocked if that's something a sardine can be – and served with a horseradish cream. That was pretty good though my tuna tataki with soy, avocado, radish and the gentlest of wasabi would have been very hard to beat.
After that, the Major had pan-fried plaice with creamed potato, spinach and red pepper chutney (from the prix fixe menu) while I chose from the main menu the roast spring chicken with a thyme hash brown, tiny mousseron mushrooms, broad beans and the sweetest of fresh English pea purees imaginable.
For puddings, there was Eton Mess with strawberries on the prix fixe menu and the main menu had some great choices, too – Cocnout panna cotta, English strawberry cheesecake or local Barkham Blue cheese with malt loaf, fig relish and truffled acacia honey. This was the July a la carte menu – it changes every month but the emphasis is always on local, seasonal and sustainable. Both the food and the presentation are impressive – seriously good food at surprisingly reasonable prices, a real little foodie haven.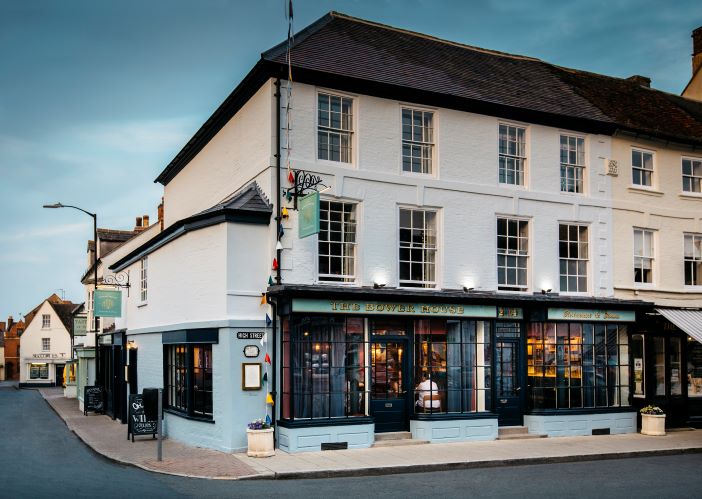 The Bower House restaurant is a lovely airy space with vast windows around its corner plot, some marvellous artwork on the walls and well spaced tables. A lot of thought has gone into making this a relaxing, inviting spot. You must, incidentally, visit the loos. Instead of the usual piped music, you hear poetry (I went twice to get an extra blast of Shakespeare from Richard Burton). As I said, a lot of thought…
And incidentally if you're going to the opera and you need a picnic, they have the Taste of the Country deli next door who can sort that out for you, too.
The Bower House, Market Place, Shipston on Stour, CV36 4AG. For more information, and bookings, please visit www.bower.house.