Her Royal Highness (hereafter 'HRH') and I are easily pleased, even if, as Wilde once noted, we are only satisfied with the best. Having had a simply ghastly European trip a couple of weeks ago, which made us feel that we and 'abroad' were destined to be strangers for the near future, we fancied somewhere quintessentially English, but with a twist. Nobody purposely ventures somewhere with stained walls, a strong smell of damp (and cabbage), surly proprietors and a breakfast of overpriced kippers, but these are, surely, time-honoured traditions of the English coaching inn, and it seems almost sacrilegious to mess with such noble and historic vestiges of a bygone age.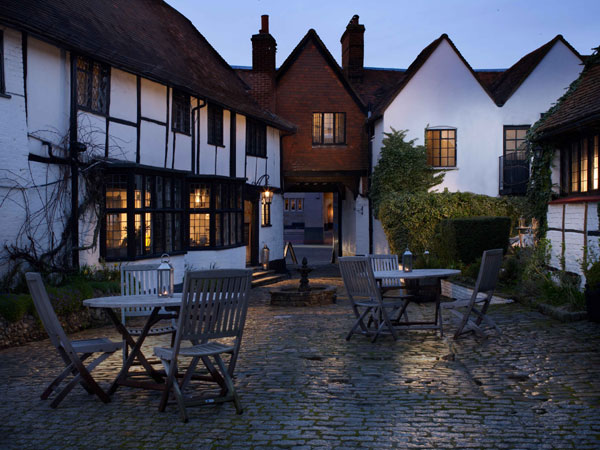 Except, blast them, the estimable Dhillon Group have gone and done so. Proprietors of the excellent Stoke Place and The Olde Bell, they also run the charming Crown hotel in Old Amersham, which is as chocolatey-boxy as English gets. HRH and I had had an extremely pleasant visit previously so we were delighted at the prospect of a return to the Crown, a suitably regal place for she and I to eat, drink and slumber. We had heard rumours of rooms refurbished and designed by the incomparable Ilse Crawford, she of Soho House New York fame, and were exceptionally keen to visit and give it the imprimatur of our approval.
Arriving, we were struck initially by the contrast between the exterior, which seems to promise something very traditional (even the hotel's sign looks like it could happily have come from the 19th century) and the interior, which doesn't disrespect the beams and timbers that are part and parcel of the place but instead offers a suitably modern twist on them. Our room, situated in the courtyard, offers everything that you would want from somewhere extremely high-class and comfortable; a massive bathroom, for example, with showers so thunderously powerful that it feels like being in a tropical rainstorm – in a good way, mind – and a lavishly sized bed with sheets that threaten to send one to sleep immediately. Be warned, a swift afternoon nap could well turn into an all-night slumber.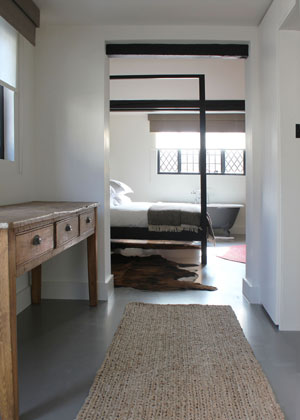 The restaurant has since changed what was previously a slightly unfocused 'best of English' menu into a Chop House, meaning that the meats served are cooked on the legendary Josper ovens, and that the vegetables are the very finest examples of local, seasonal produce. Starters of air-dried ham and cured salmon were very fine indeed and had us gurgling shamelessly in delight, a gurgle that grew to a cry of approbation when we tried the lamb and chicken thigh (separately, I should add, rather than in some bizarre meat mash-up) main courses. Everything here is very fine indeed, and it's complimented by a similarly fine wine list that offers a decent selection at far from bank-breaking prices. A delectable Chateau La Grave Singalier, being a rich and powerful Bordeaux, costs a mere £27 – it is hard to think of better value.
Did we have any gripes? Well, it's hard to nitpick at near-perfection. The view from our room was unexceptional, but then we didn't want to stare out anyway. Breakfast the following day was decent but probably not of the same stunning standards as dinner, but that's what you get when it's extremely busy and when you head in a few moments before it finishes. (Neither HRH nor I have ever been much good at getting up early at weekends…and we consider this one of the reasons why we are so charming at lunchtimes.
Overall this is one of the nicest places that you can imagine staying a short train ride from London. The Crown deserves to have its reputation grow and grow, so make sure that you book your stay before it is colonized as an inexpensive and rather classier alternative to the likes of Babington House.