About a decade ago, Robin Hutson opened the first of The Pig hotels in the New Forest. Its combination of laid-back luxury, delicious food and atmospheric chutzpah attracted many well-heeled fans, and the group now consists of eight different hotels in the South of England, in such locations as Cornwall, Sussex, Dorset and Kent. It has been credited with changing expectations of the boutique hotel, and continues to be hugely popular.
But it is conspicuously absent from the Cotswolds – perhaps the ne plus ultra of locations where one might expect a Pig – and so this has paved the way for similar operators to open their own hotels and pubs in the towns and villages of Gloucestershire, Oxfordshire and the like. Some are excellent, others overpriced and blasé. But it wasn't until I visited the Double Red Duke the other day that I felt the same sense of excitement and joy that I had experienced when I went to the Pig for the first time back in 2011.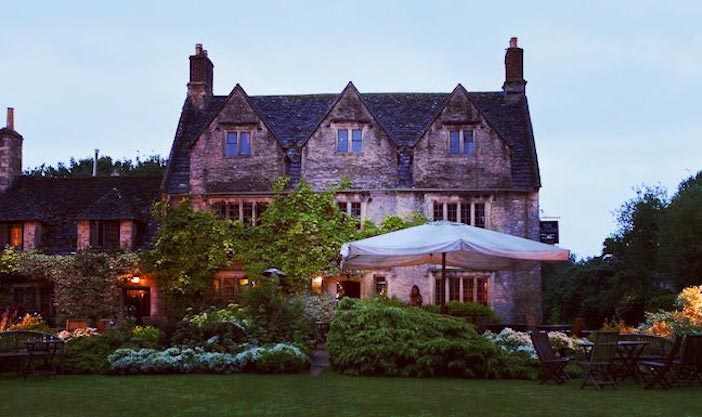 It's located in a village called Clanfield, in South Oxfordshire. It's not the tourist-focused areas of Broadway and Bourton-on-the-Water and the like round here, instead being more low-key and less glitzy, although not without the honey-stone buildings that give the county so much of its architectural interest. And the Double Red Duke is the latest offering from Sam and Georgie Pearman, who first took Cheltenham by storm with their Lucky Onion group, and are now trying their hand at a series of upmarket country inns. The ethos is similar to Hutson's: a distinctive style that's equal parts cottagecore and members' club, with the kind of delicious yet unpretentious food that you want to eat too much of, and all served with an enticing cornucopia of wines and cocktails.
We're staying in a beautifully appointed family room in an outbuilding, a cosy nook with stylish features aplenty: the rolltop bath, red Roberts radio, hidden double bunk beds for children and the rough-luxe flooring are all the stuff of weekend magazine supplements and interior designers' expertise, but here they're combined with whitewashed wood-clad walls to engender an atmosphere that's both fresh and cosy.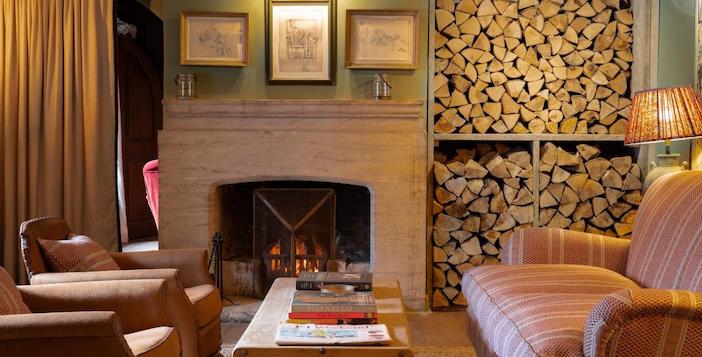 Pale pink accents speak of a refined sensibility, just as the 100 Acres bathroom products are highly welcome, but there's nothing prissy or precious about the accommodation here. This is a place where muddy shoes and raucous children are not just tolerated, but actively welcomed. I'm sure dogs are, too, but I didn't see, or hear, any of our canine cousins on our stay…
Anyway, the emphasis here is firmly on the culinary side, and by the time that we made our way into the splendidly comfortable garden room for dinner, we were both eager and hungry. The charming manager was enjoyably candid about the Double Red Duke's surprise success; they had planned to spend much of the summer doing a low-key soft launch, but after a couple of national restaurant critics had visited and raved about it, the opportunity for discretion was gone. Certainly, it was packed on the night that we visited, despite the difficulties that every hospitality offering faces at the moment, and there were no signs of slowness or uncertainty in the excellent service.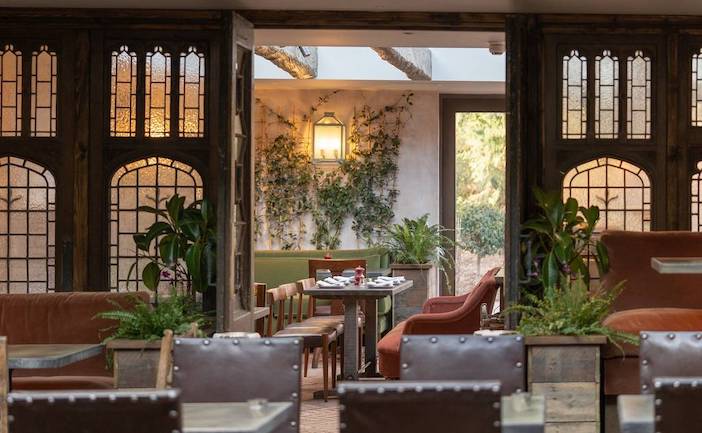 The food, courtesy of head chef Richard Sandiford, could best be described as a kind of rural Hawksmoor, at considerably kinder prices. There are a couple of snacks to begin – flatbread with sheep's cheese on it and an aubergine and miso dip with more flatbread, both excellent – along with some excellent cocktails, a fine Old Fashioned and something called a Barbeque Pineapple, which is said to be the most popular drink on the menu, and little wonder. We then moved into wilder territory, as our daughter enjoyed some frankly enviable fish and chips; I sampled the delights of apple glazed bacon ribs with a fruity slaw, while my wife professed her mini-panzanella salad a thing of beauty and joy, perhaps fittingly given the autumn season.
And then it was time for Sandiford's carnivorous experience to be mined most adroitly, as it was time for the mains. A spit roast half piri-piri chicken, accompanied by a side of butter lettuce, was an extraordinarily accomplished thing, as was a rib-eye steak that came with salt and vinegar chips and a blue cheese hollandaise sauce. It wasn't healthy, per se, but it was incredibly good, not least because of the recommended wine to accompany it, a very drinkable Italian Barbera d'Alba. A fine apple and blackberry crumble rounded things off, and thence to bed for a well-deserved and exceptionally comfortable night's sleep.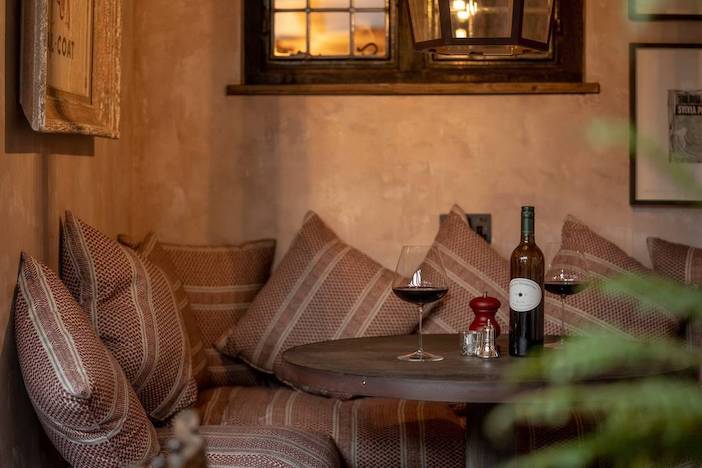 We didn't want to leave in the morning, or ever, but breakfast softened the blow. I took enormous delight in what can only be described as a posh version of a McDonalds sausage and egg McMuffin, complete with infinitely better meat and some fine bacon, and there was local sourdough, excellent fruit salad and a mind-boggling range of teas, coffees and hot chocolates to drink.
And then, after a walk round the wonderfully comfortable snug rooms, complete with well-chosen books, magazines and blessed with the sort of sofas and armchairs that once you've sat in them you're unwilling to leave. But time and tide wait for nobody, and so the witching hour arrived. But as we took our leave of our new favourite hotel, the only thing that we could say, gratefully and repeatedly, was 'we will be back'. See you there, readers – if you can get a reservation, that is.
The Double Red Duke, Bourton Rd, Clanfield, Bampton OX18 2RB. The Double Red Duke is part of the Country Creatures group, and was recently shortlisted in the Best Newcomer category at the Food & Travel Awards 2021. For more information, including details of other properties, please visit www.countrycreatures.com.