Established by James Brown, Lord Byron's former butler, Brown's Hotel opened at 23 Dover Street in 1837, the year of Queen Victoria's accession to the throne, later incorporating three further townhouses and securing a reputation which continues to precede it. You need only consider the illustrious guests, from Winston Churchill to Roosevelt and Napoleon III, who singled it out as a favourite London home-from-home to know that it's as legendary as any guest.
Belonging to Rocco Forte Hotels, the luxury hotel group founded by Sir Rocco Forte and his sister Olga Polizzi in 1996, the five-star Brown's Hotel joined their impressive European portfolio in 2003, closing for an extensive £19m 2-year refurbishment before being reopened by Margaret Thatcher. One of just two Rocco Forte properties in the UK and sister to The Balmoral in Edinburgh, Brown's is everything you could wish for from a grand dame of English hospitality; timelessly elegant, with a reassuring sense of tradition that has been ingeniously merged with modern luxury and contemporary art and design to reflect an ever-evolving city.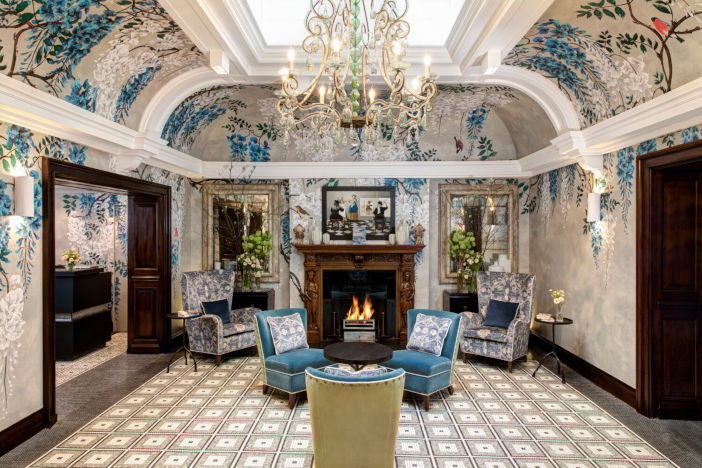 With only 115 rooms and suites, the small lobby and reception, with its black and white tiled floor and freshly cut flowers, gives an intimate feel which continues through to The Drawing Room and elegant new restaurant, Charlie's. Checking in on Valentine's Day, when the capital was buzzing with celebrities attending the imminent BAFTA Awards and London Fashion Week (the hotel's Donovan Bar is named after fashion photographer Terence Donovan) nothing could prevent the atmosphere from being anything but soothing the moment the doorman bade us welcome and held open the door through which so many lords and ladies, knights and dames have passed, not to mention royalty, inventors, Pulitzer Prize and Oscar-winners. If you're not inspired by greatness here you never will be. Alexander Graham Bell stayed at Brown's during his 1876 visit to London to tell the British government about his latest invention, the telephone. Having checked in with a large bag of paraphernalia, Bell made the first ever 'phone' call in London (from Mayfair to Ravenscourt Park) from the hotel's front desk.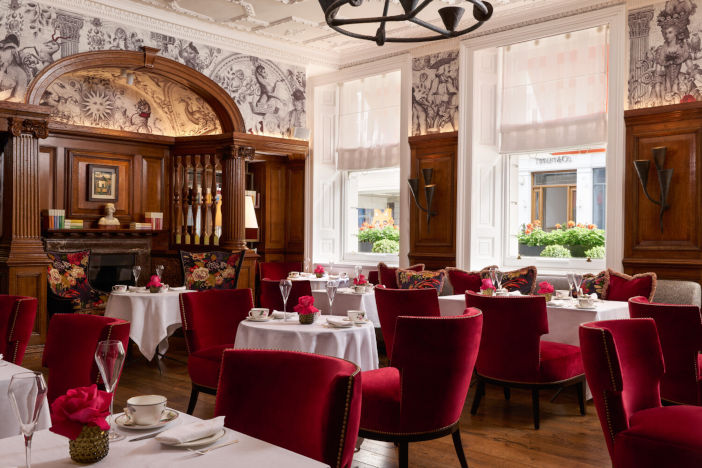 Much as the location of Brown's has always thrilled me due to its close proximity to the fashionable shops of Bond Street, the historic shopping arcades, 'Royal' and 'Burlington' and Fortnum & Mason, as an author and classic literature buff I was more excited by the hotel's remarkable literary past which echoes down the ages. The Rudyard Kipling Suite opened in 2016, having been designed by Rocco Forte Hotels' director of design Olga Polizzi in honour of the author who made Brown's his London base, spent the first night of his honeymoon here in 1892 and wrote part of his most famous work, The Jungle Book, whilst a resident. The décor is tastefully exotic, with a statue of a monkey and a framed handwritten letter from Kipling.
Like the Kipling Suite, our newly refurbished 75 square metre Dover Suite (one of just 3 'Forte' Suites) bathed in natural light and designed in tranquil pastels featured a spacious drawing room with original fireplace, dining table and a desk which once belonged to Rudyard Kipling and where Stephen King sat in search of inspiration and began his psychological horror novel, Misery. Maybe not one to read on Valentine's Day. But nothing could detract from the romantic atmosphere of this room, with its antiques, classic novels and handsome floor to ceiling windows overlooking Dover Street which continued to the well-appointed bedroom where an Art Deco dressing table offered further character and charm. Stocked with Irene Forte toiletries, the marble en-suite boasted twin sinks, a walk-in shower and a bathtub with built-in television, while the smart TVs in the bedroom and spacious sitting room made it difficult to decide where to watch a movie.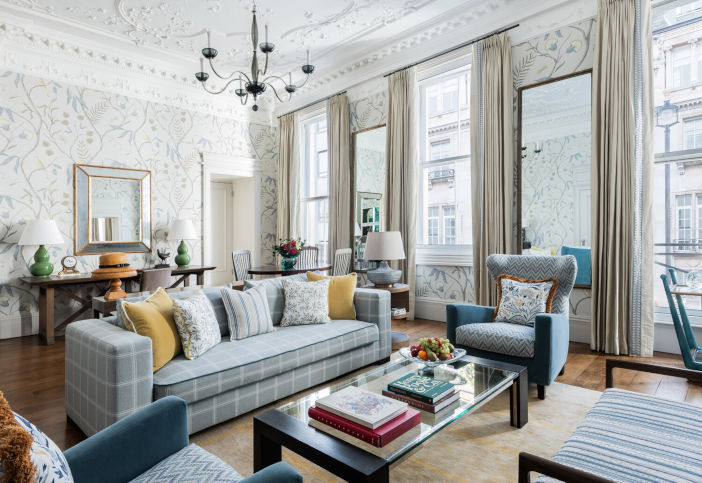 Goodbye Christopher Robin would have been an appropriate film choice considering Christopher Robin, the son of AA Milne, held his wedding reception at Brown's in 1948. Other notable writers who have joined the starry Brown's guestlist include Arthur Conan Doyle, Bram Stoker, JM Barrie and Robert Louis Stevenson, while Agatha Christie was such a fan of Brown's that she is believed to have been inspired to set At Bertram's Hotel here, featuring the unlikely spinster-sleuth Miss Marple who, treated to a two-week London holiday by her nephew, soon finds herself weighing up her fellow guests as suspects whilst quietly knitting in the corner.
The crime novel, published in 1965, makes the perfect bedtime reading when staying here, so why not venture to Hatchard's Piccadilly, London's oldest bookshop and booksellers to the Royal Households, in the courtesy Bentley? Much of the setting of At Bertram's Hotel is immediately recognisable, although Brown's is glamorous rather than the chintzy establishment Christie describes and therefore not somewhere I could readily see Miss Marple nowadays. Jane would no doubt find The Drawing Room's award-winning afternoon tea, with guests sipping bubbly whilst sampling the finest patisserie, rather ostentatious for her simple tastes.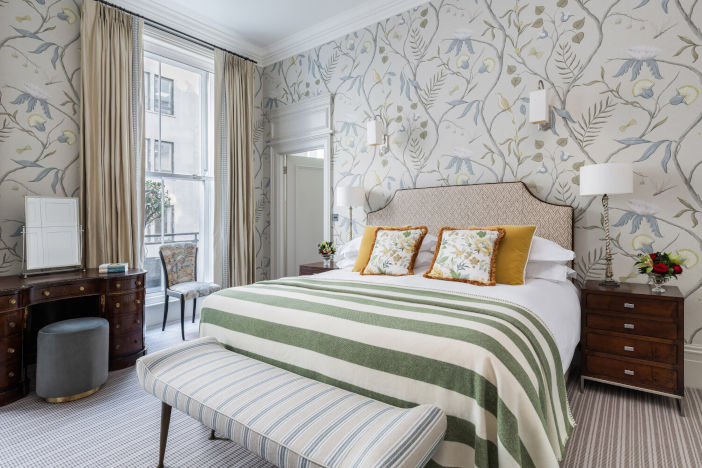 Queen Victoria journeyed the short distance from Buckingham Palace to take afternoon tea at Brown's, while Princess Elizabeth popped along for hers in 1951, just two years before she became Queen Elizabeth II, in reference to whose gracious visit is a 'Coronation Chicken' sandwich, joining other nostalgic favourites such as 'Prawn Cocktail' – thank heaven there's no sign of Miss Marple's favourite, egg and sardine. Brown's famous scones follow, while the grand finale of Victoria Sandwich and Carrot 'Trolley Cakes' tempted us even after overindulging in the top tier cake-shop-worthy delights of Apple Choux, Lemon Meringue Pie and Blood Orange Drizzle Loaf. As Christie wrote in At Bertram's Hotel, "I was born to live dangerously."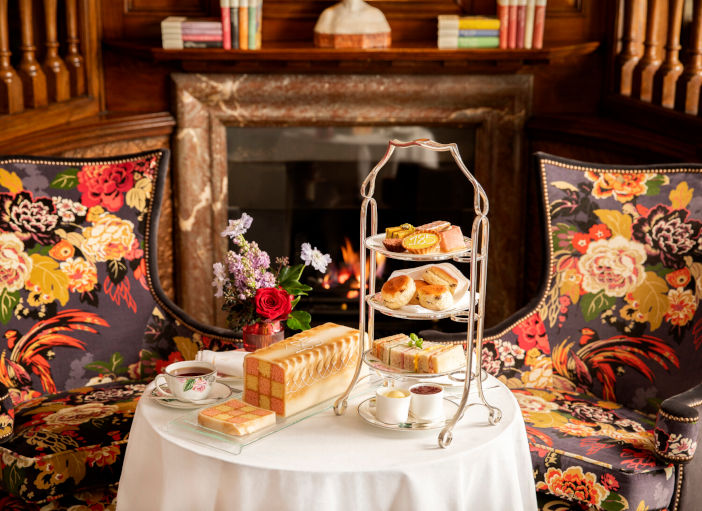 After a sound sleep in the king-size bed which lived up to the 'supremely comfortable' promise, we opened the silk curtains to reveal the perfect morning in Mayfair, a happiness which intensified with a decadent room service breakfast of French Toast with Caramelised Banana (Mrs) and Full English (Mr), immaculately set up by the waiter on our very own dining room table beside one of the windows. It would have been tempting to lounge around the suite and read Agatha Christie had it not been for the deep blue sky heralding spring – a feeling reiterated by the cheerful yellow tulip floral arrangements which had magically appeared throughout the hotel, replacing the Valentine's roses with a preamble to Easter.
All seemed well with the world as I took my husband's arm for a gentrified stroll to the Royal Academy of Arts followed by lunch al fresco in St James and a blissful aromatherapy massage upon returning to the hotel. The subterranean Spa at Brown's, adjacent to the 24-hour gym, is a beautifully designed oasis inspired by the Mediterranean and offering beauty and signature Rocco Forte Spa treatments featuring the natural, mineral-rich Irene Forte Skincare. Just like the rest of our stay, where did the time go?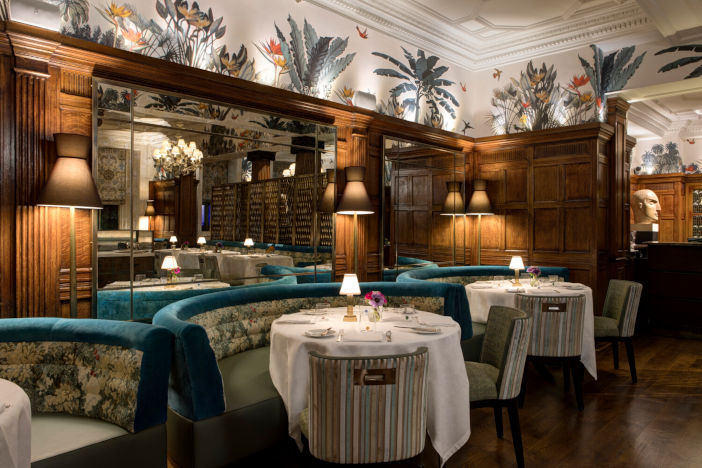 Charlie's, the hotel's clubby wood-panelled main restaurant led by Chef Adam Byatt, proved a delightful breakfast spot on our last morning, with a plush window booth encouraging me to linger over another Rocco Forte coco-embossed cappuccino after devouring the freshly made pancakes with crispy bacon and maple syrup. I intend to return to Charlie's even when I'm not staying at Brown's, and I'm keen to sample their Sunday evening dinner and live jazz. When a hotel becomes somewhere you'd pop into for drinks or dinner when you're not a resident, bypassing the countless other five-star Mayfair hotels vying for your attention, that's when they've truly succeeded in winning your heart. I first visited Brown's as a teen and remember my father being delighted on exchanging a 'hello' with Sir Paul McCartney when their paths crossed in the Drawing Room, something which the framed photograph of Sir Paul positioned over my table in Charlie's brought to mind. Although this was my first time staying at Brown's, it felt like the continuation of a beautiful friendship rather than a new one and I now understand exactly what Churchill meant when he said, "I don't stay in a hotel, I stay at Brown's".
Brown's Hotel, 33 Albemarle St, London W1S 4BP. For more information and reservations please visit the website.