It's all about comfort and joy at this cosy bolthole in Dorset, as Angelina Villa-Clarke discovers…
Found on a honey-coloured street in the market town of Sherborne, The Eastbury Hotel – at first sight – looks like an imposing Georgian home. Enter through the black period door and it's indeed like stepping into someone's grand residence – except you'll soon find that the cavernous property is home to 26 bedrooms, a garden spa and a 'starry' restaurant (just a few of its offerings). Not quite what you'd expect from the early 1800s.
In north-west Dorset, the hotel is, in fact, the jewel in the crown of the de Savary portfolio – a well-known collection of characterful hotels and inns dotted around the UK. They are all presided over by Peter de Savary, one of the 'heavyweight' names of the UK hospitality industry. Whether it's at the nautical Cary Arms & Spa, in Devon, or the quirky The Merry Harriers, in the Surrey Hills, the hotelier is renowned for his personal involvement in each of the properties. Each has a chic design ethos and a focus on gastronomy and, with his wealth of experience, Peter de Savary says that it is his 'hands-on' approach that keeps this offering relevant and fresh.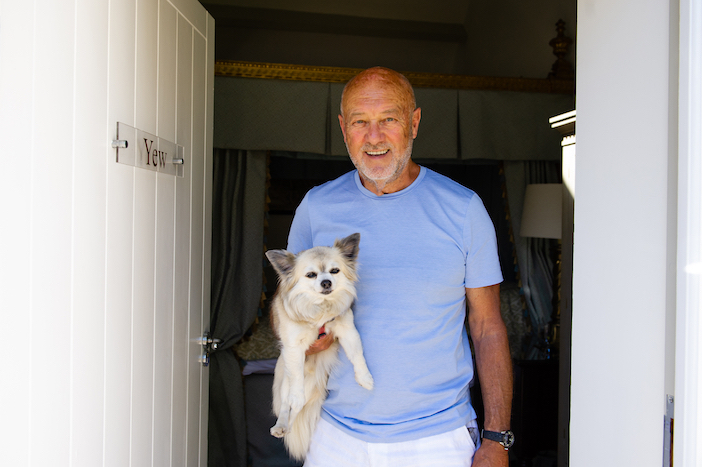 "I visit my hotels approximately every two weeks and I try and talk to as many guests as I can, to try and get any feedback they might have. This is essential for any business to continue to progress," he says. "I also have eyes like a hawk and give great attention to detail, which helps us to stay on top of our game."
As a location, Sherborne is dripping in charm and, shrouded by verdant countryside, is one of the prettiest locations in the UK. The town is home to the golden-hued Sherborne Abbey, renowned for its rich choral heritage and famous bell ringers, and Sherborne Castle, a 16th century Tudor Mansion built by Sir Walter Raleigh in 1594, complete with glorious gardens designed by Capability Brown. In reach of Durdle Door and the spectacular Jurassic Coastline – there is much to explore here.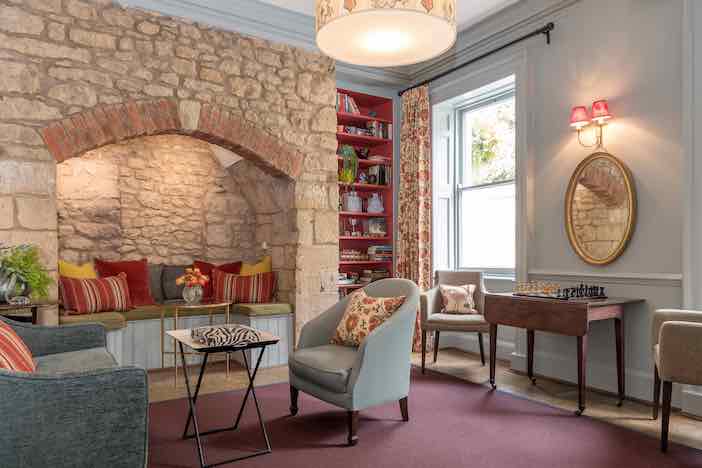 The hotel reflects this beauty and heritage, with each of the bedrooms having its own elegant design, conceived by Lana De Savary, Peter's wife and business partner. As Peter says, detail is everything. Plaid throws on the beds are mixed with ditsy-print pillows in candy-coloured shades; there are faded, historic maps of the area on the walls and carefully-chosen antique furniture. Fluffy towels, fine linens and thick carpets ramp up the luxe factor.
There is a great mix of traditional and modern. The games room, with snooker table, for instance, is the perfect place for teenagers to hang out post-dinner, while the morning room welcomes you in so you can lounge in comfort while browsing the papers or enjoying your early morning coffee. The sunny drawing room, with its gatherings of plump sofas and cosy chairs, marble fireplace and ticking antique clock, elevates your time enjoying pre-dinner drinks or whiling away an afternoon. Outside, a walled garden – dotted with sculptures, an outsized chess board and winding paths – is the ultimate retreat on a sunny day. Bringing a modern sensibility, you can book a futuristic-looking glass pod room which is sat on the lawn and available for celebratory afternoon teas or romantic meals.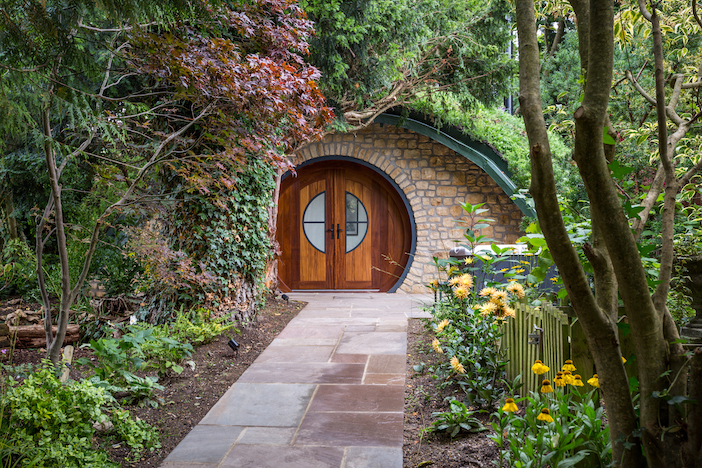 Tucked away in a hidden corner is the Woodland Spa. Built from local stone, the circular structure has a sedum and moss roof and is warmed inside by a rustic log-burning stove. Overall it has an inviting Nordic feel, with two treatment rooms offering Caudalie treatments, a hydrotherapy pool, sauna and steam room. The whole spa can be hired for private use so it is perfect for a romantic break a deux.
For families wanting their own space, the latest addition – the private Eastbury Cottage – is the perfect choice. The renovated 17th-century town-house is found next to the hotel and has its own walled garden and curated interiors filled with curiosities – antique games tables, inglenook fireplaces and horse brasses. There's a formal dining room, with large mahogany table, and a cosy living room, as well as a modern kitchen.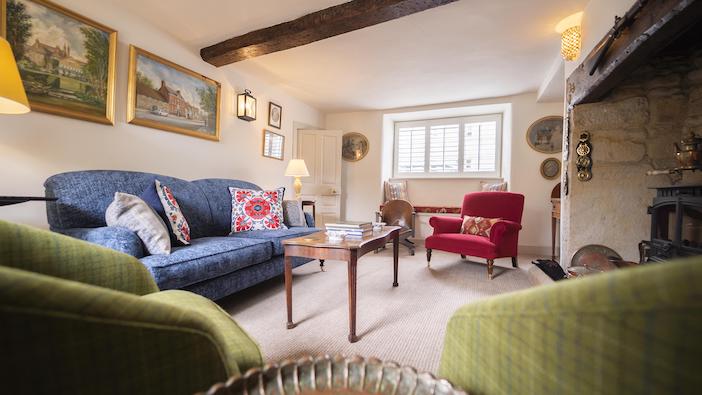 Upstairs, three bedrooms – complete with creaking floorboards, beams and luxury en suites – mean that guests can hunker down in private and spread out in peace. The master bedroom has a Victorian tub at the foot of the bed, shuttered windows and beautiful textiles by Nina Campbell to add a warm ambiance, while all the bathrooms come complete with The White Company toiletries and rainfall showers so it feels just as five-star as the hotel next door.
Guests can also tap into all the facilities at the hotel – from a treatement at the spa or a drink in the bar. But a highlight is the two-Rosette Seasons Restaurant, overseen by executive chef Matthew Street. With a focus on local Dorset produce, sourced from artisan producers, and inspired by the changing seasons, the chef describes his cooking style as "imaginative and fun, with a hint of nostalgia".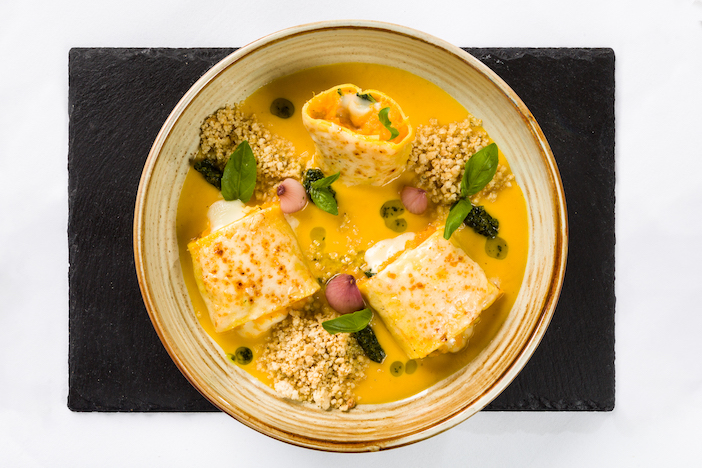 There's an all-singing and dancing seven-course tasting menu, but the a la carte menu is just as special. Classic dishes have been given an imaginative twist with a complex layering of flavours which manage to remain delicate and delicious – from the Devon crab – with cucumber and wasabi, a brown crab tuile, green apple, grapefruit and dill – to the charred monkfish – with Sobrasada Iberico, baby leeks, Romesco, toasted almond and leek oil. Make sure you leave room for the peanut parfait – with tonka cream, maraschino cherry and salted peanut – it's interesting and unique. Much like The Eastbury experience itself.
A stay at The Eastbury Hotel starts from £195 per night for a Double Room.
A stay at The Eastbury Cottage starts from £625 per night, or £4,375 for seven nights, based on two people sharing. For four people or more, it starts from £850 per night, or £5,950 for seven nights, on a self-catering basis. Includes private garden, six-seater outdoor table, barbecue and a classic garden hot tub. Minimum two-night stay. For more information, please visit www.theeastburyhotel.co.uk.
For more information about Sherbourne, including details of other things to see and do, please visit www.visitdorset.com.