This recently refurbished Georgian hotel has everything needed for a relaxing stay, including the freshest trout, finds Nick Harman…
Flies, flies everywhere. The Grosvenor has them on the walls and up the stairs, but don't worry they're all in glass cases.
This classic Georgian hotel, in the heart of Stockbridge (the smallest town in England), in the beautiful Test Valley, is also in the very centre of England's trout fishing world. And in that rarefied place you fish for trout with artificial flies, because anything else would be rather 'common'.
And The Grosvenor is far from common having been recently rescued from life as a depressed, and depressing, Greene King pub by locals Simon Henderson and wife Teresa.
After many years of observing the sad decline of one of Stockbridge's landmark buildings, they decided to go for the bait, hook, line and sinker and embarked on a major, no expense spared, restoration.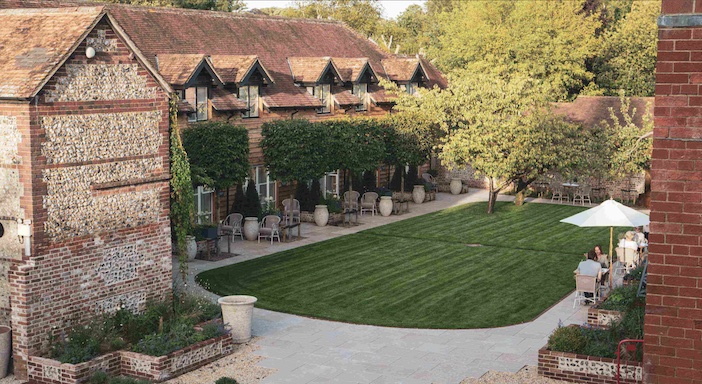 Now the pillared, semi-circular porte-cochere that proudly juts out into Stockbridge's ancient High Street, where cattle from Wales once wended their way to market, leads you into an elegant hotel both timeless and modern.
Local landowner Robert Grosvenor, Marquess of Westminster, built the hotel in 1825 as a place appropriate for well-heeled racegoers, but the local racecourse closed in 1898.
Fortunately fishing is forever and the town soon focused on the sport. The oldest fishing club in the country, the Houghton, is still the owner of the hotel and is based in the Houghton Room located over the landmark portico. That door is firmly locked, as indeed is membership.
Started in 1822, the club has exclusive fishing rights on thirteen miles of the local River Test. and a restricted, elected membership of just twenty five people, including Lord Tanlaw, Lord Tryon and the Duke of Northumberland, so don't bother applying.
However, the hotel itself also has fishing rights on the Test, and many guests come to take advantage, heading out at dawn and only regretfully coming back when the light has finally gone.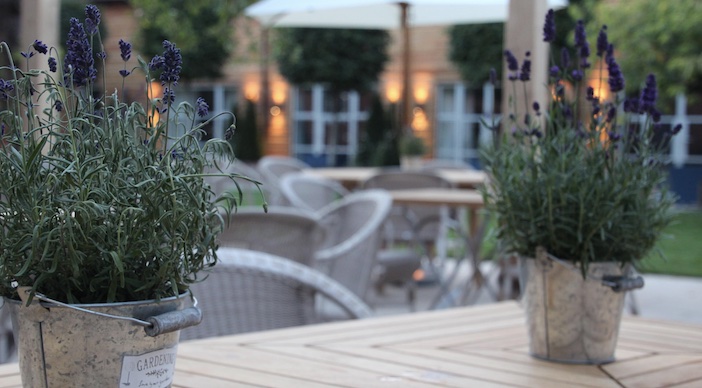 The hotel offers complete fishing experiences for first timers, as well as experts, and can arrange everything needed, including Kingfisher luxury hampers, to make a day on the river complete.
You don't need to be a fisherman though to appreciate the area's history, its easy walks to landmarks such as Danebury Iron Age Hill Fort, the views all around, or the hotel's charms.
Lottie Keith, a private house designer, was tasked by the Hendersons with respecting the traditional and historic heart of the hotel, while creating the atmosphere and style of a respectable country house as lived in by a new generation.
Bedrooms and bathrooms are colourful and anything but stuffy, both in the main buildings and in the lovely new Garden Rooms set around a perfect courtyard garden, also by Lottie Keith. With views of the 15th Century St Peter's Church next door, it's perfect for summer dining and wedding receptions.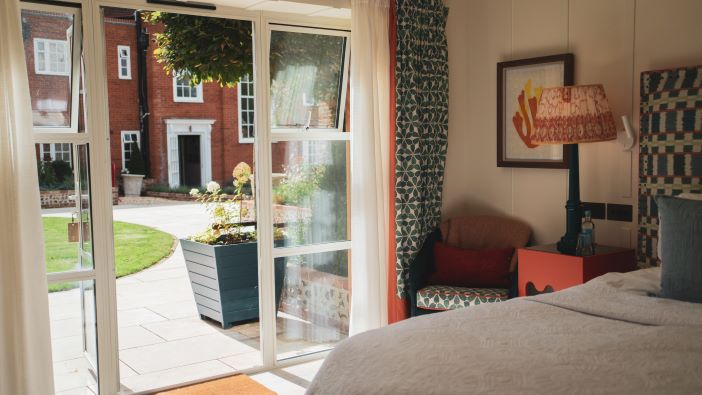 Fine fabrics in all rooms are very 'fingerable', and quirky fun touches abound.  Our room had an antique four poster bed cleverly worked into a vibrant colour scheme, along with interesting modern ceramics, while the original sash windows still cheerfully clattered up and down just as they have done for almost two hundred years.
Downstairs it's all polished wooden floors and Persian rugs. The panelled Danebury Room is perfect for reading the papers and taking afternoon tea, its armchairs and sofas are softly welcoming and encourage you to linger. On the walls photo memorabilia of the old racing days show how little the High Street has changed, although now the traffic is motorised and not horse powered.
Today the High Street is also home to many charming shops and fine restaurants, but book in advance because the lunchtime we arrived we were turned away by them all. Luckily just outside the town a simple Fullers pub was able to feed us.
And dining is done well at The Grosvenor. Chef Neil Cooper recently moved here from a local restaurant and has tackled the challenges of creating a menu that needs to have something for everyone and, of course, the menu always includes local trout.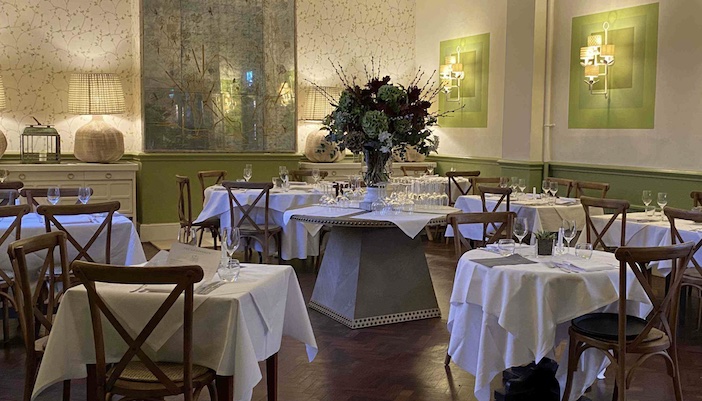 Neil tells me that successful fishermen also donate fish for his kitchen, but he can't possibly cook it all and is now considering building a hot smoker to preserve the bounty for all year round.
His main menu is served in the old Market Hall room, now light and airy with fresh green detailing, chandeliers and a 'foxed' mirror. There's also a mirror ball up on the high ceiling, which may be a hangover from Greene King days, or perhaps it's there for '70s themed weddings. There's also the option of eating in the less formal Bar & Brasserie, or the alpine-inspired La Hutte.
Neil has worked in Spain and while fine steaks and fancy burgers are on the menu, this wider experience shows in dishes such as my starter of Ibérico Pig Cheeks with white beans, chorizo, Boquerón's (white anchovies), salsa verde and parmesan, a deeply satisfying and umami packed dish.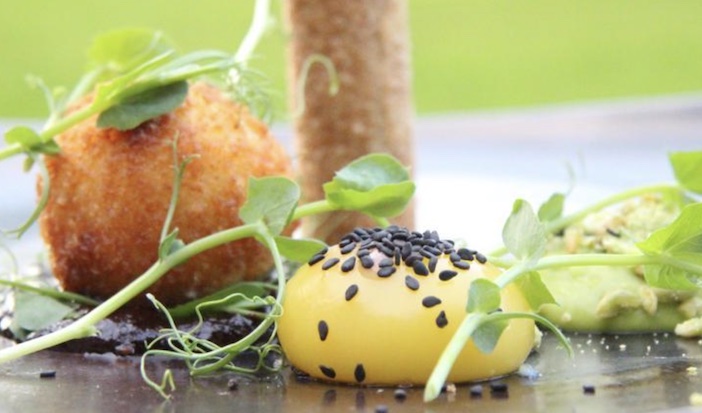 We also have a cleverly composed dish of scallops with pressed lamb, smoked eel shaved fennel and Jerusalem artichoke. Quite a lot on the plate for a starter perhaps, but we are in the country after all.
Mains of Teriyaki Poached Trout with braised bok choy, mooli, pancetta wrapped prawn tempura, dashi showed off Neil's penchant for the exotic, as did a main of curried brill, braised octopus, puy lentils, chilli mussels and wilted greens.
The lentils form effectively a Black Dal, always one of my favourite dals – creamy and warming and ripe for my red wine to wash down. The wine list here is wide ranging and not expensive, handily offering some 500ml carafes – always a good option at lunch.
Desserts don't disappoint, a colourful Pear Parfait reflects the decor of the hotel rooms, while a classic Lemon Tart's astringency is set off by a sweet Italian meringue.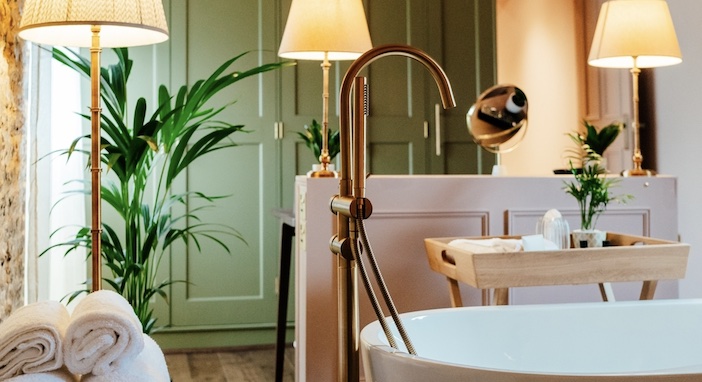 After a perfect night's sleep, a big breakfast hits the spot with local sausages and bacon, and yes there is trout too. You're never far from a fish in Stockbridge.
Just an hour and half by car from London, but a world away in style, The Grosvenor offers the perfect weekend break or mid-week stay. As a wedding venue it's ideal, with some large rooms like The Hayloft having sitting rooms perfect for brides to get ready while having all their friends around them.
Also, rather uniquely, there's a good choice of single rooms, because keen anglers can't always persuade their partners to join them on a fishing trip. Perhaps unsurprisingly.
It's always good when an old building gets given another chance and the hotel seems to be revelling in being born again, reeling in plenty of guests and with a good buzz all day and evening.
Take your rod, take your partner, or take both The Grosvenor is a reel (sic.) catch.
The Grosvenor Hotel, High Street, Stockbridge, Hampshire, SO20 6EU, UK. For more information, including details of sporting activities and things to see and do, please visit www.thegrosvenorstockbridge.com.