Grown-up sister to Hari Hong Kong by Harilela Hotels, the 85-room five star boutique Hari London is located on a prime corner of Chesham Place, beloved as much by the neighbourhood as visitors to London who favour an exclusive base, ideally placed for experiencing the high life of Chelsea, Kensington and Knightsbridge. Although the hotel don't offer a courtesy car for shopping trips, they do have some rather dandy wheels in the form of a handsome fleet of royal blue bicycles, perfect for café-hopping on nearby Pavilion Road, checking out the museums in Kensington, or visiting one of the nearby Royal Parks.
As an old-fashioned girl who favours cosy, chintzy interiors (or so I thought) I'm known to tense up when I hear 'contemporary' or 'modern' applied to hotels; conjuring up a stark, spaceship-like environments devoid of all signs of human life, atmosphere or charm, but The Hari immediately changed my preconceptions. Entering the warmly-lit lobby, having first been welcomed by the delightful porter who swiftly offered to whizz the luggage away and valet park the car, I was impressed by the strikingly aesthetic architectural and interior details that feel both inviting and envelopingly serene. The Hari is everything a luxury modern hotel should be, chic and hospitable rather than gratuitously edgy and pretentious, with a team who go above and beyond to make your stay a memorable one.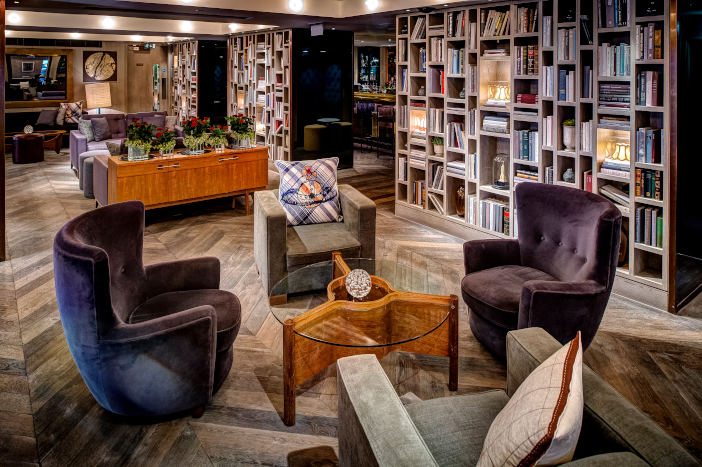 Small yet perfectly formed, this hotel has abundant personality and a uniqueness all its own, including eco-friendly living walls (in line with their overall enviromentally-conscious ethos) and a galleried glass staircase leading to The Hari Bar, as comfortable as it is spacious. Well-placed art-themed coffee table books positioned before every sofa you come across encourage you to pause awhile and appreciate the hotel's own impressive artworks, including those shortlisted from the inaugural Hari Art Prize last year in collaboration with A Space for Art, which saw Antrea Tzourovits become the 2022 winner at the VIP event, receiving a £10,000 cash prize donated by Dr. Aron Harilela of Harilela Hotels Ltd, who also oversaw the judging being a passionate art lover and collector. The two runners up are currently 'Artists in Residence'.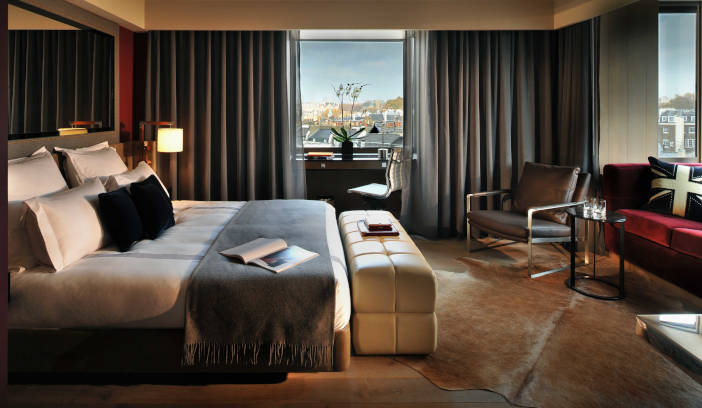 Our 44 square metres sixth floor Studio King Suite, one of 14 signature rooms, featured a cow-hide rug and a framed photograph of the actress Julianne Moore from a 2008 Paris Vogue shoot in which she wears high heels whilst looking daringly at the camera in a see-through vest, which might distract many a guest from the views offered by this corner room, but not me. The Mary-Poppins-esque vista of the grand white stucco terraces of Belgravia, harking back to a very different era, can be (and were) enjoyed from the regally proportioned bed, the in-built lipstick red velvet sofa and the sleek workspace, set up with a Nespresso machine for the early morning conference call I had absolutely no intention of joining.
But the best way to maximise on the panorama from this elevated position was from the large tub within the de rigueur marble en suite with walk-in shower, stocked with Noble Isle amenities and my favourite Deep Relax bath oil by Aromatherapy Associates. But first, draw the blinds to ensure that you're not providing others with the view. The complimentary mini bar was stocked with soft drinks and snacks, while you'll find the 24-hour room service menu on the flat screen TV for anything else you might require, from a late night feast to breakfast in bed after a sound night's sleep thanks to electric blackouts.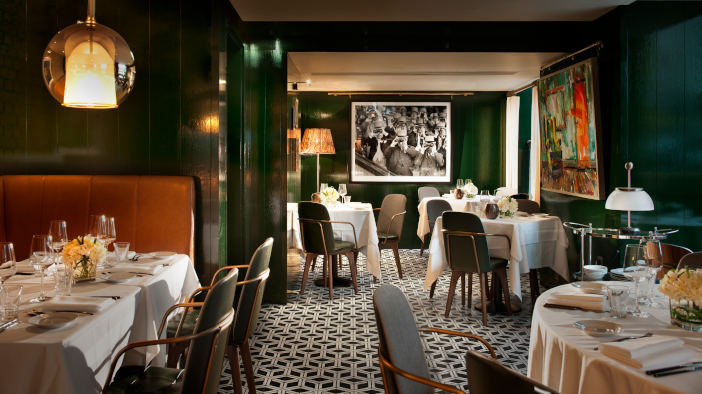 But I suggest you won't be feeling all that hungry if you dine at the hotel's elegant Il Pampero restaurant, offering simple yet elevated Italian fare and where, although serving breakfast (try the homemade pancakes or Italian-style eggs with Mortadella, truffle oil and Burrata) and Bottomless Brunches on the weekends, come the evening the space is transformed into 'La Dolce Vita' with white tablecloths and low lighting. Opened in 2016 and named after The Hari owner's favourite horse, the design of the restaurant, with its tiled floor, dark green walls and back-lit feature bar, encapsulates the vintage glamour and romance of Italy, with window booths offering the perfect spot for couples.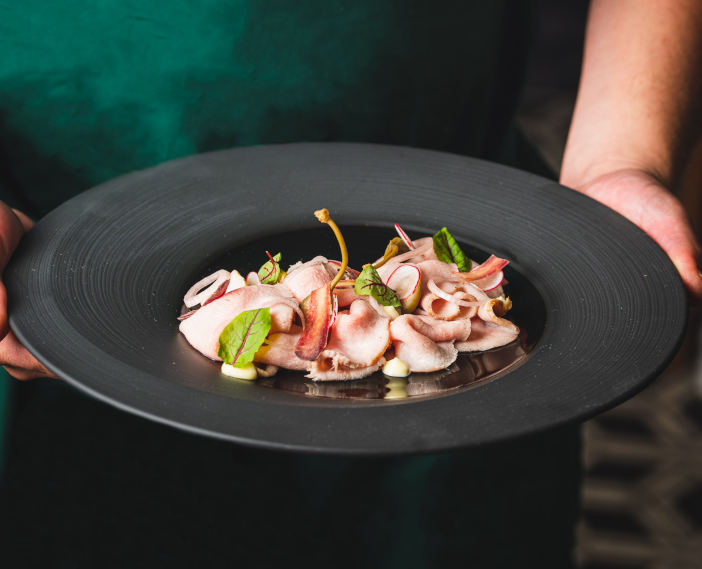 The Italian family celebrating a birthday here added to the relaxed ambiance and neighbourhood feel. It was clear the family were regular guests who had chosen Il Pampero so as to delight in a taste of their heritage, with a menu boasting Tuscan-born and raised Head Chef Calogero Carlino's authentic classics such as Pappardelle with Wild Boar ragù and 'Vitello alla Milanese'. Freshly made pasta has always been irresistible to me, so I wallowed in the tortelli filled with pumpkin, butter and sage, with amaretti biscuits & Gorgonzola fondue, a rich dish perfectly marrying sweet and savoury, as did my main of slow-cooked meltingly tender Aberdeen beef cheek cured in Chianti wine, served with potato cake, chestnut cream & carrot purée.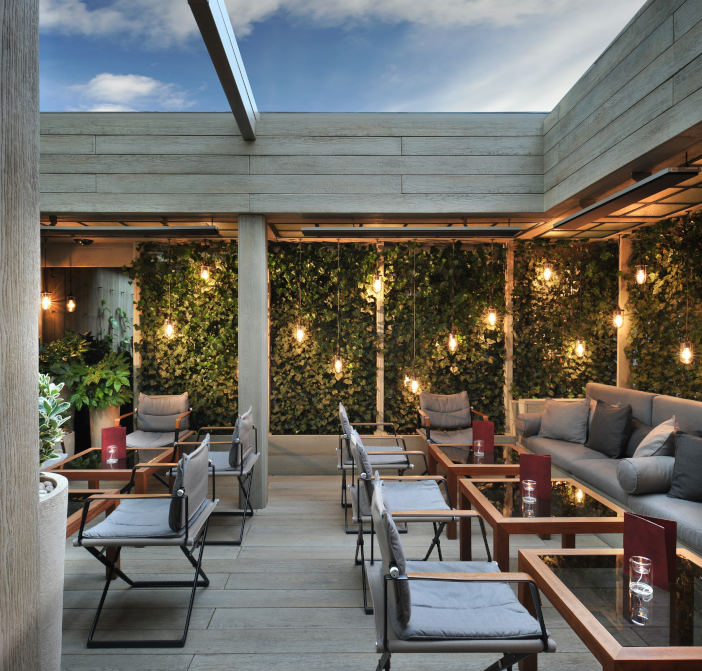 After sharing the Rocher-inspired dessert of chocolate and hazelnut with chocolate sauce (asking for two spoons seemed more 'authentically' Italian) we somehow managed to climb to the first floor Hari Bar to round off the evening with Italian coffee and enjoy one of London's best kept secrets, the heated Garden Terrace (available to hire for private events) offering year-round city serenity with its wall length sofa, directors chairs and a retractable sunroof for the warmer months. Day or night, it's a popular meeting spot with well-heeled 'in the know' locals, cigar lovers or just lovers in general who cosy up regardless of the space being perfectly warm. Whether you're staying for the weekend or live around the corner and like to drop by, The Hari London is a very special hotel with the ability to make you feel instantly at home.
The Hari London. Studio King Suite currently £890 + 20% VAT per night although prices change according to season. For more information and reservations please visit the website. Il Pampero is open every day for breakfast and every evening for dinner.