The sun made a welcome appearance as my chap manoeuvred the old sports car along the windy roads of Dartmoor like an F1 driver, where the finest Devonshire clotted cream beckoned us to the chintz bedecked Gateway Tea Room of Moretonhampstead for some well needed rest and refreshment. No sooner had we taken a seat than the owner's golden retriever, later introduced to us as 'Biscuit', took a shine to my chap (by no means the world's greatest dog lover) and settled down at his polished brogues for an afternoon nap. I could see my chap's eyebrows raised above his menu as he perused the cakes – something sweet almost always manages to appease him. The charming owner took our order of a cream tea for two with a slice of lemon drizzle cake and offered us a vast selection of homemade jams. I opted for the loganberry (a cross between a blackberry and a raspberry with less seeds), made by her mother the previous week, and, as I later discovered, so scrumptious I would happily have purchased half a dozen jars for the relatives if the jams had been up for grabs. The freshly baked scones were generous, supremely fresh and soft, and placed beside an oozing pot of clotted cream such as I can only dream of back in London.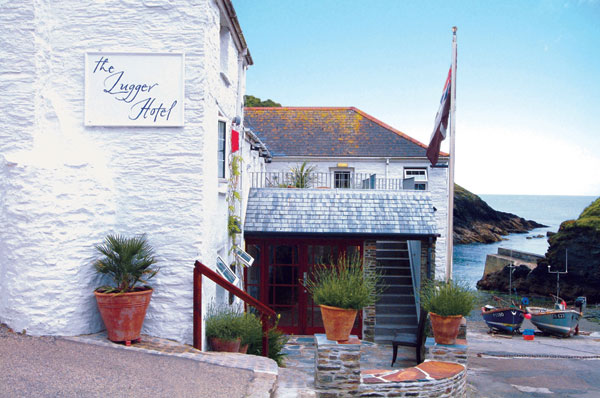 It was quite a struggle to fit the seat belt around the tum afterwards, as we continued on our way with the roof down and my hair looking more Edward Scissorhands than Grace Kelly by the time we arrived at The Lugger Hotel. Just 13 miles from Truro, in the picturesque Cornish fishing village of Portloe, the Lugger has hosted a regular stream of notable guests including Will Young, Dawn French, and Bob Hoskins, since its refurbishment by Oxford Hotels & Inns, and was recently named 'Best Seaside Hotel' by the Sunday Times. Comprising of a cluster of whitewashed buildings, including a 17th century smugglers' inn, with just 22 rooms all stylishly decorated, this is boutique hotel heaven.
The welcoming manager, Richard Hartley, showed us to our peaceful and romantic room, number 201, located in the main building. With low ceilings, beige and white New England style decor, luxury bed linen, and a stunning view over the harbour and Atlantic ocean, it wasn't hard to understand why so many have enthused about this very unique experience. Fresh fruit in every room, plus a jar of boiled sweets, were welcoming touches. The fridge wasn't crammed with the typical mini-bar accoutrements such as Bombay Sapphire miniatures, Jelly Beans and champagne, but instead stocked with complimentary mineral water and fresh milk to accompany the oh-so-British tea and coffee making facilities – they were even thoughtful enough to provide us with shortbread biscuits. The only questionable addition to the room was a print out of a God-themed joke – bedtime reading verging on the bizarre. The Cornish may enjoy religious humour but this misguided quirk is likely to offend more guests than it pleases.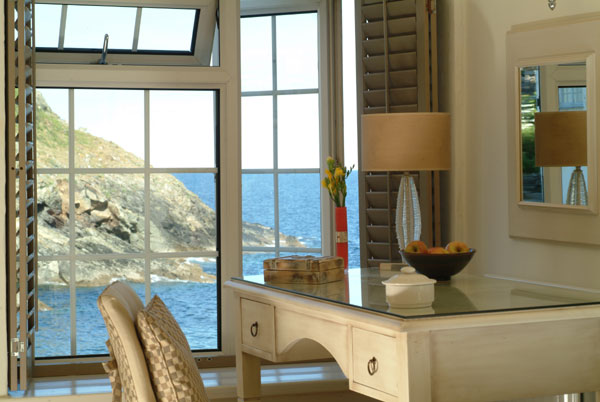 The Lugger's bijoux one room sea-facing spa offers a good range of Elemis treatments – each carried out by therapist and Portloe resident Jill Trudgeon. What could be more de-stressing than being massaged whilst listening to the sound of waves?
The award-winning restaurant has equally charming views overlooking the harbour and a small but friendly staff make the experience everything you would want. The menu, designed by Head Chef Jonathan Dome, naturally specialises in showing off the freshest locally caught fish, combined with surprisingly delicate and refined presentation and is aimed at out-of-towners. I opted for the crab salad with hen's egg, lardons, cos lettuce and black onion seed crouton which, although tasting delicious contained a few fragments of shell. On the plus side, the ingredients were high quality and the hen's egg perfectly cooked and unctuous with the crouton offering a pleasant texture difference. My chap and I both opted for the turbot fish special for main course, sublimely prepared and flavoursome – illustrative of the Lugger's approach to cuisine. The meal ended on a high note with a Seville orange panna cotta with poached rhubarb, made using the finest Cornish cream and accompanied with a refreshing and palate cleansing rhubarb compote. Whilst Prime Minister David Cameron, a recent guest, decided to work off his dinner by taking an early morning swim in the jetty, we retired to the intimate lounge to partake of Port and Cornish cheese and chutney.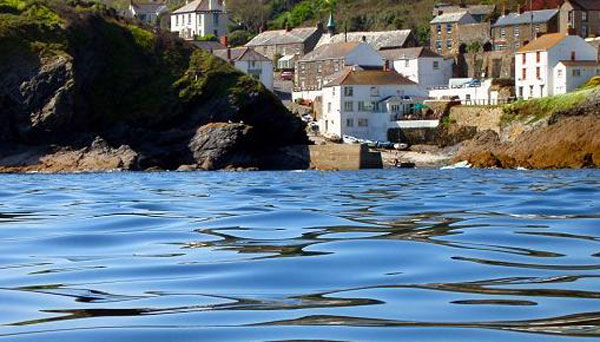 We returned to our room to find the next day's weather report and hot chocolate and marshmallows had magically appeared, which we delighted in cosying up with on our own private terrace, listening to the waves and looking up at the stars. The following morning we ordered breakfast in our room where, dressed in our white robes, we enjoyed kippers and scrambled eggs and smoked salmon on a toasted bagel, whilst sitting in the cushioned window seat and watching the fishermen go out to sea.
Portloe, so I read in the Lugger's brochure, was described by Sir John Betjeman as "one of the least spoiled and most impressive of Cornish fishing villages." Standing on the Roseland Peninsular, it offers ample hiking opportunities for those wanting to explore the South West Costal Path, or for taking a picnic to neighbouring Carne Beach – the hotel can provide you with crab sandwiches (just remember to chew carefully). For those of us who prefer more solid ground and aren't into fishing, the Eden Project is only a 40 minute drive away. The Lugger is undoubtedly the life blood of Portloe – a travel destination without a village shop, no street lamps, only one pub, aptly named 'The Ship Inn', and no mobile phone reception whatsoever. This place really is tranquillity itself, and although it might drive me nuts to be away too long from civilisation, it's hard not to immerse yourself in this sleepy seaside community and want to live a simpler life, breathe sea air and take up canoeing or snorkelling. They say the Cornish think of Cornwall as a separate country from England, and I can certainly see why.