For a five star Paris hotel oozing modern flair as opposed to the traditional gilt Louis style, the esteemed Mandarin Oriental Paris, with its official "Palace Distinction", in ultra chic Rue Saint-Honoré, is a mecca for fashionistas, A-list celebrities and some of the most discerning travellers on the planet. Easy on the eye and located in the city's most exclusive shopping quarter, the hotel's close neighbours include Graff, Rolex, Tom Ford, Alexander McQueen and Chanel. Say no more. Much like when you enter those boutiques, if you have to ask the price, you definitely can't afford to be there.
A five minute walk from Place Vendôme, and Jardin des Tuileries, the hotel is housed inside an historic 1930s Art Deco building with a timeless quality that lends itself to modern interior design. Architect Jean-Michel Wilmotte supervised the renovation of the building, its facade and patio, and while the street entrance is unassuming, the elegant lobby is anything but, with an artistic, haute couture vibe and floor to ceiling windows looking onto the landscaped garden and bringing nature indoors thanks to signature butterflies fluttering hither and thither, whether embroidered on cushions or suspended from the ceiling in a staggering installation of 135 Swarovski crystal butterflies, reflecting the number of bedrooms as they glimmer enticingly. French artist Nathalie Decoster's Air sculpture is meanwhile an integral feature of the lobby and symbolises the fragility of liberty, with a figure enclosed in a circle hanging by a thread.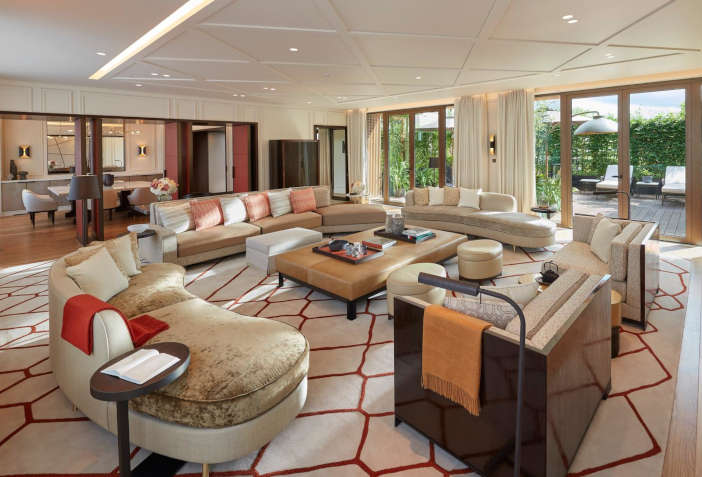 The check-in process was as effortless as I've ever known; the reception staff attending to me on a sofa and insisting I partake of a welcome refreshment whilst going through the necessary dotting of the i's and crossing of the t's. "Quite frankly you can keep my passport," I thought, handing it over, "I'm happy to stay here permanently." With twin revolving walnut bookcases stocked with a curated selection of the trendiest coffee table books, unwind at leisure before being escorted to your elegant new abode.
The renowned French agency Gilles & Boissier recently designed the breathtaking new Parisian Apartment, a palatial 430 sq metres located on the 6th floor with four bedrooms and bathrooms, it is the jewel in the crown of Mandarin Oriental Paris accommodation, boasting a remarkable landscaped garden terrace. Meanwhile the Mandarin Penthouse extends over two levels with an Eiffel Tower view, the Oriental Penthouse Suite has its own private terrace, and 7 Duplex Suites boast quintessential Parisian views over the city's rooftops. Each room is sumptuously designed by Sybille de Margerie, furnished in impeccable tones of orange, magenta and plum, with exclusive reproductions on velvet of acclaimed American photographer Man Ray's The Kiss. Many suites overlook the lush inner courtyard garden, an appealing all-year-round oasis in the heart of the city that was about to be transformed into a magical winter garden during our recent stay.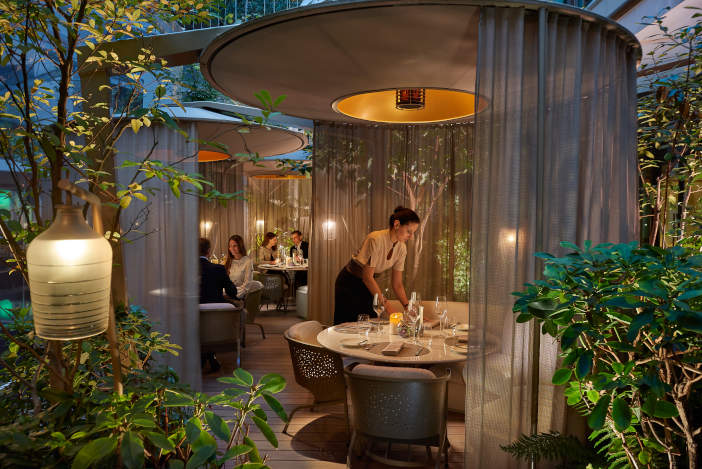 Our open-plan suite, with two flat screen Bang and Olufsen TVs set into a central dividing wall, offered a comfortable sitting room on one side and a decadent bedroom dressed with 500-thread count linens. To the left lies the oh-so appealing white marble bathroom with generous free-standing tub, twin sinks and a separate walk-in rain shower, all stocked with Diptyque toiletries. The mini bar is as hedonistic as you could ask for, including a cheeky 'Love Box', while a Nespresso maker and kettle, along with Jing tea and a Mariage Frères teapot and oriental teacups, more than satisfied me as I flopped on the sofa and read a French novel. Any books you leave lying around at turn-down will find a Mandarin Oriental fan-shaped, tasselled bookmarker beside it. Nice touch.
Each of the hotel's dining experiences offer gastronomic fare to suit every mood and dietary requirement, from the two Michelin star Sur Mesure by Thierry Marx, where tasting menus are printed on Japanese rice paper, to the more relaxed futuristic-looking Camélia restaurant overlooking the peaceful garden, filled and heaven-scented with its namesake flowers come summertime, and where Chef Marx revisits French classics with Asian influences in a more relaxed setting. We enjoyed an elegant lunch here, along with breakfast each morning; an exciting choice of Japanese and Chinese dishes being available in preference to classic French pastries. Additionally, L'Honoré offers informal dishes and light meals in the comfortable lobby alcoves, while room service is always a good idea. especially when you have a suite.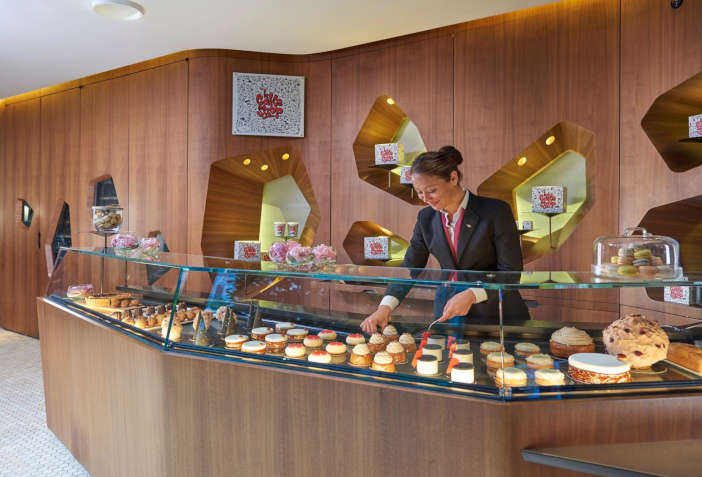 You can't come to Paris and not take advantage of the patisserie, and thankfully you don't have to go far thanks to the hotel's very own Cake Shop offering a range of innovative and impeccably crafted delights available to eat in or take out, also overseen by Marx. The worst thing about peering into such a tempting cake counter is having to make a choice, and yet I was determined to sample the famous 'Le Saint-Honoré', which shares the name of the street in which the hotel is situated and is composed of puff pastry, vanilla cream, salted caramel and whipped cream. Bar 8, by designed by Agence Jouin-Manku, is a sultry, atmospheric space, enhanced by dark wood and chocolate brown furnishings, besides walls inlaid with Lalique crystals resembling raindrops. If this wasn't enough the imposing stone bar weighs nine tons, assembled from stone quarried in Spain and cut in Italy by craftsmen who worked tirelessly for two months.
Although the 900 sq metre two-level spa might be one of the largest in Paris, complete with a 14 metre pool, Oriental herbal steam room and a state-of-the-art fitness centre which offers a plunging view of the pool and private coaching and yoga classes, the atmosphere succeeds in offering guests a cosseting, tranquil environment alongside a wide range of beauty treatments by Guerlain and Oriental-inspired top-to-toe holistic therapies such as the 2hour 20 minute Oriental Harmony whereby two practitioners work together in time and movement. The Spa boutique is well stocked with Guerlain beauty and make-up products, along with other brands used in the spa such as Aromatherapy Associates.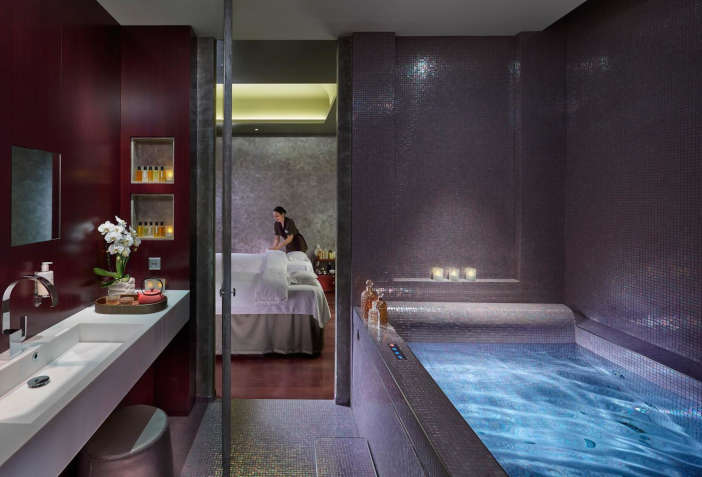 In true Oriental fashion, guests exchange shoes for slippers to symbolically leave the world behind them and fully unwind. With a cocoon-like entrance, the spa is decorated in soothing pearly tones of ivory, taupe and silver, with Origami-style flowers and a glass mosaic floor studded with butterflies in silver leaf. This sensorial sanctuary includes seven luxury Spa Suites equipped with amenities and offering a private space wherein to change, shower and dress at leisure. Following an in-depth consultation with your personal therapist, you will be recommended treatments especially tailored to your needs and whether you desire a calm, rejuvenating or energising experience. Never was a hotel logo more appropriate. Even the towels are embossed with the signature Mandarin Oriental 'fan', a word which happy guests use when tagging pictures of another memorable stay #iamafan – oh me too.
Mandarin Oriental Paris, 251 Rue Saint-Honoré, 75001 Paris, France. Rates start from 1,395 AED (approx. £340) per room per night on a B&B basis.  For further information and bookings please call +33 (0)1 70 98 78 88 or visit www.mandarinoriental.com.