The azure sea is so dazzling that, swaying in my hammock, I have to close my eyes against the brightness. Within seconds, my book is discarded, and the sound of the gentle lapping of the ocean sends me off to sleep. This is the beauty of the Maldives – a series of over 1,000 islands in the Indian Ocean, many dotted with luxurious resorts like One&Only Reethi Rah – and among the most peaceful places on earth.
Found in the North Malé Atoll, Reethi Rah is one of the grand-dame names of the destination and is found on one of the largest islands in the region – 6km in length and aptly shaped like an octopus. Inland is covered with jungle foliage, while along its coastline are pristine beaches and pathways on which guests can cycle, walk and dip into the sea.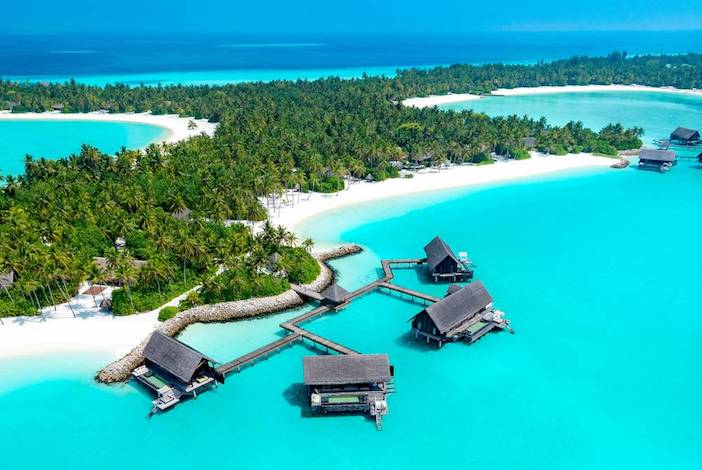 Like many of One&Only's luxurious resorts, Reethi Rah is known for its glitzy guestlist –the Beckhams and Ramsays frequently book out the lavish and secluded Grand Residence here, which comes with its own private swimming pool, chef, wine cellar and beach cinema. But that's not to say it's not perfect for those wanting a moment to catch their breath, take stock and re-energise.
At its heart is a destination spa by ESPA – one of the best in the region and where the magic happens. Balinese in design, private treatment rooms are scattered across a series of thatched-roof pavilions. You pad across manicured gardens, dotted with ponds adorned with lotus flowers, and at intervals, through the lofty palm trees, you'll catch a glimpse of that impossibly turquoise ocean.
The entrance is impressive – you enter via a lofty lobby-hall, with a central flower-strewn fountain and carved wood features. There's water shiastsu to try in the Watsu pool, hours to be had in the swirling vitality pool and de-stressing to be done in the crystal steam room. Best of all, however, is the spa's prowess in collaborating with some of the best experts in the business. From the personalised retreat programmes to the renowned visiting practitioners, the aim is to help guests leave a better version of themselves.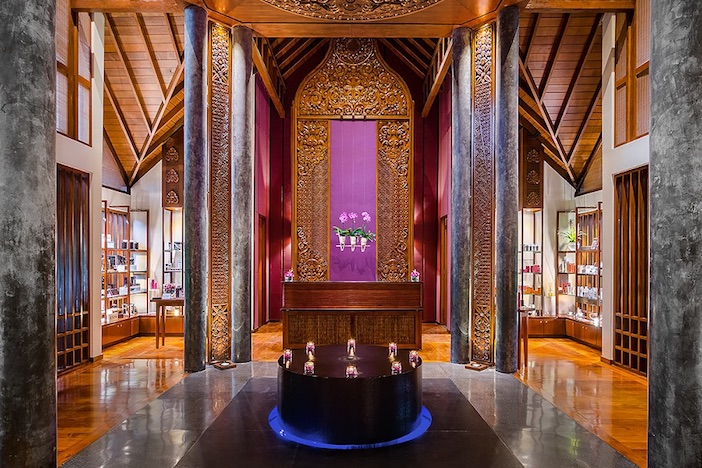 The latest offering is for those so stressed by urban life that they find it hard to sleep properly. So, targeting those wanting to reset their mojo, is the new Sleep Journey, which combines ESPA massages with more in-depth sleep therapies.
It starts with a Sleep Ritual assessment, in which a 'sleep trainer'  looks closely at your sleeping patterns and develops a tailored Sleep Journey to address your needs. The trainer will also introduce sleep meditation, which guides you through breathing and visualisation techniques to the sound of soothing music, as well as checking in on you during your stay. The feet are then massaged to help rebalance and ground, before a therapeutic massage is continued up through the body to promote positivity to the mind. Releasing deep-seated muscular tension, using a combination of hot stones and warm relaxing oil, this is uber-nurturing, finishing with a blissful scalp massage to clear the mind.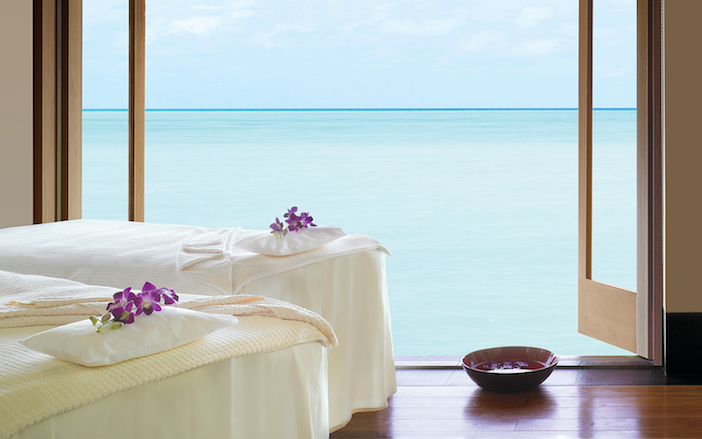 Thoughtful additions to the 'journey' include personalised 'Sleep Collection' amenities – such as mini ESPA products, calming tea and personalised sleep music – delivered to your villa each night. Healthy eating is also at the core of the therapy, with the resort launching new 'Bliss Bowls' at the Beach Club – which focus on antioxidant ingredients (such as pomegranate, coconut, pumpkin seeds and avocado) – ideal for lunch. For breakfast, meanwhile, there's a dedicated Superfood Counter in the Reethi Restaurant where you can concoct your own healthy start to the day with a huge range of vitamin-packed juices to try.
Furthermore, the resort has also devised a form of 'mindful' diving – where you can sail out on a traditional Dhoni boat and swim peacefully with turtles or manta rays. Of course, the ocean is the main pull here – and Reethi Rah has a huge range of activities which capture the best of the location. It doesn't require too much effort – simply take a pedalo from the shore and you'll spot sea turtles, Napoleon wrasses, white-tip sharks and butterfly fish in the island's own house reef.  While, further afield, you can take a sea safari with the resident marine biologist who will educate as well as inspire when she points out spinner dolphins and whale sharks.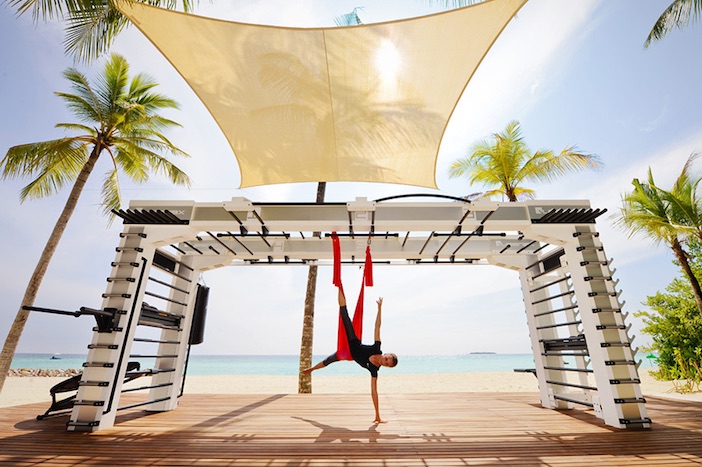 The resort itself also has enough to run you ragged if you so wish – there are art and pottery classes, a climbing wall and tennis courts. Fitness is also a focus with a whole gamut of classes on offer – from the intense al fresco Raw Workout (be warned: it's not for wimps) to scenic yoga classes on overwater pavilions.
Come night time, and the resort is a glamourous affair with a wide range of restaurants to choose from. Most unique is Botanica, found in a secret garden and focusing on field-to-fork cuisine – much of which uses ingredients from the kitchen garden. Whether you dine among the coloured blooms in the orchid house or under an age-old Banyan tree, the menu is focused on natural plant-based dishes, freshly-caught fish and artisan ingredients.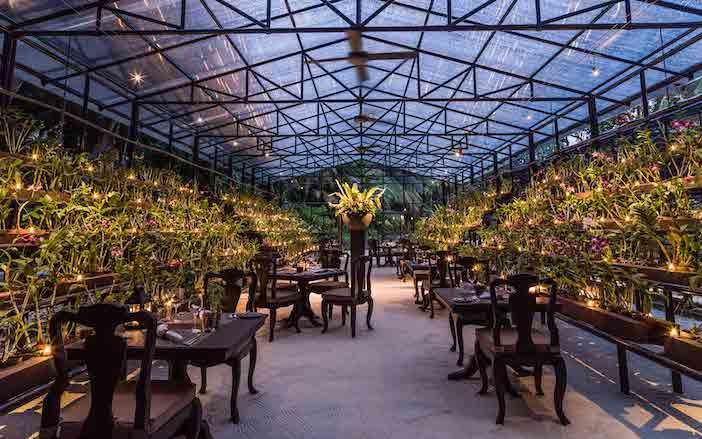 Complimenting the menu is an on-trend Gin Bar, serving 34 different gins from around the world, paired with herbs, fruits and flavours from the Chef's Garden to match the unique characteristics of each gin. From the starter of Grilled Octopus with Ash Baked Potato to the Wild Mushroom, Jerusalem Artichoke and Asparagus main – everything is bursting with freshness.
Whether you stay in an overwater villa or a beachfront property, décor also captures the essence of the Maldivian natural world. Designed by Jean-Michel Gathy, the beach villas are vast affairs, opening out to their own private beaches and terraces with curvy daybeds and hammocks.
Rooms are super slick with dreamy dressing rooms come bathrooms and bedrooms with vaulted ceilings. Pared-back colour schemes – think: ochre, silver and burnt orange – are the perfect antidote to the tropical hues outside. Velvet armchairs, marble tables and crisp linens give a layer of luxury. It's what sweet dreams are made of.
Abercrombie & Kent offers a four night One&Only Reethi Rah Sleep Collection package, staying in a Beach Villa on a bed and breakfast basis with transfers and international flights on a B&B basis from £6,945 pp. The package includes a Bastien Gonzalez treatment, 90 minute Sleep Ritual including breathing exercises and meditation as well as a deep therapeutic massage, mindful scuba diving and a 'bliss bowl' and cocktail at the Beach Club for two guests. Book until 16 December 2019. A stopover at One&Only Royal Mirage can be added for £420pp. For more information, visit www.oneandonlyresorts.com.