With an idyllic riverside location across from Henley Bridge and beside the picturesque St Mary's Church, the once tired 16th century Red Lion Hotel in Henley on Thames has undergone a multi-million pound renovation to elevate the property into arguably the most stylish place in the town. An achievement that's evident from the plethora of locals we came across on return visits, many of whom were on first name terms with members of staff – an impressive indication of the service given the infancy of the new hotel.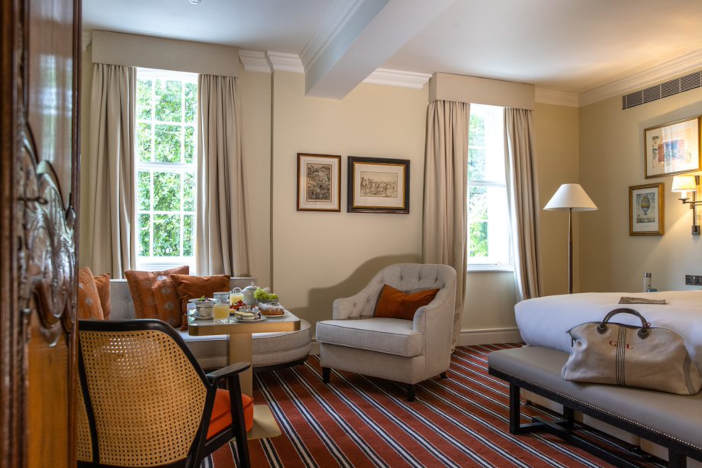 It was the vision of international hotelier Grace Leo to transform this former coaching inn, which once hosted King Charles I, the First Duke of Marlborough and later Grace Kelly, into a slick and sophisticated 40 room hotel that is once again fit for royalty and Hollywood stars. With two glamorous bars to suite your mood, The Clip and The Quarterdeck, a spacious 'Palm Court' lounge with a work space for business travellers used to travelling first class, and a beautifully designed 'Deli' which serves East India Company teas, freshly prepared cakes, sweet and savoury pastries and a good choice of salads and sandwiches for an exquisite picnic on the river.
The Deli's offering is illustrative of the quality of food on offer at the Relais Henley, and will surely entice those popping in for a quick cuppa and bite to sample the more leisurely afternoon tea which we enjoyed in the nautically-styled Clipper Restaurant on arrival; a three-tier stand featuring delectable sandwich 'cubes', scones with jam and cream, and a top tier crowned with red velvet and carrot cupcakes, fruit tartlets and a chocolate and coffee 'Opera' cake. My ideal way to settle in and relax after a journey!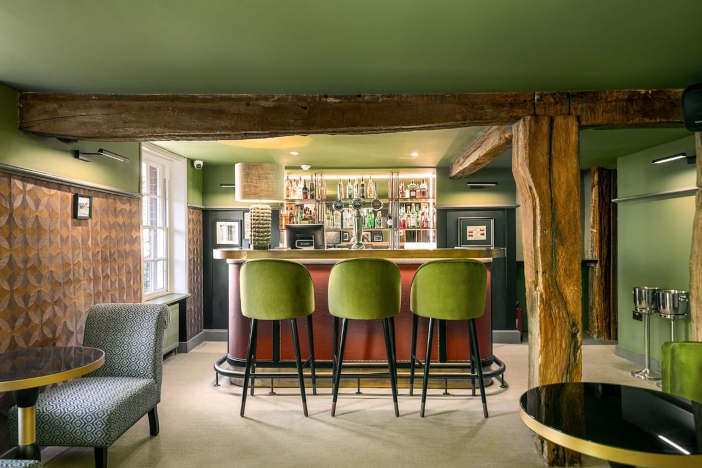 Rooms are very fairly priced for the comfort on offer, whether you're overlooking the historic courtyard, the pretty St Mary's church, or the river. Our premium Riverside Suite was more simply designed than the public areas, with white walls and a striped carpet for a yachting feel. Smart and spacious, with a seating area, a blissfully comfortable king size bed with quality linens, and a glamorous marble shower room with underfloor heating, fluffy new towels and luxurious Aromatherapy Associates products, the views of this idyllic stretch of the River Thames enabled me to enjoy the sight of dedicated rowers getting in some practice from the comfort of my armchair.
It hasn't all been plain sailing for The Relais Henley – the past two years certainly weren't an ideal time to launch a new hotel, with the erratic lockdowns and industry-wide staff shortages due to the pandemic offering up more challenges than the original plans anticipated, yet despite this, they have founded a brilliant team and are ready to embark on their second full capacity summer, with guests visiting from far and wide for the world-renowned Henley Regatta, a highlight of the English social season. For other quintessentially English experiences within the local area, the hotel can arrange horse riding through The Chilterns, clay pigeon shooting, or a visit to the spectacular country house estate of Stonor Park. Best of all, the hotel will prepare you a delicious picnic from their Deli.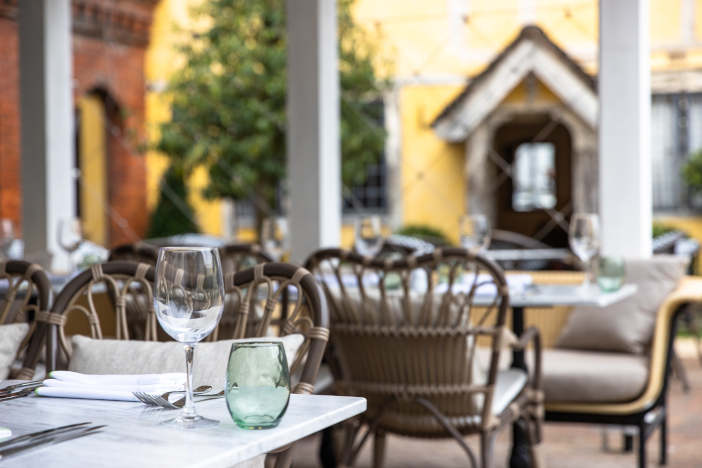 On the subject of food, dinner at The Clipper Restaurant, with its vintage dinghy suspended from the ceiling, serves classic brasserie dishes by Mosimann's London. From a masterclass-worthy Tunworth double baked cheese souffle garnished with pecans and apple, followed by a seared canon of lamb with homemade gnocchi "Parisienne", roasted butternut squash, woodland mushrooms and an exceptional red wine jus, to the oozing chocolate fondant with honeycomb and ice cream, the restaurant's crowd-pleasing, generous food was faultless, as was the service.
The only trouble was finding an appetite the following morning for The Clipper's homemade pancakes, but I'm jolly glad I did – and so said husband about his Full English. Being unashamedly greedy, the food at The Relais Henley (and we were lucky enough to sample their breakfast, afternoon tea and dinner) made it one of the most enjoyable UK breaks we've had in a long time, although there's some irony in the fact that we'd be likely to sink any boat we took out on the river. They really ought to issue a health and safety warning about the quality of their cuisine. If their guests happen to be rowers and in a race to the finish line they won't stand a chance. Fortunately we're quite content as two well-fed spectators.
The Relais Henley at The Red Lion. Henley on Thames. Rooms start from £190 per night including breakfast. For more information and bookings please visit the website.