I'm learning to breathe on a mountain. Above us, the sun is hot, and below, the southern coastline of Mauritius, with its deepening tones of azure, looks like something an artist has splashed across a canvas. Who knew there was so much more to breathing?
We take up different yoga-style positions in the shade and imbibe the hibiscus-scented air, breathing deep and slow. The Cleansing Breath is first, on our knees, eyes closed. Then, we lay on our backs, arms stretched overhead for The Fish. After a few minutes,  all is calm with the world, and, here, on Le Morne – a stunning UNESCO World Heritage Site, life couldn't get any better.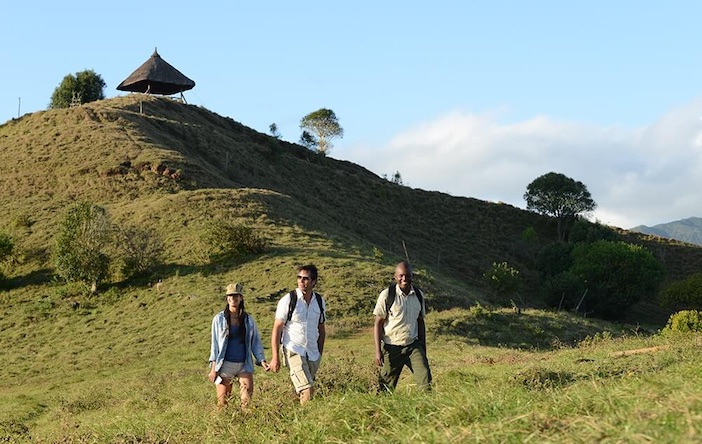 Led by yoga and breathing expert Ravin, the experience is part of the wellness offering found at Heritage Le Telfair – a five-star resort set in its own nature reserve. Dating back to 1765, when it was a sugar plantation, it has long had an affinity to the natural world, especially since it was also the home of celebrated Irish botanist and doctor Charles Telfair, when he arrived on the island in 1811.  The spa and its wellness offering aims to capture this and more.
Telfair's influence can be seen throughout the resort – from the lithographed drawings of flowers and plants, by his wife Annabelle, which are dotted about, to the old English colonial style of the architecture. The Cavendish bar, for instance, is modelled on the British smoking rooms of Telfair's time; Annabella's, the hotel's main restaurant, is evocative of a typical Creole house and and Gin'ja, a Pan-Asian restaurant evokes the East India Company's trading posts in Asia.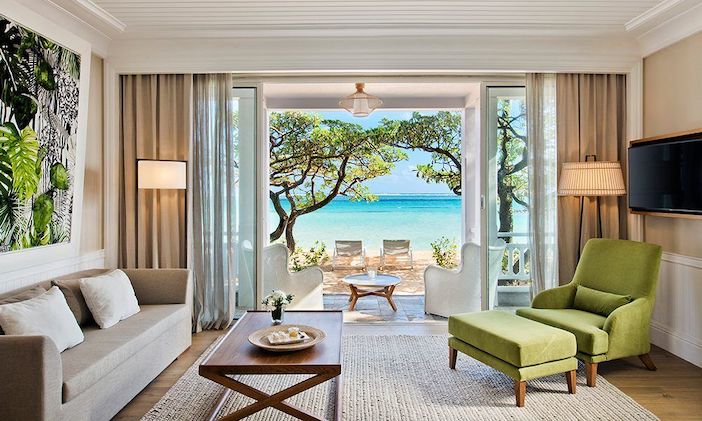 Atmospheric pathways, bridges and waterways are woven around a lush landscape in the resort – you'll duck under palm trees, brush against birds of paradise and step over exotic fronds, which line the way. Rooms, meanwhile, are spacious, cooling and are also plantation in feel – with white wooden shutters, French-style tiling in the bathrooms and natural materials used – such as rattan bedsteads, wicker lamps and crisp cotton bedlinen. Colourways are fresh and uplifting – with zingy green palm print art work, white wicker armchairs on your patio and taupe linen-covered sofas.
Above all, Heritage Le Telfair, with its tropical-flavoured Seven Colours Spa, has a natural wellness concept at its heart. Guests can expect something far beyond the usual facial and massage hotel offering, with treatments rooted in chromotherapy and with in-house products made with locally-sourced ingredients. Offering a 360° approach, you can tap into holistic health care with the in-house osteopath, reiki master and chakra expert, for instance. Or for the mind and body try the hatha yoga or tai-chi sessions.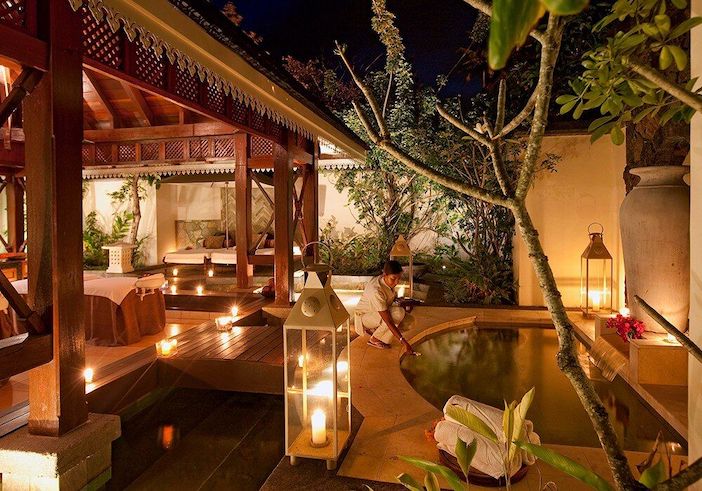 Mindfulness is addressed with positive breathing and guided meditation exercises. For sumptuous pampering, the spa rituals are based on the colours of your chakras. From healing to energising – there are seven options for each treatment, according to your 'colour', which is determined at the start of your treatment. From the candle massage to the warm volcanic stone treatment, all are rooted in Mauritian culture.
This sense of Mauritius and island life – coupled with the hotel's idyllic setting – is also the impetus for Heritage Resorts having set up its own annual Wellness Festival. This year will be the second edition, and has a unique focus on wellness nature experiences. "We're in a unique and beautiful destination," says Helene Cassan, spa manager and Festival organiser.
"Furthermore, this area in the south of Mauritius is like a destination within a destination. We are lucky to be in the heart of the UNESCO Biosphere Reserve, home to marshlands and tropical forest and teaming with rare birds – such as the Echo Parakeet and the Pink Pigeon. We know that there's no better place to clear your mind and feel good about yourself, and so the festival celebrates that."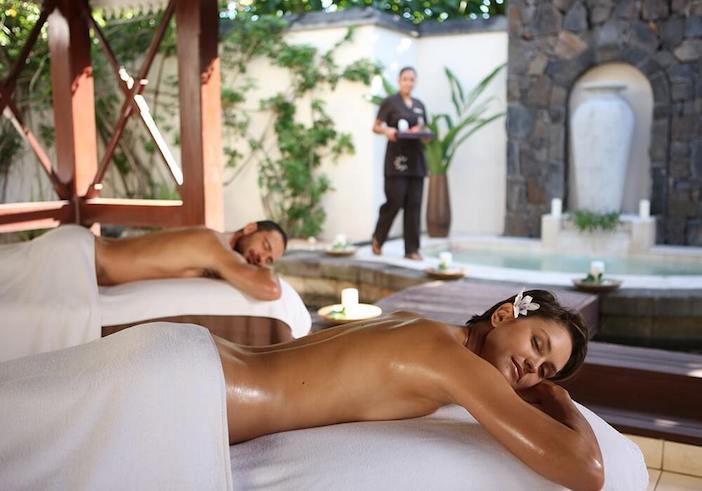 Taking place over three days (22-24 May), the festival is the largest of its kind in the Indian Ocean and aims to inspire, educate and empower with a range of international experts leading various activities over the few days. Over 60 workshops, experiences and talks will take place at the hotel's C Beach Club, and will cover personal development, spirituality and artistic development, among other offerings. The Nature Connection element is the most unique and  will see guests being taken out to the surrounding reserve for mind-body sessions, such as forest bathing or swimming with dolphins.
Food is also a focus with a range of raw options and healthy, nutritious cuisine available. "Guests can expect a locally-influenced cuisine, such as spicy Mauritian curries, dholl puri and roti, dahls, just-caught fish, such as Marlin and Sailfish, as well as an extensive selection for vegans and vegetarians," says Helene.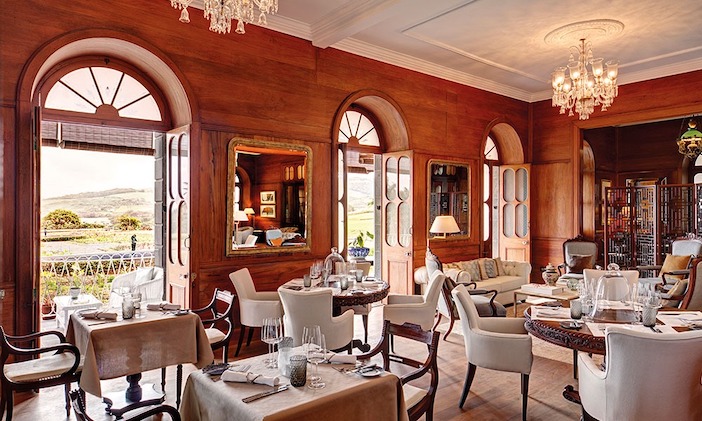 With six restaurants to enjoy, the hotel has a strong culinary focus. Pan-Asian fusion cuisine at Gin'Ja includes standout sushi, sashimi and tempura, while at Le Palmier, beachside lunches include fresh octopus on the grill and inventive salads. Most impressive, perhaps, is the Heritage Le Chateau, set in its own kitchen gardens, this historic mansion house has eclectic interiors and offers timeless afternoon-tea experiences and fine dining. Crab tartare and smoked marlin ravioli, blue lobster spaghetti and dorado fillet in a shellfish barigoule are finessed takes on local cuisine. It all adds up to be the perfect taste of Mauritius.
Rates at Heritage Le Telfair Golf & Wellness Resort start at €124 per person, per night in a Garden View Room on a B&B basis. For more information, visit heritageresorts.mu.
Air Mauritius is the only airline to fly direct non-stop from London Heathrow to Mauritius. The airline has recently upgraded the business and economy cabins of the aircraft which serve the direct service from Heathrow. The refitted A340 aircraft offers full flat-bed seating in Business Class. Return fares in Economy Class from London Heathrow to Mauritius start from £629 per person. Business class return fares are from £3,459 per person. For more information, visit airmauritius.com.
The annual Wellness Festival Mauritius, hosted by Heritage Resorts, is set to take place on 22-24th May 2020, offering a three-day programme of wellness experiences and workshops to enable guests to find better wellness, greater happiness, health and fulfilment. You can enjoy an exclusive 10% discount on a  ticket, plus a 10% discount on a stay at Heritage Le Telfair, with the following code: mw2020a when purchasing a ticket online at www.eventbrite.com.