What does the word 'varsity' say to you? For some, it's an affectation of an older generation, said in a deliberate drawl – 'are you going up to the 'varsity next term'? (The 'varsity', of course, only being Oxbridge, although Durham has made frequent attempts to sneak into the pantheon.) For others, it's the Cambridge student newspaper, one of the best in the country and a breeding ground for journalistic talent. And, for those in the know, it's also one of Cambridge's best hotels, a boutique establishment that combines discretion, style and all the high-end amenities that you'd expect with some more unusual touches – some wonderfully surprising, others merely surprising.
Its location is somewhere in between the two. It isn't easy to find if you're not a Cambridge expert, being tucked away in a hard-to-find residential corner, albeit one only a minute's walk from the river and a few moments' stroll from the centre. The second eyebrow-raiser is how unostentatious the lobby and reception are; if you're used to acres of space and fancy hotels, the small, even cramped room might seem surprising, and the single lift can mean that queues can build up quickly. But the warmth of the welcome and the good cheer mean that any fleeting irritation soon passes.
The rooms, especially at the top of the hotel, offer quite stunning views, thanks to the floor-to-ceiling windows that enable guests to gaze over the city in a style that can seldom be imagined anywhere else. I'm in the 'Magdalene' room on the fifth floor – appropriately enough, a large portrait of Samuel Pepys gazes over at me – and I can look over into the nearby Magdalene College with an intimacy that makes me feel almost like an eavesdropper.
If there's a certain lack of chutzpah to the room's décor, then it's made up for the comfort of the bed, to say nothing of a fabulous bathroom with a walk-in shower, again boasting the most wonderful views over Cambridge. I doubt anyone has felt so lordly here since Byron came up to Trinity College, complete with bear.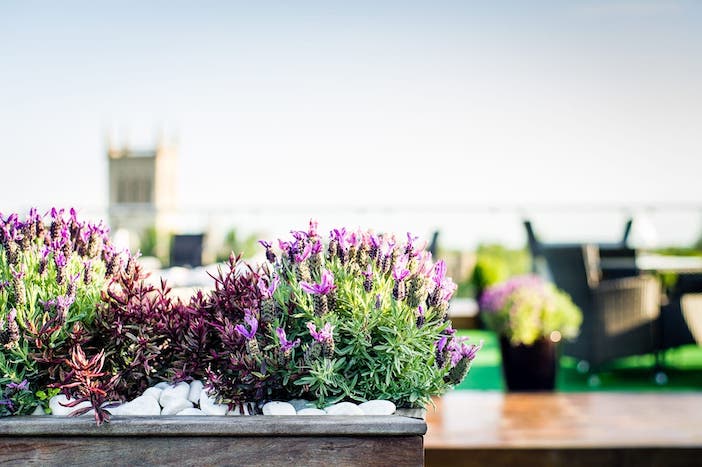 This aristocratic approach towards comfort continues as one chooses where to dine. There's the sixth floor brasserie, Six, which also doubles up as one of the city's best-loved cocktail bars; a particularly classy touch is that it offers probably the best views of anywhere in the centre of Cambridge, and serves a modest continental breakfast for guests. But I head down towards the buzzy River Bar steakhouse, where, even as a solo diner, I am greeted with a mixture of warmth and hospitality, before being steered towards the house specialties.
A starter of chilli mussels is hot, in both senses; I'm on firmer territory with an exemplary bone-in rib-eye steak, complete with a rocket and Roquefort salad and peppercorn sauce. Wines by the glass are fine but unexciting; the cocktails are rather better, including a quite delicious rum old fashioned that begins the evening with an appropriate bang.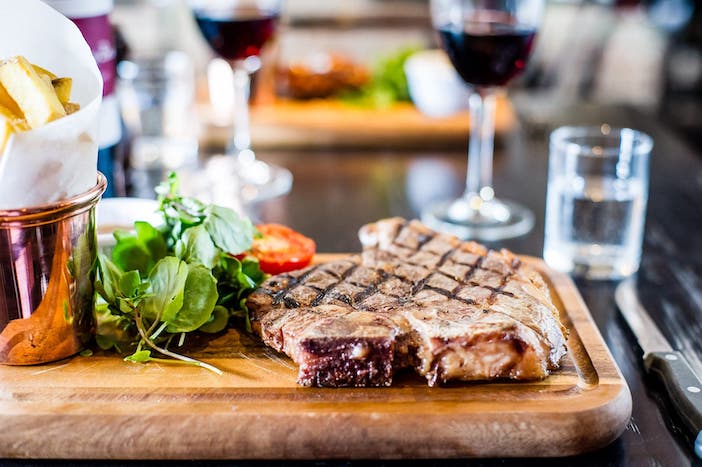 Staying at the Varsity remains one of the great pleasures of a Cambridge trip. As I check out, I'm asked how I enjoyed my stay, and can honestly answer that I've had a wonderful time, despite not visiting the adjoining Glassworks spa; it has a fine reputation but my forgetting to pack swimming attire has meant that its charms have passed me by on this occasion. But the next time, they shall not, and that is a good enough reason to visit the Varsity again before very long. And I cannot wait.
The Varsity Hotel & Spa, Thompson's Lane, Cambridge, England, CB5 8AQ. For more information, including details of Six Brasseries and the River Bar Steakhouse, please visit www.thevarsityhotel.co.uk.