The White Horse Inn is a rural pub with eight bedrooms, set in the charming village of Sutton in West Sussex. Recently refurbished, the pub re-opened to villagers and guests alike in December last year under the careful curation of long-time patrons, now owners, Odile Griffith and her husband – originally from Cheshire. Acquiring the pub in September 2017, the duo chose to rescue the building from almost disrepair – realising the importance of its existence as a community hub, and the great potential of upgrading it into a boutique bolthole.
The pub, an 18thcentury, two-storey building, faces the rest of the village and is dressed with large sash windows, framed through an attractive collection of red brick. The first record of a building on this site appears in the Doomsday book in 1608, recorded as a pub shortly afterwards, and oscillating to and from rescue and failure a few times since. Since it's present day refurbishment, the pub has received an award from the Sussex Heritage Trust for its restoration and conversion – such was the extent of work carried out over an impressive fourteen months.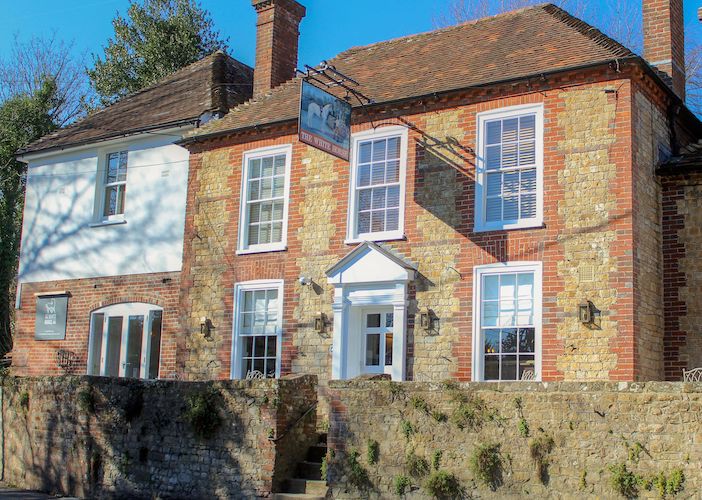 In its current guise, visitors to The White Horse can expect a modern village pub vibe with suitably equestrian touches, alongside many a black and white photo documenting races of a more motoring kind, thanks to the location of nearby Goodwood Estate. Stylish bedrooms relieve the need to beg for a (possibly non existent) local taxi to take you home at night – aimed particularly at visitors who might have penchant for shooting (bedroom safes double up as shotgun lock-ups for those keen to participate).
We arrive to the pub on a Friday night after an easy 90 minute journey from London. Cars in the carpark next to our racing green thoroughly modern Mini include a Porsche hybrid and a couple of 4x4s. The local "100 club" is in full swing as we enter through the back door, as is "fizz and chips" night, as we later learn from reading the blackboard, displayed loftily above the bar. This classic pub dish is served with a glass of Coldharbour English Sparkling Wine –a truly delicious drop, made from grapes grown at the nearby Coldharbour vineyard.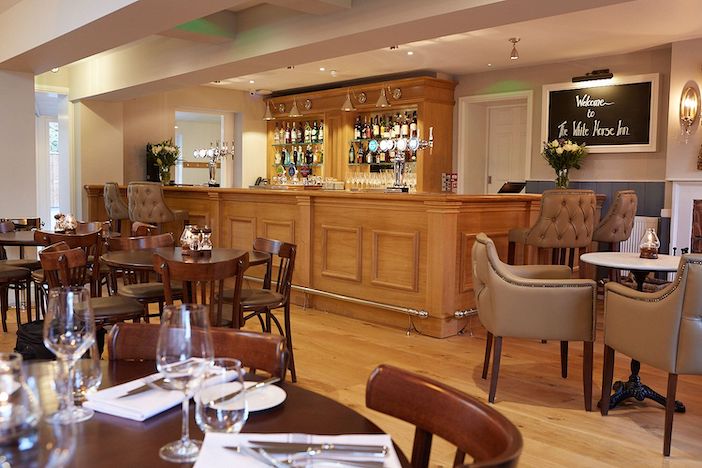 The wine list at the White Horse Inn is a strong reason alone to pay a visit to this place – some top cuvées on the list are priced well below that of London's public house counterparts might deign to charge. A great selection of local ales, as well as a strong list of interesting gins (& tonic) can also be found behind the bar, while cakes are available to those who grace the establishment during the daytime. To match the drinks selection, the evening menu offers good pub grub with natty twists. Simple but tasty is the overriding theme – finding dishes like green risotto topped with a scotch hen's egg, pork chop, or barbary duck breast. There are a number of specials (although not obvious) – and on the night we are dining, one of these is scallops, presumably sourced from the nearby Sussex coast. Fish is also a key feature on the short but sweet menu. Hearty countryside puddings offer apple and pear crumble soufflé, served with stem ginger (delicious), homemade ice creams and items like chocolate mousse cake. British cheeses complete the full evening experience.
Perhaps unlike similarly positioned places, the peace and quiet here is second to none, and so overnight stays are quite the treat for anyone coming from more suburban surrounds. Here, not even the staff stay on site overnight – although every guest is equipped with tweed-waistcoated GM, Billy's, mobile phone number, just in case of emergency. The village of Sutton is also set within an area known as the Dark Sky National Reserve – meaning that stargazing here (perhaps from the amply sized wooden deck behind the main part of the pub) is second to none. Indeed, it is not lost on us that the room we are staying in is named after "Father of observational astronomy" Galileo Galilei.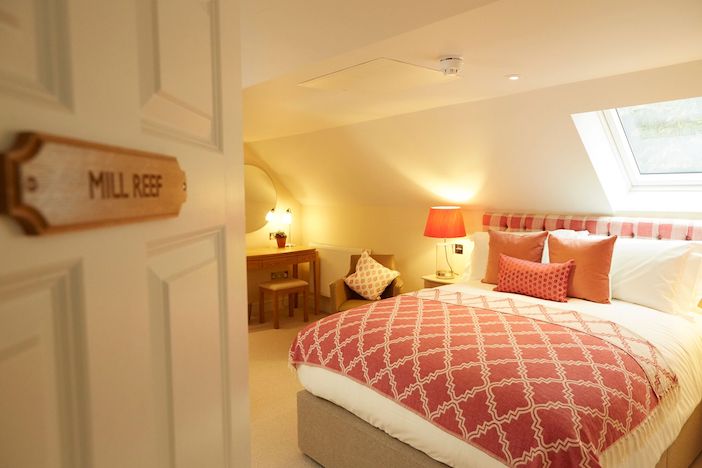 If the sky or the silence alone won't ensure the perfect night's sleep, the sumptuously soft thread count on the Richard Haworth bedding and/or choice of mattresses will. Each of the eight pet and family-friendly rooms have been stylishly furnished with no corner left unturned in terms of aiming to provide the most luxurious of furnishings. Heady Noble Isle products inhabit the bathrooms – some with bathtubs, and all of them contain some of the fluffiest dressing gowns this particular girl has ever known.
The following day we explore the local area – a place of outstanding natural beauty, with plenty to see and do. Simply driving through the country lanes here is a pleasure – with Bignor Hill nearby from which to take in the views. We stumble upon a Roman Villa – one complete with seriously impressive mosaics (arguably some of the best that exist here) – ruins of times gone by, serendipitously framed by an English vineyard (the Romans are widely accepted as having been the ones who introduced viticulture to the U.K). These particular vines, we discover, are owned by nearby premier English Sparkling Wine producer Nyetimber – just one of many located in the local vicinity. The White Horse Inn also lists a sparkling English rosé– from Tinwood Estate – a place that offers tours to thirsty walkers and other interested parties for £18 at 3pm every day.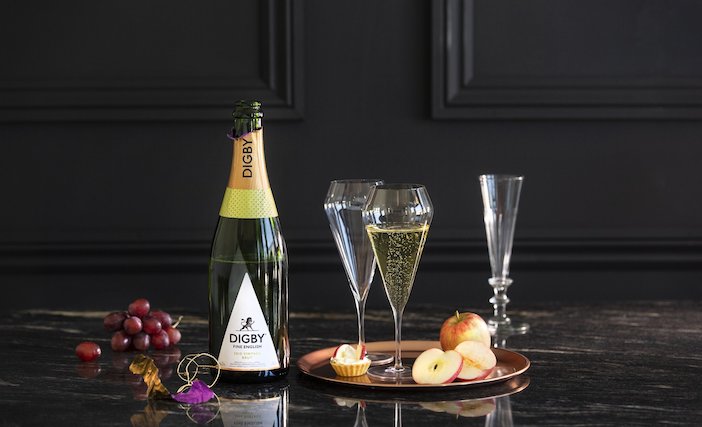 Continuing the local wine trail, we later find ourselves in the stunning mediaeval town of Arundel, where we are privy not only to an impromptu organ recital taking place in the impressively maintained cathedral, we also visit Digby Fine English's 'cellar door' – another English Sparkling Wine producer – whom, without their own winery to speak of per se, have instead opened an interactive venue at which to taste through their range.
For a great little spot to enjoy the rest of Sussex and her numerous natural attractions, The White Horse Inn ensures enviable stays here are made perfectly, comfortably, possible.
The White Horse Inn, West Sussex: £100 per couple per night B&B (SAVING 60): UK, West Sussex: Escape to the country this autumn with this fantastic offer from The White Horse Inn in West Sussex which recently opened its doors in the South Downs National Park Village of Sutton and features eight stylish bedroom suites plus bar and restaurant serving locally sourced cuisines and ales. Guided walks are available directly from the pub making it the perfect choice for an autumn escape. For direct bookings, deluxe double rooms are now available to book for £100 per room per night on a B&B basis (SAVING £60 or 37.5%) for stays between October 2019 and March 2020.  To book, visit www.whitehorseinn-sutton.co.uk or call 01798 869191.