The utterly romantic 27-room Thornbury Castle hotel, a member of Relais & Chateaux, is bursting at the seams with royal history. In fact there aren't many hotels in the world that can compete with the atmosphere of this remarkable venue. Built by Edward Stafford, third Duke of Buckingham over 500 years ago (then the wealthiest man in England other than King Henry VIII) Thornbury Castle is considered to be one of the finest examples of domestic Tudor architecture in England and as such offers guests a rare opportunity to step back half a millennia.
When Henry VIII took possession of Stafford's vast property portfolio following Stafford's execution on Tower Hill for treason in 1521, he decided to retain Thornbury Castle, spending ten nights here with Ann Boleyn in 1535 (months prior to her execution) at a time when Bristol was experiencing a plague. It remained a crown property until 1554 when Queen Mary I returned it to the Stafford family as a mark of her gratitude for the support they had offered her mother, Catherine of Aragon, during the time of her imposed divorce from Henry VIII.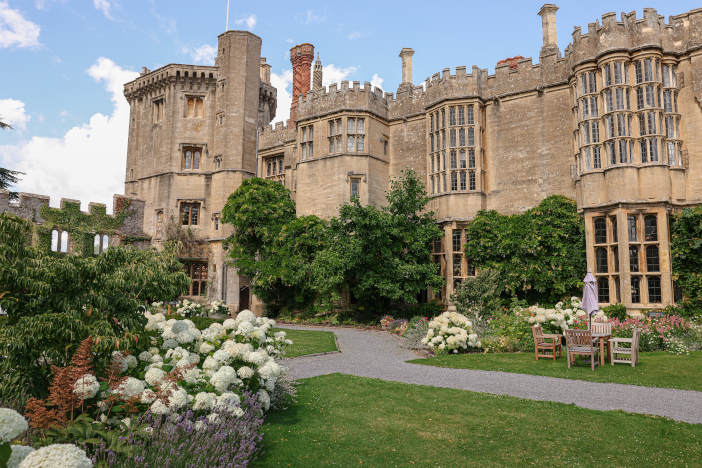 Thornbury Castle boasts many extraordinary architectural details, from arrow-slits and ornate oriel windows to the Stafford knot emblem adorning everything from fireplaces to door arches, a striking red brick chimney dating from 1514 that is one of the oldest examples in the country (predating similar examples at Hampton Court), while The Tower, now the hotel's dining room, was once the Duke's bedchamber. The ruined windows open to the sky show how the castle fell into disrepair following the English Civil War and continued to deteriorate until the Howard family began a reconstruction in the 19th century, with various modernisations which hotel guests are still obliviously enjoying.
The village of Thornbury lies in the Severn Valley of South Gloucester on the edge of the Cotswolds and is within easy reach of Bristol and Bath, although the moment you pass through the imposing Inner Gateway of the castle, inscribed with the Latin version of Edward Stafford's motto 'Henceforth', you know you're not going to want to leave. Step inside and the fairytale is complete, with opulent interiors including painted ceilings, crystal chandeliers, sumptuous velvet and damask furnishings, beams, wood-pannelled walls and many nods to the castle's heritage in the form of replica royal portraits and scenes including (rather amusingly if you happen to be attending a wedding) an execution. Despite the bloody reputation of the Tudors, this doesn't detract from the popularity of the era or the air of romance surrounding the castle and which makes it a popular wedding venue. Not only is there a Tudor and Baron's Hall on hand for events, but the pretty church of Saint Mary the Virgin sits just outside the gates. Thornbury Castle also partners with Tudor Royalty Experience https://tudorroyaltyexperience.co.uk/ who specialise in Tudor-costumed photo-shoots complete with jewels and optional falconry.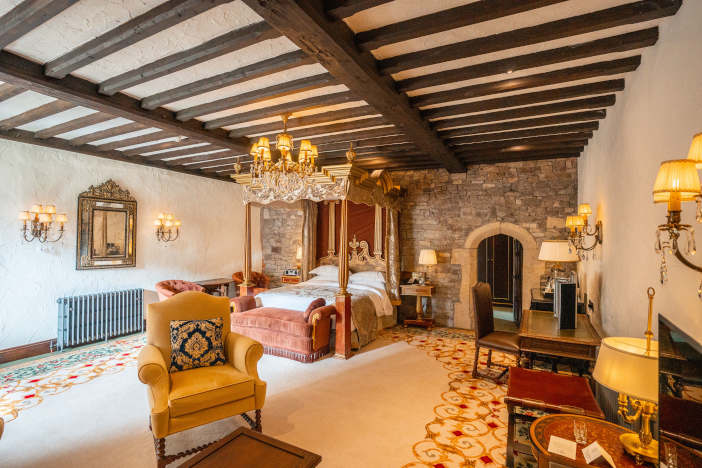 Almost all the 'bedchambers', named after kings and queens, boast four-poster beds to ensure guests are transported to Tudor England even while asleep and I especially enjoyed climbing a spiral staircase and opening a latch door to reach the spacious, gold-toned 'Mary Queen of Scots' superior deluxe room, facing the front garden and fountain and featuring a chandelier, seating area with flat screen TV, stone fireplace and mini bar, along with a large bathroom featuring Tudor-inspired tiles, shuttered casement windows and a stand-alone shower and bath stocked with Molton Brown amenities. You may prefer to spend the night in the very room Henry VIII and Ann Boleyn shared in 1535 or the hotel's premium Catherine of Aragon bedchamber (amusing that a honeymoon suite is named after a woman Henry VIII so famously divorced in order to marry Boleyn) boasting 24-carat gilding and the largest four-poster bed in any UK hotel.
The castle is surrounded by 15 acres and a stroll around the romantic walled Tudor gardens are a year-round delight due to the endless historical detail faithfully maintained by the hotel's dedicated team of gardeners. Castellated walls and yew-hedges provide contained areas including a Privy Garden, Labyrinth and Goodly Garden where ladies historically gathered to gossip and where you'll find 16th century straw bee skeps. The pretty Rose Garden lies at the heart of the design, a tribute to the flower that was the iconic symbol of the Tudor dynasty and where the pale late blooms set their faces to the sun and bravely withstood the breeze challenging their fragility. It must be a spectacular sight when all 200 rose stems are in flower at the height of summer.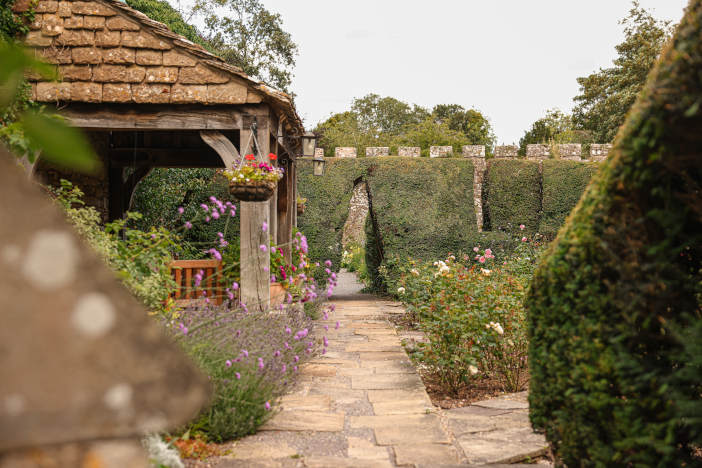 My husband and I returned from our exploration of the garden to enjoy a delicious Welsh rarebit and cream tea in the lounge with its immense stone fireplace and impressive collection of board games encouraging us to linger. From the gold monogrammed fine china to the charming front of house, who accommodated my cream tea request even though I hadn't booked in advance, the experience at Thornbury Castle really is fit for a king (or queen) and there is no such thing as "No" – or at least I never heard it. My favourable impression was reinforced by a conversation between two couples who were comparing notes on the many years they had been returning to the hotel, with the one couple having travelled from America expressly.
Come the evening we headed to the cosy tartan-styled library with its suit of armour and shelves of vintage volumes for a pre-dinner drink. Mocktails entitled 'King of the Castle' were accompanied by canapés including the hotel's deservedly famous cheese gougères – all the more divine when consuming in an elevated 'throne' window seat overlooking a twilit castle garden. The wood-panelled 3AA rosette restaurant is presided over by Executive Chef Carl Cleghorn with a tasting menu and a la carte of classic dishes designed around seasonal, locally-sourced ingredients and produce, much of which comes from the hotel's kitchen and herb gardens. The artisan home-baked sourdough bread accompanied a butternut squash soup amuse and felt almost sacred knowing that the vegetable had been lovingly tended and harvested just yards away by the gardeners whom we saw earlier overseeing the progress of their 'king-sized' pumpkins.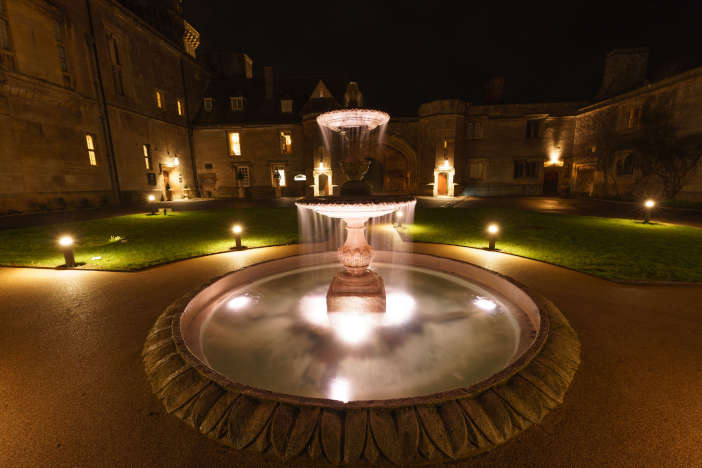 Dinner opened with a moreish starter of Cornish crab ravioli with notes of basil and yuzu, accompanied by a wonderfully intense bisque jus, while my main course of bass was not only immaculately prepared but offered a well balanced array of textures and flavours; a crispy fish skin, silky caramelised cauliflower puree and almost nutty cauliflower couscous with pancetta and apple to add further points of interest, as did the brown shrimps and Gewurztraminer sauce. While the cookery and service were faultless, the small portions would certainly not have satisfied the gargantuan appetite of King Henry VIII and are more appropriate for a six course tasting experience. We returned to the lounge for coffee and desserts, with husband opting for the cheese selection while I indulged in an elegant version of toffee and ginger sponge with toffee sauce dots and vanilla ice cream.
After a near-midnight stroll to take in the castle's majestic silhouette and illumined ramparts, followed by a sound sleep, we were grateful that breakfast proved a heartier affair with a good selection of dishes, from full English to French toast with bacon and maple syrup, cooked to order just as they should be. I never will prefer the morning jostle at a buffet (however lavish) coupled with the irritation of having to queue to use a communal toaster and holding everyone up whilst I try to figure out how it works, over an elegant breakfast with table linens and everything from juice, coffee and toast served to me by smiling waiting staff. But then I'm the kind of guest who would always choose history and character over a newly opened spa, and if you enjoy tradition as much as I do, Thornbury Castle is as close to perfection as it gets.
Thornbury Castle, Castle St, Thornbury, Bristol BS35 1HH. For more information and reservations please visit the website.