When arriving at one of the City's smartest hotels, there are a number of ways to ensure that you turn up at their door in suitable fettle for your stay. The first, of course, is to turn up in a chauffeur-driven vehicle, or a taxi, which will ensure that you arrive refreshed and relaxed. The second, and less desirable, is to take the Tube, which at least has the virtue of speed.
The third, and probably least enjoyable, is to take a bus that moves at the rate of porridge through the London traffic, on a day of spectacular rain and misery that feels as if the very heavens are mocking your progress. Yet if you take this course – and we cannot advise that you do – it is worth noting that, upon your arrival at Threadneedles, all your cares will vanish immediately. It is a tonic, a balm and a joy to stay here.
The City has a surprisingly small number of five star hotels, and most of the recent attention has gone to Threadneedles' near-neighbour The Ned, a vast behemoth with 10 restaurants and hundreds of bedrooms. Yet if you want something more intimate and enjoyable, Threadneedles, which is based around near-boutique proportions, has 70-odd rooms, meaning that it feels intimate and friendly, rather than vast and impersonal.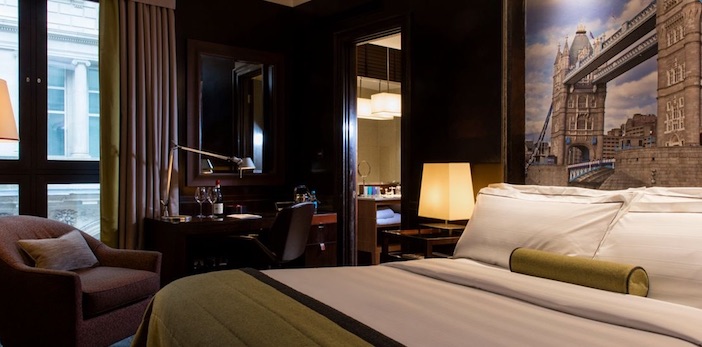 The staff remember your name, and your daughter's, meaning that one feels welcome from the beginning. By the time that we arrived at our room, the so-called 'Armstrong Suite' – I was amused to find that it was named after Neil Armstrong, as I had feared it had been called after Lance – and an excited little girl found a selection of colouring books and treats for her, we were completely sold, even before a welcome bottle of Prosecco appeared. The wet and miserable weather suddenly seemed a very long way away.
Threadneedles, as the name might suggest, is a converted bank, and it boasts a hugely impressive dome in the main hall, dating from the mid-19thcentury. I'm given a quick whizz-round by the admirably on-it manager Cedric, who points out all the listed features that will remain in all perpetuity; admirers of rich dark wood and chandeliers will be in seventh heaven.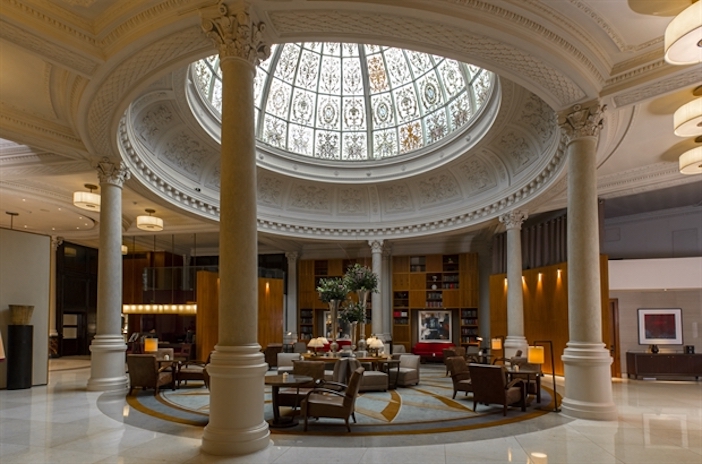 This dedication to keeping the past preserved, however, does not mean that the comforts are neglected. A large and comfortable bed, a well-appointed bathroom and cleverly designed sitting area all make lolling about upstairs a pleasure, especially with a glass of cold, sparkling wine to hand. But this would be to miss the treats that lurk downstairs.
The restaurant here is a Marco Pierre White one, a transplanted version of Wheeler's of St James. Mr White's record with his restaurants these days is, to put it politely, mixed, but this one feels as if real love and effort has gone into it, from the splendidly high-ceilinged room to the red leather banquettes. Yet this would be nothing without the staff, from the endlessly welcoming and friendly maitre'd to the genuinely nice waiters; one gets the impression that, given the chance, they would be happy to sit down with you, pour you a glass of something excellent, and chat like old friends. Sometimes, this can feel intrusive, but here it just feels like a pleasure.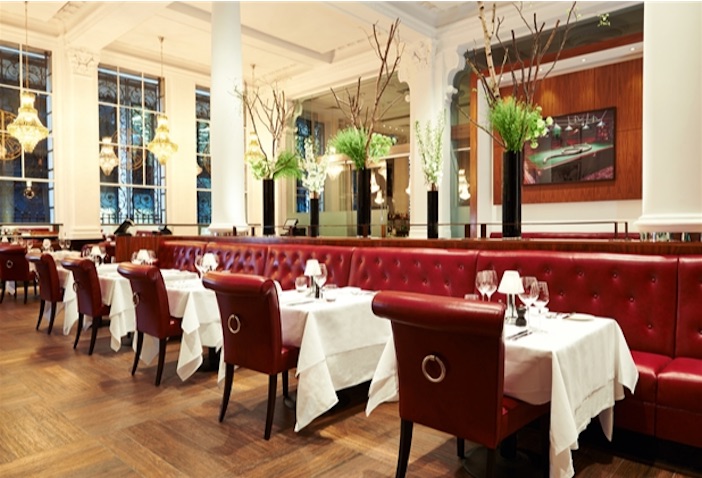 The food is, as you'd expect for the City, heavy on meat and seafood; highlights include flawless oysters Rockefeller, with which we are liberally helped to glasses of Veuve, a fine lemon sole for my wife and a very good fillet steak for me  – with the unusual side order of snails – and triple-cooked chips. I am intrigued by a prawn cocktail, and order it, almost on a whim; it turns up, and I am very glad that my whim has been indulged.
Our daughter, who has been overwhelmed by the day, keeps threatening to fall asleep at the dining table, but she is kept going by a plate of sausage and chips. We are more than sated on the wine front; at any point that our glasses seem to be in danger of being finished, someone rushes to top them up. By the time that I float upstairs to bed, after a particularly good espresso martini, I'm amused by the serendipity of Tom Jones's 'Delilah' playing in the bar: forgive me, Delilah, I just couldn't take any more.
We leave at a leisurely hour the next day, taking fond farewells of the staff, who seem genuinely saddened to say goodbye to us. We have been splendidly looked after, and the memories of the previous day recede far into the distance. This particular lady or gentleman of Threadneedle Street is a very good prospect indeed, and we cannot recommend investing a night or two here strongly enough; it will be a pleasure from start to finish.
Threadneedles Hotel, 5 Threadneedle Street, London EC2R 8AY. For more information, including special offers such as the Marco Pierre White Dining Experience, visit www.hotelthreadneedles.co.uk.