It's difficult not to think pink when you arrive at Il Castigno 'Wine Hotel & Resort'. Situated in the village of Assignan, in France's Languedoc region, everything, from the walls of the buildings, the tables and chairs in the courtyard, the large umbrellas, the bed linen in the 24 rooms, to the plates and cups at breakfast, even the flowers and trees, that make it up have been chosen, it seems, to bare only various shades of pink.
The hotel is a village-within-a-village, with a collection of buildings, a winery and three restaurants – one of which, La Table, is Michelin-starred – which seems to be part of a growing trend to create French resortvillages out of original villages. It reminded me of a pink version of Soho House's Babington House in Somerset, and it recalls a visit to Crillon le Brave in Provence several years ago, when ironically a former partner of Soho House decided to create a collection of villas, restaurants and spa for guests in the same way as Castigno. Suffice to say, it's a concept that works well.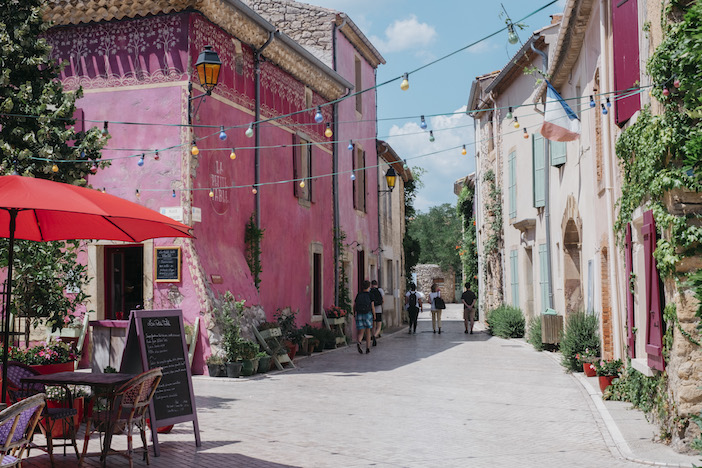 My room was a former vendangeur's (grape picker) cabin; from the outside, resembling a purple shed. This sounds unglamorous, but each room has been stylishly designed thanks to the owner, Tine, with clever touches. The lights by the beds, for example, are lit by touch rather than switch.  All the mirrors are round, the walls various shades of purple or red. Intriguing Asian antiques are dotted about and the images on almost all of the paintings are sensual – although mine, which made me wonder how rooms are assigned, was of a large-proportioned woman shopping.
In addition, there are junior and prestige suites in the Maison D'Amis, the former wine storage house at the edge of the village, where one room, Chateau Blanc, even has a decadent stand-alone bath at the end of the bed. There are other prestige suites in other buildings closer to La Petite Table, with the trademark hot pink and deep purple walls inside and out.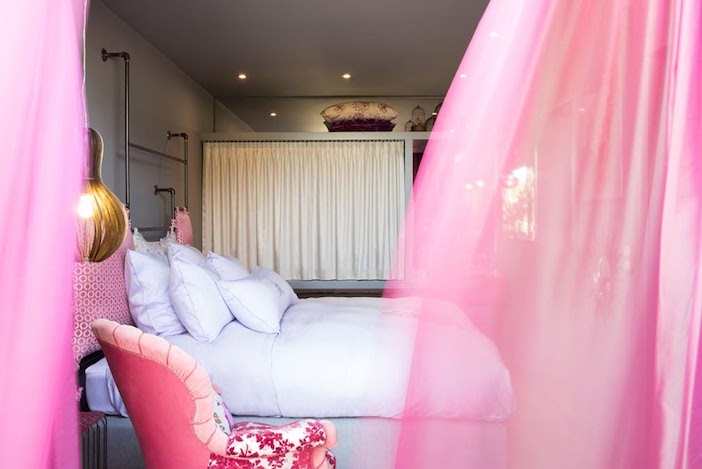 Once settled into our rose-tinted reverie, it's easy to fall into the Provencal village way of life. We take breakfast in La Petite Table on the main square. Breakfasts are served on pink and purple plates, with abundant croissants, bread, cheeses, cured meats, yoghurt, honey, all the bucolic pleasures of petitdejeuner, and served with flair by delightful gingham-shirted staff.
When it comes to dining, things ramp up a tad. There's the Thai – rather, Le Thai – restaurant next door, which offers excellent fayre, but it's the Michelin star restaurant that's the main draw. A good five-minute walk from the square (agreeably met because it gives you the chance to admire the stunning buildings down the narrow village streets), the Michelin star is well-deserved. Staff are attentive (I dropped a fork – they realised I dropped it before I did), and the décor eccentric and edgy.  One enters an oversized room with the skins and furs of teddy bears and children's toys adorning a traditional stone wall, stag heads with antler which light up, and a giant bone half hidden behind an inner balcony.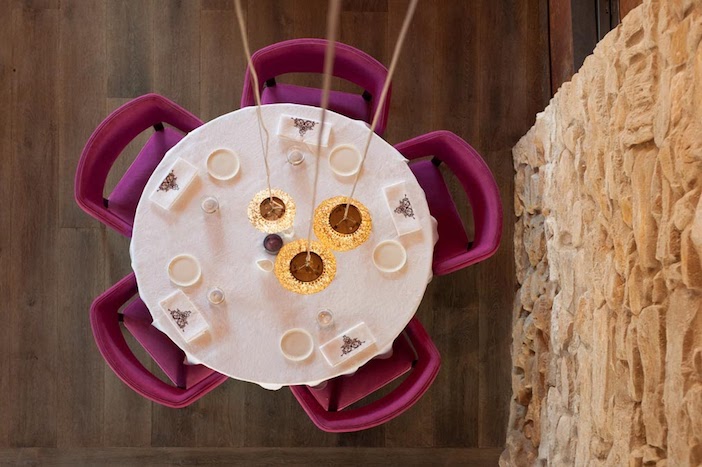 There are red and purple velvet curtains strategically placed as though you are either part of some sort of performance, or about to see one. Indeed, we have a view of the kitchen where we can watch the chefs prepare our meal. The carefully but not overly manicured gardens outside are fully exposed as the remaining two walls are floor-to-ceiling window, allowing a view of the hens and roosters which roam freely outside. All that's needed to complete this immersive, interactive experience is an outdoor 'privy'. Oh, and there is that, too.
Theatre aside, the food is exquisite, five courses perfectly matched by wine flight. Enhancing the experience, there are no menus, we are simply in the chefs' hands. The hors d'oeuvres are superb. We dine on caramelised carrot with endive and sweet potato and pumpkin tartlets. There were fresh peas with langoustines, a green gazpacho, to which no words can do it justice. Nor even photos. It is a sensual eating experience which is difficult to describe – it is sublimity in a bowl, not to mention one of the elements of the Castigno experience which isn't pink or purple.
The scene set, fuelled by fine food, all that was needed was the opportunity to explore, Provence-style. So, we have bikes, a bright red 2CV (naturally) and a fleet of Vespas on offer to drive to the local market in St Chinian, just ten minutes away. There are also 4×4 wine safaris across the estate and vineyards taking you to beautiful view points and through a truffle forest, and you can walk to the Castigno cave (aka winery) itself. On approach, this looks like a spaceship looming incongruously over the surrounding vineyards, but it's actually an acclaimed architecturally-designed building created in the shape of a huge wine bottle. Staggeringly, the whole thing is coated in cork shipped in from Portugal.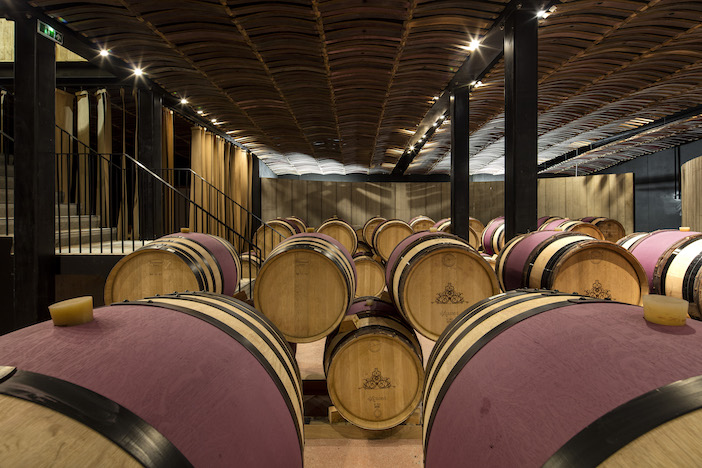 Inside, once again we revert to type; the wooden casks containing the wine and fermentation pods are pink and purple, the bottles are all various shades of pink and purple. But amid all the modernity, much of the tradition remains; the grape harvest is mostly picked by hand and they still use horses to pull the carts.
While we were there it rained a lot (yes, I did hum Purple Rain) but it says a great deal that the weather failed to dampen the fabulousness, the charm and colour of Castigno. It is sexy, dramatic, intoxicating (even if you are tee total), and ever so slightly 'Fifty Shades', but tastefully so, if that is possible. It's for lovers rather than honeymooners.  And, even on cloudy days, anything but grey.
A night at Village Castigno Wine Hotel & Resort starts at 130 euros for the Vendageurs Rooms, Prestige Suites costing from 225 per night. The Villa Rouge may only be booked for the week. For more information, visit www.villagecastigno.com.