Am I drunk already? Have I got vertigo? I've walked out of my hotel bathroom and I've suddenly found myself listing to the right before gently bouncing off the bedroom wall.
It's the floor, it's sloping. Usually a bit of a black mark for a hotel, but not for the Swan at Lavenham. It is, after all, a largely 15th Century building and, like so many of the medieval buildings in the village, has settled into old age and adopted its own unique, crooked posture.
It is a marvellous room for a weekend break; from the wooden-beamed ceiling to the timber framed walls, the thick curtains, princely bed, fluffy towels and bathrobes, it's a dream of a romantic hideaway. The sloping floor only adds to the considerable charm. From the moment we opened the hotel's ancient and massive wooden door, and caught the evocative smell of woodsmoke, we knew it had been a good choice.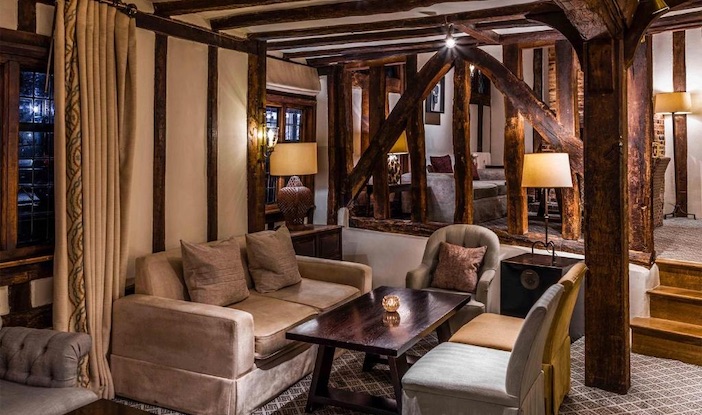 As you walk in you're surrounded by exposed beams, ancient brickwork, cosy nooks and, if it were winter, there would be the most inviting roaring fires. Even with the mighty Tudor inglenooks quietly empty you can still sense the magic and smell the smoke. Perhaps they bottle it for the summer, or maybe it's just infused into the building's fabric after centuries of use.
The low beams and tight staircases do not lend themselves to easily moving suitcases, and there are, of course, no lifts, but help is on hand to get your bags to where they need to be before you excitedly hurry out again.
The market town of Lavenham is one of Britain's best preserved medieval villages, once one of Suffolk's most important and wealthiest wool towns –  the 14th richest in Tudor England, in fact, as a result of its famous Lavenham Blue broadcloth. There are over three hundred listed buildings leaning against one another here, quite a tally of tottering for such a small place.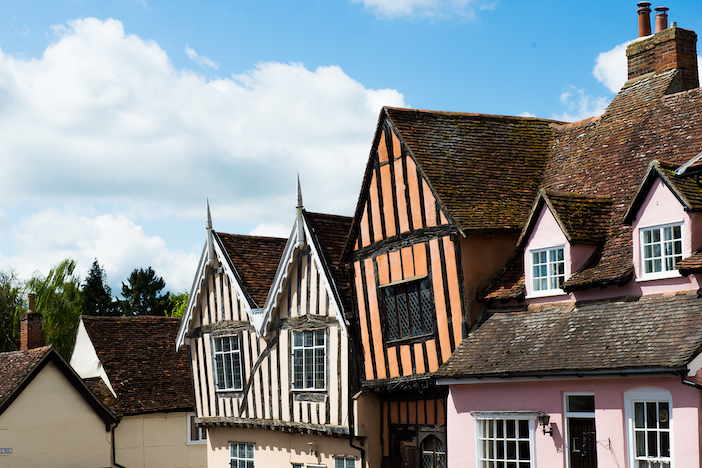 And today, quite remarkably, The Market Place and the five streets and one lane leading from it, would still be very recognisable to a visitor from the 15th century.
Coming as we did from the 21st century we spent the afternoon marvelling at it all before a swift pint in a local pub and then back to the hotel before dinner. As old as the hotel may be, all one's mod-cons are there, thankfully; a large flat screen TV with streaming channels, a slot for USB files and, of course, solid WiFi throughout the hotel. The bathroom, too, for all its 15th century idiosyncrasies featured the comparatively modern innovations of hot running water and flushing toilets, thus we have all the charm but none of the limitations of Tudor life, and, following a restorative shower, walking in a half crouch to avoid the low beams – a posture that becomes instinctive after a while – we made our way down to dinner.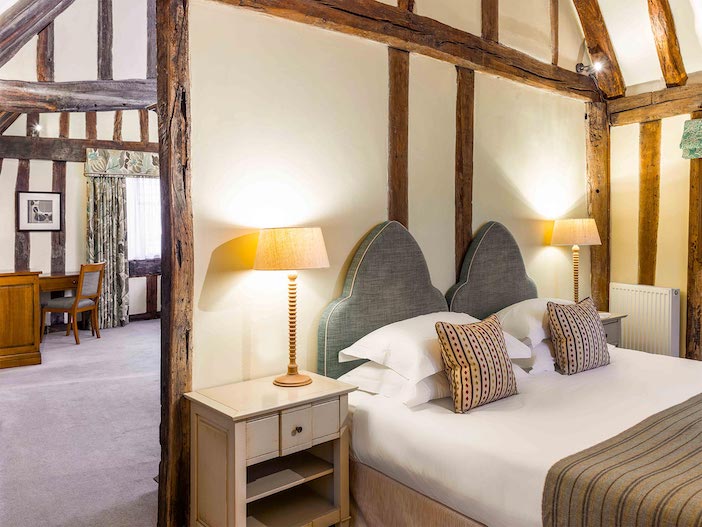 The Swan's Head Chef, Olivier Bertho, has only been in place three weeks, but tells me he's been a chef in the UK since arriving from France over eighteen years ago. His menu is a mix of crowd pleasers and considered country fine dining, and he's proud to source ingredients locally; in fact, the butcher is just across the road.
We ate in The Swan's Gallery Restaurant, an elegant vaulted, timbered room, though apparently not as old as it appears. There's another restaurant,  Mess Call 487, for a more casual brasserie experience, and you can mix and match dishes from both the Mess Call 487 menu and The Gallery menus, which is a nice touch.
It's a little stuffy in The Gallery, feels a bit 'fayn dayning' but the socially-distanced tables are mostly to blame for that, I think. Hopefully soon the full number of tables will be restored and a more convivial atmosphere will return. More's the point, the food is splendid, a balance of what people outside London want to eat, with enough flourishes and skill to elevate it and make it a Suffolk destination restaurant on its own.
Pan-fried scallops with smoked pancetta, grilled spring onions, celeriac puree and gremolata dressing was an excellent starter, ahead of blackened cod with quinoa and ginger, pak choi and coriander oil. Dishes to delight, and a difficult choice from a menu from which I would happily have had anything.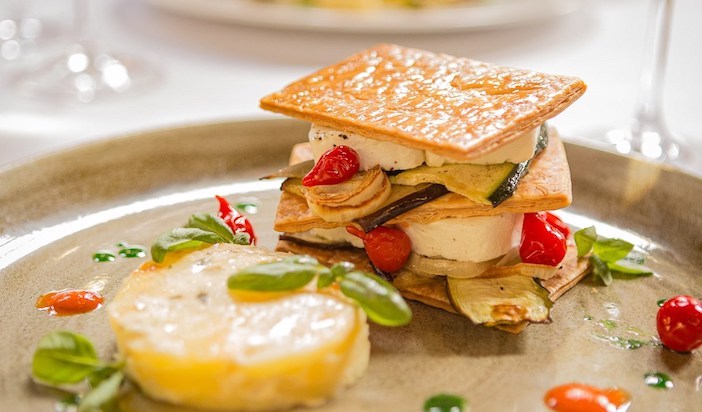 Of course, when it comes to food, breakfast is the acid test of any hotel, and the next day The Swan did not disappoint with a menu to set the day off to a good start.
Much as I love a Full English it no longer loves me, so these days I enviously watch others eat it as I opt for a perfect poached egg on sourdough heavily 'buttered' with avocado and dotted with fresh chili. Our seats next to the garden windows couldn't have been better placed to enjoy it. It was obvious from the rapidly cleared plates that The Swan's lavish helping of locally sourced meats and free range eggs hit every guest's happy button.
If you fancy being knowledgeably guided around the village, then walking tours set out from The Swan on Wednesdays and weekends, but we opted for a stroll around the town again, this time to the 14th Century Guildhall of Corpus Christi; one of the most well-known buildings in Lavenham, now with added tea rooms. Tempting as tea was, still fuelled by breakfast we walked up to St Peter and St Paul's Church – a Grade I listed parish Church and one of the most important Wool Churches in England with a fabulous wooden roof well worth the neck strain to look up and admire it.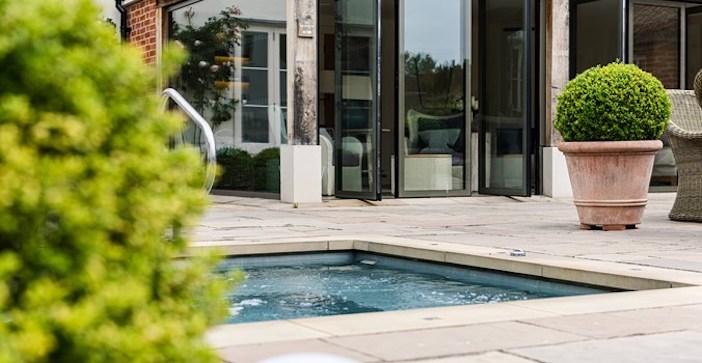 Speaking of cricked necks, normally one of us would have tried the Weavers' Spa at The Swan , which has treatment rooms and an outside pool, but Covid restrictions in force made it impractical. Hopefully normal service will also resume there soon as the treatments on offer certainly looked tempting.
If it were anywhere in the UK, The Swan would be a wonderful and unique place to stay wherever it was located, but being in one of England's best preserved villages in one of its most beautiful counties makes it absolutely perfect.
Sometimes a bit of a wobble makes for a wonderful weekend away.
The Swan at Lavenham, High Street, Lavenham, Suffolk CO10 9QA. For more information, including details of offers and events, please visit www.theswanatlavenham.co.uk.