In the midst of Monmouth Street's bustling bars, restaurants and shops one can now seek a dose of calm, served up by expert hands you'd usually have to hop on the Eurostar for the pleasure of. French beauty brand Caudalie has chosen this arm of Covent Garden's Seven Dials as the base for its first UK boutique; joining the likes of Hotel Chocolat, Coco de Mer and Miller Harris on the same strip, it's perfectly placed to restore after a day of pavement pounding, or post work as I did one Friday evening, early summer.
The small ground floor shop is bright, airy and filled with the scents of do-good ingredients. A grape theme prevails throughout, it is Caudalie's main ingredient after all, through sketches of vines, Niche Modern Binary light fittings emulating giant versions of the fruit, and a central Barrel Beauty Bar stacked with products to try. Vibrant, sunny images of the family's Bordeaux vineyards of Chateau Haut Smith Lafitte, where the brand was born, are projected on to the walls. If only I could tap my toes and be transported there, I ponder as I wait to be seen.
Smiley experts are on hand to prescribe products best suited to one's skin needs, serve up a 'no appointment necessary' hand exfoliation and massage, or show you how to whip up your own bespoke Cabernet Crush Scrub. If you have a little longer, there's a menu of Signature Rituals to tend to tired faces and bodies, lingering around the £60-£90 mark; towards the high end of the price scale, but the quality of products, service and after effects are worth it in my opinion.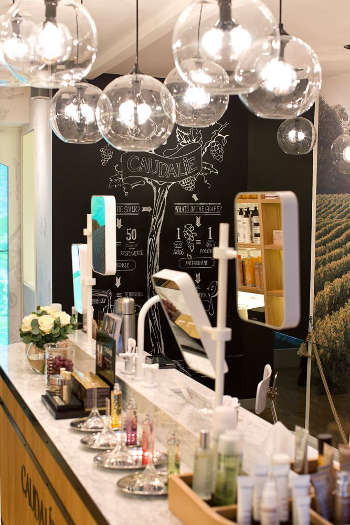 I've experienced the Caudalie touch at Les Etangs de Corot, in Ville d'Avray on the outskirts of Paris, and again, vicariously, through an Arb writer's review of Les Sources des Caudalie. The Devine body massage I had at the former was just that, and the Premier Cru facial I was treated to here was equally good. The priciest of the five Vinotherapie facials, it makes use of its premium Premier Cru collection and boldly promises to deliver 'the ultimate anti-aging' and to 'lift, moisturise, smooth and plump' the skin. A week of computer screen induced frowning and hayfever, and it's exactly what my exhausted, puffy face needs. So, after the obligatory filling out of the consultation card, it's down the narrow staircase to one of the candlelit treatment rooms.
I lie back, under fluffy white Caudalie logo towels, am given that rare privilege of selecting my preferred music genre – I go for classical, but there's also world music and a couple of animal ones if they take your fancy – and close my eyes in preparation for the 60 minutes of pampering to come.
The product range boasts active ingredients derived from vine and grape extracts – from the seed to the sap – plucked from vineyards in Burgundy, Bordeaux and Champagne, as well delicious extracts of lemon, juniper, geranium, rosemary and peppermint; avocado and apricot butters; hibiscus oils and the like. And it's completely free from nasties such as paraben, sodium laureth sulphate, mineral oils and artificial colourings. A variety of these, including Caudalie's hero product Beauty Elixir and the smells so good I could eat it Devine Oil, are swiped on and off with various massage techniques throughout the treatment. I could go into the nitty-gritty of every lovely stage, of which there were about 20, but frankly, I imagine that everyone other than me would find that deadly boring. I was pampered to the brink of sleep, left that joyful mix of relaxed and mentally alert, with skin so smooth, clear and dewy Gwyneth Paltrow would Goop about it, and the results lasted for a good few days after.
If you've ever had a facial then you'll know the drill, and if you haven't, firstly why on earth not, and secondly, I don't want to ruin the surprise. Head to experts such as Caudalie (there's no point wasting your money on somewhere substandard), and you'll be left with glowing skin that'll draw compliments, a state of mind that'll have you smiling at strangers on the tube home – even the ones who tread on your feet and insist on keeping their bulging rucksacks on their back – and making personal vows to introduce them as a monthly ritual, because life is for living, and what is all this work for anyway if you can't treat yourself, and all that. Or perhaps that's just me…
Caudalie Spa Convent Garden, 39 Monmouth Street, London WC2H 9DD. Tel: +44 (0) 207 836 8636. Website.