A new year typically heralds thoughts of new resolutions, health kicks and holidays to look forward to; and as we dive into 2023, Sophie McLean considers all three on a wellness break in the Mediterranean…
It is 24 degrees centigrade when we touch down on Palermo airport's runway. 24 degrees in mid-November. Even for Sicily this is unusually mild. Warm sun bounces off large rocky enclaves that jut out over the tarmac, onto the dazzling Mediterranean Sea, in a welcoming view that extends out from the main terminal building, and the stairs we have just climbed down to enter it.
We travel along the west coast, crossing farmland and small villages that line this stunning volcanic island's equally beautiful shores. Further south, turning in from the motorway, we arrive at Adler Spa Resort Sicilia, – a swathe of ecologically thought-out buildings carved into the local rugged landscape with such modern architectural finesse you barely notice them on approach. In its shiny newness of opening, (the resort started receiving guests in July of 2022), the grounds are still germinating pink and orange Lantana-sewn flowerbeds and a hotel 'herb and veg patch' that will bring plentiful, provenance-guaranteed fruits in the years to come.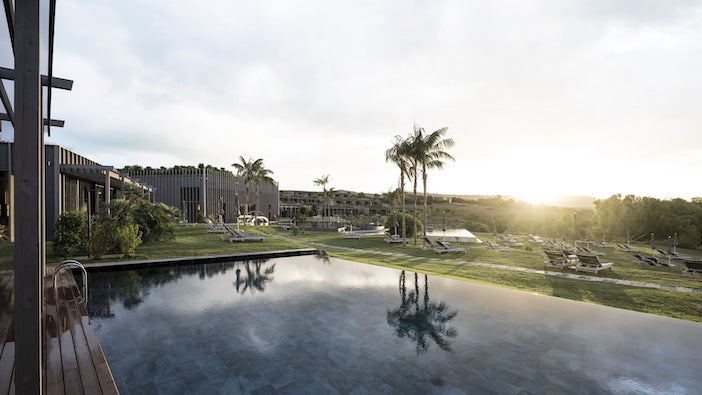 On first arrival, the scene could be likened to an alternative universe, where happy families exist in perfect oasis surroundings. From reception – the only visible building atop the ground, figures in their (mostly) twos, pave their way in zombie-like states between 90 bedrooms and suites, to the resort's calling card, The Spa, wearing hooded, soft-brown robes and white, towelling slippers. Slow travel here is most-definitely encouraged.
Part of the Adler group, a 7th generation collection of properties founded in 1810 in the Dolomites, Adler Sicilia is the first foray for the Sanoner family into their wellness operations this side of Tuscany. Here, full and half board packages are offered to a mostly Italian and European crowd who come here to eat well, feel good, and indulge in local surrounds.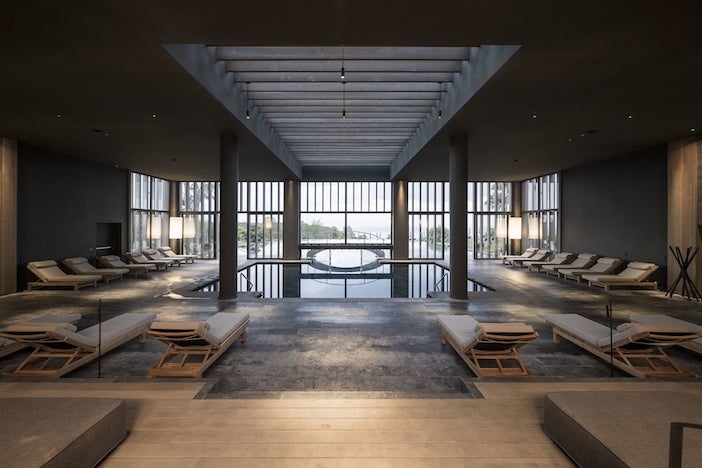 The Spa, set one floor below ground, offers a wide array of relaxation treatments, and next year will provide more medicinal type-therapies for those who visit any of the 13 sea-view cabins, each named after Greek gods and goddesses. Conversely, the 'Essences of Sicily' massage I receive is almost the least memorable part of our visit – perhaps so entrancing, that such fierce relaxation renders the memory erased.
After a full-body yoga lesson taught earlier that morning by Spa Manager Giulia Ciccarello Spitaleri, we talk about the products she uses – 90% of which are Adler-created. "I'm really proud to have found a local supplier who makes pistachio oil and prickly pear" she says, while she also uses sand from Mt. Etna for certain peeling treatments. Over in the gym which sits alongside three indoor/outdoor pools, other daily classes that guests can take part in include 'posturing', Pilates, stretching, breathing and HIIT.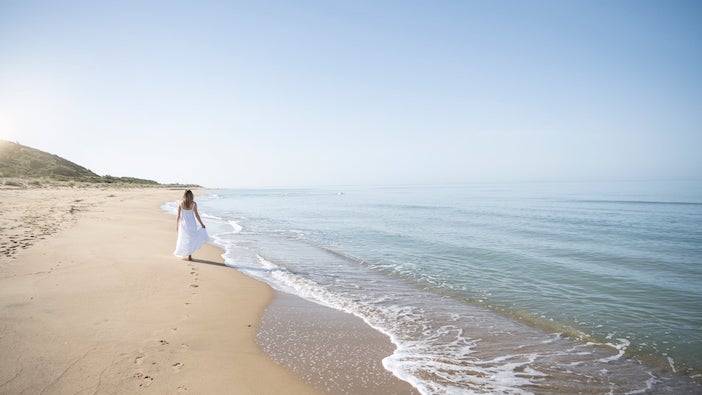 Outside of all things inside, the resort offers other activities intended to foster presence and appreciation for the area in which they are performed. On the private beach, which flanks the Torre di Salsa National Park and nature reserve, guests can kayak, SUP, or simply take a dip along this four-and-a-half mile stretch of unspoilt coastline, where in June and July you might catch sea turtles leaving their eggs to hatch, come September. Driftwood and white sand identifies this landscape, as well as the bright white cliffs that mirror similarly-formed Turkish Steps (Scala dei Turchi) – rugged sedimentary rocks, recently made famous by Inspector Montalbano, found 20 minutes away by car.
Beyond the resort, Siculiana is a pretty, small, town whose foundations are laid in Arabic. 'Castello Chiaramonte' began as an Arabic fortress, then turned aristocratic home, and now operates as a museum and wedding venue, popular for its 17th century chapel and fairy-tale-like surrounds. Constanza, only daughter of Federico Chiaramonte, married Baron Brancaleone Doria here, after which the town became known for its romantic, and virile (see the museum's display of old iron chastity belts) connections.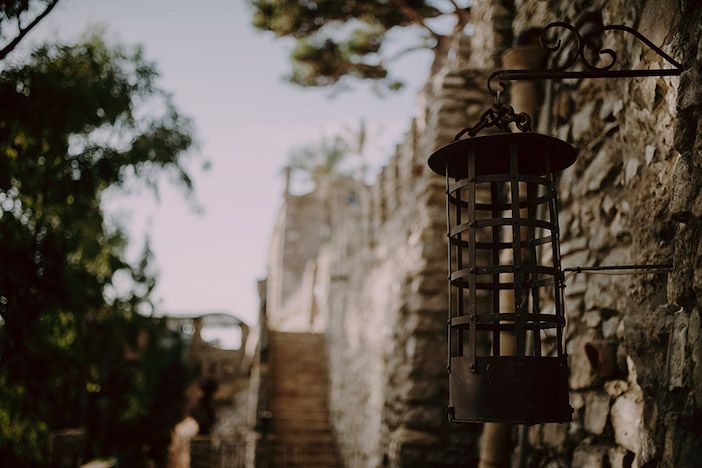 A visit to the lovingly curated #MeTe museum here honours Arabic linguistics – still part of today's vocabulary, while other artistic sympathies can be found in art installations town-wide: poems from Giuseppina Mira adorn the inside doors of many of the town's public buildings, poetic lines are inscribed on park benches and, when we visit, there is a 'Cartaromana' exhibition from artist Rosario Bruno on Piazza Umberto. Pages of the famous Italian novel 'The Leopard' are also said to have been written here.
Beyond Siculiana, in Agrigento, the Valle dei Templi provides one of the most impressive UNESCO world heritage sites this side of the Mediterranean. We visit at dusk, when the sky glows like the embers of the wood burners back at the resort, in synergy too perhaps with our growing affection and awe for the area. When the sun sets, huge columns of bright-white marble light our view, while architect and local guide Salvatore Varisano, talks us through their impressive history – the Temple of Juno here is older than Athens' iconic Parthenon, by ten years – cemented together using only balance, weight and gravity.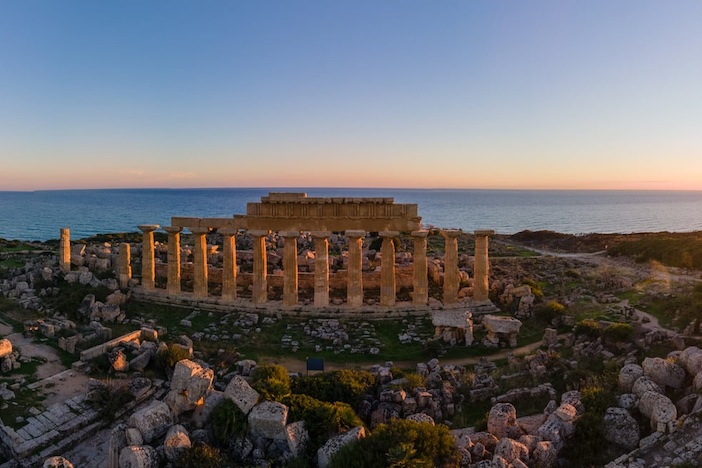 Back towards the hotel, guests can enjoy wine-tastings at Baglio Caruana, where bottles are named after varieties of flower – Ginestrella, and Vilucchio, that grow in the National Park. Island wine is also heroed on Adler's wine list, with bottles from Planeta, Donnafugata and other recognisable Italian brands being given pride of place.
Equal-thought is put into local food supply, not more obviously shown in the oil and oregano sourced from the local nature reserve, and, when we meet Giuseppina – a sheep farmer and cheese producer who serves us hot ricotta one evening, "as mother would have wanted". Chef Giuseppe Schimmenti offers à la carte dishes to supplement buffet-style dinners, featuring Sicilian red prawns, oysters, and typical Palermo style street food, including arancini, fried bread, and ice-cream sandwiches for breakfast. Polite, English-speaking staff count previous experience in London restaurants such as Gordon Ramsay, Hide and The Ledbury.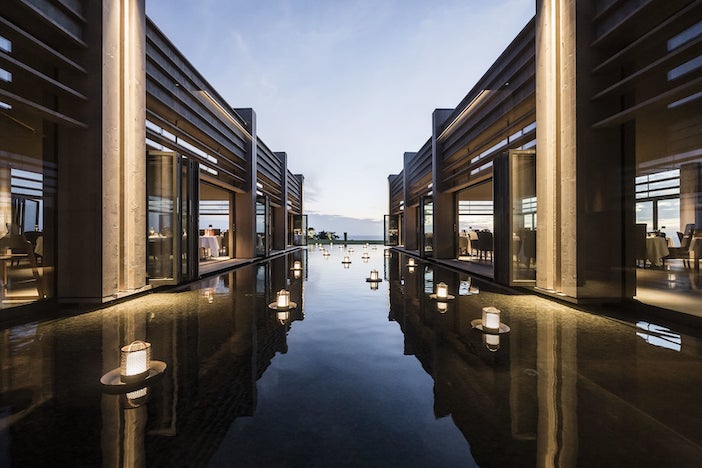 On our final night, sinking views of the burnt umber sun from the adults-only Thalasso spa infinity pool nourish mind, body and soul, but the evening is topped off by a one-of a kind experience of 'Aufguss' in the Panoramic Sauna. Here, while the rest of Italy is watching 'Dancing with the Stars' on a dark Saturday night, we witness similarly Olympic balletic strength as a spa technician wafts towels and different aromas towards us to the tune of Moby and Enya under searing heat. As sweat beads fall across our continuously resting bodies, endorphins are released and serotonin is heightened. When we cool off afterwards under the star-lit showers, all senses are sharpened encouraging an internal cosiness and warmth, felt on return to our bedrooms, and indeed back in the UK at home the next day.
A fabulous four days bookended by sunsets and serenity on the southern coast of Sicily. Amunì! Let's go!
Spring Super Spa Special at Adler Spa Sicilia includes half-board stay, gourmet buffet breakfast and elegant a la carte dinner, varied complimentary programmes of sports activities, experiences and excursions, free access to daily yoga classes and fitness programmes, and a spa voucher. 3 nights  in a Junior Suite from  9th-31st March 2023 from €585/pp. For more information, please visit www.adler-resorts.com.