A city hotel that feels like a Riviera resort? A spa that caters for every kind of sports massage surrounded by world-class sporting venues (football, rugby, tennis, horse-racing)? An Art Deco liner in the 16th arrondissement of Paris? OK, I did exaggerate slightly with that last one but the Hotel Molitor, with its shoulders rubbing up against the acres of green that make up the Bois de Boulogne, does bear a decided resemblance to an ocean-going ship a la Queen Mary.
It all becomes clear when you realise this was never meant to be a hotel. In fact, the Molitor was a swimming pool long, long before it became a hotel just five years ago. And not just aswimming pool, it was the swimming pool of Paris. Make that two swimming pools: the summer pool, open to the sky and measuring 46m and the glass-roofed 33m winter pool, both heated to 28C.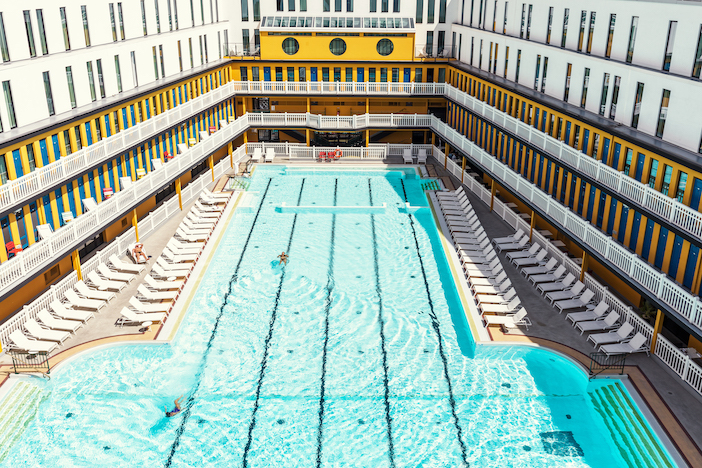 The Art Deco pools opened in 1929 and had as their first swimming instructor and lifeguard one Johnny Weissmuller, Olympic gold medallist and the first ever Hollywood Tarzan. (Incidentally, Piscine Molitor gave its name to Piscine Molitor Patel, the main character in the novel and later the film, Life of Pi by Yann Martel.) In the winter, the outdoor pool for many years became an ice rink and it was the first place a bikini was ever seen – unveiled at the pool in the summer of 1946 by designer Louis Reard.
This was quite a history by any hotel standards – except, of course, the Molitor wasn't yet a hotel. The listed historic building gradually ran out of money and, in 1989, it closed. The vast space was just too tempting to be left alone for long, though, and was soon occupied, becoming a Mecca for Parisian underground, street and urban artists. When it reopened as Hotel Molitor Paris in 2014, the new owners were keen to keep not just the original Art Deco style – they recreated this faithfully around the two gigantic pools – but all the stages of its history. So, there are sepia photographs of Weismuller and those early bikinis. And the artists found their own space in the 78 cubicles (the original changing rooms) that surround the winter pool and now serve as a gallery of urban art.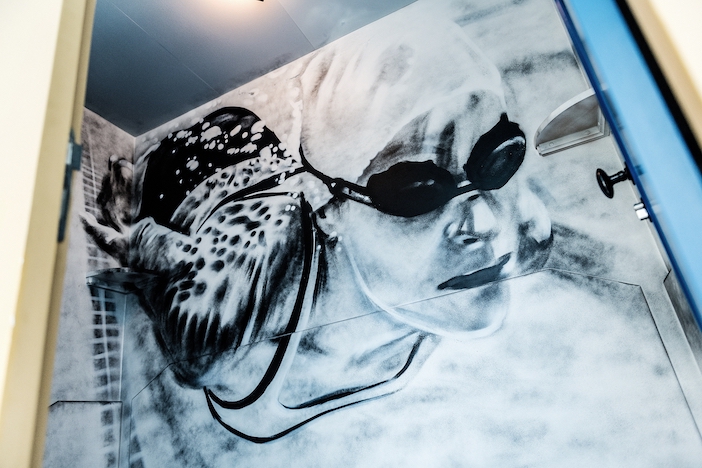 In its latest reincarnation there are 124 rooms and suites in the hotel, some built from the original changing rooms around the summer pool, plus another two floors of new rooms on top. There's a great rooftop bar and restaurant with views over the pools, the Roland Garros tennis courts (Paris's Wimbledon) and towards the Eiffel Tower (10 minutes away by car).
The Molitor still functions as a swimming and sports club alongside the hotel with the two pools, a massive gym, lots of classes – everything from circuits and fit boxing to Pilates and Qi Gong – and of course lots of activities and classes based in the pools. There's a yoga studio too with a few new ones on me – hip hop yoga flow? – a hammam, sauna and steam, hairdressers and the largest Clarins spa in Paris.
Given all the sporting venues in the area, it's not surprising that the spa has developed its own sports massages with the help of a number of sports stars. Their idea was that most sports massage is pretty generic even though specific sports use different muscle groups and those are the ones that the sportsman or woman needs to have nurtured and protected. Also, they felt there was a need for a middle way somewhere between the usual sports massage (often on the over-vigorous side) and a relaxing spa massage.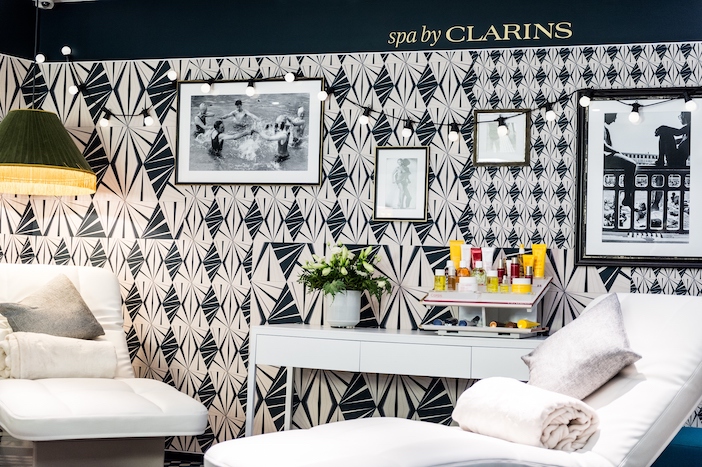 So with the help of leading figures in their fields (Muriel Hurtis for runners, Julien Benneteau for tennis, Alain Boghossian for golf, Sarah Ourahmoune for boxing), they have developed a new approach with their massage for specific sports. I went for the swimmer's massage, developed by Camille Lacourt. It focuses on the shoulders and back, the knees and the lumbar region and while it certainly gets rid of all the knots and tensions, it does so surprisingly gently – no gasps of pain here! I had assumed the oil used was Clarins (it smelt beautiful) but, no, it was their own secret formula, only used for specific massages.
All the other treatments, though, do feature Clarins – a beauty icon in France. There are a variety of body treatments and massages available as well as facials and I plumped for the Soin Lift Raffermissant. This turned out to be an hour of pure bliss. Clarins products feel and smell wonderful – and they are extremely effective, too. My therapist, Ludivine ("It's an unusual name," she explained, "like 'the divine',") began with a gentle mousse cleanser, then tonifying lotion and doux peeling (nothing abrasive here). There followed a blizzard of serums and intensive creams, eye concentrates and regenerators, splashes of Eau Dyanamisante and Huile "Relax" for a suitably soothing shoulder massage. The whole thing was appropriately heavenly, really, and my skin afterwards – glowing.

Classic Rooms at Molitor start from £198 per person, per night on a room only basis, city tax excluded. For further information, please visit www.mltr.fr.