"Mum, mum, did you know that it's going to get really hot in the aeroplane because we'll be flying over the equator?"
Eyes wide with excitement, my 5-year-old son is giving me one of his geography lessons that he's "learnt" from studying his globe avidly ever since we announced we'd booked a trip to South Africa. It's our first holiday abroad in three years, due to the pandemic – and the first time the kids will venture outside Europe.
We are all thrilled about our upcoming February half-term trip. Our 3-year-old daughter is looking forward to seeing giraffes, and my husband is trying to work out whether he can abseil down Table Mountain. I, on the other hand, am fretting about how we're all going to cope on a 12-hour flight.
Luckily, the flight is smooth – the kids sleep, I watch "Promising Young Woman" and sip a G&T, and the air temperature is comfortable, even as we cross the equator.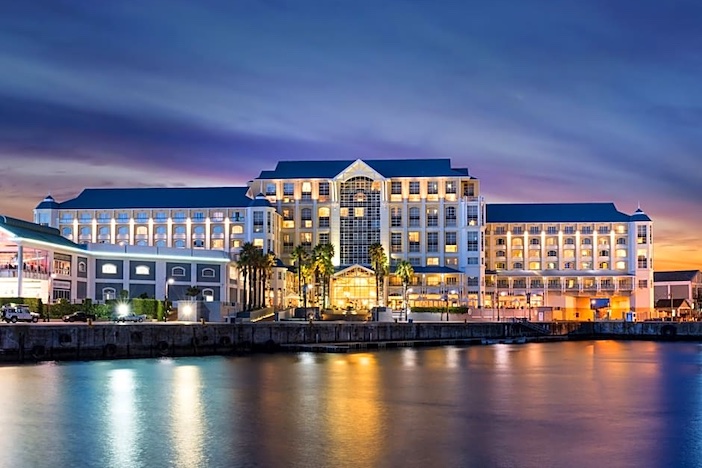 The Table Bay, a five-star hotel on Cape Town's Victoria & Alfred Waterfront, will be our home for the first three nights of our stay. What we want above all else is an "easy holiday". No mean feat with two young kids in tow, plus anxiety over whether we've filled in the Covid forms correctly, but generally we'd really like our first trip away in forever to be relaxing with a dollop of luxury (for me) and a dash of adventure (for hubby).
We have chosen our accommodation well. We encounter the hotel's hospitality before we even get to it – Shaun, our driver, is waiting in the arrival hall for us. Friendly and helpful (and with the all-important car seat for our daughter), he points out some sights as we drive into downtown, and explains how wonderful it is to welcome tourists back into his country following the Omicron-induced travel restrictions.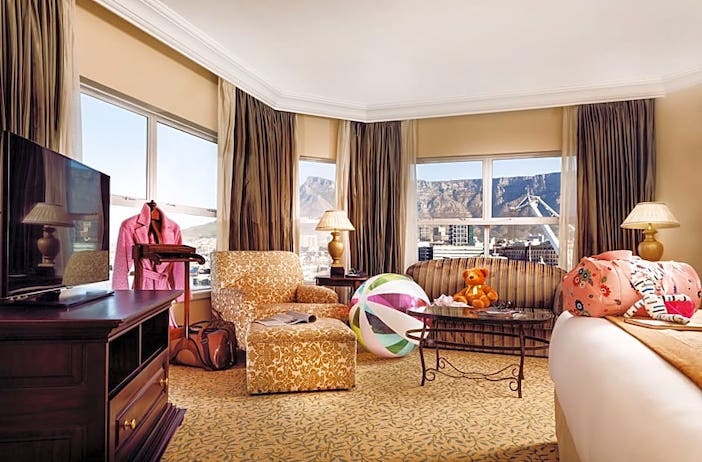 The Table Bay is a magnificent, slightly imposing, building; you can't miss its yellow and white facade and sky-blue roof. Our superior luxury family room is spacious and comfortable, with a stunning sea view. The breakfast buffet is a highlight for our son (he averages six trips up to the breakfast stations each morning: which cereal / fruit / pastry / crepe / waffle / juice should he choose this time?). There is a host of other foods as befits a five-star hotel, from oysters and omelettes to pretty tapas plates with delicate piles of cured ham and cheese. My husband starts his "adventurous" first day with sushi – and yes, he does abseil down Table Mountain later that morning.
The staff smile at our kids, and call our daughter "Peaches". They also swiftly step in to make sure the kids don't get stuck in the revolving door. Yikes. Outside that door on the harbour stands a bronze statue of hotel mascot Oscar the Seal. His escapades and unlikely friendship with a lonely fisherman are told in a children's book, Oscar! which is thoughtfully left in our room for us to enjoy at bed-time.
There are multiple seal flourishes throughout the hotel: the paper hangers on doorknobs say "Sealed and sanitised" and feature a picture of Oscar, while a silver seal proudly sits on top of our bath-taps. There is even an inflatable seal to use in the swimming pool.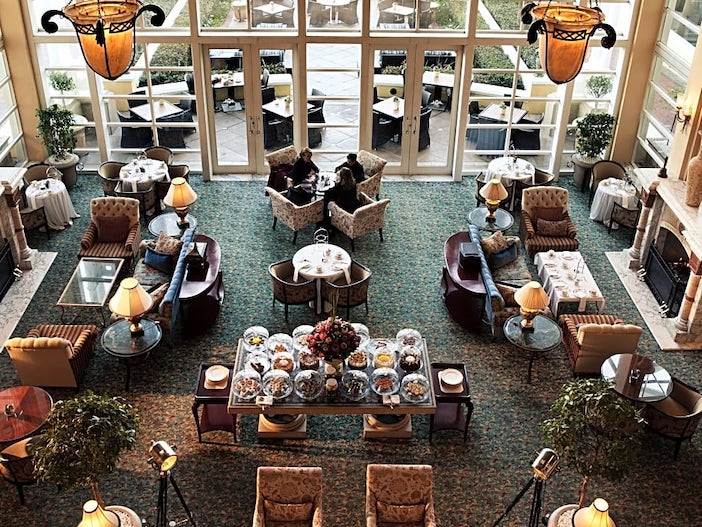 Next to the lobby is a beautiful glass atrium, where you catch your breath as there, right in front of you, is Table Mountain. What a view! Each morning we opt to take breakfast outside, and I selfishly position myself so I can gaze at the mountain with its famous table cloth cloud cover. On our last night my husband offers to put the kids to bed and I sneak downstairs to view the landmark at dusk. I sink into a plush sofa, order a "Pink flower" cocktail and unwind to the sounds of gentle piano music.
The Table Bay is a grand yet laidback hotel. It blends luxury and elegance with a local twist: it feels authentically South African, rather than a bland, international hotel that could be anywhere. In our room, we have local wine and dried meats like biltong to sample, plus postcards with interesting facts. Did you know South Africa's famed sardine run is one of the largest biomass movements in the world?
The reception staff and concierge look after us brilliantly. When the kids aren't tiring themselves out running around what seems like miles of corridors – there are 329 rooms – or splashing in the pool, we jump on the hop-on-hop-off bus to see the sights. It's the perfect way to see Cape Town, with over 30 stops, and the opportunity to have a rest in-between. We photograph the colourful houses in Bo-Kaap, hop off at the Green Point lighthouse, and wave to tourists on the other buses.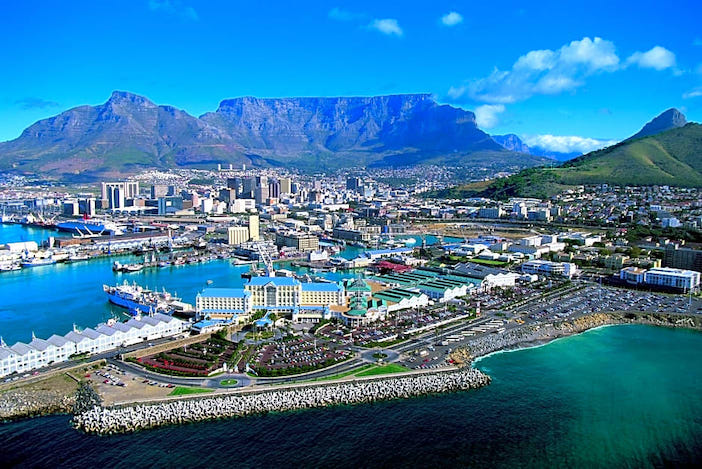 We also jump on a harbour cruise where we spot seals (real ones!), and sail past our hotel. The commentary informs us that since its opening in 1997 by Nelson Mandela, the Table Bay has hosted celebrities including Celine Dion, Tom Cruise and the Manchester United football team.
As well as being a favourite of the rich and famous, we reckon the Table Bay shapes up as an exceptional family choice. Its fantastic location and super-friendly staff make our long-awaited trip away relaxing and memorable. My daughter loved the fun seal decorations, and my son almost cried when we checked out as it meant no more breakfast buffet. It definitely gets our "seal of approval". (Sorry.)
The Table Bay is part of the Sun International group. For more information about Table Bay, including details of offers and experiences, please visit www.suninternational.com.