Wellness is more than a buzzword – these days guests want to leave hotels well rested, well fed and in better shape than when they arrived. With this in mind I jumped at the opportunity to sample the three-night Cycle Electric Sussex tour, described on the Historic Sussex Hotels website as the "perfect combination of luxury, adventure and fresh air". The tour includes a night in each of three historic hotels: Ockenden Manor in Cuckfield, then a 40-mile e-bike ride to Bailiffscourt in Climping, followed by a 25-mile cycle to the Spread Eagle, one of the UK's oldest coaching inns, in Midhurst. I road tested the first two of the three nights.
Cuckfield, home to Ockenden Manor, is only 50 minutes from London's Victoria Station but feels a world away, especially on the bright, sunny day when we arrived. The hotel, a short taxi ride from the station, is an Elizabethan manor house with 28 bedrooms, a fine-dining restaurant, an award-winning spa and a croquet lawn, all set in nine acres. My suite, the Master Suite, is in the oldest part of the hotel, with dark wood-panelled walls, a separate seating area for curling up with a book or watching TV, a large bathroom and a very comfy bed.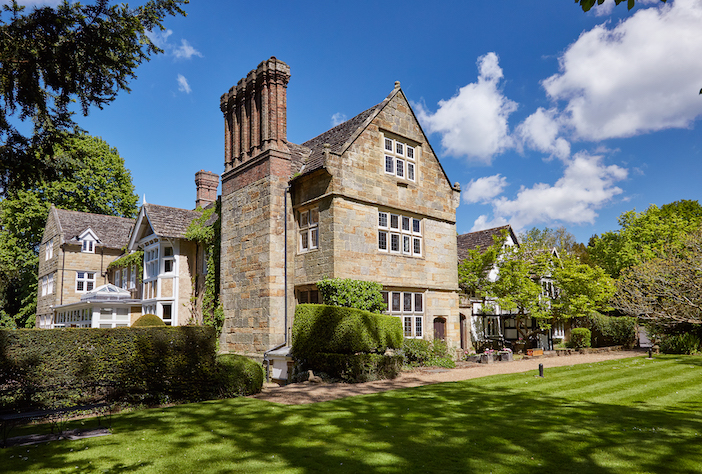 After dropping off our bags it was time to familiarise ourselves with our e-bikes. Cycling for Softies asks for your height in advance so the saddle can be adjusted to suit, and after a brief explanation from Harvey, our guide and the company's Head of Cycling, of how it all works we hopped on. I hadn't ridden a bike since before lockdown so I wondered how I'd fare but it was…just like riding a bike. Cycling for Softies can give you an app to download for navigation, much like a satnav, but instead we followed Harvey along quiet country lanes and past pretty villages, listening to birdsong and spotting rabbits along the circular route.
First stop: Artelium in Streat, about 10 miles from the hotel, for a tour of the 50 acres of vineyards and wine tasting (just a little, for obvious reasons). Sussex wines are gaining a reputation for excellence due to a mix of climate change, terroir and winemakers' knowledge. Sitting outside and overlooking the expansive vineyards, we sampled some excellent light wines and enjoyed a lunch of local cheeses, charcuterie and salad, which you can order in advance.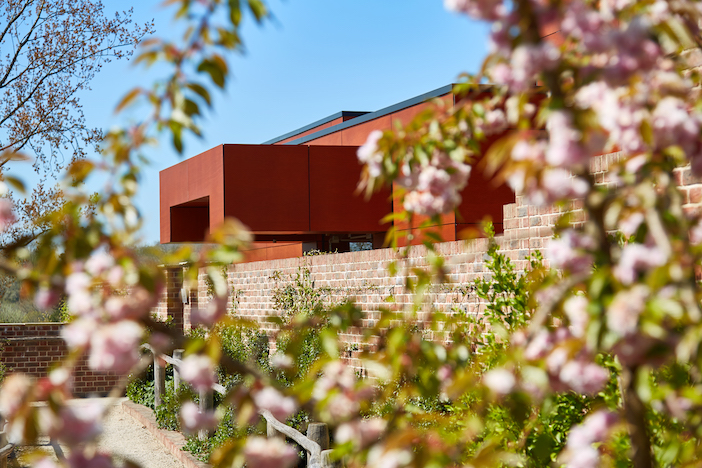 Time to get back on our bikes and return to Ockenden for a massage in the spa, which is unapologetically modern in design and makes no attempt to blend in with the Elizabethan manor. In one of eight treatment rooms I enjoyed a blissful, hour-long full-body massage, followed by a swim in the large pool.
Later, supper. Ockenden stocks more than 50 English wines, mostly from Sussex but also from Kent, Hampshire and Essex; the wines are chosen because they're the best rather than because they're from Sussex. We started with a pre-dinner glass of award-winning Ashling Park sparkling white while we perused the menu and I ordered the warm Sussex root vegetable salad and a main course of roast fillet of south coast hake with buttered gem lettuce and greens, asparagus and a cod brandade beignet. Desserts included a vanilla and white chocolate cheesecake and a Sussex cheese plate, and we finished with fresh mint tea.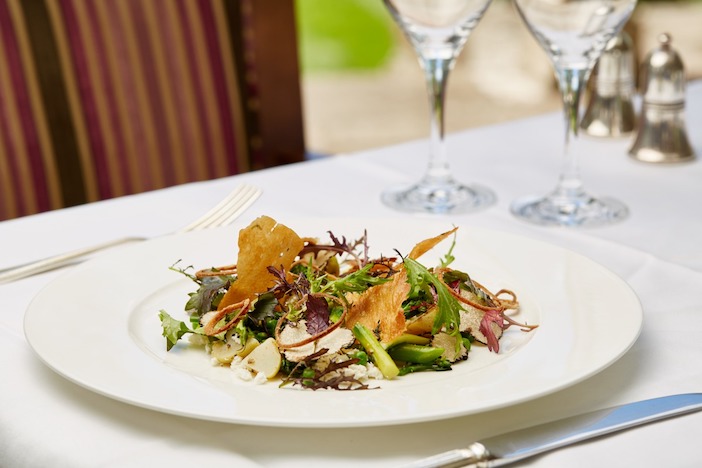 After a great night's sleep and plenty of choice for breakfast, our packed bags were loaded into the support vehicle and we were off for what would be day two of the three-day Cycle Electric Sussex tour. The support vehicle is a welcome addition, it's your port of call for anyone who finds the going too hard, has a flat tyre or is injured. Having said that, the electric power makes cycling far easier, especially uphill on turbo speed – it's as if someone is pushing you. You still need to keep cycling or you'll stop, but on an e-bike you whizz around faster than you would otherwise.
From Ockenden Manor to Bailiffscourt is 40 miles through the Sussex countryside and along the sea front with some main roads to negotiate. There are plenty of cycle paths to follow, taking you past Bolney Vineyard and along part of the Downs Link cycle route following the River Adur. Heading for the coast, we passed 11th-century Bramber Castle and the South Downs before cycling along the sea front, which was joyous in the sunshine.
After 40 miles of e-cycling we arrived at Climping Beach and Bailiffscourt Hotel. And a welcome sight it was: a medieval manor with many outbuildings – but all is not quite as it seems. In fact, the 39 rooms were built in the 1920s and 1930s using materials salvaged from historic buildings. My spacious room had 15th-century dark-wood beams, a four-poster bed and a large bathroom. Like Ockenden, Bailiffscourt has a modern spa and a swimming pool, plus an additional resident peacock named Archie strutting around the 30 acres.
But after hours of cycling all we could think about was food. I started by ordering a memorable plate of hand-dived scallops with cauliflower purée, onion bhaji and a chimichurri dressing. We were all hungry enough to choose a chargrilled fillet steak with chimichurri crumb, triple-cooked chips, blue cheese hollandaise and a mixed leaf salad, an excellent match for the local Gusbourne 2020 Pinot Noir. I finished with an unnecessary but delicious clotted cream crème brûlée with macerated Chichester strawberries, strawberry sorbet and a sesame and poppy seed tuille.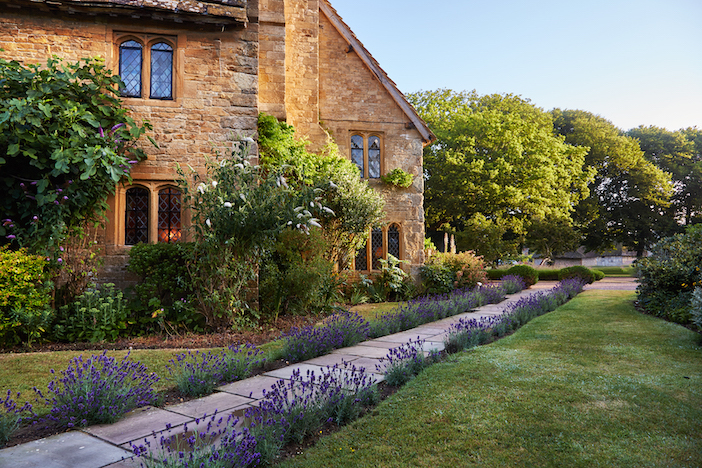 The following morning, we tucked into another superb breakfast – this time avocado on toast and smoked salmon. There's a huge choice of cereals, breads and juices, with a bottle of whisky sitting by the porridge should you desire an early dram. After this, we reluctantly packed our bags and took a quick taxi to Littlehampton Station and back to London Victoria.
As mentioned earlier, I sampled two of the three nights, and guests who choose the three-night Cycle Electric Sussex tour can give their bags to John while they take the 25-mile e-bike ride via Arundel Castle and the South Downs to the Spread Eagle in Midhurst. Again, they'll enjoy a three-course supper, a night at the inn and be taken by taxi back to Ockenden Manor on the final morning.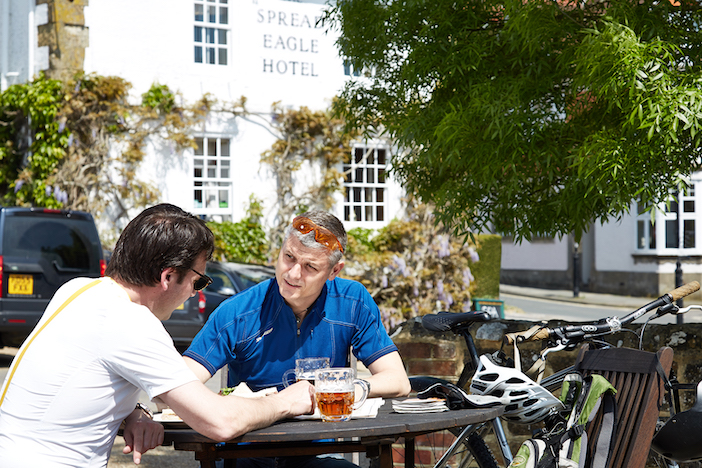 This is just one of 15 routes you can choose from, and Harvey at Cycling for Softies is flexible if you wish to take a different route, say, taking in more vineyards or visiting places not on the route. Other packages include a five-night package offering two nights and Ockenden, two at Baillifscourt and one at The Spread Eagle.
For more information about Ockenden Manor, Bailiffscourt and The Spread Eagle, including the three-night Cycle Electric Sussex tour, visit www.hshotels.co.uk. For more on Cycling for Softies, visit www.cycling-for-softies.co.uk.