It's the expanse of the grounds that first hits you when you arrive at Pine Cliffs – this village-sized, 72-hectare resort could be described as Portugal's answer to Portmeirion. The second thing you can't fail to notice is the dazzling white of the walls under the intense Algarvian sun, complemented by the green and rainbow colours of the tropical gardens, with pine and palm trees, agapanthus, birds of paradise, red hibiscus and wild blue garlic flowers, plus giant versions of those trendy indoor succulents, except here they are outside. Then, as you head for the beach, there's the brilliant orange of the precipitous cliff edges, a proper Instagram-worthy setting, offset by the aquamarine Atlantic.
The beach itself, which you reach by an outdoor glass-sided lift or stairs from the top of the cliffs, is long and sandy, with parents sunbathing and enjoying the spectacular setting and warm breezes while children swim or build sandcastles and collect shells. Indeed, this enormous but serene five-star resort appeals to families with its kids' clubs, gym, Annabel Croft Tennis Academy, nine-hole golf club, swimming pools, boutiques, shops and award-winning spa with 13 treatment rooms, treatment pools, outdoor jacuzzi, steam rooms and saunas.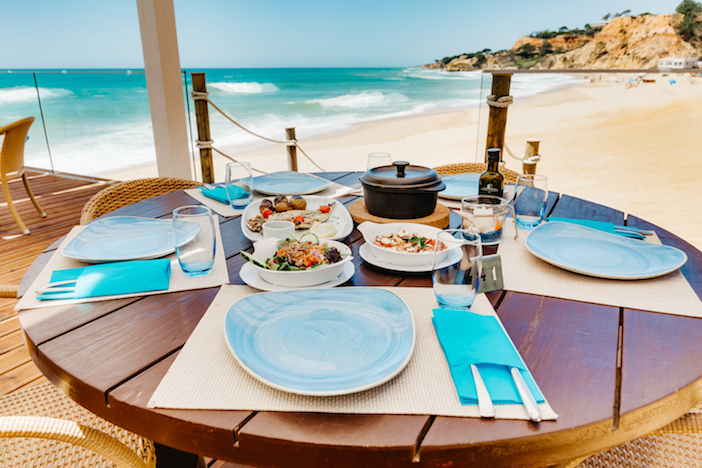 Among Pine Cliffs' eleven restaurants is recently refurbished Maré, which overlooks the beach and is reached by the aforementioned lift or stairs. It serves freshly caught fish, as well as burgers; we ordered a selection of fish croquettes and refreshing salads, followed by grilled sea bass with baked new potatoes. There's funky background music and the vibe is relaxed, a place to take your time and enjoy the ocean views. Back at hotel level at the top of the cliffs, Mirador Champagne Bar also has superb views of the Atlantic coast, making it the perfect place to watch the sunset, champagne glass in hand.
Zest restaurant is an ideal spot for lunch after a spa treatment. You can choose from freshly made juices, salads and plant-based options such as the chickpea curry (add tofu or chicken if you like). The grilled tuna steak with purple sweet potato purée, asparagus and cherry tomatoes was delicious and virtuous paired with a fresh beetroot and carrot juice. This is flavoursome, colourful, healthy food. If you are more of a carnivore, try Piri Piri Steak House (chicken and vegan dishes are also on the menu) for alfresco dining under the pine trees into the night, or inside for larger groups.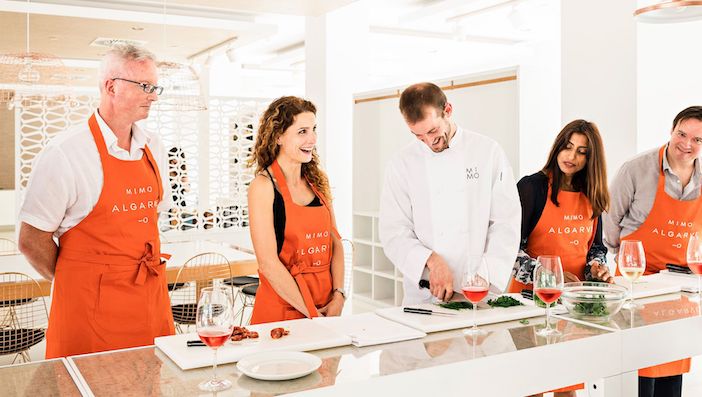 One outstanding evening was spent at the cookery class and supper club at Mimo Algarve, close to Zest. Charming and affable head chef Lucia Ribeiro lived in London for 15 years and trained under Paul Walsh at City Social, which has one Michelin star, and it shows. She calmly and expertly taught us some knife skills (including how to julienne an onion and gut a langoustine in moments, plus a novel way to peel garlic without touching it) in the 300-square-metre, state-of-the art Miele kitchen.
We then learnt to cook several dishes, including a rice, chorizo and langoustine cataplana (the name of both the dish and the copper casserole it's cooked in) and her grandmother's torta de amêndoa with vanilla and ginger ice cream plus carob crumble and gold leaf, all beautifully presented by Lucia and perfectly matched by Portuguese wines. Every mouthful was excellent.
To learn even more about the local food, I'd recommend a petisco food tour, something like the pintxos tour I took in San Sebastian for this very publication. A 40-minute drive from the resort, past stalls of fresh oranges at the roadsides, is the coastal town of Faro, where our enthusiastic guide Joana explained how Arabic flavours and culture have influenced Algarvian food. After visiting the sobering Capela dos Ossos (chapel of bones), where bones and skulls of more than 1,000 monks line the walls, and spotting storks, who fly here each year, feeding their young in nests on top of Sé Catedral de Faro and elsewhere, we tried small plates in local eating places.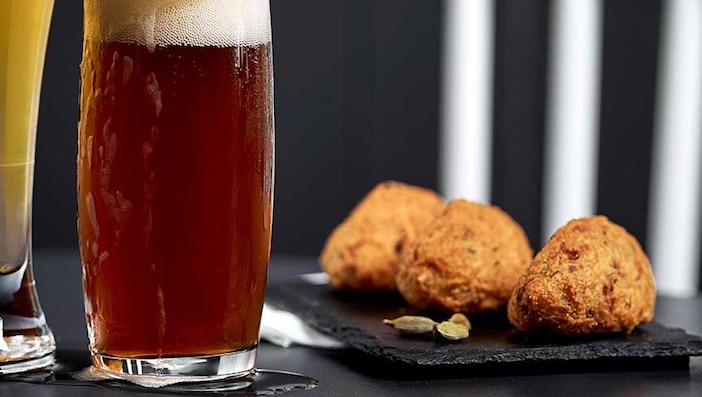 Among the highlights were the simplest dishes of bread topped with fresh tomatoes at family run Mercearia Sao Pedro; super-fresh goats' cheese served with chopped walnuts, rosemary honey and black pepper at Bistro 31 Vinho & Comp, a member of the Slow Food movement; and salt cod fritters and a light, fruity craft ale called Moça at Boheme. An Amarguinha sour cocktail, tasting of almonds and lemons, plus a Dom Rodrigo dessert, made with egg yolks, sugar and almonds, at Columbus Cocktail & Wine Bar completed the tour.
All this food and I haven't even mentioned my room yet. At Pine Cliffs Resort there are 755 rooms, suites and apartments – my deluxe suite had a balcony overlooking peaceful gardens, while others have sea views. The big, comfy bed had a headboard made of traditional hand-painted Portuguese tiles, like the walls in a restful shade of green and white, and the softest bedlinen.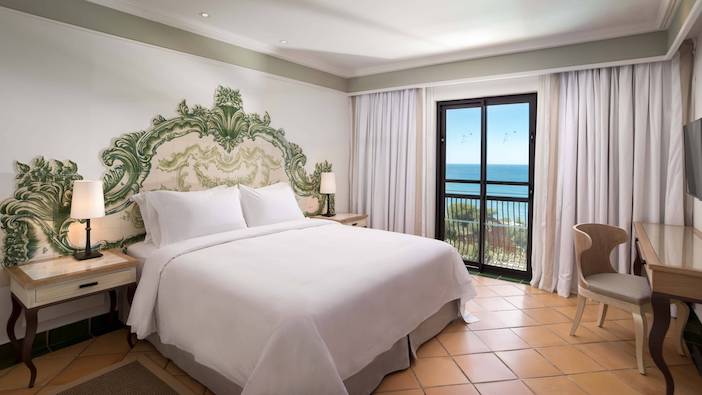 A three-hour drive away and just 30 minutes from Lisbon, is five-star Sheraton Cascais Resort, just over an hour's walk or a 30-minute cycle from Guincho Beach (bikes can be rented from the hotel). Here there are 156 rooms and suites set in 17 hectares of gardens. Here too I had a spacious deluxe suite, this time overlooking the gardens and people strolling to and from the restaurant and (half-heated) outdoor pool.
After breakfast in the Glass Terrace restaurant on the Saturday morning we took the weekly morning yoga class in the tranquil gardens to a background of birdsong while teacher Isabel guided us through relaxing vinyasas. Afterwards, we enjoyed the hotel's Saturday healthy brunch offering, also at the Glass Terrace, of almond pancakes, seabass with pak choi, and plenty of salads.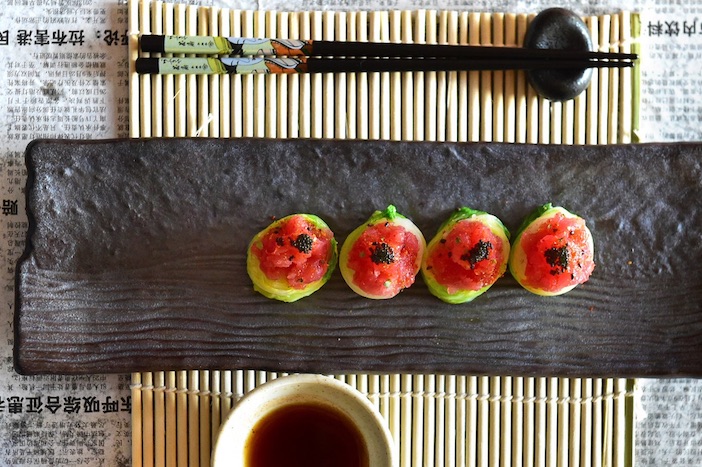 More indulgent was our first evening meal of fresh and delicious sushi and sashimi, fusing Eastern and Western flavours with flair at Yakuza. Another evening, we enjoyed a menu especially created for us by sous chef Ruben Gomes, which included a strawberry and basil gazpacho, and a scrumptious salmon niçoise with curry mayonnaise and green beans, lamb chops with carrots, and a chocolate, raspberry and blueberry millefeuille we had to assemble ourselves.
While here, make sure you see the surrounding Sintra-Cascais National Park. We jumped into red and purple 1970s Volkswagen Beetles and sped through cliff-edge roads to see sights including Cabo da Roca, the westernmost point of mainland Europe, for some reason a very popular selfie spot for coachloads of Japanese tourists. Just 2km from here, Casal Santa Maria Winery is a beautiful and tranquil spot with idyllic views over the vineyards and ocean.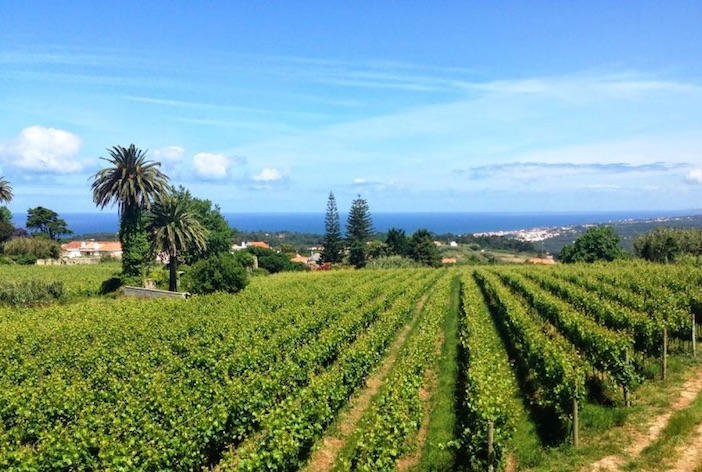 As we sat outside and sampled four outstanding wines with notable mineralogy from the terroir next to the Atlantic, we learned about how the vineyard's founder – the grandfather of Nicholas, who now runs it – Baron Bodo von Bruemmer, was born in Riga in 1911, survived pancreatic cancer for 28 years and restored the building, built in 1720, before planting the vineyard at the age of 96, a story as remarkable as the wines. The award-winning rosé is named Mar de Rosas, which translates as sea of roses, a phrase that in Portuguese means everything is fine. Sitting in this peaceful spot, sipping rosé and enjoying the sea view, it certainly is.
Rooms at Pine Cliffs, a Luxury Collection Resort, start at €243 in high season and €78 in low season, on a B&B basis. Apartments, suites, villas and residences are also available. 
Rooms at Sheraton Cascais Resort start at €200 in high season and €100 in low season.
Classic Collection Holidays offers two nights at Sheraton Cascais Resort and three nights at Pine Cliffs Resort from £1,253 per person. Price based on two adults sharing on a B&B basis, and includes flights from London Heathrow to Lisbon and back from Faro, private transfers and rail travel between Lisbon and Faro. For more information, visit www.classic-collection.co.uk.