Sooner or later in any traveller's life, there is a moment that everybody dreads. You have arrived at your hotel, weighed down by bags and exhausted after a lengthy journey. In some cases, you might have a similarly fractious child with you, who needs, in no particular order, to sit down, to be given a drink and be fed something. You approach the reception desk, weary smile firmly on your face, and offer your name. And then, there's the dread reply 'Are you sure that the room would be booked under that surname, sir?'
It is usually a mark of a hotel as to how they deal with the situation. Once, in Dublin, a friend and I were hastily upgraded to the only remaining room in the place, the presidential suite; this sounded far more impressive than it was, not least because the camp bed on which he was billeted for the night kept breaking. But on other occasions, confusion and 'I'm very sorry sir, but…' have been the order of the day. If this had been the case at the Biltmore in Mayfair, then this would be an exceptionally short non-review – in fact, it would be little more than a commentary on a misunderstanding.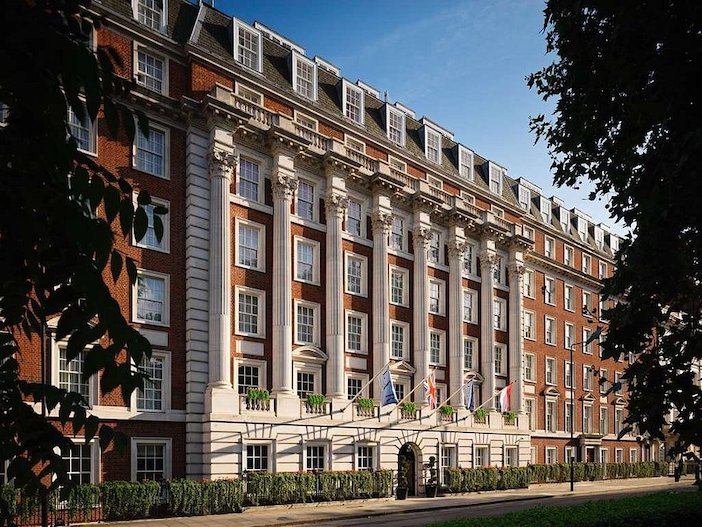 But I am delighted to report that the professionalism and good humour with which the excellent staff at the Biltmore dealt with the situation proved entirely representative of our eventual stay there. We were sat down in the bar, given a fine and very welcome cocktail (a 'Cucumber Cooler', in my case), and the errant reservation was eventually located.
This gave us time to admire Grosvenor Square's latest and highly impressive luxury hotel, which opened in autumn 2019, only a few months before it was obliged to shut again because of The Dread Covid. It has all the accoutrements of a leading Mayfair five-star destination, including a Jason Atherton restaurant, décor that skirts the line between bling and elegance and the sort of luxuriantly comfortable rooms that appeal to business and leisure visitors alike. But what we really wanted to talk about was the loo in our bedroom.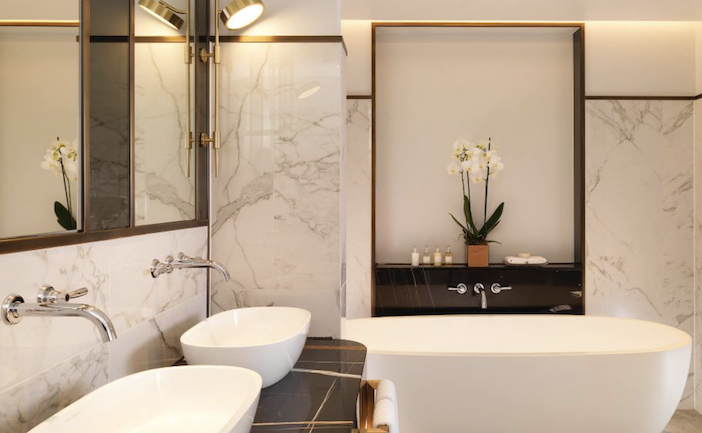 Well, to be fair, it wasn't us who wanted to talk about it, but our daughter. What the Biltmore boasts is that most delightfully unusual of conveniences, the paper-free Japanese or so-called 'smart toilet', which prides itself on being environmentally friendly and considerably more efficient than the traditional water closets. If one was to combine this with a small child, who immediately christened it the 'splash loo', then it could produce literally hours of entertainment. But owing to the relative lateness of our arrival, this pleasure had to be curtailed. Dinner awaited.
Atherton's restaurant, Café Biltmore, is firmly in the 'casual' end of his empire. Starters of cured salmon with ponzu dressing and excellent crispy calamari are superbly executed, and taste easily as good as the dishes that might be found in his Michelin-starred restaurants nearby, but the main courses are of a more workmanlike nature.
My wife pronounced her main course of king prawn curry surprisingly bland and tasteless, and I had to agree with her; although the prawns were of a good quality, it badly needed more spicing, and the naan bread was little better than the limp offerings found in a supermarket aisle. I went for the rib-eye steak, as recommended by the waiter, and it was better, though not of the elevated standards of a Hawksmoor or a Gaucho.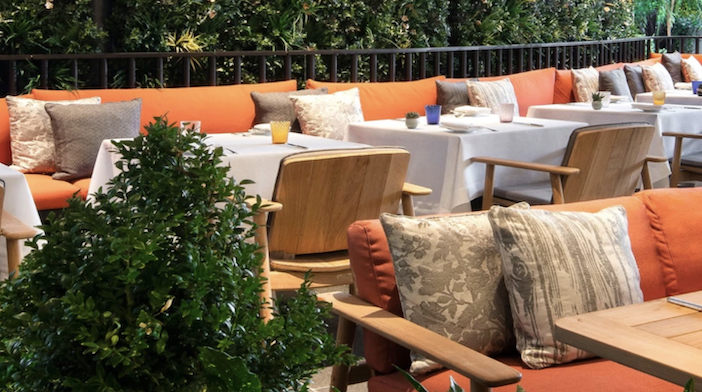 Yet it still made for a pleasant evening, not least because we could sit outside on a reasonably warm evening, and a bottle of Atherton's 'house red', from Pollen Street Social, may have been priced at a rather un-house wine-ish £63, but was a deliciously earthy Burgundy, and, if anything, rather better than the main courses that it was accompanying. Breakfast the following day was more of the same – classic dishes executed with competence rather than flair – and one cannot help wondering if Mr Atherton needs to revisit his restaurant here in the near future.
Still, after a comfortable and relaxing night's sleep, we were delighted to be at the Bitmore. It is a classy place in a classy setting, five minutes from both Hyde Park and the delights of Mayfair, and the staff and service are second to none. It is, by its own admission, finding its feet again after the rigours of lockdown, but I am certain that, before too long, it will take its place amongst London's finest hotels.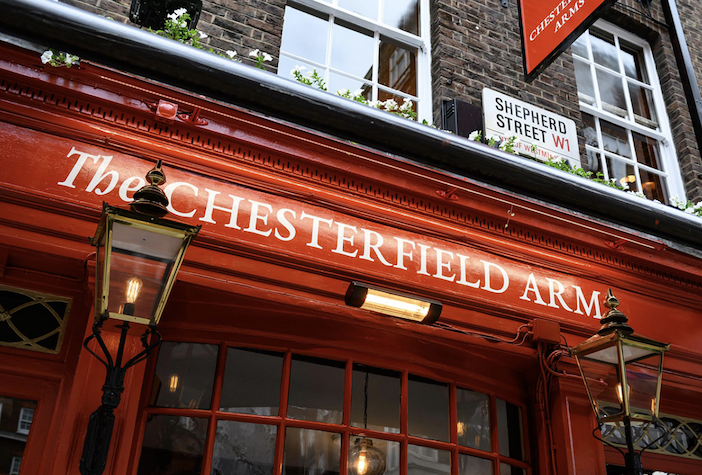 Of course, a trip to W1 would not be complete without a further dinner in one of the area's finest hostelries, and the following day we set off to the newly refurbished Chesterfield Arms, a hop, skip and jump away in Shepherd's Market. I had memories of the pub being a spit 'n' sawdust place – well, at least as far as anywhere round here can be – but a recent refurbishment has restored it to its former glories. Downstairs is one of Mayfair's cosiest and most welcoming pubs, complete with excellent beers on tap and various whiskies, and upstairs is the restaurant, which has all the hallmarks of a less stuffy gentleman's club.
The dishes are original and fresh takes on what we might call 'classic British cuisine'. I ordered a main course of faggot, which came served with mash and pancetta, and had all the well-executed hallmarks of a confident chef going great guns in the kitchen. My dining companion, meanwhile, measured his Chicken Kiev – a once-unpopular dish enjoying a grand renaissance at the moment – against the previous benchmark of Jesse Dunford Wood's magisterial reinvention, and decided that it was entirely speakable.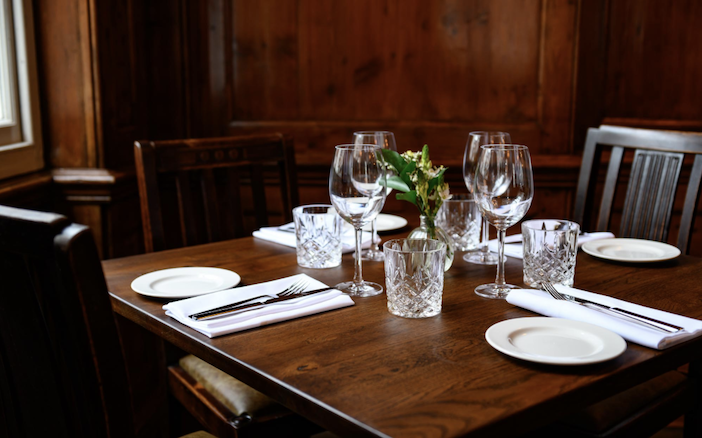 Washed down with a bottle of fine, crisp Gavi, it made for a delicious dinner, all the more so because we somehow managed to find room for dessert of chocolate mousse and peanut butter cake. Dare I say it, but this had more of a flavour of Jason Atherton and his nearby Pollen Street Social than any of the puddings at Café Biltmore did.
But none of this ultimately matters. Mayfair is open for business once again, and we had a splendid time. I'm sure that all of you will as well, thank heavens.
For more information about The Biltmore, including details of rooms and suites, as well as other properties in the LXR portfolio, please visit the LXR website. For more information about the Chesterfield Arms, including menus and bookings, please visit www.thechesterfieldarms.com.