Continuing an off-beaten path from South Africa's Garden Route, in the second part of her travelogue, Alwynne Gwilt stops in a rather crowded spot on the Cape Peninsula – crowded, but not with people…
"Look at them go!" I yell to my husband, H, as I look down towards the Atlantic Ocean in front of us. "I just love them so much…"
By 'them' I mean penguins – dozens and dozens of penguins. Hopping, floating, diving, waddling, bickering, noisy, delightful penguins.
I'm at the glorious Tintswalo at Boulders which overlooks the famous Boulders Beach, home to thousands of African penguins which reside in the Table Mountain National Park Marine Protected Area, just outside of Simons Town and around an hour's drive from Cape Town.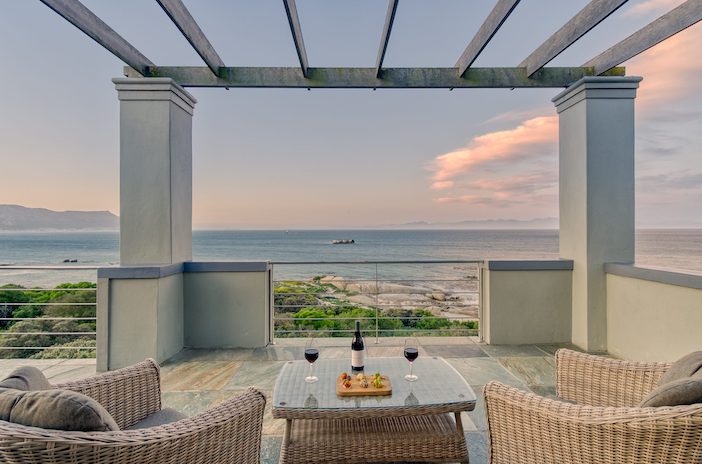 From the luxury boutique hotel's top floor, one gets a prime vantage point for watching these funny creatures go about their day and I couldn't be happier – seeing penguins was a primary attraction point of my first visit to South Africa in 2015, and has remained a tradition on every subsequent visit since.
I've come to stay at Tintswalo at Boulders for one night only, so alongside enjoying the confines of this truly luxurious private lodge, I'm taking in as much penguin action as my retinas can handle.
The lodge is a part of the Tintswalo group which includes other 5 star resorts Tintswalo Atlantic, in nearby Hout Bay at the base of the Table Mountain National Park, and Tintswalo Lapalala, a family-friendly bush camp a few hours' drive from Johannesburg, amongst others in the portfolio. All cater to families and are small, private enclaves lending a peaceful place to dine, stay and relax in.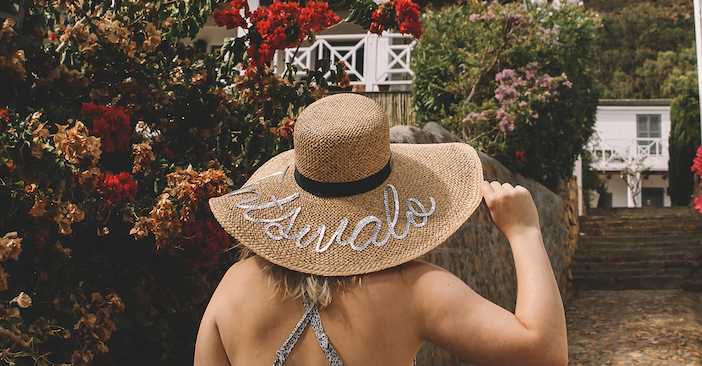 Upon arrival, we are greeted by an enthusiastic team, full of chatter and gusto, wanting to know about our journey down, where we are from and what they can do for us. The welcome is incredibly genuine and warm, making us feel immediately at ease. As we are led to a deck overlooking the ocean, it feels as if we've stumbled upon someone's grand home – and with only nine rooms, the boutique space feels exactly like that. It caters to those who like a more private holiday experience with an open kitchen area including a smiling chef, a courtesy bar in the lounge, and bottles of sparkling on the terrace. There's a TV room and children's play area downstairs, and we are told that the owners wanted everyone – whether small or big – to feel at home in the space. Decorated with unique pieces of art, shelves of books and big comfortable sofas, it's hard not to settle in quickly.
Our room is the Mayflower, an expansive oceanside suite named in honour of the famous ship which went on to carry pilgrims from Great Britain to North America – fitting for a half Canadian, half Brit such as myself. Decorated in subtle tones of teal and cream, with some of the most stunning hand blown lamps I've ever seen, the room is luxurious and classy. Featuring the largest bathroom ever witnessed in a hotel – with an expanse around the same size as a studio flat in London – and a long deck outside, the space leaves ample room for cartwheel enthusiasts and loungers alike.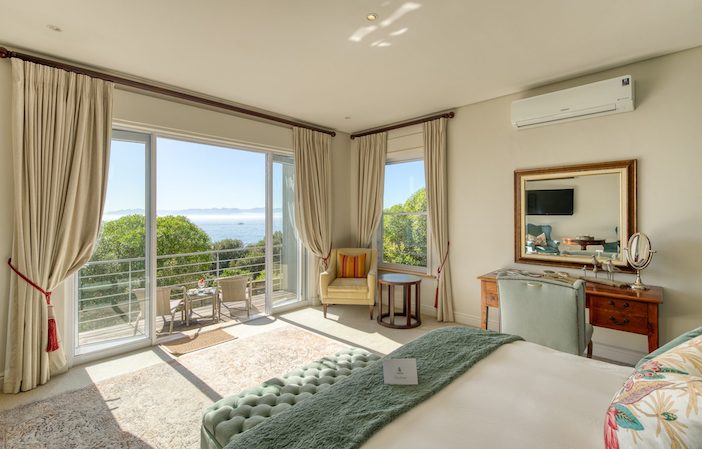 After a spot of self discipline in the form of a yoga session on the private deck, I join H for a sundowner of G&Ts and penguin spotting, giggling as I see their frames lithely dive into the ocean waves, and shake and shimmy as they emerge Bond-like from their refreshing dips. I sadden at the thought of the sun going down and their oncoming rest time, but am soon reminded that sunset means dinner and this is a good thing.
Tintswalo at Boulders offers bed and breakfast, with lunch and dinner provided upon request, but from the full dining room it's clear to see that many guests choose to enjoy the opulent surroundings to their maximum and join in a meal at the villa. It's a relaxed affair but in the cosiest of settings – tables are carefully dotted out along the deck, and into the lounge, lit by an array of candles. Our host is one of the cheeriest people we will meet in South Africa, and she tells us a lot of her joy is in the fact she is able to do what she loves most again after a very tough lockdown period brought everything in South Africa to a standstill for nearly two years. A simple but well executed menu of tomato and mozzarella salad with homemade pesto, local springbok and chocolate tart with peaches slowly makes its way to our table over a couple of hours, enhanced by many glasses of local wine such as a glorious Syrah from little known Damascene winery in the Elgin Valley to the east. We leave with bellies fully satiated from both food and laughter, retiring to our beds with a dram of whisky from the courtesy spread in the lounge.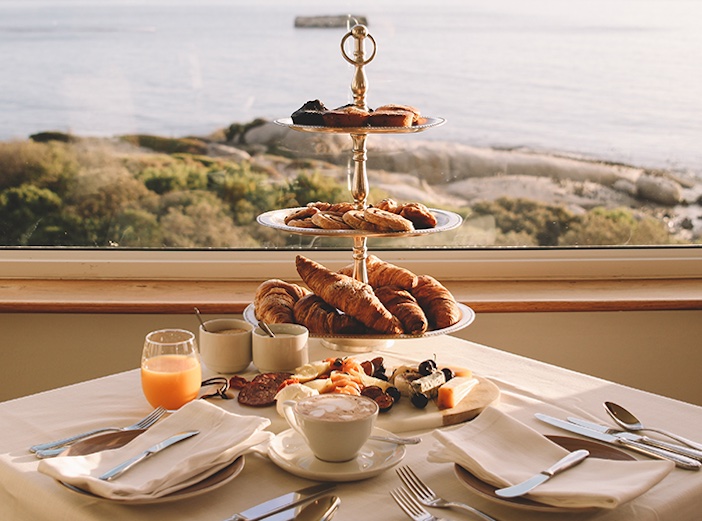 Arising early the next morning, we grab a quick coffee in our room before heading out of the secret door leading directly to the penguin colony. We've been lucky enough to visit the beach before, so choose not to enter the park but instead have a wander along the boardwalk, encountering a rogue penguin mooching past on his or her daily business every so often. It's both surreal – as if we've walked into a Disney Pixar film – and totally normal. I half expect one of them to be carrying a briefcase and bowler hat, and to wish us well for our day ahead.
A light breakfast of fruit, homemade pastries and eggs is taken on the veranda – the warm sunshine filtering onto our pale winter skin, the sound of squawking penguins drifting up to our ears.
When finally we make our way to reception to depart, we find we cannot get away for the stories and chatter shared with the team – it leaves us light of foot and wholly welcomed in the best possible sense. We feel as if we've made a home at Tintswalo at Boulders, and bedded in just as the thousands of African penguins on the beach below have done themselves. It's clearly a good place to be.
Tintswalo at Boulders, 7 Gay Road, Simons Town, Cape Town, South Africa. For more information, including details of rates, amenities, and the 'penguin diaries' – and for details of other properties in the portfolio – please visit www.tintswalo.com.