Four months after returning from the adventure of a lifetime, Alwynne Gwilt reflects on a journey through Southeast Asia just as the world was coming under the grip of Covid…
"We have to go. We might always look back and wish we had, so let's just go," said H over a sushi lunch in one of our favourite local London spots.
It was a bright, sunny, late February day and the world was just starting to feel nervy – not enough that we were worried about travelling, but enough that we had put off booking flights until the last minute, waiting to see what would develop with Covid-19.
In that moment, it felt like we'd finally stepped forward after weeks of deliberation following a cancelled trip to Taiwan and Japan due to uncertainty about travelling there. But that itch had never gone away – it had simply settled into both of us, ever present, ever wanting to be satisfied.
"Okay, let's do it. Let's book our flights," I responded, picking up a piece of scallop sashimi from our platter, feeling like a weight had been lifted.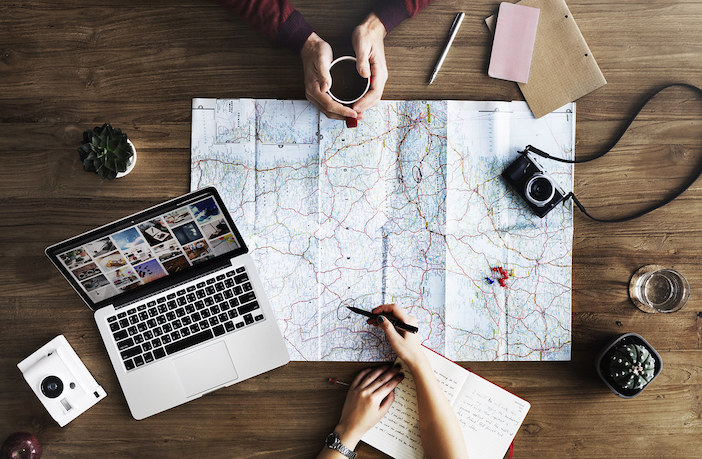 We were experienced travellers, we reasoned. There were fewer cases in Thailand than in most countries in Europe. I knew of not less than ten people who were already on their way there or about to fly out. It was the middle of winter and we needed an escape. There were a lot of reasons to make us pack our bags.
But as we would learn, there were many more reasons that made us thankful in the end. Thankful that we did book our tickets later that day. Thankful that we did fly out just ten days later, landing in Bangkok on a steamy hot March afternoon. Thankful that we took a chance despite what would later prove to be a far larger global crisis than we ever could have imagined. But we didn't know just how life-changing it would all be.
…
"They're going to close the borders," I said with a moan.
It was 7am and I'd just switched on my phone to see the news that Vietnam was considering closing its borders to foreign travellers.
For the first time in our lives, we were travelling without a concrete plan. Two weeks in Southeast Asia, with flights into Bangkok and out of Hanoi. Parts of the trip – such as our stay at the unforgettable 137 Pillars Suites & Residences in Bangkok, and its sister property in Chiang Mai – were highlights we'd nailed down, but the travel between the countries was not finalised.
In the rush to leave the UK with just ten days notice after booking our international flights, we'd reasoned that flights between countries in Southeast Asia are generally frequent, inexpensive and well covered. We'd work it out once we'd landed.
But therein lay the issue – our flight back to the UK was out of Vietnam. For more than a year, we'd planned to go back to the country – by far one of our favourite in the world – desperate for a taste of Pho, our bodies aching to sit on a tiny red plastic chair, drink Bia Ho'i and be thankful to have not been run over by one of the trillions of scooters chasing through the streets. As my travel and culinary hero Anthony Bourdain once said: "Vietnam: It grabs you and doesn't let go. Once you love it, you love it forever." So, our journey was to take us from Bangkok and lead us to Hanoi where we could scratch our cravings. The world, however, was bringing that idea to a halt.
A planeload of passengers from the UK had landed, bringing with it a number of people infected with Covid-19. And the Vietnamese government was quick to announce it would not play chicken with the virus.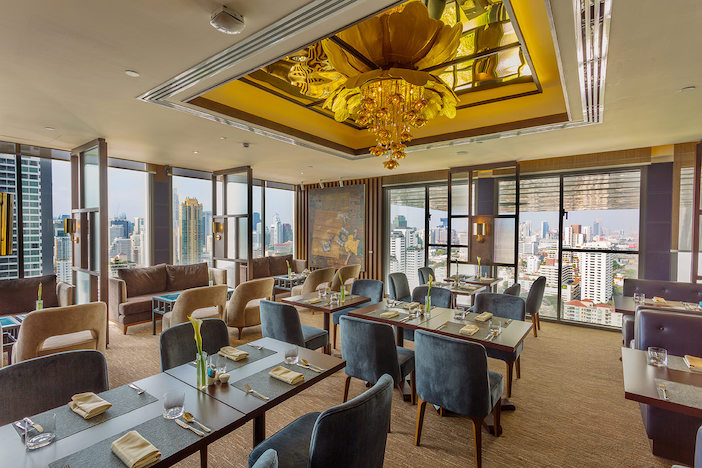 By the time we'd lazed out of bed, had a coffee on our balcony overlooking the skyline of Bangkok, and made our way up to the hotel's glorious Ban Borneo Club for a quick breakfast, it was becoming clearer that we were not going to Vietnam.
With only two weeks in Southeast Asia, we were determined to not let this get us down. After all, we'd signed up for an adventure, albeit one that was proving to be a bit more adventurous than anticipated. But the reality was: despite the fast-changing news about Covid-19, we felt safe in Bangkok.
Everywhere we went, temperatures were being checked, hand sanitiser was a plenty, the army was on watch in a very reassuring way, and people were as warm and friendly as ever.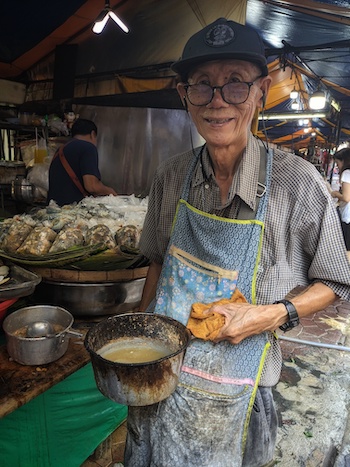 Over mind-blowing street food meals at places like Tom Yum Goong Banglamphu – where the elderly, eyes-smiling owner cooked us a Tom Yum so outstanding, I literally cried as I took a photo of him standing by his wok in the sticky afternoon – and boat journeys along the Chao Phraya River, the truth is we slid right back into comfort zone in this city we love so much.
We first journeyed there in 2018, drawn by our love of food, and fell immediately for its synchronised rhythm of chaos and order. Hectic street food stalls on one side, incredibly modern transit and luxury hotels on the other – people had told us this city of just over eight million was one to miss, one to skip in favour of heading straight to the country's famed beaches. But once we'd given it a try, we knew we had to come back.
This time we stayed in the Wattana district, finding peace from the long days out at 137 Pillars Suites & Residences. Its rooftop Infinity Sky Pool overlooking the whole city, combined with our expansive Sukhotai Suite complete with marble bathrooms, expansive balconies, a 24-hour butler service & daily cocktail hour was an oasis in the city. We were blown away by the immediate hospitality of the hotel's staff, spending languid afternoons hiding from the humid heat under the shade of an umbrella on the rooftop and pre-dinner evenings getting our glad rags on to enjoy cocktail hour and watch the city light up as the sun went down. Its relaxing atmosphere, where everyone attended to our every need, meant we recovered from jetlag quickly, soothed by the oversized bed with 400-thread count sheets and our preferred choice of pillows.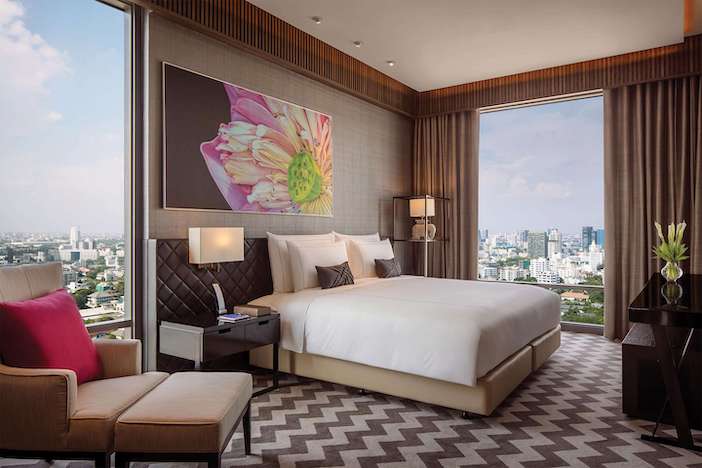 So when I awoke on the second morning to the news that the trip was about to get a little bit more unpredictable, I did so with a sense of panic, dulled down by the fact I was just so damn comfortable.
We opted to leave things to chance instead of panicking – there was, at that stage, no indication that anything was getting even remotely concerning in the UK, and we still knew dozens of people who were travelling overseas, so the only way forward was to go with the flow.
Our last two days in Bangkok were, therefore, filled with all the food we could eat and all the sites we could explore (and all the massages we could handle in between). An eye-wateringly spicy meal of local curries at neighbourhood restaurant Janhom pushed us to our limits on the chilli scale, while cooling congee at Jok Prince rebalanced our stomachs and a late night final meal at the hotel's prestigious Nimitr, the warm wind blowing through our hair as we sat on the outside terrace and enjoyed course after course of beautifully modern takes on local cuisine, made us fall deeper in love with this complex city.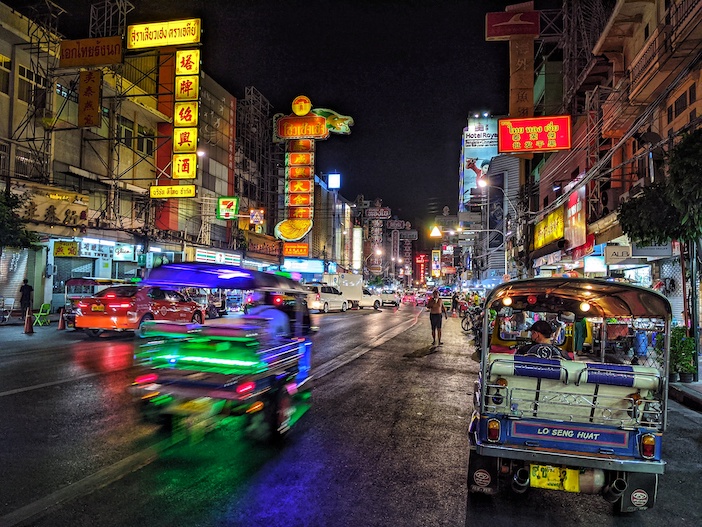 It was with cemented feet that we pulled ourselves away from the hotel and all of its kind, giving staff. A meeting with marketing manager K. Neung brought it close to home as we spoke over tea one afternoon about the impact the city was already seeing from the virus, and she left me with the resonating request to let people know that the city was still safe, still welcoming and still needing international guests to put its trust in both Bangkok and the hotel.
At the time, I felt desperate to shout to others that I felt just that as a traveller – trusting and safe. An email a month later from Corporate General Manager Anne Arrowsmith checking in on us, and making sure we were okay would prove just that – that the team took the word 'care' to the next level, and ensured our path in the country was on the right track from the moment we landed.
As we made our way out of the city for the first morning flight to Chiang Rai, we did so with hope – hope that we would return to this magnificent city and hotel, and hope that our journey would prove smooth enough for two normally intricately planned travellers to cope.
For more information about 137 Pillars Suites & Residences, visit www.137pillarsbangkok.com.
Alwynne's journey, staying a step ahead of Covid, continues next weekend as she heads into Thailand's interior…