"I can't even believe it, I mean, literally cannot believe it," I shouted to H from the large daybed on our terrace, through the sliding glass doors of our Rajah Brooke Suite at 137 Pillars House. 
I was becoming obsessed with the news. And it wasn't wearing well on me.
This is one of the challenges faced by the adventurous traveller in the year 2020: it's easy to stay in touch with the world, even when you really need to just get a break. A cheap SIM card meant I was able to tap onto BBC News at any time I wanted, to swish through my Facebook feed and see WhatsApp messages from family and friends checking in on us.
The truth was, when I wasn't looking at my phone, I was allowing myself to be present and enjoying every moment of it. A quick one-day stop off in Chiang Rai to cycle around the countryside and see the gorgeous (and slightly bewildering) Wat Rong Suea Ten (the Blue Temple) and renting a scooter early the next morning to visit the famed Wat Rong Khun (the White Temple) had given us some peace and quiet.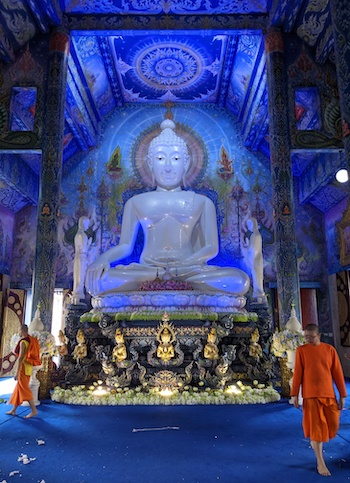 We stopped by the local market to pick up little parcels of mysterious goodies of Nam Prik – a spicy, funky, fermented chilli sauce made differently by each stall owner and paired with boiled vegetables like Okra, Chinese long beans and Thai eggplant – laughing and smiling with each tiny, elegant stall-owning granny as we fumbled our way through our choices. We ate our first of many bowls of Khao Soi – a curried noodle soup famous in Northern Thailand, Laos and Myanmar – giving us our first look into the north, a distinctly different vibe than that of Bangkok.
The next day we arrived in Thailand's largest northern city of Chiang Mai – still a metropolis but a relatively small one in comparison to Bangkok with just under 200,000 residents in the central area.The sister hotel to 137 Pillars Residents & Suites in Bangkok had invited us to see the quieter side of its offerings, and the original hotel in the portfolio.
Built in the late 1800s as the headquarters of the Borneo Trading Company, the current owners restored the 19th century property to its original glory, and built the accompanying 30 boutique suites and restaurant area in the early 2000s after falling in love with the story of the traditional Lanna House. Named as the number 1 resort hotel in Southeast Asia by Travel + Leisure magazine in 2016's World's Best awards, the hotel has a discreet charm, quiet warmth and tranquility about it that immediately makes a traveller want to return.
Which brings us back to that veranda.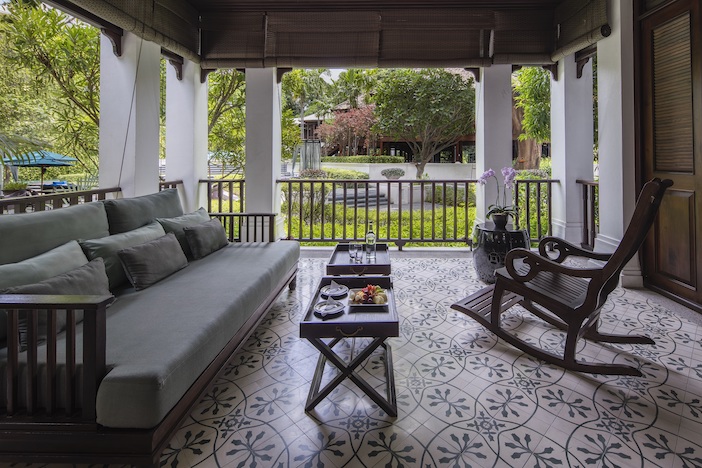 "What can't you believe?" asks H, making his way outside with a bottle of Gusborne Blancs de Blanc 2014, brought with us from the UK (a small tradition we have to always travel with good wine).
"They've hung up on me again," I reply, frustration easing at the sight of a glass of beautiful bubbles.
In between the bowls of Khao Soi – some so good, such as that found at famed outpost Khao Soi Khun Yai, that we end up ordering a second and a third bowl, much to the bemusement, if not surprise of the owners – and temple visits, I'd been working to change our flights to depart from Bangkok instead of Hanoi, where it was officially official that we were not getting in with all UK citizens barred for the foreseeable. But the airlines were slowly becoming overwhelmed and getting through to them with change queries was starting to prove, well, challenging.
Taking the phone from my hand, H swaps it for the glass of sparkling, reminding me to look around at where we are and to be present. It would work itself out. And as my eye wanders past the teak balustrades of our veranda, over the perfectly styled tropical gardens, manicured lawns, delicately hanging lanterns and stunningly restored Lanna house at the centre of the property, I realise he's right and it's best to let this adventure take us where it does.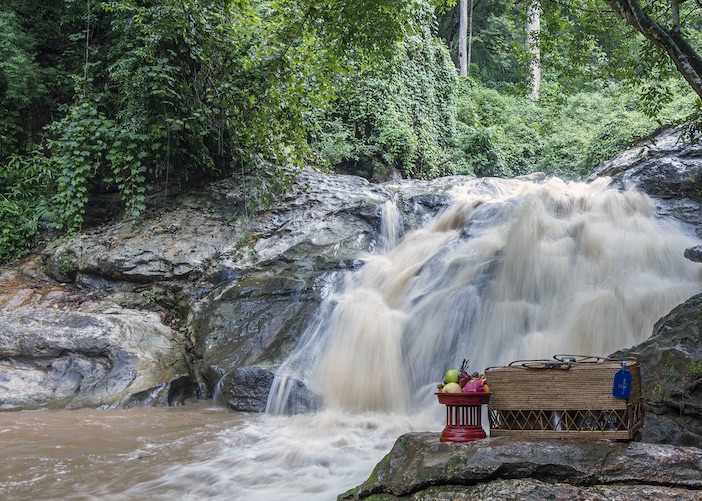 Chiang Mai, the gateway to the more northern mountainous regions, with winding, switchback roads, sprawls out along the Ping River, divided into the old and new towns. Both areas are buzzy, late into the night, even with the global pandemic looming, and we meander our way through streets peppered with brightly lit food stalls and clothing markets. There's the famous Cowboy Lady, who serves meltingly addictive pork knuckle at the city's Chang Phuak night market, hacking away at chunks of meat while stylishly wearing a large cream cowboy hat and T-shirt, and later a random stop at a bustling shaved ice dessert shop, where dozens of teens catch up over cooling ice topped with red beans, jellies, condensed milk and coconut, and endless pots of free tea.
But the city is perhaps most famous for the fact it plays host to dozens of temples from the 12th, 13th and 14th century. On almost every block you'll find another one and it's hard to resist poking one's head around each and every one, their bright and colourful features blazing in the sun against their dark teak carved central buildings.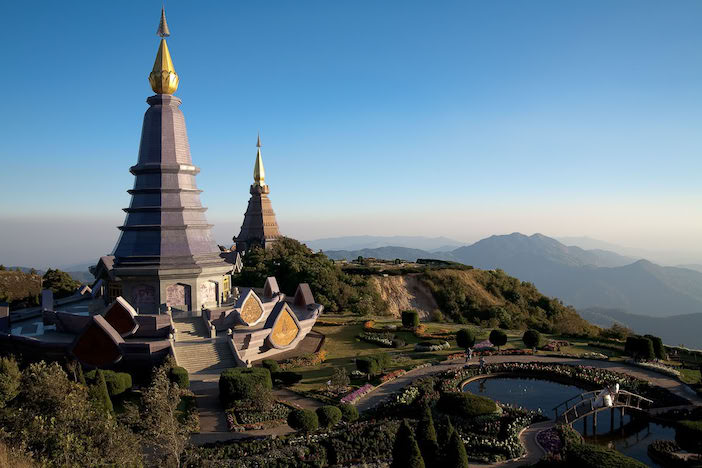 Most tourists will opt to head out of town to visit the beautiful 14th century Wat Phra That Doi Sutep, which overlooks the whole city, and is a key temple for its historical and religious links to Buddah, where the relic of his shoulder bone is said to be housed. But my favourite moment came in the quietness of a late morning when I wandered barefoot into the main temple building at the smaller, unassuming Wat Lok Molee to escape the impending heat of old town Chiang Mai. As I kneeled down in front of the towering golden figure of Buddah, a tan coloured dog entered from the side door and padded over to curl up at my side. We sat peacefully in the space, breathing in the warm air, enjoying the seclusion away from the noise of a thousand scooters, sharing a moment in time never to be repeated. I felt more calm in that moment than in any other I could recently recall.
Two hours later, when I got through to our airline and managed to divert our flights to leave from Bangkok instead of Hanoi, I would think back to that brief interaction in the temple between myself and that gentle being, feeling like the universe had given it to me to take stock and count my blessings.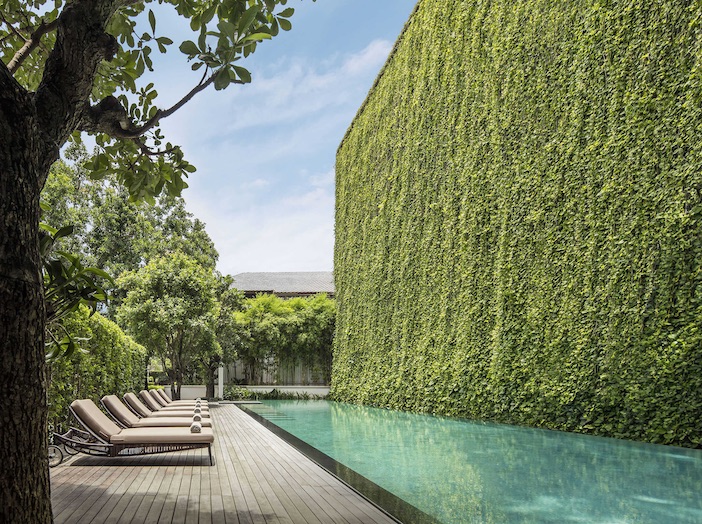 On our last night in Chiang Mai, we enjoy a long swim in the stunning plant-walled garden pool before G&Ts on our terrace and a romantic meal at the hotel's award-winning Palette restaurant. With the news getting ever more dire, and cases increasing back home, we try to stay in the moment and give ourselves over to enjoying the culinary skills of the chefs who weave traditional Lanna cuisine and European touches into a spectacular array of dishes such as Yum Som O Poo Nim (a vibrant, spicy salad of pomelo and soft shell crab), Kor Moo Kurobuta Yang (grilled pork neck with sticky glutinous rice balls, tamarind and a smoky tomato sauce) and Gaeng Hung Lay Gae (a Northern Thai style dry curry of slow cooked lamb and edamame).
We leave Chiang Mai more rested and more thankful than when we arrived, the spirit of its ancient temples reminding us that the world has been through so much since the city was founded, but that it's the strong foundations which hold up through turbulent times.
As we progress eastwards into Laos, it's with a sadness that we leave Thailand behind. Its culture, people, hospitality and warmth remind us that even in difficult times, kindness can be found so heartily – sentiment we would come to understand so much more clearly as our journey continued. 
For more information about 137 Pillars House, including packages, offers and experiences, visit www.137pillarschiangmai.com.
Alwynne's Thai adventure continues next weekend…