In the concluding part of her journey through South East Asia, Alwynne Gwilt departs Laos for Cambodia, each time trying to stay one step ahead of Covid…
"Sir, sir?" said the border guard, insistently, as we began walking away from the gates at Siem Reap airport.
My stomach sunk – 'No, please,' I thought. 'Please don't let there be anything wrong.'
After much deliberation, we'd finally settled on heading to Siem Reap in Cambodia for the final days of our trip. In the rush to sort out everything (passport photos and US dollars for the visa, flights from Laos, ensuring we could get out of Cambodia to make our UK flight from Thailand), I was relieved when we'd touched down at the surprisingly modern airport on the only flight of the day out of Luang Prabang. So the thought that we'd forgotten to do something brought the fear straight to this organised traveller's guts.
We turned and walked back, asking if everything was okay.
"I saw you looking at the arrivals board," said the guard. "Do you know how many people arrive each day normally?"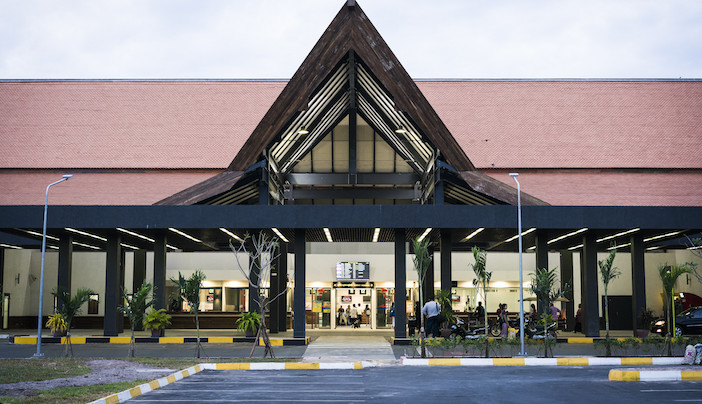 We were taken aback. It seemed rather than admonish us or put us on a plane back to Laos, the guard just wanted to have a chat. We'd been looking at the arrivals screens, shocked to see the number of lines with the word 'CANCELLED' next to the flight numbers.
"Just over 3000, that's how many people come normally. Today, maybe 300," he said sadly, his shoulders drooping, his demeanour defeated. "But welcome. We are so happy to have you."
This was not the welcome I was expecting from a border guard and I felt bad that my immediate reaction was one of concern. But these were strange times. And this moment would be the first of dozens more that would prove to us how hard the global pandemic was going to be on Cambodia.
Ten minutes later we were in a car with two members of the Jaya House River Park team, who'd come to meet us at the airport. One, a sales manager, didn't normally do meet and greets but, as he said, things were very quiet and they were excited to meet us. Over calls to the hotel to ensure we had our drink of choice waiting for us as soon as we arrived, we were told that the country was beginning to take stock of the sudden shocking drop off in tourist numbers. In 2018 – the latest year of the country's tourism statistics – over six million tourists arrived in Cambodia, with just under two million flying into Siem Reap airport alone, an incredible increase from ten years ago when around two million people visited the whole country in total.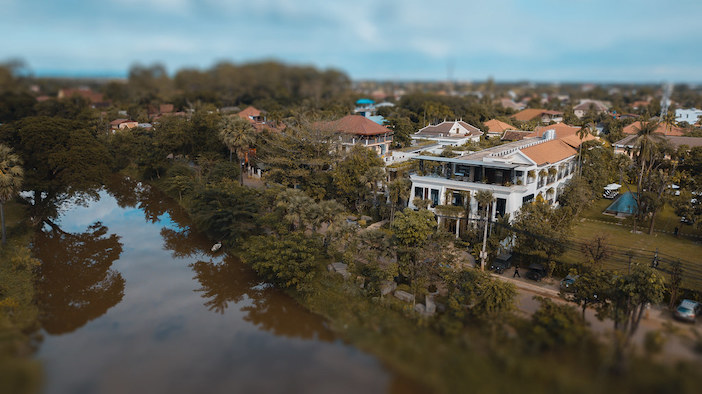 The small city has nearly 2000 hotels, with 90% of its income arising from tourists all there to see the infamous Angkor Wat – the world's largest religious building – and its array of surrounding magnificent temples in the Angkor temple complex.
Pulling up to the elegant, modern, white-fronted hotel building, the sales manager said matter of factly: 'Many people come here for the temples. Many return just for the hotel.'
It's a statement that I would normally take on with a bit of skepticism, but four days later when we left Cambodia with tears in our eyes – actual, full flowing tears this time – there was no doubt in my mind that his statement was 100% genuine.
Jaya House River Park is a 36 room, boutique oasis in a hot, and normally bustling and busy town with beautiful landscaped gardens, two sparkling pools to lounge by, striking works of art and 200 staff to cater for any and every need. For years we'd put off travelling to Cambodia as we are not fans of long queues or time spent on short trips waiting to see something with thousands of other people surrounding us. Quiet, off the beaten track places draw us in so much more. So it was with both thankfulness, and later true sadness, that I realised we would get to see Siem Reap with very few others.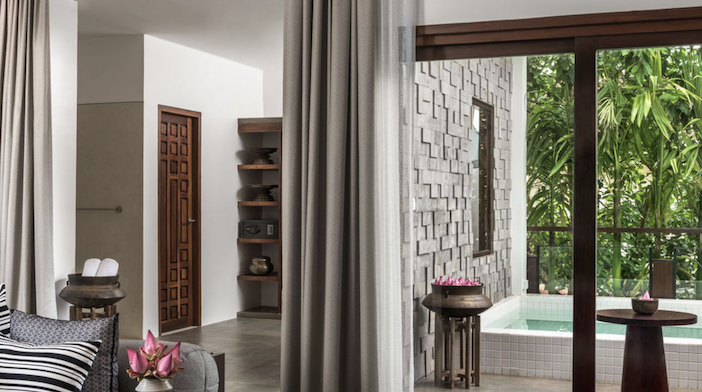 The hotel – normally booked to full capacity most weeks of the year – had only a few guests left when we arrived. Over discussions as to why the world seemed to be fighting over toilet roll, when surely they would want to stock up on rice, hotel manager Koy Kol put us at ease straight away. His affable manner, despite the situation, gave us perspective on how the town is in normal times, with people coming and going throughout the day, thousands of tuk-tuks streaming through the streets, and pubs packed in for their $1 beer specials.
We arrange to do an evening temple visit and climb up a local mountain to see the city from high, and for a 4am driver to take us to Angkor Wat for sunrise the next morning.
At the temple, we receive blessings from the monk, and as he ties a red bracelet around my left wrist – an item I still wear today – I send my request out to the universe to keep the humanity in all of us humans as we navigate through these unknown waters.
…
"Angkor Waaaaaaaat?" shouts the young man, as the few dozen other visitors nestle in beside the lake in front of the world's most famous temple. It's funny at first, a show of attempted comedy in dark times, but becomes grating by the 90th repetition.
Still, the guy's trying to sell water and there aren't many people to get to buy it but there are a lot of other vendors he needs to stand out from. Reviews I've read in the past say that it's almost impossible to get a spot to see the temple at sunrise with the thousands that descend on it each morning.
So as we await the listing of the darkness, I squint around at all the faces near me, wondering how they too have come to visit this famed place at the same time. The birds begin to swoop as cracks of sunlight dart out from behind the buildings, the orange and pink rays of sunrise inching their way forwards to begin a new day.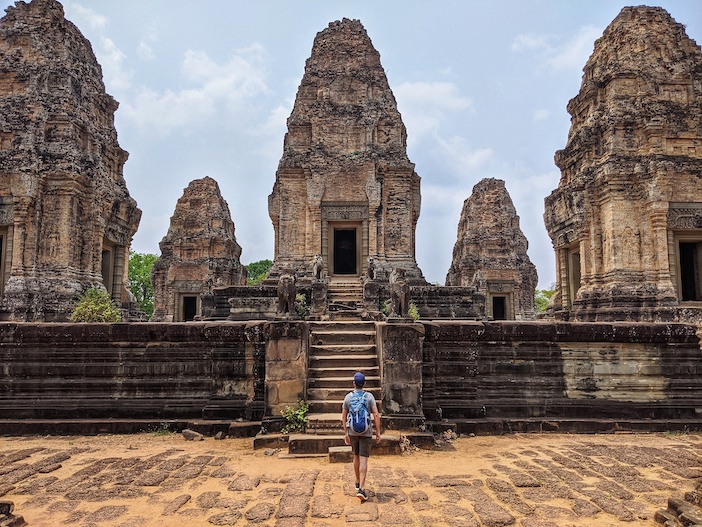 For all of my skepticism about how beautiful a building can be, I am utterly astounded as I see everything wake up from the night. The feat of architecture that is Angkor Wat is unlike anything I have witnessed before, and I grab H's hand in thankfulness for our decision to finally visit.
After an hour of sitting on the dirt, we dust ourselves off and begin our exploration, stealing moments of quiet as we walk up and down deserted stairwells, wander along tunnels and take photos with literally not another soul in sight. It's magical and at one point, I find myself sitting in an archway, blown away by all of the different turns it's taken in life for me to be in this venerated place.
Over the next two days, we explore every major temple of the Angkor Wat Temple Complex, our driver from the hotel ensuring that we don't miss out on special spots he knows well or the opportunity to stop the tuk tuk and buy fresh fruit to combat the still heat. I love the smiling, wondrous faces of the Bayon Temple, the tiny carved female deities at Banteay Srei – 20km outside of the town – and the sun set from the top of Phnom Bakheng.
We become fascinated with all of these mysterious places, winding our way through jungle and imagining the hustle and bustle of the royal entourages, making their way to feast and dance and sing. It's like everything was put on pause before suddenly disappearing, leaving the most seductive mark on the land, and it makes me shiver as I compare this society's demise with my fears of what's happening in our present day.
Months later it feels like a dream, like all of that exploration can't possibly have happened – can we really have seen these temples without running into hardly another soul? People say you can become 'templed out' when visiting Siem Reap, but I found I craved it more the more we saw.
In between temple visits, we take cooling dips in the pools at the hotel, enjoy spectacular drinks on the roof terrace and sit on our balcony in the humid night air, checking in on the news, which is becoming ever more confusing. We are due to fly back to Thailand on the Friday, before our international flight on the Saturday, but it looks like Thailand is changing it's rules to mean visitors can't have been in the UK in the previous 14 days, leaving us one day short if we fly back when originally planned.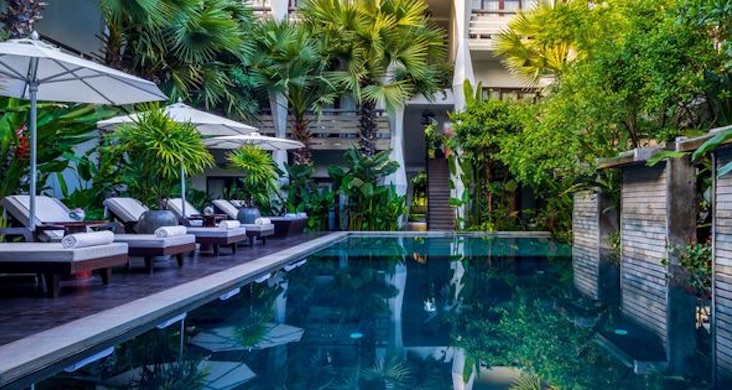 We Skype my father on his birthday, reassuring him that with the information coming out of the UK, we actually feel safer in the highly prepared Cambodia. There are temperature checks, hand sanitiser everywhere – people are taking it so seriously.
The hotel is beyond understanding to our every concern, letting us keep our hotel room for a very late check out until we know exactly what we can do, and eventually letting us stay when it becomes clear that we cannot leave until two days later – a real risk if our Cambodia flight gets cancelled for any reason, meaning we won't make it to Thailand for our flight back to the UK.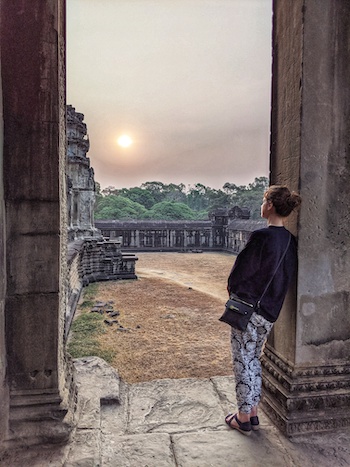 With butterflies in our stomachs, we enjoy a last, dusty afternoon at the temples, feeling like we aren't ready for this adventure to be done with, but knowing that we have to make our way home. When it turns out we need to stay, we do a secret rejoice, and spend time chatting with all of the hotel staff about what is happening and what it will mean for them. Many will return home to families in the countryside, hoping they will have jobs to return to. For others, they will stay on as long as possible.
We are some of the last guests at the hotel, and it's clear from speaking to Managing Director Christian de Boer over email that they are pained by the developments, knowing the impact it will have on the staff that are clearly like a family. We learn of the hotel's work in conservation, not only because of its handy refillable water bottles that we keep with us at all times – 'Refill not Landfill' inscribed on the side – but of its commitment to planting over 1500, three metre tall trees to help make Siem Reap greener for the local people.
In the evenings, we make our way to local restaurants and markets, enjoying the gorgeous local speciality fish amok at The Sugar Palm, and beef with red ants (yes, ants) at restaurant Mahob. At the latter, we get to speaking to another family from the UK, who are also packing up and heading out last minute, snagging some of the only remaining seats on the flight just before ours (we got the last ones on the later flight, much to their dismay). We discuss with wide eyes what's happening in the world, trying to enjoy our food whilst also being mindful of how serious things are becoming. We wish each other well as they head off into the night, and I always wonder how they managed with their journey home.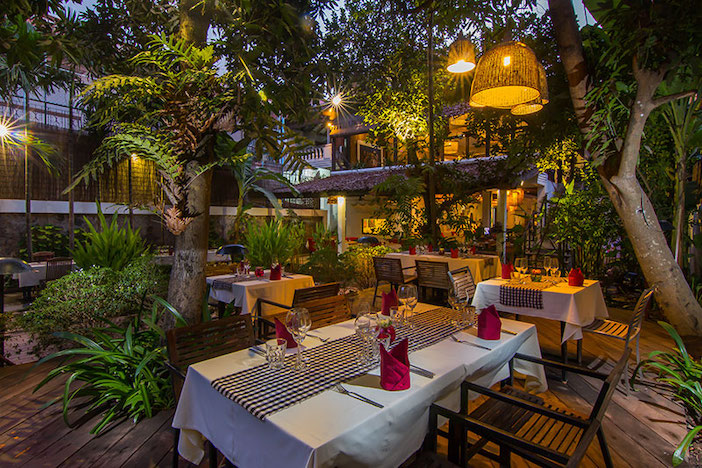 Our final morning is coloured with emotion – emotion as we enjoy a last incredible breakfast at the hotel aware that we will soon be locked down in London with nowhere to go; emotion as we talk of our sadness with the team at their uncertainty that this glorious place will survive; emotion as we shake hands with manager Koy, heart sinking at the thought that the impact of the virus might mean we are some of the last travellers to be lucky enough to experience their hospitality, which is truly beyond par.
At the airport, I see the departure boards with bright red CANCELLED written beside 90% of the flights. Ours is one of only three leaving that day. I break down in tears at the intensity of it all – wondering what we will face when we get back home, the gratitude I feel for every person we've met on the journey leaving me with heart palpitations at the thought of never being able to thank them in person again.
We make it back to Bangkok, and dart into the city for one last meal just before it shuts up shop for its own lockdown. We figure a final meal at one of our favourite street food outposts – Som Tam Jay So, where I had my first taste of the mind-blowing heat of true Thai cooking three years previous – will give us the vitality we need to see through these last parts of the trip.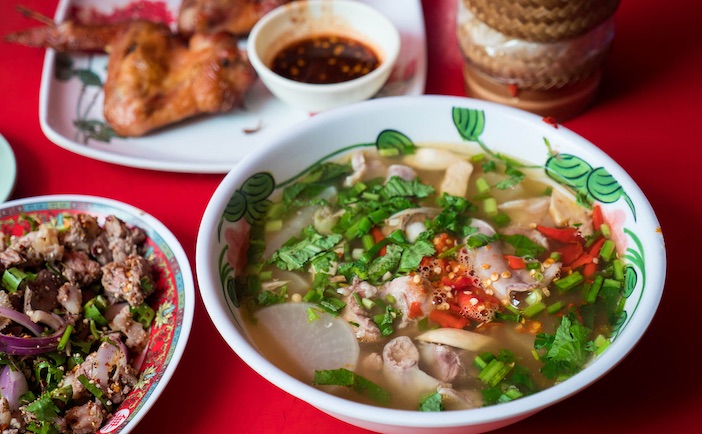 When we go to check in a few hours later for our flight back to the UK – only to realise that the airline had not, in fact, changed our flights in the system and we did not, in fact, have a seat on the flight – we are thankful that we are accustomed to crazy spice seeing as our stomachs are doing backflips with anxiety. As of midnight, Thailand is shutting its borders to foreigners, so we need to be on this flight. Ten minutes of tapping later, and the magical man at the check-in desk hands us our boarding cards, takes our bags, and wishes us a safe journey.
The relief I feel walking onto the plane is like nothing I've never felt – it's like we've gotten away with something in the most spectacular fashion, and yet…and yet…
And yet the reality is that the memories of our trip, of seeing these places as all the tourists left, of taking stock of how interconnected the world is, and of taking time to see how much good there is in the world, of all of the smiling, generous, good-hearted, people who made us feel like we were safe in a time of true tumult…well that will live in every fibre of our beings for the rest of our days.