I've got my hands around my head in brace position, sweat pouring. A loud horn blasts and a thick cloud of fog billows from the corner of the room rendering me temporarily blind. To my right I can make out flames licking the top of the bar. Above it, a pair of shapely legs moving to the beat. I'm in Bâoli, one of Miami's hottest nightclubs – and I'm way out of my depth.
It has been 15 years since I squeezed on a boobtube and bounced into a nightclub, but actually, little has changed. It's loud and sweaty and overcrowded. There's a heavily lipsticked lady in the powder room handing out paper towels, and all around, a sense of mischief mixed with opportunity. I'm on a grown-up girls' trip with four friends from my school days 'celebrating' a divorce.
The base for our long weekend is Nobu Miami Beach, an ocean-hugging 1950's beauty in the 'Mid-Beach' district, just along from Soho Beach House. Masterminded by the Japanese chef Nobu Matsuhisa and co-funded by Robert De Niro, the hotel occupies a vertical slither of the Eden Roc hotel. Nobu's section – 206 rooms – is 'intimate' by Miami standards. The glamour starts in the lobby where a neo-baroque Morris Lapidus chandelier sets the tone.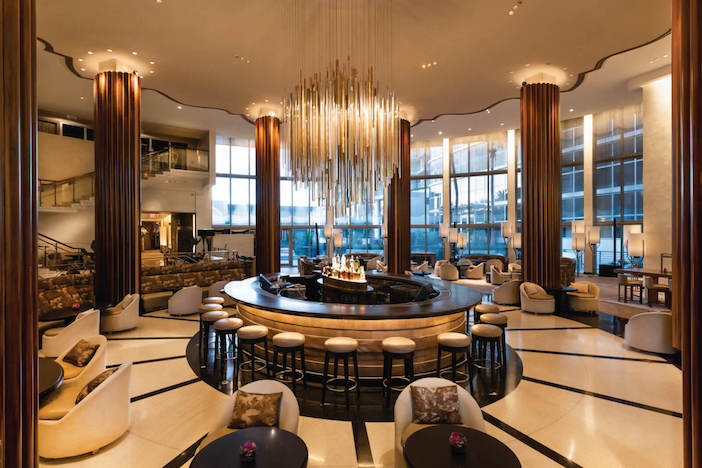 Upstairs, suites are calm and zen-like with pale wood cabinets and cherry blossom murals; the perfect environment for shaking off jet-lag. Bathroom goodies are by Natura Bisse (rosemary & white tea bath oil designed specifically for the hotel) and mini-bars are rammed with healthy Nobu-style nibbles. Book the penthouse and you can even enjoy an authentic Japanese soaking tub. Just make sure you're not in it at 6pm because that's when the complimentary cocktail trolley goes from room to room.
Nobu restaurant on the ground floor is, of course, the main draw. Established 16 years ago and designed by David Rockwell, it remains the hottest place to eat cold fish in Miami. However my Havaiana-wearing, Goop-loving gang preferred the laid-back vibes of Malibu Farm, a new addition to the hotel with a large al-fresco deck and a selection of superfood salads and cauliflower-crust pizzas.
After overdoing it at Bâoli on our first night, we swerved the idea of further forays into South Beach's dens of iniquity despite LIV (famous for its legendary club nights) being right next door at the Fontainebleau resort. Instead, we embraced the city's restaurant and bar scene. 'Swan' was the place to be at cocktail hour, Mandolin restaurant was marvellous for Turkish sharing platters and home décor ideas, and the Italian Casa Tua, with its romantic lantern-lit garden, hit all the right notes for our final evening together. Without the burden of hangovers, we actually managed to dip our toes into the city's culture, too.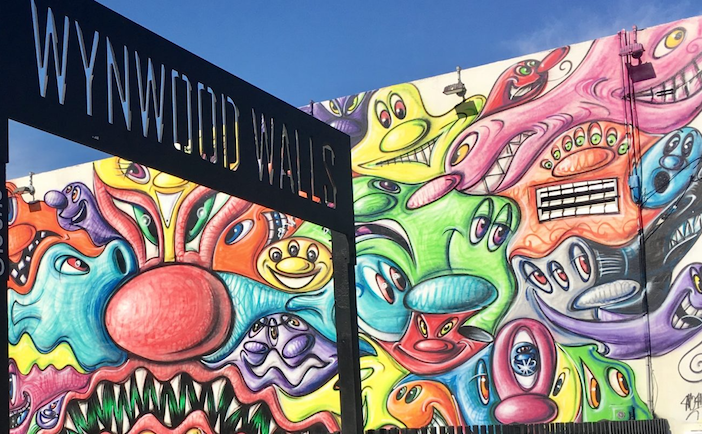 The new Perez Art Museum is well worth a visit, as is the Wynwood district for its eye-popping street art. Damien Hirst's shiny gold mammoth at the Hotel Faena was another highlight. Best of all, we concluded each day with a couple of hours on Nobu's private stretch of South Beach. For a group of overtired run-away mothers, one couldn't ask for more.
A few weeks later, after bidding my friends farewell, I was fortunate to find myself back on American shores – this time in Los Angeles. Although most of my work tied me to West Hollywood, I made it my business to check out Nobu Miami's west coast counterpart, Nobu Ryokan, in Malibu. It couldn't have been more different: just a handful of ultra-minimalist suites overlooking the barrelling Atlantic.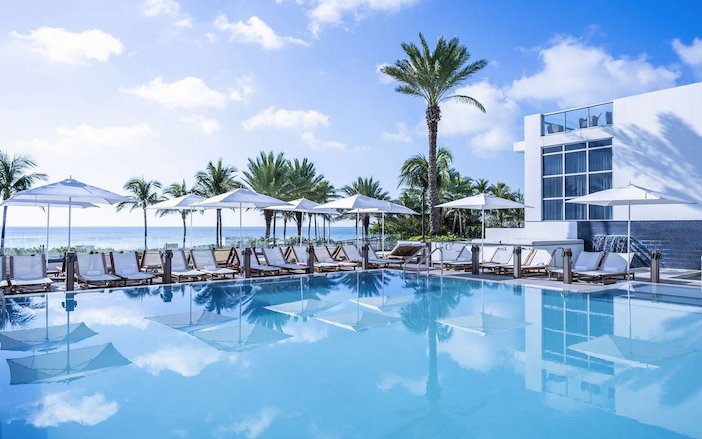 Offering total privacy, tranquillity and relaxation with a price tag of $1,000 a night, it's definitely somewhere for special occasions. Ideally with a 'someone special' in tow. But if it's a razzle you're after, Nobu Miami is the place to be. In June, the hotel will be unveiling a brand-new private pool for Nobu guests only (hello pool party) and, news just in, they're building a nightclub on the premises. After all, what's Miami without a little bit of vice?
Leo was a guest of Nobu Hotel Miami. Three nights are available from £583 per person for selected dates in September 2019 based on two adults sharing a Deluxe King Bed Hotel View Room on a room-only basis. Includes economy flights from London Heathrow with British Airways. To book, visit www.ba.com/nobumiami or call 0344 493 0124.
Follow Leo on Instagram @leonorabear