"It is impossible to imagine a prettier spot," said Queen Victoria, of her beloved Isle of Wight estate. Sauntering past the estate's lagoon, flanked by clumps of delicious samphire and haloed by wild flowers, agreement radiates through me. As the sun rises, the children dash to the quay, eager to see what treasures the tide has left. Today, its leathery mermaid's purses and enough peach-tinged cockles to feed a small army. They fill their salty pockets, much to dismay of the beady-eyed oystercatchers. The river is peaceful now, but on this diamond-shaped isle, still waters run deep, and the short stroll past the estate's helipad to the lake reveals a hive of birdlife, fleeing for the saltmarsh's incognito creeks.
Rambling down ancient steps, carpeted in moss of every hue, we head towards the vineyard, inspecting the ordered vines before pausing a while by the resident shipwreck. This spot is like catnip to me; pulling me back at dawn, day and dusk, to watch the sun paint its watery lair cobalt blue, rose pink, blood red and back again. But for all its glory, this sprawling riverside estate is not Victoria's treasured Osborne House. It is ours, all ours, every trickling stream and ancient wood. For the weekend, at least. For we are staying in the island's most exclusive holiday rental: Pinkmead Estate & Vineyard.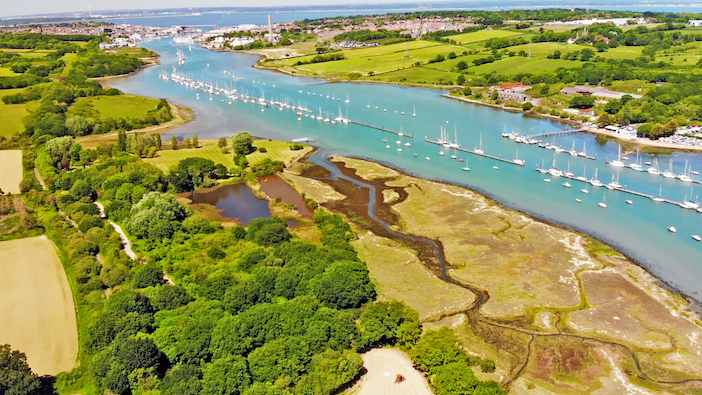 Just a few miles from Osborne's famous gardens and golden shores, this dog-friendly riverside estate boasts 24-acres of secluded wetlands, gardens and tidal inlets, providing guests with their own (rather large) slice of Victoria's favourite island. In fact, it's so vast, it comes with its own minty green golf buggy, Eddie. Nestled deep within the daffodil-strewn lawns and woodland, hides an impeccably furnished one storey property boasting three double bedrooms (another pop-up double hides within its myriad of outbuildings) with unparalleled river views. The Pinkmead team are on hand 24/7 to customise all manner of extras to make this dreamy spot feel like home; from hearty welcome platters to flamboyant bouquets. With a sauna, a Yoga Studio and a separate Kitchen Garden annexe-cum-cinema, it's more of a 5* fungalow, than your standard bungalow.
In the estate's boathouse, you'll find everything from kayaks and paddleboards to a dinghy at your disposal, and just beyond, at the property's iconic jetty, you can jump aboard a water taxi to local pub, The Folly Inn. The genius 24-hour Whatsapp assistant lets you order in everything from massages to yoga lessons – or a tour of the bee hives or vineyard, perhaps? It's fair to say that whilst Pinkmead's unrivalled peace, space and privacy make it the perfect springboard for exploring this fascinating island, its limitless activities and indulgent creature comforts makes it incredibly hard to want to spring anywhere else at all.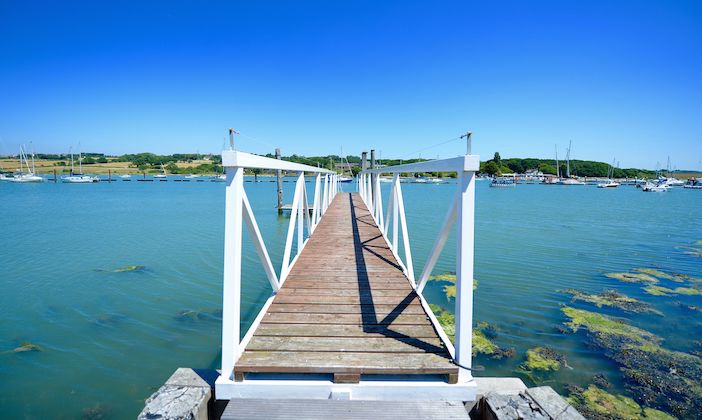 Though much has changed since Victoria's reign, with over half of the island declared an Area of Outstanding National Beauty (AONB), Osborne House (now an English Heritage property) remains surrounded by swathes of wild countryside, knitted together by well-worn footpaths and blessed with ancient castles, thriving wetlands and golden shores. But today, its island's historic gems and natural beauty spots are complimented by an impressive selection of family attractions, luxe accommodation options and a bourgeoning foodie scene, ignited by the island's passionate independent producers. Nowadays, summer sees international fun-seekers moor up; keen to dance the night away at the Isle of Wight Festival or watch yachts battle it out on the Solent at Cowes Week; the world's oldest and largest sailing regatta.
Fun has always been the beating heart of this tiny island and in its southerly reaches you'll still find families swarming to Blackgang Chine, the UK's oldest amusement park, which turns 180 this year. However, on rainy days, Tapnell Farm is just the ticket for family fun. The award-winning, all-weather attraction has everything from soft play and hay mazes to go karts and climbing frames. Outside, you'll find the farm itself, as well as the sledge slides, jumping pillow and lord knows what other adrenaline-fuelled delights. With three ravenous and totally wired children on our hands, we headed into the stunning Arreton Valley, seeking sustenance. Snaking its way through the heart of the isle, its fertile soils are peppered with excellent independent producers, like The Garlic Farm. This pungent spot packs a punch, with everything from a garlic-laden shop, an outdoor play area and pretty farm trails to an acclaimed restaurant –chocolate and black garlic cake, anyone?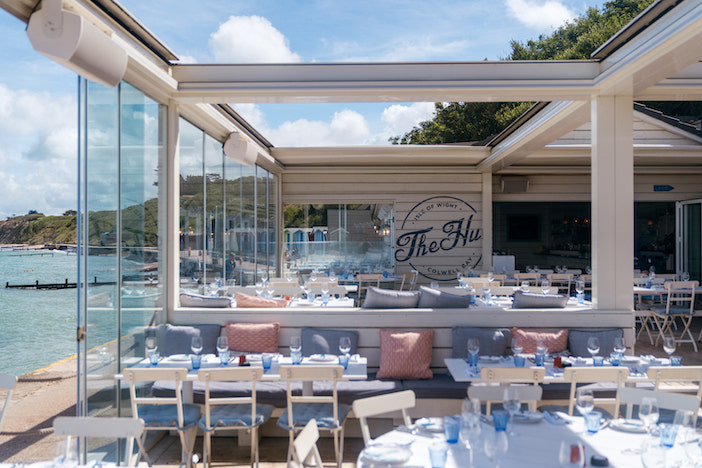 However, when it comes to waterfront dining, the island's hottest table is undoubtably, The Hut. Nestled within Colwell Bay, this trendy yachtie hangout sees a slick team serve up first class seafood with panoramic sea views and Ibiza vibes, courtesy of the live DJ. When I told friends that I was heading to the Isle of Wight, nostalgic folk that hadn't been since the nineties asked if I was going to Blackgang Chine. Finger on the pulse foodies, on the other hand, broke into an anxious sweat as they asked if I had managed to pre-book The Hut. Lunch here sees foodies descend from land, sea and air (yes, they can meet you at your helicopter – phew!), to a steady parade of Insta-worthy surf n' turf boards; lengthy wooden slabs piled high with charred T-bone, marrow-laden bones, mountains of shell-on prawns and a hearty lobster to boot, with bottles of chilled rose popping up like whack-a-mole.
Despite its loyal following, both here and across the Solent, it's warm service, laidback atmosphere and general background buzz, makes it a surprisingly easy-going spot for families. Having talked my three-year-old out of ordering the half lobster which graced the children's menu, the kids happily ploughed through their fish and chips in silence – I'm not surprised, it was delicious. Thankfully, the generous portions meant their little hands stayed well away from our lobster rice. If I could have emptied my bag of Crayola and colouring books and crammed it full of The Hut's epic fried zucchini and soft-shell crab, I would have.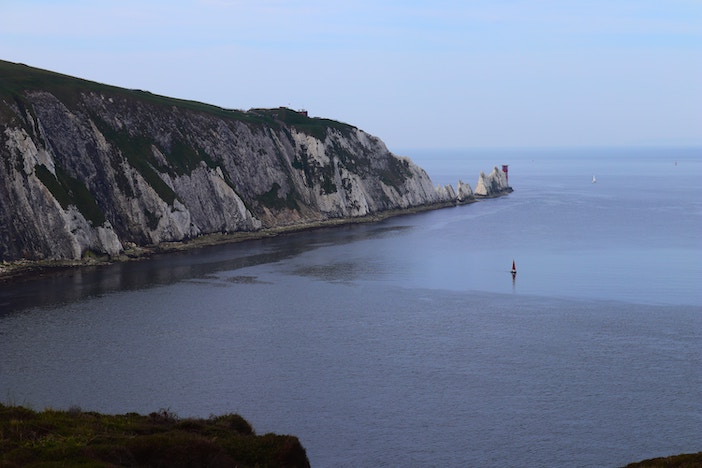 A quick post-lunch stroll past Colwell Bay's colourful beach huts reveals the island's most iconic landmark: The Needles. The three towering chalk stacks rising out of the sea were once part of a brilliantly white chalk ridge, which extended all the way to Dorset. Despite no longer reaching the mainland, it does slice its way right across the island, to easterly Culver Down, acting as a sort of chalky backbone to the rolling hills, crumbling cliffs and fossil-strewn shores.
One of our favourite spots was popular Shanklin, famous for its sandy Blue Flag beach, picture-perfect thatched cottages and award-winning tea rooms. It's also home to the island's only pub on the beach. Behind this pint-pouring thatched beauty, is Shanklin Chine; an historic gorge, carpeted in dense foliage, with a spectacular double waterfall at its heart.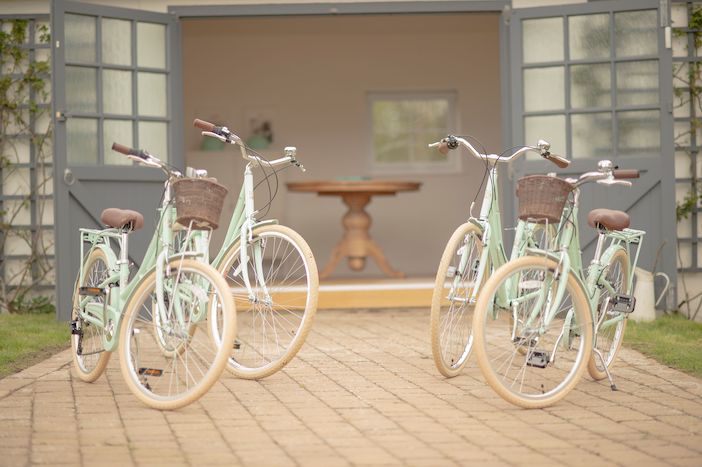 On our morning of departure, keen to savour every moment, I rose early, to squeeze in a jog before a pre-ferry skuttle around Osborne House. Having managed a good 3km around Pinkmead, I headed towards Cowes. In honour of the fact that Pinkmead is the only property to be located directly on the Cowes-Newport cycleway, the estate has a fleet of minty green Pendleton bicycles at guest's disposal. On one side, the cycleway is hugged by mossy banks, thick with dew-speckled ferns and peppered with wild primroses. On the other, gulls soar above shell-littered mudflats which eventually collapse into the glistening Medina.
Back on home turf I find myself firing up Eddie, the fun-fuelled golf buggy, and whizzing towards Pinkmead's bee hives, vineyard and my beloved shipwreck. As the coots call out in the marshes beyond, a cloud passes, transforming the turquoise waters of the Medina an ominous inky teal. In that moment, all my plans of visiting Victoria's estate are abandoned. For this estate is ours, all ours, every trickling stream and ancient wood and… it's impossible to imagine a prettier spot.

Pinkmead Estate & Vineyard is a dog-friendly private estate located on the River Medina, between Newport and Cowes. From September 2023 it will also be available as a wedding venue. Prices start from £3250 per week in low season. Wedding stays start at £6000 for 36 hours midweek. For more information visit www.pinkmeadestate.co.uk.
Wightlink offer regular fast, affordable and efficient ferry crossings from Portsmouth and Lymington to the Isle of Wight. For more information, visit www.wightlink.co.uk.
'The Needles' photo by Dan (courtesy of Unsplash)