There are various entrances to hotels that are so unforgettable that one occasionally thinks back on them for years to come. The drive up to Cliveden, for instance, or to Gleneagles. Or the sheer chutzpah of one's arrival in many of the grandest London addresses, from Browns to the Ritz, with their liveried doormen and sweeping pillared doorways. But there is something truly magical about how one arrives at Grays Court in York, in the shadow of the Minster.
Like all the best magic, it's relatively simple in its execution; a few lightbulbs strung up between trees, nothing fancy or grand. But in its effect, it's entirely wonderful. You walk through a beautiful courtyard, next to the National Trust-owned Treasurer's House, and open a thick, heavy wooden door, redolent with mystery and promise. And then you're inside, and the fun can begin.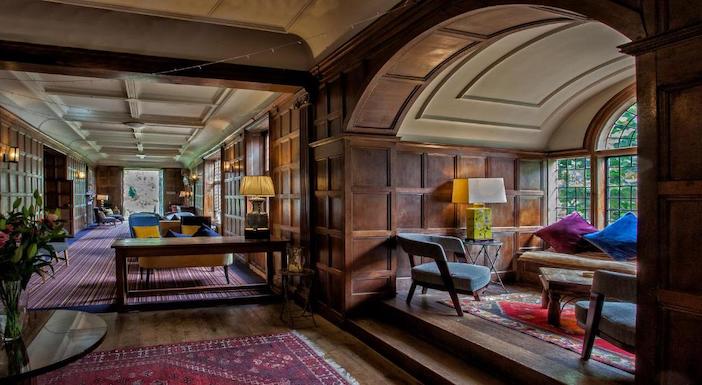 I wrestled with my conscience, Arbuturian readers, in writing this review. Not because Grays Court isn't sublime. It is – in fact it's the nicest hotel I've stayed at in years, for reasons we will get onto a moment. But there is something seductive and secret about it that means that, by rights, it should be in the little black book of hidden delights, rather than brought out into the open in a piece like this. But the owners and staff would presumably relish the thought of discerning guests heading there, and so I am doing my duty, like Lord Nelson would no doubt expect.
Nelson, as far as I know, didn't stay at Grays Court. But James I did, and so did William Wilberforce, and many other dignitaries and luminaries. This is said to be the oldest inhabited building in York, dating from the 11th century, and is, of course, Grade I listed. It has all of the style and sophistication of its age, but with the greatest of comforts and luxuries as well. Unusually for a hotel of this nature, it boasts not one but two enormous, comfortable wood-panelled lounges, replete with roaring fires, and an extremely well-appointed library, rich in Folio Society books.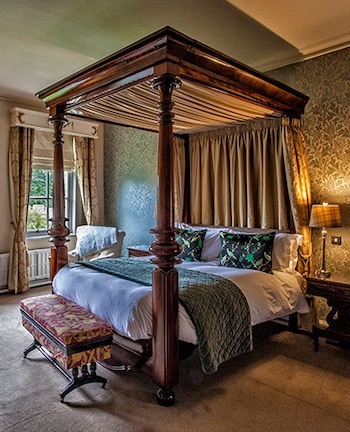 If you had taken my platonic ideal of what I wanted in a hotel and brought it to life, I imagine that Grays Court would be very close to the result. Not that it's all old-world charm. The black and white photographs that adorn the rooms add a stylishly modern touch – although I was unsure as to why there were at least two pictures of John Hurt as Winston Smith in the film of Nineteen Eighty-Four. This wonderful place could not be further from the privations of Orwell's Oceania.
And, thankfully, our room – the splendidly named 'Mortimer' – was no Room 101, either. There are only eleven rooms in the hotel, which gives it a feeling of intimacy and cosiness, and several of them overlook the Minister or the city walls, which makes for a truly unique experience. Antique furniture and wonderfully comfortable beds jostle along modern bathrooms with all the Clarins amenities that one would hope for; there are no antiquated fittings here, just well-appointed luxuries and treats.
To lie on the bed reading and drinking tea would be the perfect way of spending one's stay, were it not for the fact that there's a galleried bar downstairs in which one can do exactly the same – and there are stronger delights on offer, as well. We are informed that should you wish to take the waters after midnight, the bar functions on an honesty basis. Were my wife and I not permanently exhausted parents of a lively five-year old, this would seem all too tempting. But I digress.
A good hotel, of course, boasts a good restaurant. But I'm tempted to say that the Bow Room isn't merely good, but great. Breakfasts are hearty and make good use of local produce – a full English is top-notch, and given a lift by an unusual and delicious amuse-bouche of granola, dried fruit, yoghurt and lemon curd. But it's dinner that really takes this to another level. I had not heard of the chef Adam Jackson before I visited here, but this was my error.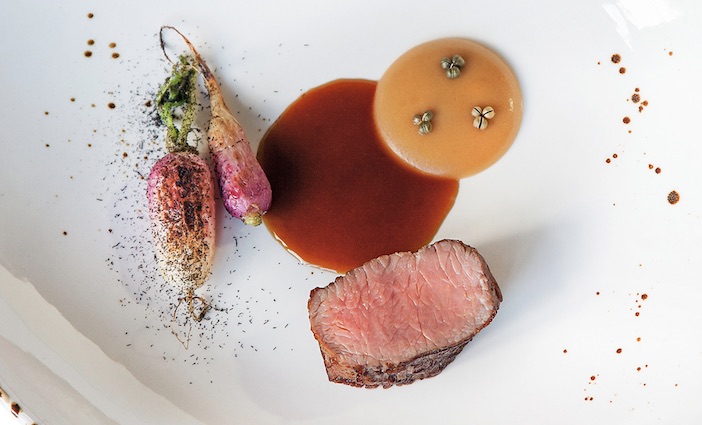 Jackson has been in post since June 2021, and has raised the restaurant's game dramatically. It is the current possessor of three AA rosettes, which is decent enough recognition, but undersung. On the basis of our dinner, it deserves at least one, and probably two, Michelin stars. There is something pleasingly straightforward about its function. One sitting, more or less, around seven o'clock – although there is some flexibility here; five courses, with cheese as an optional extra; a suggested wine flight; unforgettably excellent food. I cannot remember the last time I had as good a meal.
Its charm comes in the way in which apparently happenstance dishes are transformed through Jackson's alchemical practices into something exceptional. Sea trout comes with its own accompaniment of sushi, for instance, and a main dish of peerless venison is preceded by a small nibble of tartare. A honey panna cotta is as light a dessert as you could wish for, and a cheese gougère is given remarkable richness and flavour by the comte cheese within it having been aged for 36 months.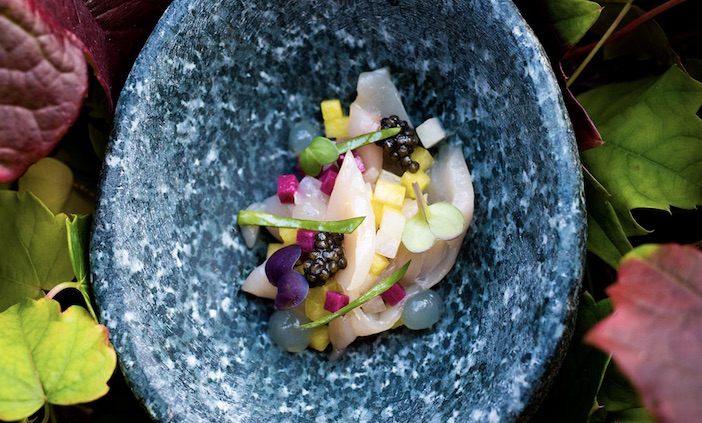 And all of this is accompanied by some fascinatingly offbeat wines, such as a Bolney red from Sussex to match the venison and a delightfully unusual Georgian orange wine with the sea trout, served with aplomb and wit by the charming sommelier, who warns us at the beginning of the meal, with a wink and a raised eyebrow, that he is inclined to go off piste, before filling our glasses just that pleasingly tiny bit too much – although not so much that we get, well, piste.
We left Grays Court like Victorian lovers, ardently trailing metaphorical nosegays. We will be back, we vowed, and we intend to stick to that vow. Although now that we've told all of you about its wonders, we'll be battling you on the no doubt rammed reservation lines. So be grateful, you wretches, and enjoy one of the finest hotels in the country, with its remarkable restaurant, and remember – you heard it here first.
Grays Court Hotel, Chapter House Street, York YO1 7JH. For more information, including details of rooms and restaurants, please visit www.grayscourtyork.com. Grays Court Hotel won Gold in the Visit England Awards 2020.
Alex's sojourn in York continues next weekend as he explores the 'Shambles' and encounters the legendary 'Fat Rascal'…