In the southwest canton of Vaud, away from the more visible glitz and glam of nearby Verbier and Gstaad, lies Villars-sur-Ollon. This pretty, authentically Swiss ski town hugs the Rhône Valley from her height of 1300m with incredible views over the Mont Blanc Massif and the Dents du Midi.
Here there are no major nightclubs that throng, no wide-decked terraces that heave with designer sunglass-clad crowds of selfie-takers and jeroboams of French rosé. Instead, Villars has a quiet charisma documented by its quality clientele, whose footsteps staccato similarly through the snow.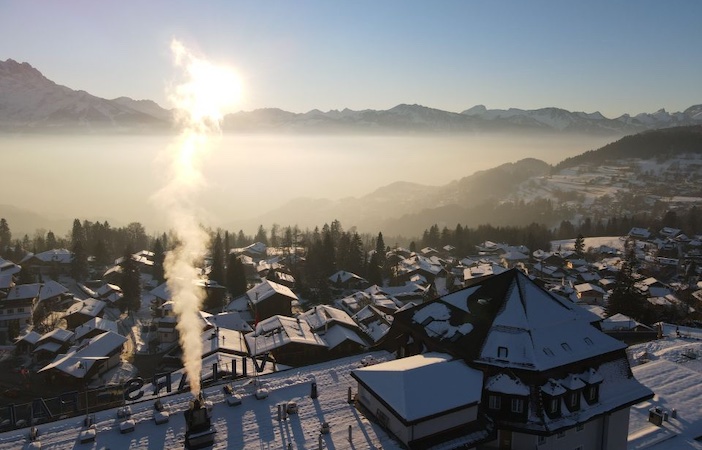 Villars is elegant but "low key with no paparazzi" says Markus Marti, General Manager of the Chalet RoyalAlp – a sumptuous five-star, pine-clad hotel, spa and series of apartments located next to the Roches Grises mountain railway station. Nevertheless, he tells us Sophie Turner, star of Game of Thrones, was married here, while the Chalet RoyalAlp counts royal guests and governesses amongst its own returning visitors. Villars boasts three prestigious boarding schools, and on Wednesday afternoons you might catch a number of their students ascend the mountain in school sports kit for lessons of a more practical kind.
While skiing is a clear national pastime, this part of Switzerland offers a variety of other fibre-tingling activities for highly-engaged, outdoor enthusiasts. In Les Diablerets, the vast swathe of bright white mountain set at 1200m, there's an alternative for speed enthusiasts: sledging. Namely down the 7.2km luge, one of the longest in Switzerland. But for true daredevils, there's the option to try it at night, putting meaning to its nickname, 'the abode of the devils'.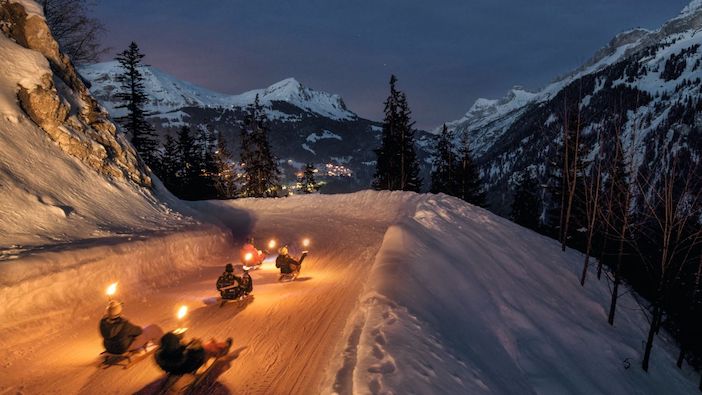 For those seeking something a little more sedate, if no less energetic, there's winter hiking. If you're prepared to get knee deep in snow, there are plenty of hiking trails in and around the Alpes Vaudoises, clearly indicated by yellow lines on the local piste map. Equally, if you did want to strap something to your feet, there's snowshoeing. Dutch born Boudewijn from aptly named 'Peak to Peace' can act as your guide as you explore a variety of showshoeing routes, taking in the incredible scenery and learning a thing or two about the local flora and fauna. He'll even offer you a cup of homemade lemon and ginger tea while you perch to admire the different types of pine trees and their resident tiny nuthatches. This has to be one of the most satisfying ways to see every inch of the Vaudoises horizon.
Speaking of peaks, one thing that shouldn't be missed is The Peak Walk by Tissot, an 80cm wide, 107m long suspension (foot) bridge that spans two summits. From here you can witness views that sew together the Matterhorn, Mont Blanc, Eiger, Mönch and Jungfrau peaks (free of charge; subject to weather conditions).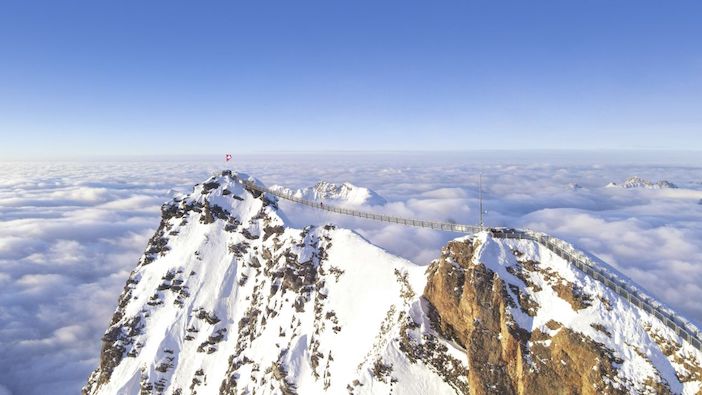 With all the excitement of the outdoors, hungers can be sated at a variety of neighbourhood spots in and around the ski slopes. Chalet RoyalAlp offers 'Le Grizzly' for informal fondue and raclette evenings, as well as offering haute-cuisine at their fine dining Jardin des Alpes restaurant (from 23 Dec -Thurs-Saturday only). Meanwhile, in the bistro, you can argue over the origins of (their enormous and delicious potato) Rosti – a fiercely fought battle between the Germans and the Swiss since either one invented the thing.
Half way up, or down, the mountain railway line (stop Bouquetins) you'll find 'Crazy Moose' – an ex-military building now turned panoramic fine dining restaurant, run by an Alsatian with a passion for Petit Arvine (a white wine grape indigenous to Switzerland's Valais region, first planted as far back as 1602). The Alsatians appear to have a fondness for the Vaud, as we meet another ex-patriate later that evening, at restaurant Peppino – owned by the Villars Alpine Resort. Together with his ex-ballerina wife, and fellow business partners, Jean-Marc Boutilly is about to re-open the Grande Dame of Villars hotels, this coming June.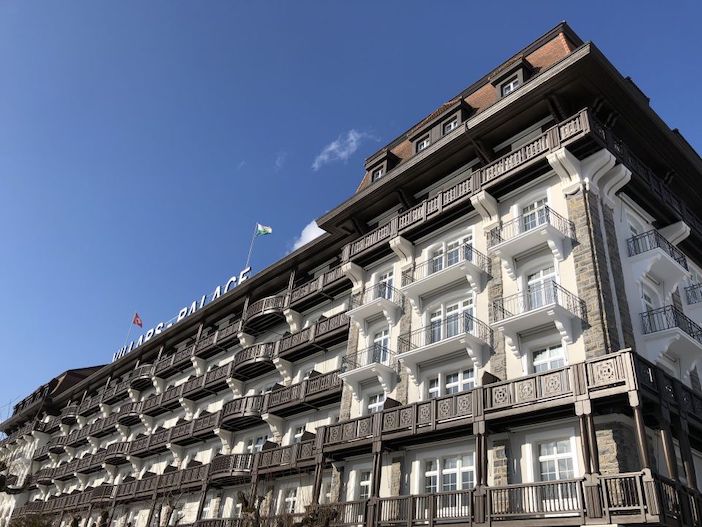 Villars Palace hotel, first opened in 1912 and run under the Club Méditerannée brand for 49 years, will greet guests once again under the Alpine Resort management. The 'Cruiser of the Alps' counts 100m of corridors within her wedding cake-like façade, and will feature tribal photographer Jimmy Nelson's work along each of them. The new hotel will also offer a culinary school set to further encourage and promote the globally recognised standards of Swiss hospitality – a sensibilité you can't fail to appreciate throughout the region.
In a world where the realms of dystopia feel increasingly closer to home, it's a real joy to find places to take cover from the current Hollywood trilogy of 'life-as-we-know-it'. Spaces where all this can be put to back of mind, if even for a few days. Villars, for all her Heidi sanctity is most definitely one of these. So, if you're looking for a little alpine escapism, make the Vaud Swit(z)ch.
For more information on Switzerland visit MySwitzerland.com or call our Switzerland Travel Centre on the International freephone 00800 100 200 30 or e-mail info.uk@myswitzerland.com for information and sales@stc.co.uk for packages, trains and air tickets. Fly there with Swiss Air with free transport for your first set of skis www.swiss.com.