I've always dreamt of having my own pied-à-terre – a little city abode I can flit back to after moonlit walks along the River Thames. My wish list goes something like this: the dream pad's location has to be in the center of London, on the river, of course. It has to have heart-swooning views over impressive sights and cool, modern interiors – the kind that wouldn't look out of place in a design showroom – with a little flash of originality. Staff would be a bonus, but, hey, I'm not that demanding – I'd be satisfied with a little help now and then. A concierge to book the hottest restaurants and the latest shows would be the icing on the cake.
Most of the time I've resigned myself to the fact that these cravings are the stuff of fantasy. And then I visited Cheval Three Quays, a new collection of luxury serviced apartments, next to the Tower of London and found myself – gasp! – within reach of the dream.
Available for short or long-term lets (from one night to even one year), the concept of serviced apartments means you can have a taste of urban luxury living without the eye-wateringly obscene property prices that would otherwise rule out everyone except Russian oligarchs. The idea is perfect for those who crave privacy but don't want the formality of a hotel.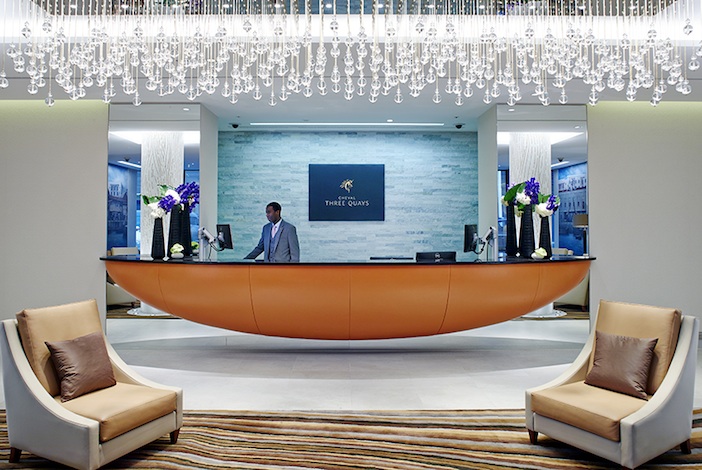 This collection of 159 residences includes a choice of one and two bedroom apartments as well as three-bedroom penthouses. Offering flexible living to families, business visitors and tourists, the sleek apartments give the style factor in spades and the bonus of having one of the most fantastic locations in London.
First impressions are impressive. An ultra-modern lobby, complete with a contemporary, twinkling chandelier feature, deep-piled rugs and slick sofas, gives an air of exclusivity. Uniformed staff are on hand to check you in and help you to your apartment. And what an apartment you'll find.
With interiors designed by Forme UK, it's an utterly chic and contemporary concept. The living area brings the wow-factor with its floor to ceiling windows giving sweeping views over some of London's most famous historic landmarks. A spacious balcony with dining table means you can make the most of the stunning setting and the never-ending movement and fascinating fracas of the river scene below. If you're lucky your apartment may look directly out to the Tower of London and Tower Bridge – a scene that can never disappoint.
Inside, meanwhile, modern taupe linen sofas are contrasted with mustard velvet armchairs and highlighted with vibrant orange silk pillows. Silvery-aqua wallpaper is a subtle backdrop to the elegant space. Flat screen televisions, Bose iPod docks and air conditioning bring a satisfyingly high tech spec to the apartment as does the adjoining kitchen with its gleaming stone surfaces, sleek cabinetry, Krups coffee-maker and Siemans appliances.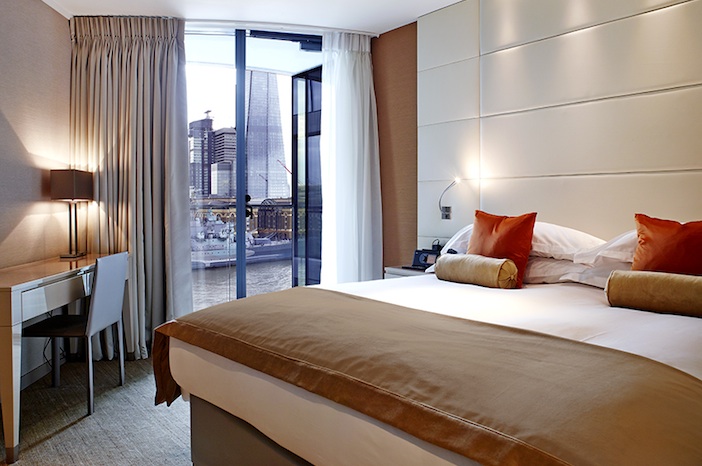 The bedrooms continue the overall neutral colour palette and also have the same little flashes style and floor-to-ceiling windows. Padded headboards extend up the wall and the large, and extremely comfortable, beds, with their 1950s-style silk bolsters, are just what you'd expect from a five-star offering. There are also flat screen televisions in both bedrooms, contemporary dressing tables and spacious wardrobes.
Unlike most London properties, and many London hotels, space has not been skimped on. Bathrooms – there was one en suite and one stand-alone – were huge with vast walk-in rainforest showers and state-of-the-art facilities. A nice touch was the fact that the amenities were not bland, corporate-style toiletries but rather the luxury 'homemade-style' products by Arran Aromatics' Feel Good Formulas range. Practical considerations of modern-day living have also been taken into account, so there's a little study area for those who need to keep an eye on work, as well as a nicely tucked-away, well-equipped utility room with washing machine and tumble dryer, making it ideal for families and businessmen/women alike.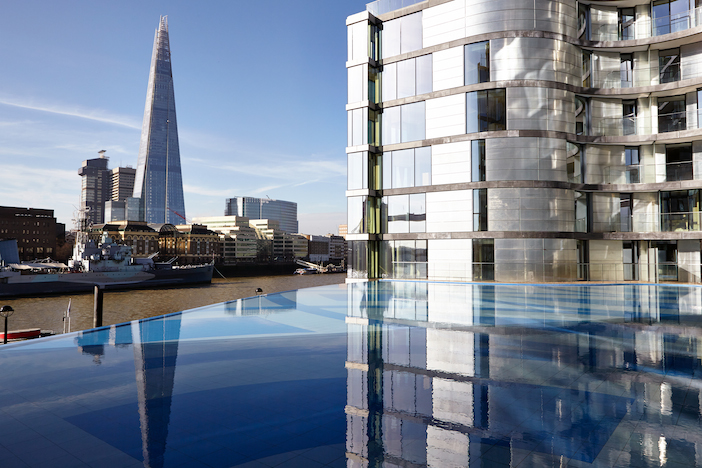 Then there's the location. On the north bank of the Thames, Cheval Three Quays is situated in the heart of the true City of London, with its mix of quaint, cobbled streets juxtaposed against glittering modern architecture. You can saunter along the Sugar Quay walkway, taking in the views of Tower Bridge, The Shard and The Gherkin. It's also just a hop, skip and a jump over Tower Bridge to The Tate Modern, the local galleries around Bankside, the Globe Theatre and buzzy Borough Market. While you might want to make the most of your swish kitchen, you are more likely to be tempted out to dine at one of the many restaurants on your doorstep – whether it be at Butlers Wharf or perhaps at one of Shoreditch's inventive pop-ups. Having trouble deciding on what to do or where to go? Then consult the in-house concierge, on hand 24-hours a day, who can book the newest openings and source tickets for the latest shows and exhibitions.
You can't stay in five-star surroundings without five-star services, and so each apartment also has a housekeeping service available as often or as little as you require. Cheval Three Quays is well-thought out, beautifully designed and completely seductive. A home-from-home for some, maybe, but it's a little dream come true for others.